£28.00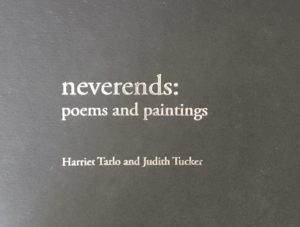 Harriet Tarlo and Judith Tucker
neverends: poems and paintings, 2018
Concertina folded book with 20 colour images, 20 poems
Edition 250
Leeds; published by Wild Pansy Press
Out of stock
Description
Harriet Tarlo and Judith Tucker's neverends: poems and paintings, is an artist's book in concertina form. It is their interpretation of the Humberston Fitties. If you are interested in a contemporary response to heritage then this is a must for you.  The book is double-sided, so it works both as a reading book and propped open as a display.
It contains 20 images and poems all about the Humberston Fitties. This is a remarkable area of beach-side holiday chalets just outside Cleethorpes in North Lincolnshire. The local council and home owners have been developing it since just after the First World War. Now there are some 300 properties on site and it is a protected heritage area. The artists have been visiting it for a number of years and have got to know residents and properties.
But, as with all their work, this is no classic documentary study, but it is properly reflective about the deeper culture of the place. They record in various media the whole range of its environment.
Harriet and Judith produced the original work for an Arts Council funded collaborative show entitled Neverends, shown at the Grimsby Heritage Centre in the 2016.
The artistic content of the book
Judith's paintings show the chalets themselves from tumbledown to pristine. There are details of wonky roofs and doors pushed open by brambles. On the other hand, she paints proudly scrubbed frontages replete with picket fences and shrubberies. You can read more about this body of work in the artist's profile page here.
Harriet Tarlo is a radical landscape poet. Her words form a thread throughout the book. We have some description, some found text, some reminiscence. A number of the poems combine all of these. There are 'people-poems', consisting of interviews with residents, conversational snippets and hearsay. 'Name-game' poems play with the evocative seaside names people have given their chalets.
What it amounts to is a rich and varied record of artistic response, local impressions, with the occasional political slant.