£195.00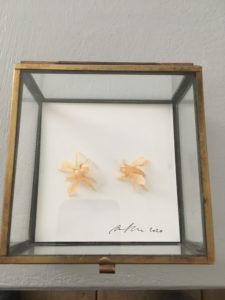 Aurora Sciabarra
For the Bees, 2020
Pair of bees in miniature glass case
Latex, beeswax, glass, metal, card
Limited edition, signed and dated by the artist
10 x 10 x 4 cm
Description
Aurora Sciabarra For the Bees, 2020 is a pair of little hand-made bees in a glass display case, signed. Aurora is both artist and committed environmentalist. She makes the bees as a tribute to the hard work that bees themselves undertake throughout their lives. She hand-models each of her bees and each one takes 8 hours to make, so is unique. These bees come from a large installation on show in the gallery for Bugs Beauty and Danger, throughout 2020. Aurora is concerned at the devastating losses we are experiencing in the natural world. Throughout the world, bees are in danger. Human greed, pollution and inattention cause most of the problems.
My most recent works display unrelated realities joined together. More precisely, I connect man-made objects with the natural elements as I want to re-present to my viewer' eyes the co-existence of opposite realms close to one another. In doing so I want to shine a light on the implications, as well as on the effect, of such closeness.
The use of natural materials, such as beeswax, next to human-made ones (latex or chemical fertiliser etc.) is pivotal to stress the co-existence of the two realities.
Aurora Sciabarra is a visual artist whose practice spans the disciplines of painting, collage sculpture and installation. Her research is focused on the concepts of need and choices, consumption, over-production of consumer goods and agency. Through her work she investigates to what extent human way of life can affect the environment. She is an Italian, based in Sussex and has previously shown with Onca Gallery, Brighton.
Additional information
| | |
| --- | --- |
| Dimensions | 10 × 10 × 4 cm |