Judith Tucker responds to landscapes with strong and visible histories. Recurring themes in her work connect a place with its deeper memories and meanings. Lately her work has centred on various parts of Lincolnshire: fens, canals, seaside. Whether she is looking at watery landscapes, night-scenery, or plants, she has an unerring eye for atmospheric detail. But she is always telling a deeper story.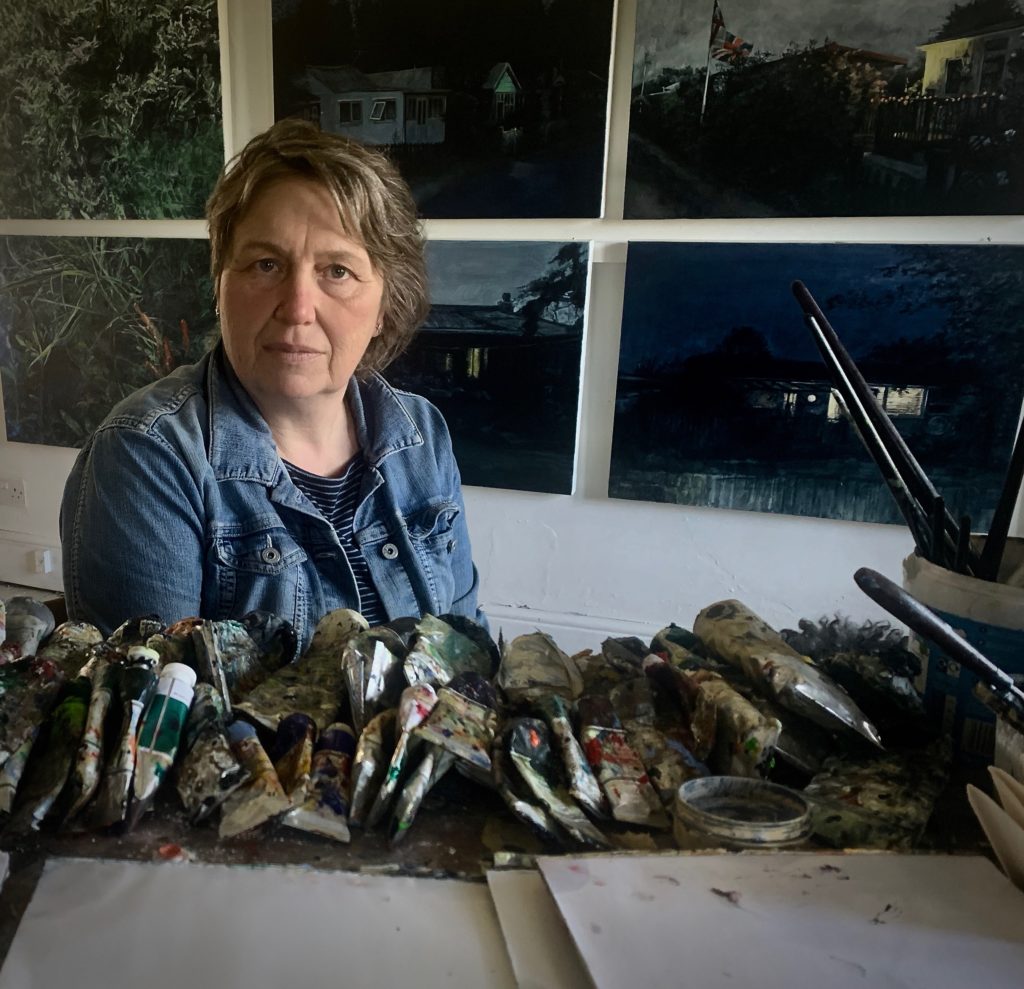 Tucker and Tarlo
Judith shares this deep response to place and environments with radical landscape poet, Harriet Tarlo. Together they have explored intense involvement with the heritage of the canals and seasides of North Lincolnshire. We exhibited some of this work, 'Outfalls', at GroundWork in 2018. Both Harriet and Judith are also academics and the exhibition was accompanied by several conferences and readings. While Judith is mainly an artist who paints and draws, she also writes, both solo and in collaboration with Harriet.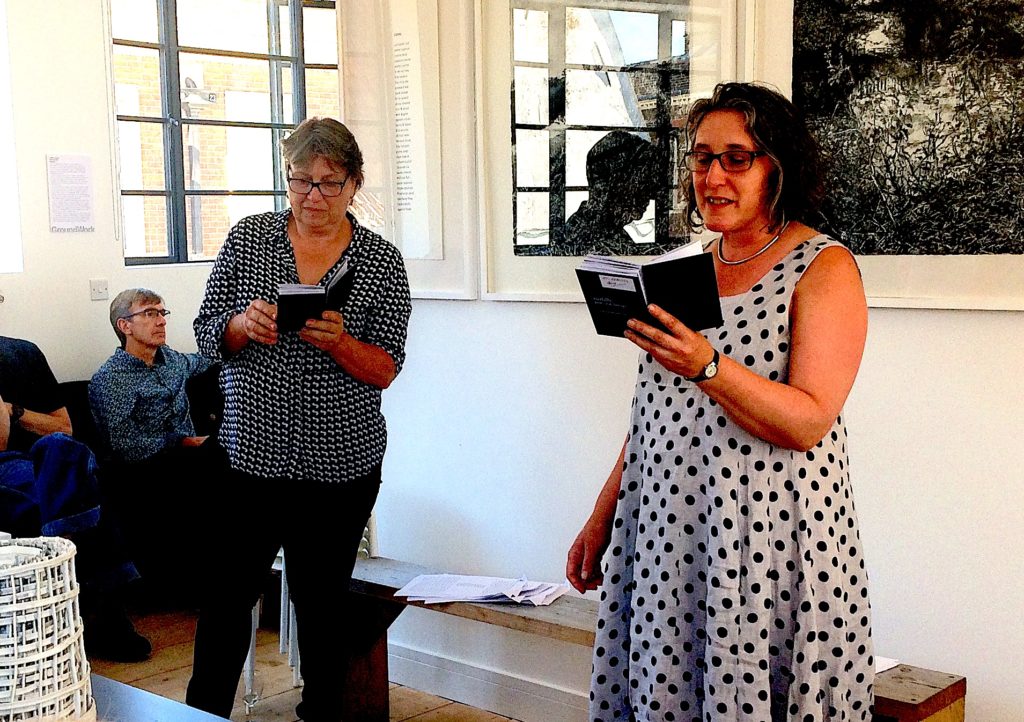 Current work
Judith is working at the moment on two concurrent series of paintings both of which stem from the North East Lincolnshire coast. Both of these subjects also involve working with and alongside Harriet Tarlo. However, the two artists work in parallel. They have independent approaches, which later intersect and can operate together. Throughout they discuss their responses to places, where there are overlaps and where divergences in themes. But they are well aware of their different contributions which bring levels of detailed exploration unique to each of their visions.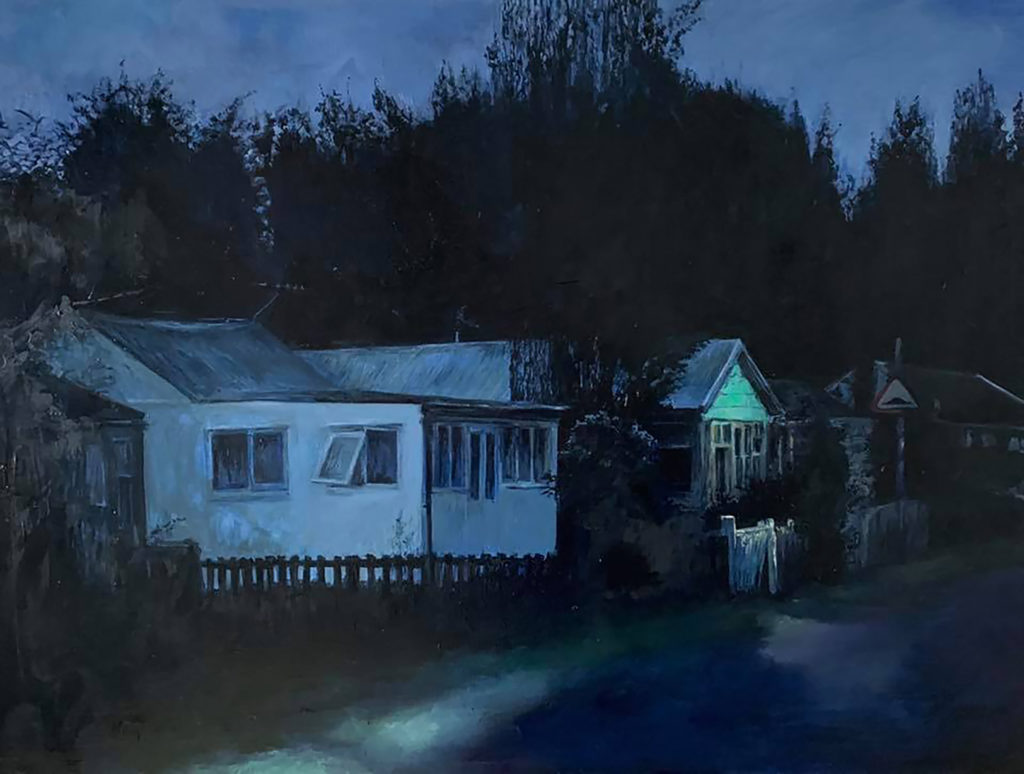 The Humberston Fitties
It was through an ACE funded commission via a local artist/curator that the pair became fascinated with this part of the world and visited the Humberston Fitties. The word 'fitties' means salt marsh and is a characteristic landscape of the coastal area.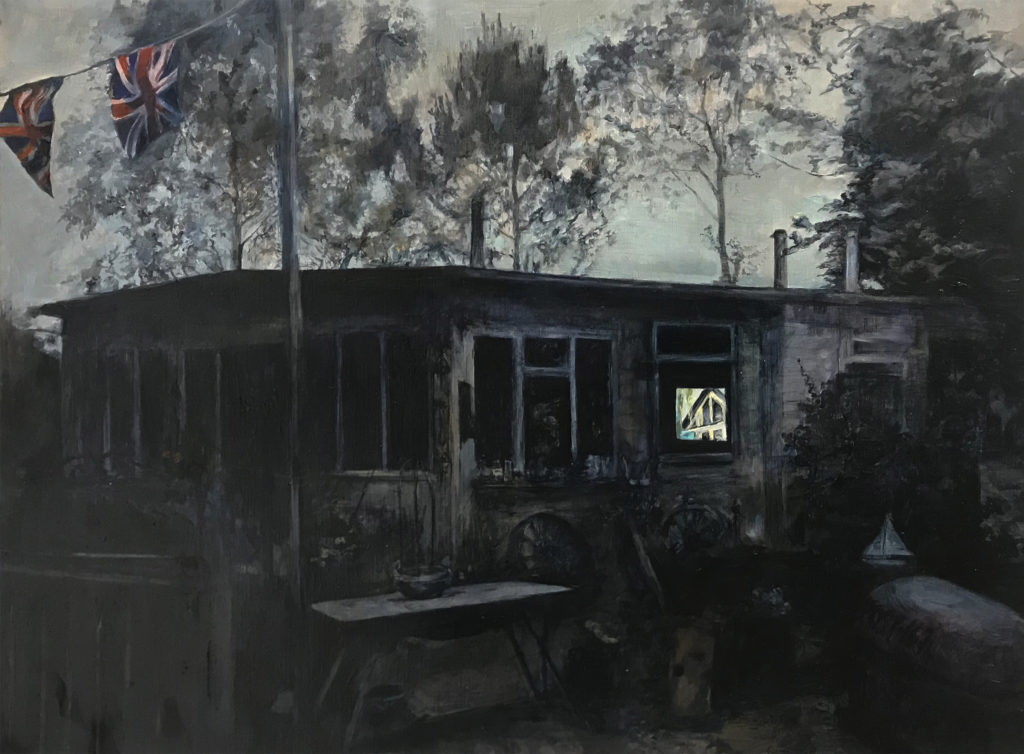 During the first world war, while billeted nearby, soldiers got to know the local vast beaches and marshes. Gradually afterwards, families began to camp there regularly for holidays, and the Council divided off plots of land for sale. Increasingly these plots became more cultivated, with caravans, chalets and little gardens. They grew in number and character, until by popular request, the Fitties became a conservation area in 1996.
However, The Fitties was not without its disasters, suffering many losses for example, in the 1953 floods. Therefore there are strong restrictions on the type of housing allowed there. And because of continued flood dangers, sleeping overnight there is forbidden in January and February.
Now it is almost a little town, with over 300 plots. Because of its unique atmosphere, it has become famous and sought-after as a holiday resort.
Night Fitties

Judith's series of paintings 'Night Fitties' explores the unique and eccentric atmosphere of this area. It is a fond tribute, but also achieves something more critical, an insight into a particular political and localised demographic. Uncanny transformations of the chalets take place after hours and out of season. The emptiness increases the notions of vulnerability. The small homes feel lonely and precarious.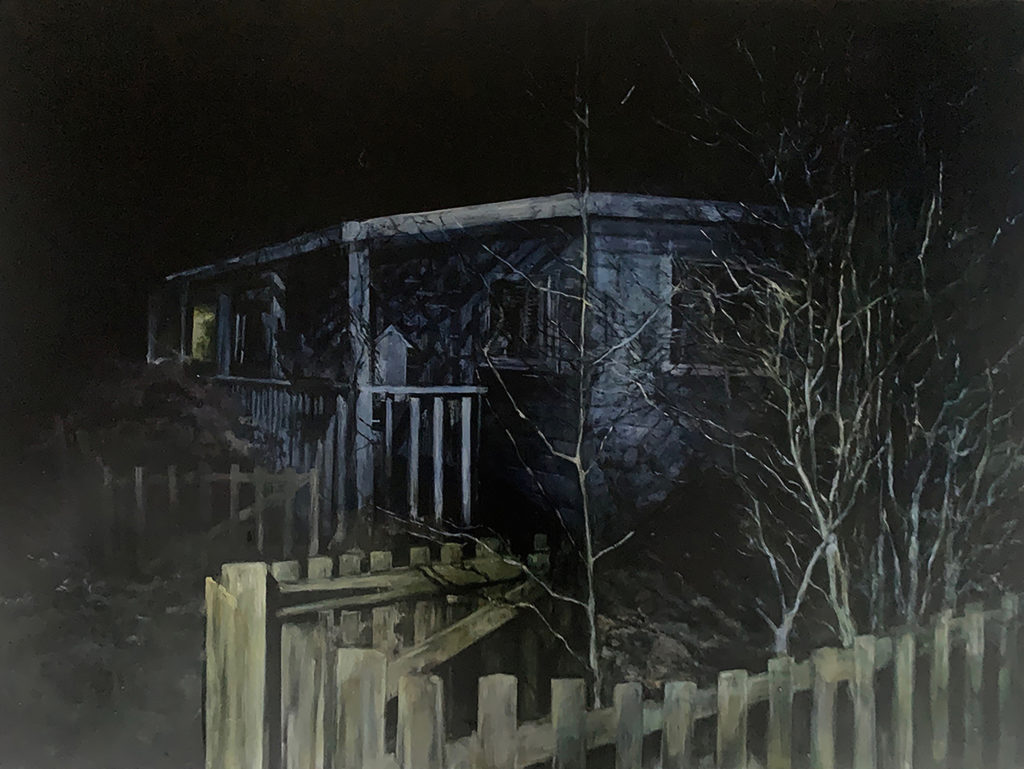 The paintings investigate the relations between social, environmental and energy politics on micro and macro scales. The play of light and dark and strong use of shadow enhances this slight air of doom.
In another sense, Judith explores through these paintings the casting of a different shadow by recent dramatic political changes. These have led to reconstructions of notions of place and identity showing up both on domestic and larger scales. The play on flags and other visible indications of Englishness reflects this and lends a distinct character to the whole place.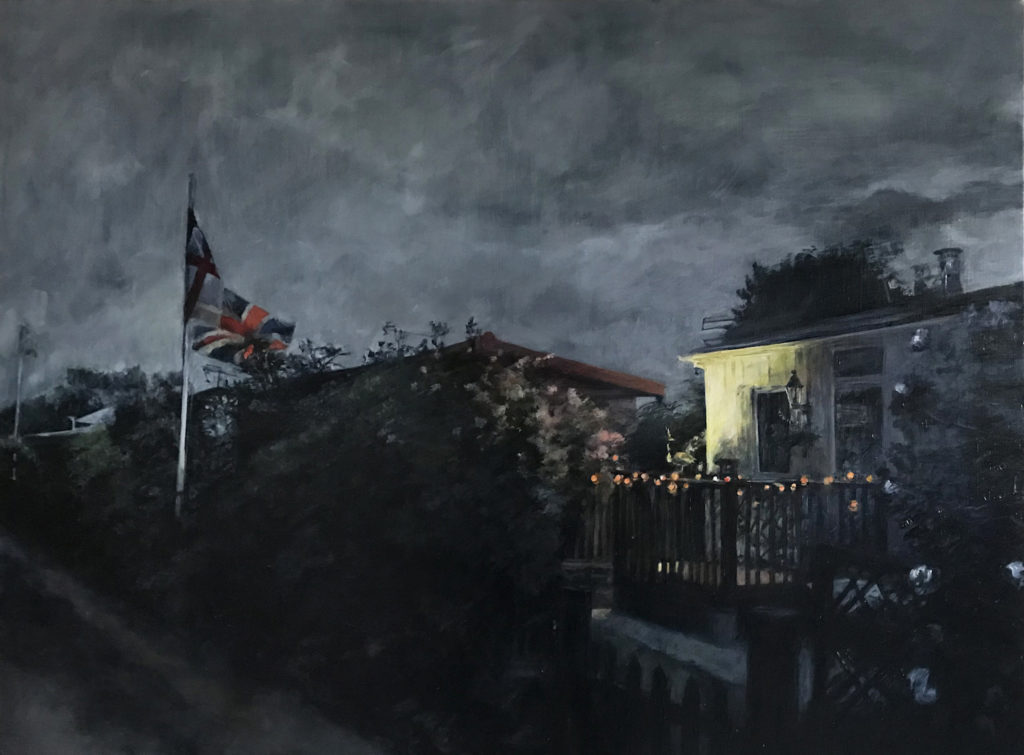 Dark Marsh
This is an ongoing series of paintings of the pioneering salt marsh plants of the Humberston Fitties, and the Tetney Marsh area. It consider plants that are both vulnerable to sea level rise, but that also help to protect the land from flooding.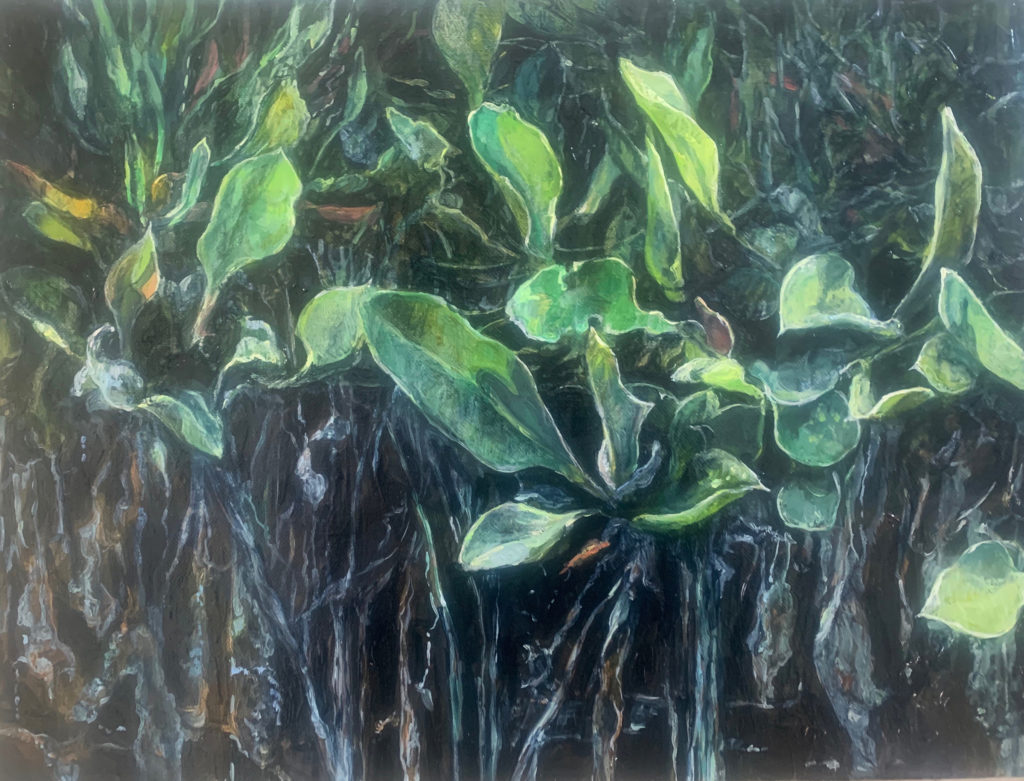 The work is intended to be seen in relation to the Night Fitties paintings. In both cases, there is a tension between vacancy and occupation, both literally and figuratively. As with that series, it is as much about the atmosphere it evokes and the issues that underlie it, as about the beautiful detail of the painting.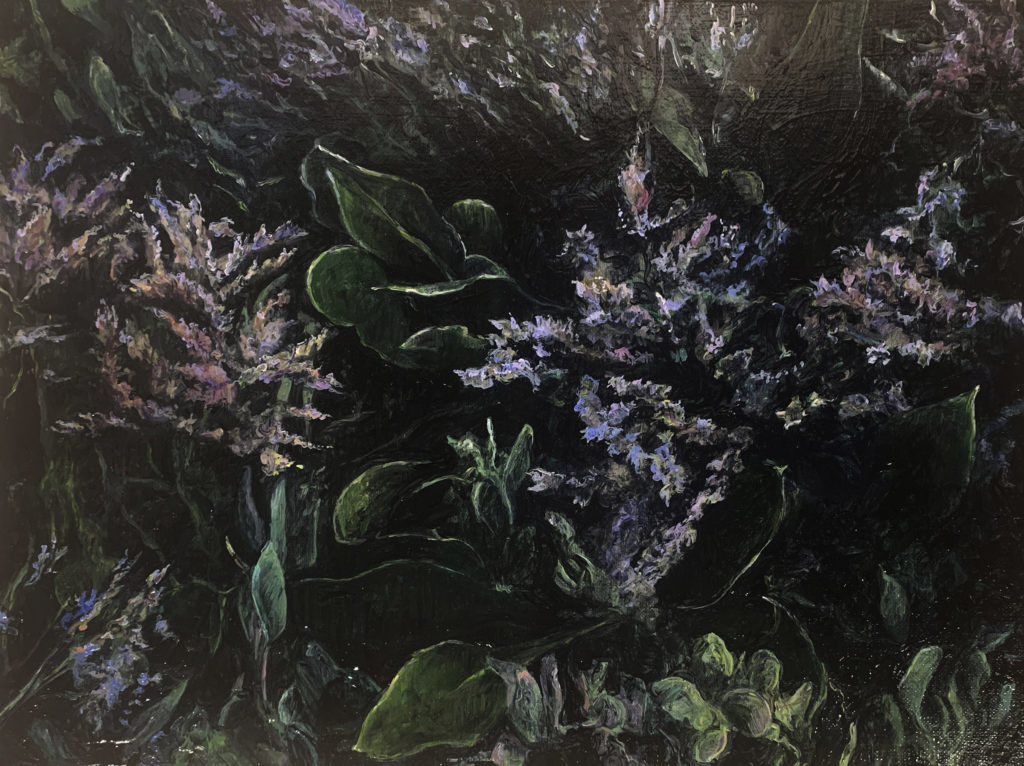 These plant images are part of an exploration of human and more-than-human worlds co-existing. Through the play of light and colour, and allusion to tidal change, they act as a microcosm for ideas of resilience and reclamation. Their dark and dramatic tones relate to the eeriness of the Night Fitties. But it is more than that. In juxtaposition with the Night Fitties and the uncanny transformations after dark, they also link to notions of vulnerability.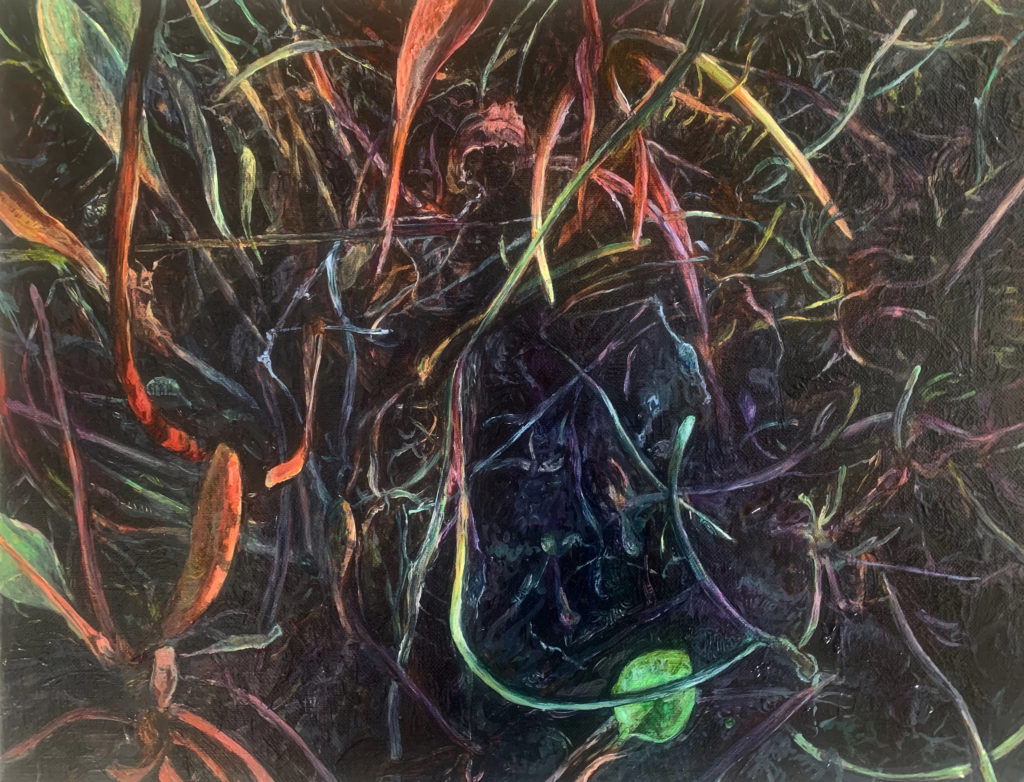 Biography
Judith Tucker completed a B.A. Fine Art at the Ruskin School of Art, University of Oxford (1978 – 81). She followed this with an M.A. Fine Art and a PhD in Fine Art at the University of Leeds (1999 – 2002). Between 2003 and 2006 she held an AHRC fellowship in the Creative and Performing Arts at the University of Leeds. Now, as well as being in her studio, she remains in Leeds as Senior Lecturer in the School of Design. In 2013 Contemporary British Painting a platform for contemporary painting in the UK. invited her. She is currently vice-chair of the organisation.
Judith also writes academic essays, published in academic journals and in books by Rodopi, Macmillan and Manchester University Press. Her long-term collaboration with the radical landscape poet Harriet Tarlo has seen many joint projects of research, writing and visual art.
Exhibitions and prizes
In 2018 and 2019 she reached final in the Jackson's Painting Prize, and third time lucky, in 2020, she won the Scenes of Everyday Life category prize. She was shortlisted for the first Westmorland Landscape Prize exhibition in 2019. The year before, in 2018 she was one of ten UK artists exhibiting in the inaugural Yantai Biennal, China. Other exhibition venues include Arthouse1 and Collyer Bristow London and many regional galleries throughout the UK. Abroad, she has shown in Iasi, Romania; Gdansk, Poland; Brno, Czech Republic; Vienna, Austria; Minneapolis and Virginia US; and Yantai, Nanjing and Tianjin in China.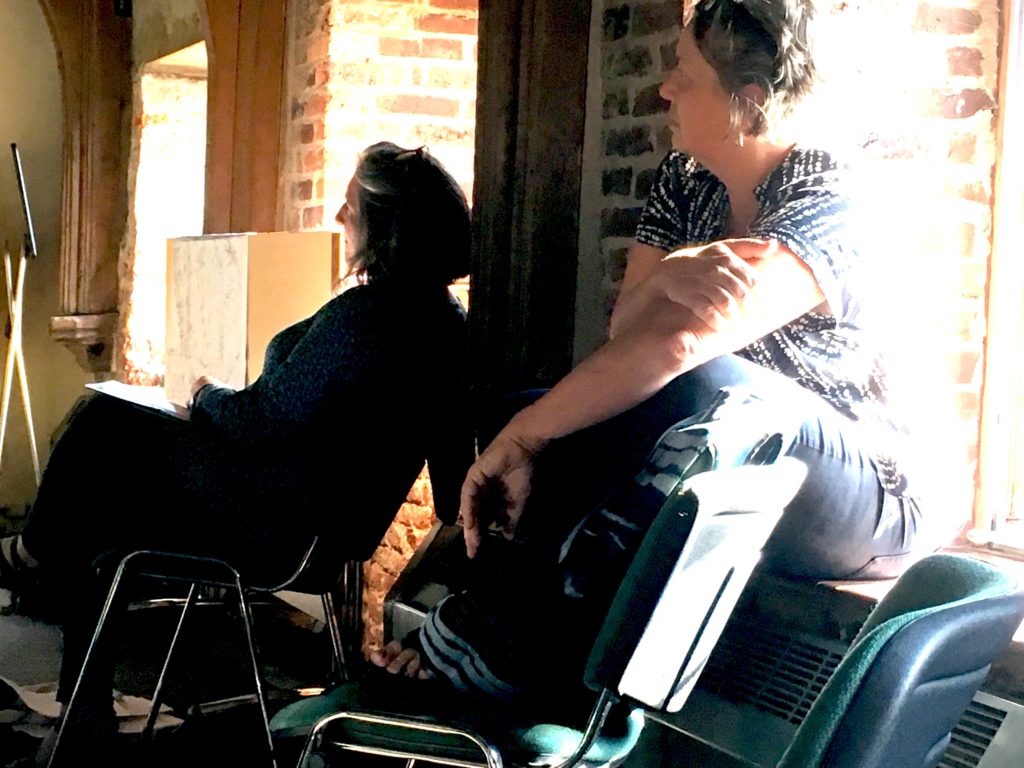 Land2
Judith is also co- convenor of LAND2, with Iain Biggs UWE. Land2 is a creative research network of artist / lecturers and research students with an interest in landscape / place-oriented art practice. Members of the network share a common interest in how art can engage with the possibilities and problems of landscape / place as it is understood today, while recognising the contested nature of both. The network meets for presentations of members work, has a web site at www.land2.uwe.ac.uk. This both represents the network and serves as an educational resource for those interested in practice-led research into landscape. Land2 undertakes occasional group projects, and organises conferences and exhibitions. Land2 has recently forged an academic link with the University of Minnesota, USA.