A weekend painting residential for women with Mary Blue
March 23-24 2024
 
Join us for our inaugural residential Weekend Womens' Paint-Studio taking place in the gallery and in our comfortable new GroundWork Apartment next door.
In response to GroundWork's stunning exhibition, Art for the Environment, Mary Blue has devised a weekend of trial and experiment, sharing ideas and images about how we can make new works of art in response to our local environment. The exhibition shows the results of works from 2023 by emerging artists from the University of the Arts, London, who took part in residencies around the world. It includes work by the distinguished course director, Professor Lucy Orta, and provides a great starting point. From there, and also using her own experience as an artist, teacher and mentor, Mary will guide an inspiring programme, where you will explore materials and locations together to find your own new voices and visions.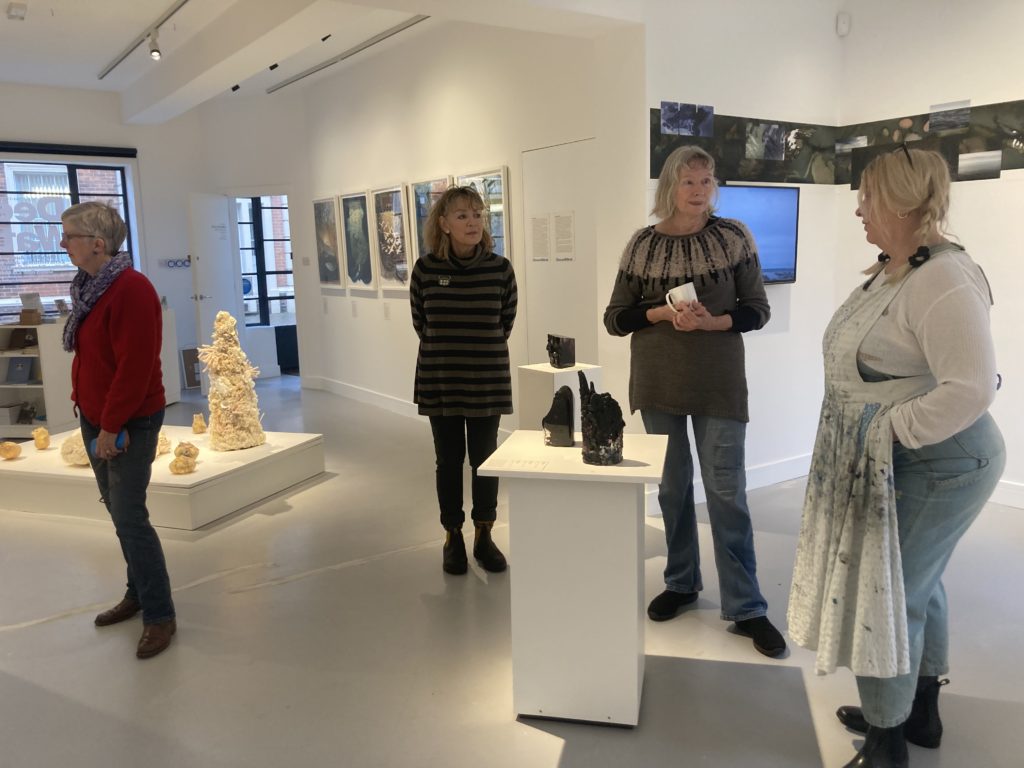 An artist who brings fresh visions
Mary is a painter specialising in working from and with the environment, often directly in 'plein-air'. She has a varied background having worked in arts development, leadership and creativity in various capacities, both in the US and the UK, and has been exhibiting her work widely. Mary is an American-British artist now living in Wells Next the Sea in Norfolk, where she is thoroughly assimilated. She has just had a brilliant year including the RA Summer Exhibition and Wales Contemporary, as she says:
' I feel I have really been developing my voice as an artist. Since leaving Graduate School in 1989, I have always painted, yet with less confidence and squeezing it in around my day job and family. Through the years, I have developed basic practices that enable me to paint in my own style. Learn by looking. Learn by doing. For all its difficulties and risks, I have embraced being a full-time artist and now I really feel that I am bringing something of substance to the world. A measure of that is that each time I explore a new location, something interesting happens in my work and I feel it leaps on to a new level'.

Mary Blue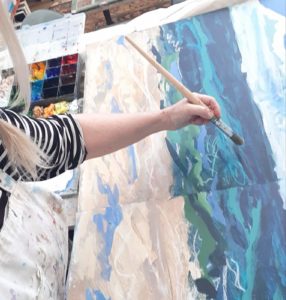 See your own practice in a new light
To start your creative practice afresh for the Spring, take some time to develop your own practice in a tranquil, reflective environment
This is what Mary hopes to bring to you – time for yourself, with encouragement. Her infectious enthusiasm, lovely positive and encouraging personality, and willingness to take risks as an artist and explore afresh. Mary has an open teaching style, emphasising practice over theory, underscored by shared experiences.
The event will be run as a residential. There is accommodation for 6 people (all women) to stay in the brand new comfortable GroundWork Apartment. All rooms are shared.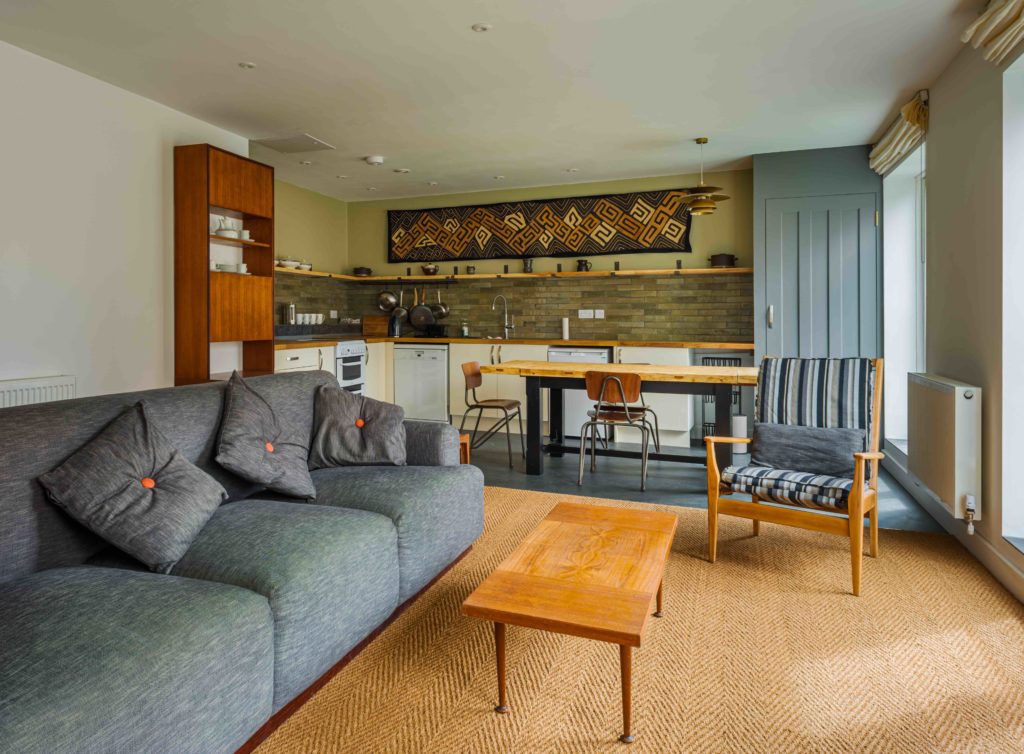 Costs and Booking
Weekend Full-Board rate

Arrival 10.30 am Saturday, Departure 5pm Sunday
2 days' tuition, 2 lunches, dinner, materials, one overnight stay in GroundWork Apartment (sharing rooms),
Per person £395.00
Additional night stays may be available at a preferential rate, depending on availability.

Or it is also bookable via Eventbrite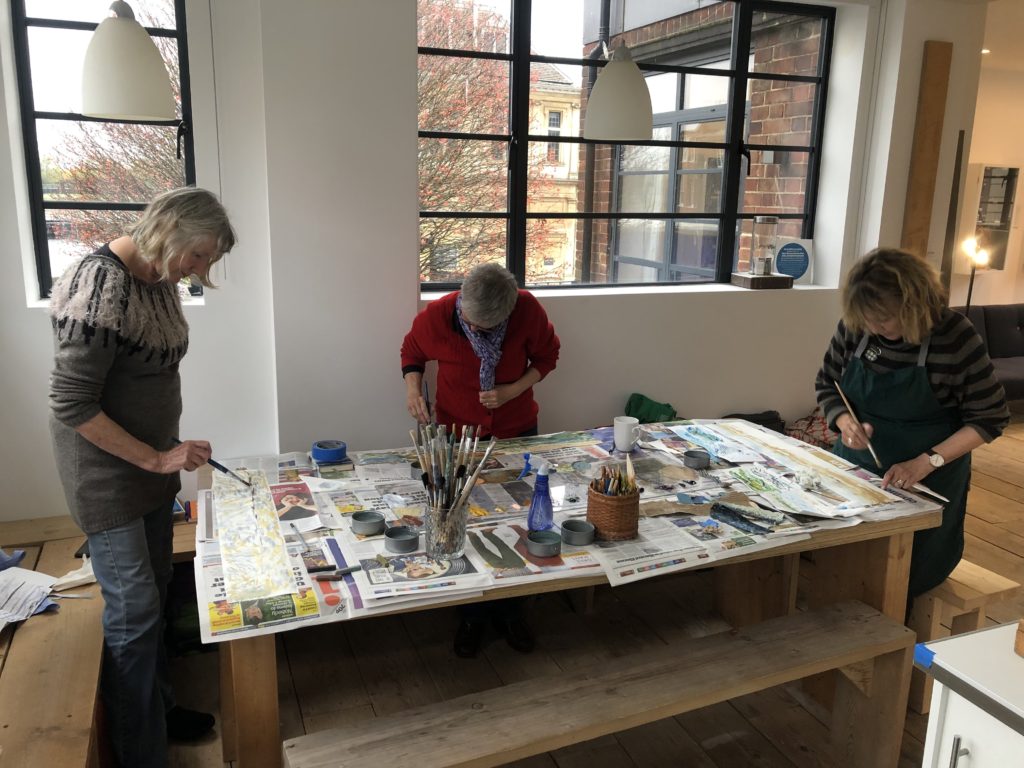 Outline timetable
Saturday 23 March
10.30 Start. Coffee or tea upon arrival & participants introduce themselves
11 – 11.30  Introductions – involvement with subject – Let's talk about the nature of creativity, having a point of view, creativity as a subject entices academics, leaders and wisdom seekers the world over.  Creativity does not exist in isolation. Discussion includes: techniques, disruption, innovation, execution and materials. Thinking big and follow through. What does it take to develop fresh ideas? Explore your visual language. Talk about the importance of an artist journal in keeping track of ideas. 
11.30 – 12.30  -Tour of exhibition, Art for the Environment
12.30 – 1.30 Lunch
1.30 – 3.00 Activity 1 – Making something on purpose from nothing and giving it meaning. Experiment with mixing pigments with gel, chalk, wax and playing on paper making marks. Warm up activities/ game of mark making. Get to know materials, talk about limitations of earth pigments and how we can address making in a sustainable way. Talk about the integrity of materials. Earth, a freshly dug handful of soil smells of the richness that comes in various colours, the blackest black and the whitest white, volcanic reds, and mossy greens.
 3.00 – 4.00 Adventure 1 – out and about – Bundle up, it will be cold walking along the river, observe, gather, think time. Be bold. Warm up with a tea upon return.
 4 .00 – 5.00  Activity 2 – resulting from Adventure 1  eg. Using charcoal and ink to make a residue of thought. Art is thought left behind.
5.00 – 5.30 Feedback – discussion – How do we take raw materials and combine them in such a way as to imbue meaning?  Continue discussion. 
5.30 – 7.00  Refreshment break
 
7.00  Have dinner 
After dinner film. 
 
Day 2
Sunday 24 March
 
9.00 Breakfast
10.00- 11.00 Talk in more detail about our work.  Open the conversation up for people to explore new pathways about their work. 
11 – 12 Working in pairs, create drip painted image mixing colours and working together to make an image. Or everyone create one painted square that when brought together make one larger image. 
12 – 12.30 Discussion / feedback
12.30 – 1.30 Lunch 
1.30 – 3.00 Adventure 2  – visit Seahenge at Kings Lynn Museum.  Think about the henge as a portal to the underworld through the earth. What significance does the earth have in our modern life?  How do we view Bronze age culture, what can we take from their ideas to revere earth more today.  Once Earth was seen as a god, now how to we view our earth? 
3.00 – 4.00 Activity 3  – Create paintings on canvas using pigment, gel, chalk and wax with tools that would have been used such as shells, feathers, branches, brush, rocks and things found on our walk to create an image (landscape, animal, person or abstract) from pigments tapping into primitive marks.  Clarify your thinking. 
4.00 – 5.00 Feedback / discussion