Artists from AER International Residency Programme
16 March -8 June, 2024
Lucy Dukes, Sophie-Anna Gibbings, Nicholas Holt, Eleni Maragaki, Lucy Orta, Beth Robertson
Art for the Environment showcases work by some of the most exciting artists emerging today who are drawing attention to our fragile planet. Above all, each one is concentrating on environmental sustainability and biodiversity. However, issues to do with colonial violence, social justice, and their interconnections also comes into their work. Whatever their primary focus, each artist is offering new imaginative relational perspectives between different forms of life.
The exhibition is a collaboration with the AER Art for the Environment international residency programme, launched at the University of the Arts London by Prof Lucy Orta in 2015. GroundWork Gallery has been involved with this programme for 3 years, hosting one artist each summer. It is among a total of 19 host organisations providing a range of immersive experiences for artists and postgraduate students. Each one is working across disciplines, to research and develop creative projects that interrogate concerns that define the 21st century.
Co-habitation, co-operation, intra-action
The Art for the Environment international residency programme builds on the notion of intra-actions as illustrated by the American theroetical physicist and feminist theorist Karen Barad.
It answers a wide range of emerging needs, to provide early and mid-career artists with opportunities for researching the incredibly diverse, multi-species, complex, and yet affective systems of cohabitation, co-operation, and intra-action. These are subjects always in movement, always in process.
The exhibition Art for the Environment at Groundwork gallery brings together some of the AER residents whose multidisciplinary work instigates new ways of thinking and novel methods for 'entangled' art practices.
Thanks to UAL, AER & the residency partners…
The exhibition is supported by Centre for Sustainable Fashion, AER at University of the Arts London, and the UAL Post-Grad Community.
AER would like to thank our partnering institutions of 2023 and the UAL residents:
NAHR: Nature, Art and Habitat Residency, Italy – Beth Robertson
Domaine de Boisbuchet, France – Sophie Anna Gibbings
GroundWork Gallery, Norfolk, UK – Lucy Jane MacAllister Dukes
Labverde, Brazil – Lucy Orta
Mahler & LeWitt Studios, Spoleto, Italy – Eleni Maragaki
Joya: arte + ecología, Almeria, Spain – Nicholas Holt
Curated by Camilla Palestra (UAL) with Veronica Sekules (GroundWork Gallery)
Exhibiting artists:
Lucy Jane MacAllister Dukes
'I've been exploring how artistic practice can become "intra-actions" (Barad, 2007), revealing the entanglements between humans and more-than-humans in the Anthropocene. To me, everything is drawing, revealing mutually co-constitutive relationships in the universe across micro and macro scales. Each mark is an exploration in moment of spacetime, each material holding embodied knowledge.'

Lucy Dukes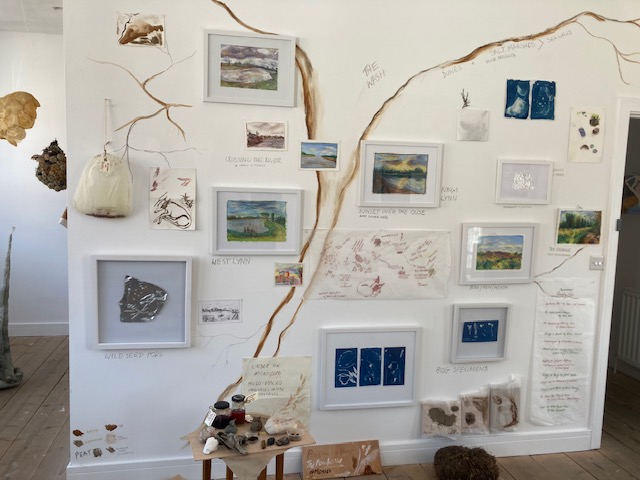 Lucy Dukes is a transdisciplinary artist and philosopher based in the UK. She gained her BSc in Philosophy, Logic and Scientific Method from LSE (1st class hons, 2015-18), completed the Royal Drawing School Intensive (2019), then got her MA in Art & Science at Central Saint Martins, UAL (1st class hons, 2020-22). She has exhibited work, completed residencies and run workshops across the U.K. and Europe, from Dartington and Chelsea College, to Berlin and Athens. Lucy has taught on courses at CSM and ZHdK and collaborated with scientists from the Tokyo Institute of Technology, the Iskratch Lab, QMUL and the Biophysical Sciences Institute.
The artist grew up drawing in her mother's studio, which they still share. Lucy works site-specifically experimenting and collaborating across disciplines and species, with artists, scientists and more-than-humans. Recently she was awarded the AER Art for the Environment Residency with Groundwork Gallery and exhibited her work (detail shown above) in The Ground Beneath Our Feet.
Sophie-Anna Gibbings
I am a regenerative artist working in collaboration with nature.
I reference the practices of regenerative agriculture and Indigenous wisdom of living in harmony with nature as entry points to my work. My process is more about an ecology of the mind, rather than a regeneration of soil. All the materials used for my artworks are found in the landscape and can be returned to the Earth, without any harm to her. It is at this intersection of material and landscape that I explore the core values of my work.
…..I don't see myself separate from nature but rather as two artists working together. Performance is the beginning of this collaboration, often referencing my own body as it relates to nature's body. Using different mediums, including printmaking, alternative process photography, painting, and sculpture, I am exploring how an initial performance done in the landscape can lead to many different bodies of work.
…..These works are ephemeral, and I have no attachment to their permanence, as we all come from nature and return to nature. By creating an opportunity for non-logical encounters with my art, I intend to increase the viewers sensibility to the environment. I am interested in what happens to the materials after and beyond their time on display, and how this consideration might help regenerate ecologies.
It is my hope that my work offers a new perspective, that stems from an ecology of the mind and addresses issues from the vantage point of a regenerative planet.


Sophie-Anna Gibbings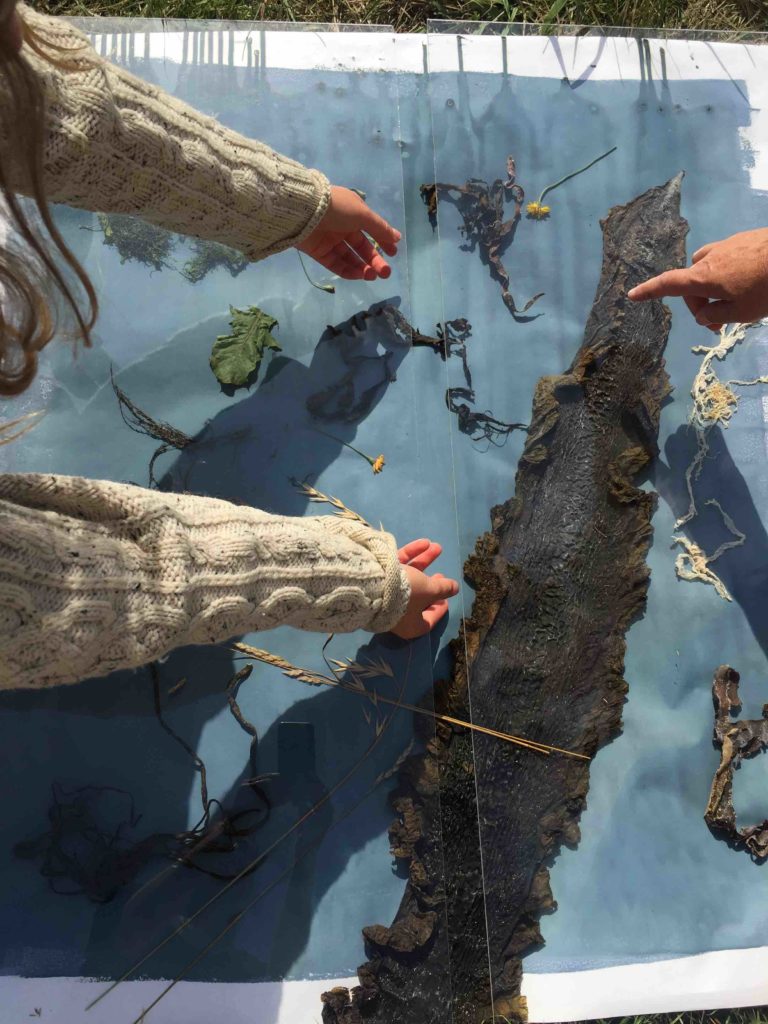 Sophie Anna Gibbings was born in Santa Barbara, California (1994) where she spent the first 18 years of her life. She received her BFA in photography from Lesley University College of Art and Design in 2016 (Formally The Art Institute of Boston). She recently earned her MA in Contemporary Photography: Practices and Philosophies at Central Saint Martins. Sophie was shortlisted for the University of The Arts, London Maison/0 This Earth Award. She is also a recipient of the University of The Arts, London Art for the Environment Residency Program (AER) at Domaine de Boisbuchet, France. Most recent exhibitions include Meant to Fade, Laneway Gallery, Cork, IE, Impermanent, Safehouse Gallery, London and Dance for the Sky, Slash Arts Gallery Houseboat, London. She also recently completed a residency at Joya: arte + ecologíca, Spain. Sophie is based in the UK.
http://www.sophieannagibbings.com/
Nicholas Holt
'I am a lens-based artist based in the Peak District, UK. My practice explores meditated states in the landscape; in recognition of the interconnectivity that we have with the natural world. Increasingly, I see my work as an 'act of restoration'1 for our relationship with the natural world; while appreciating those processes that exist beyond our understanding.'

Nicholas Holt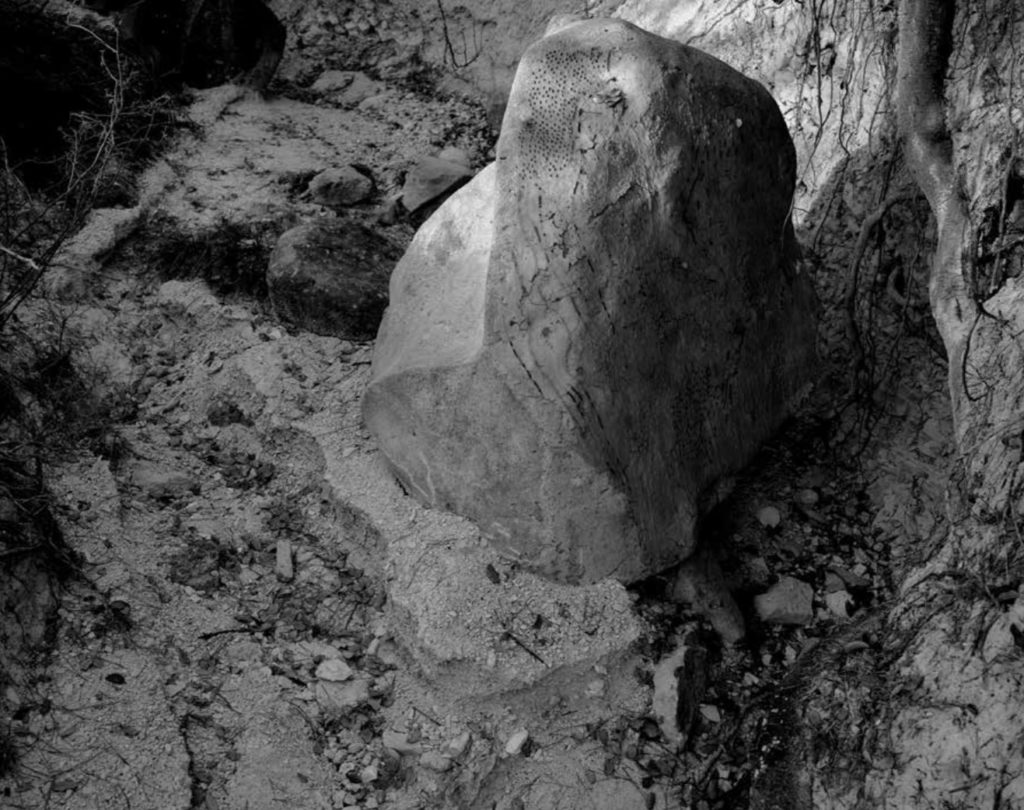 Nicholas Holt is a UK based photographer and writer with a focus on the journey, nature and history. He holds an MA in Photojournalism and Documentary Photography with distinction from the University of Arts London (2022).
His photography has been recognised by the Sony World Photography Awards, The Royal Photographic Society and Arles Open Walls. Nicholas has worked with Geographical Magazine, Suitcase Magazine, JRNY Magazine and Bradt Travel Club Magazine.
He is a founding member of Collective 454, an international group of research-lead, environment-focused photographers. Nicholas's residency was at Joya: Air, Spain.
https://www.nicholasholt.co.uk/
Eleni Maragaki
'My practice engages with the idea of geometry as a fundamental language, that both systemises the urban environment and provides a means of comprehending the natural one. My research is focused on bridging the dichotomy between urban construction and the natural environment, as for me, architecture should be in constant dialogue with the landscape. As a response to the densely manufactured urban space, I am inspired by the delicacy found in the system of natural structures, including chemical elements and crystals.'

Eleni Maragaki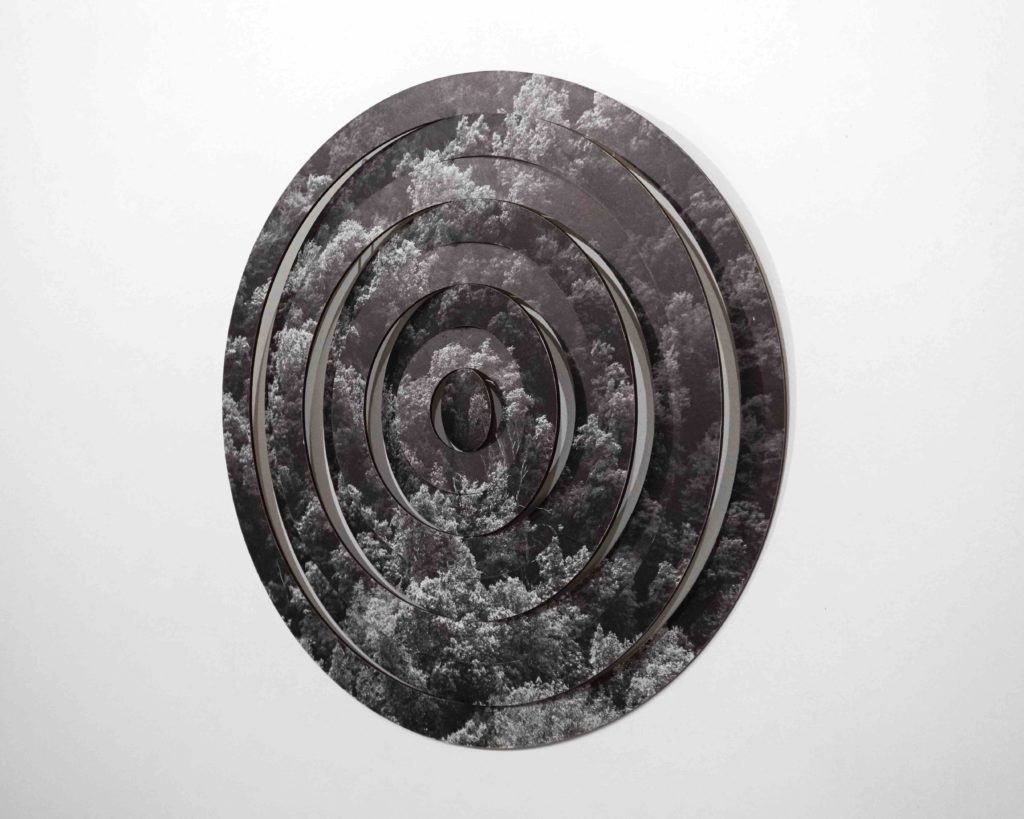 Eleni Maragaki is a visual artist born in Athens, Greece. She studied Painting at the Athens School of Fine Arts (2013-2018) and MA Fine Art in Central Saint Martins, UAL (2020-2022), with distinction, as a recipient of the Mona Hatoum Bursaries Award. Eleni is the winner of the Muse Residency Award and the Tate Christmas Card Competition. She has taken part in numerous exhibitions including a screening in LUX Moving Image, London and a group show in the Art Station Dubulti, Latvia. Her latest project was a public commission for a light installation by Stavros Niarchos Foundation. She is also a member of the Royal Society of Sculptors.
https://elenimaragaki.com/
Lucy Orta
Never before has humanity experienced social and ecological changes on a such an interconnected planetary scale. In this new epoch termed the Anthropocene we are all responsible for Earth's health, for the survival of species and the benefits to future generations. Perpetual Amazonia, places people at the heart of stewardship to encourage audiences to take responsibility for our future.

Lucy Orta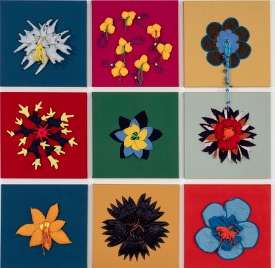 Lucy Orta, images from Amazonia
Lucy Orta's visual arts practice employs a diversity of media including drawing, sculpture and performance to realize major bodies of work that address key social and ecological challenges. Amongst her most emblematic bodies of work are: Refuge Wear and Body Architecture, portable minimum habitats bridging architecture and dress; Nexus Architecture investigates alternative models of the social link; HortiRecycling and 70 x 7 The Meal question the local and global food chain and rituals of community feasting; OrtaWater and Clouds reflect on water scarcity and the problems arising from its pollution and corporate control; Antarctica considers the effects of climate change on migration; and Amazonia explores interwoven ecosystems and their value to our natural environment.
Lucy often works collaboratively with her partner as Lucy + Jorge Orta. In recognition of their contribution to sustainability, the artists received the Green Leaf Award for artistic excellence with an environmental message, presented by the United Nations Environment Programme in partnership with the Natural World Museum at the Nobel Peace Center in Oslo, Norway (2007). Numerous monographs have been published and Lucy + Jorge Orta's work has been the focus of major exhibitions nationally and internationally. 
Beth Robertson
My practice traverses boundaries of sound, ecology and geography in an interdisciplinary investigation into the testimonies of the more-than-human. By using field recordings and experimenting with playful interactive mediums of listening, I seek to challenge the way in which we interact with the world in, amongst and around us. The aim of my work is to follow the ghosts and unsettle the silences of the Anthropocene.


Beth Robertson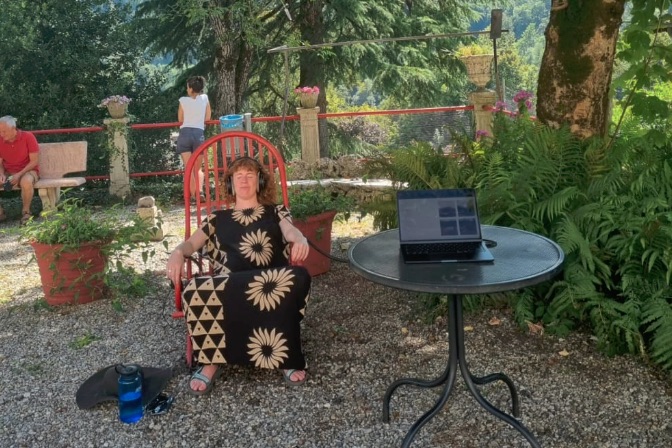 Beth Robertson is a sound artist based in London and Glasgow. She is a recent graduate of the Sound Arts MA at LCC. Her intra-disciplinary practise seeks to queer the relationship we have with our environment through sound. With a background in Geography, Beth creates work that celebrates the hybridity of humans. Her innovative practice uses activist listening in response to the climate crisis.

Through the use of field recordings, photography and composition she creates sound maps and installations. These investigate entangled local ecologies and experiment with shifting place identities. Beth further explores these themes in a monthly radio show on Resonance FM. The artist was selected for the UAL AER Programme at the Nature, Art and Habitat Residency, Bergamo, Italy: NAHR.