Plant Power is all about how plant lives and ours interconnect. Artists who are concerned about plants in a time of climate change are finding ways to give us new intense images. Through the power of art, this is an exhibition which aims to consider the plant point of view. Plants are not merely a backdrop but take centre stage.
It is becoming more and more urgent for humans to re-consider Plant Power. There has never been such loss of biodiversity as we are experiencing today. Habitat destruction is a major problem. Plants experience all kinds of prejudice. Some are desirable and sought after, others regarded as invasive or in the way and poisoned, over-controlled, readily extinguished. Our exploitation of just a few plants on a global scale, means possible extinction for others. Largely owing to human exploitation, greed and carelessness, we are losing plant species every day.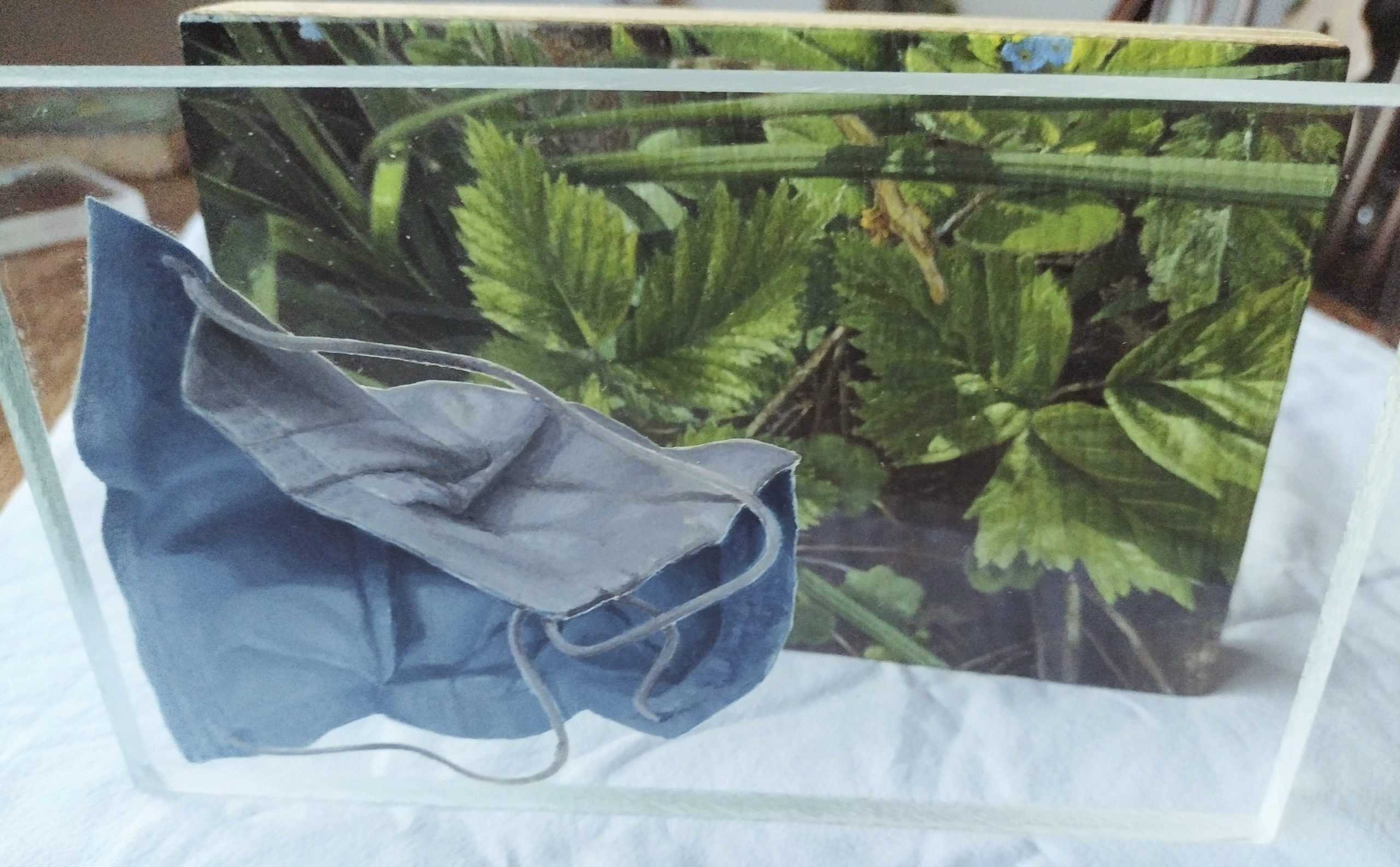 Aurora Sciabarra: Covid invasion, 2022
Power to the plants
We grow plants, we eat them, we celebrate their beauty, we make them into many useful things from clothes to furniture. We do not deny all these human-plant relationships. However, this is an exhibition which aims to reach further. We want to go beyond the botanical, to consider how imaginative and experimental art can show new aspects of plants. Above all, we aim to use artistic power to give the power back to plants. And above all, to inspire greater concern for the peril they are in.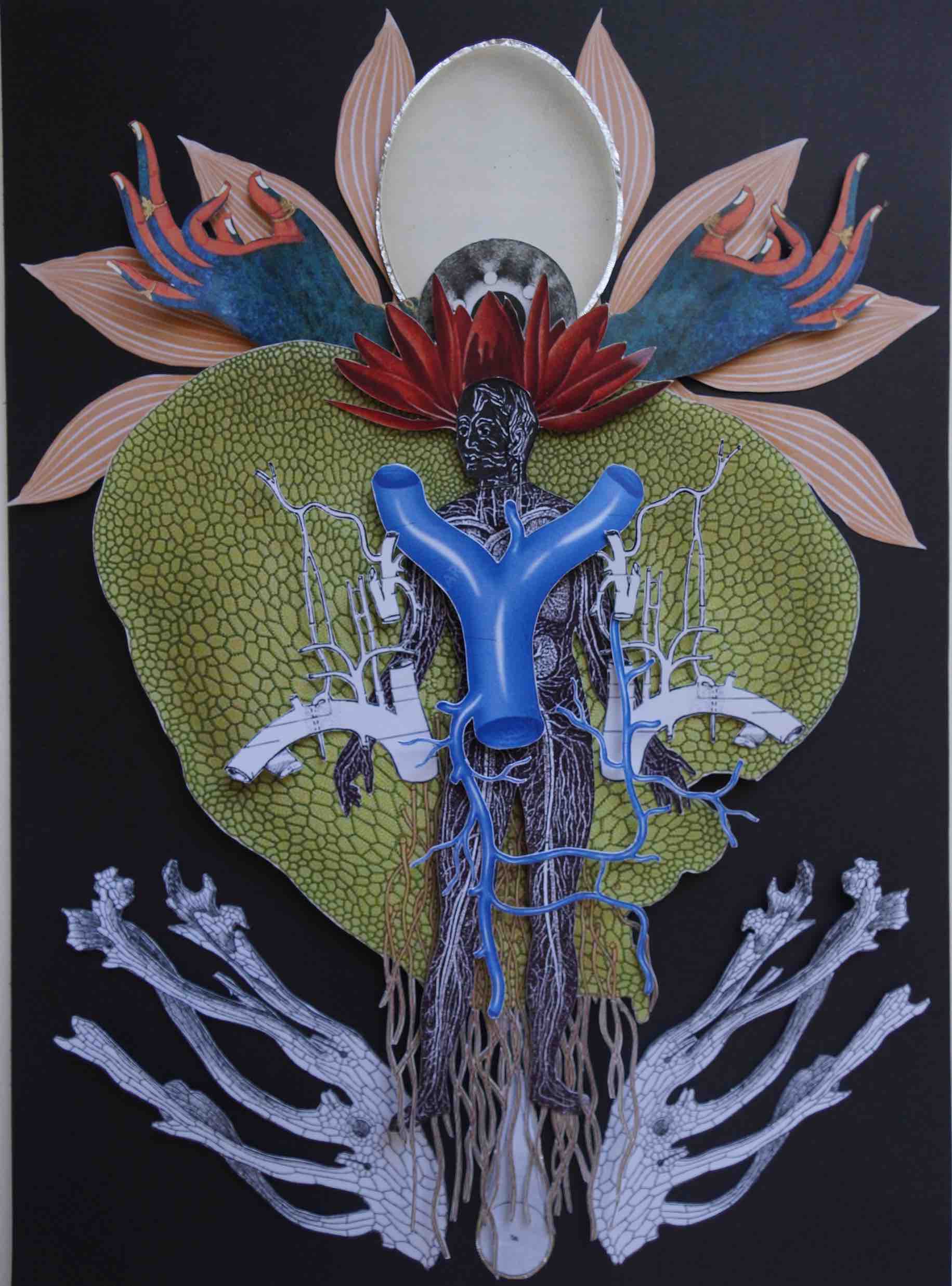 Raji Salan: 'Anima-Animus', 2022
Introducing the artists
We have brought together a selection of the many artists who share concerns about plants, and who are making images which aim to make us spring into action to see the world from a plant point of view. Here we see work about wild plants, garden plants, plants which survive in difficult circumstances. Some show intense detail, others are impressionistic. Many use innovative media or collaborations with a range of specialists including scientists. But all demonstrate how art can make a contribution to our closer understanding of the natural world.
Anne Geene
Plant Power intensified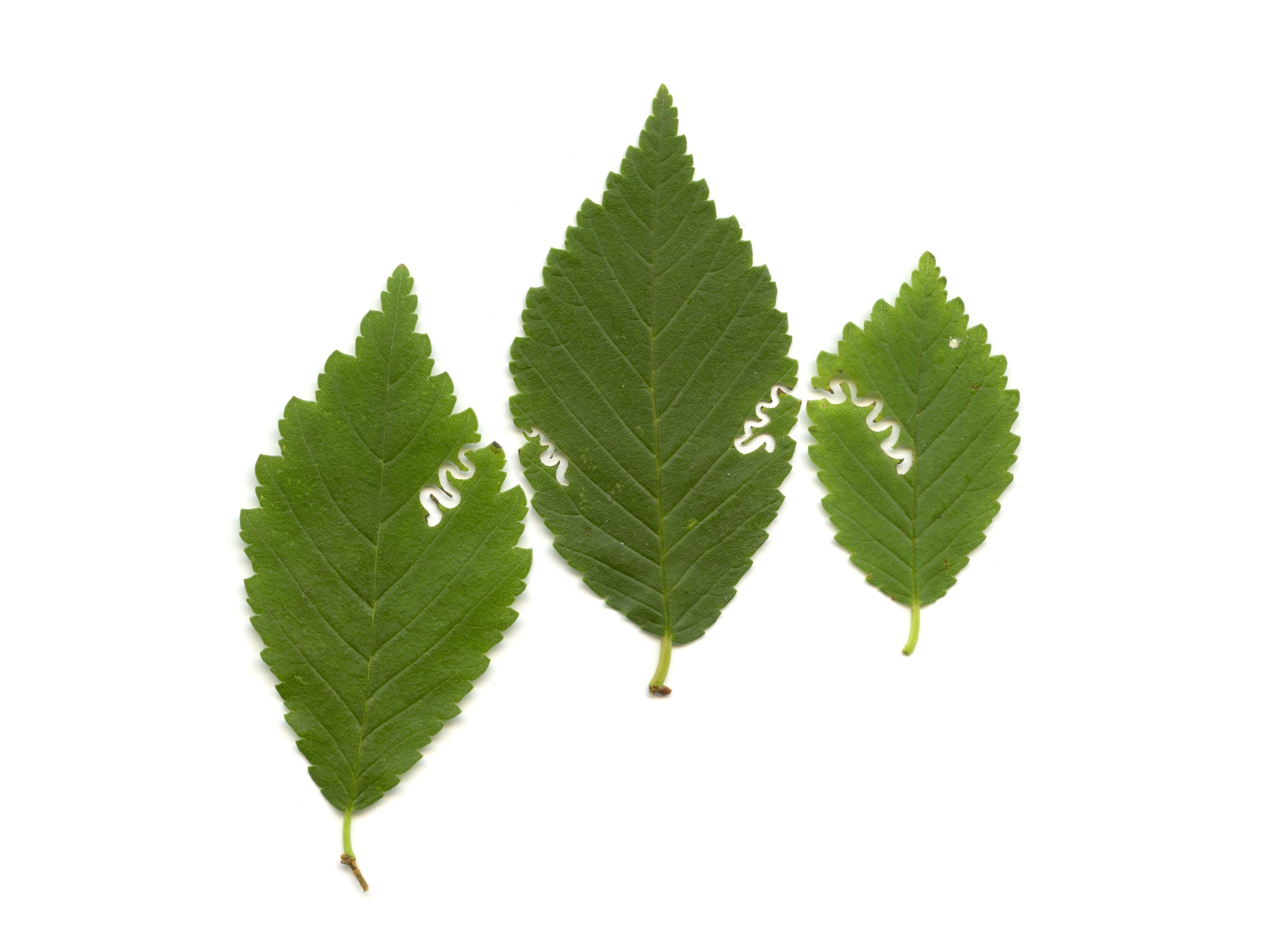 Anne Geene: Correlations 4
An award wining Dutch photographer, Anne Geene studied art and cultural studies at Erasmus University followed by further studies in art and photography in The Hague; Sint Joost Academy Breda and Leiden University where she gained her Masters in Photography in 2011. She is known for her intensely close observation of nature, often creating original taxonomies, looking a changes to plants and their environments made through human, animal or invertebrate agency. She publishes collections of work, often having taken years to assemble, in sell-out books. She also exhibits widely in the Netherlands but has never shown her work in the UK.
Deborah Gardner
Deborah Gardner: Invasive Species series, 2021
Deborah Gardner's practice is process and materially led, inspired by such things as the vibrancy of cell, plant and geological structures, imagined future environments and networkable and accumulative structures. Deborah Gardner is a lecturer at the University of Leeds and is a member of the Royal Society of Sculptors, the Yorkshire Sculptors Group and LAND2 (Practice led research network). She has exhibited nationally and internationally in galleries, museums, cemeteries, sculpture parks and industrial regeneration sites.
Gardner is currently continuing art and science collaboration. Recent projects have been supported by the Royal Society of Chemistry, Pint of Science Creative Reactions, the Zoological Society of London and the Integrated Biological Imaging Network (KCL) and have explored shared methods and processes in art and science research practice. Most recent work considers imagined plant life in future biospheres and our shifting relationship with plants.
Barbara Howey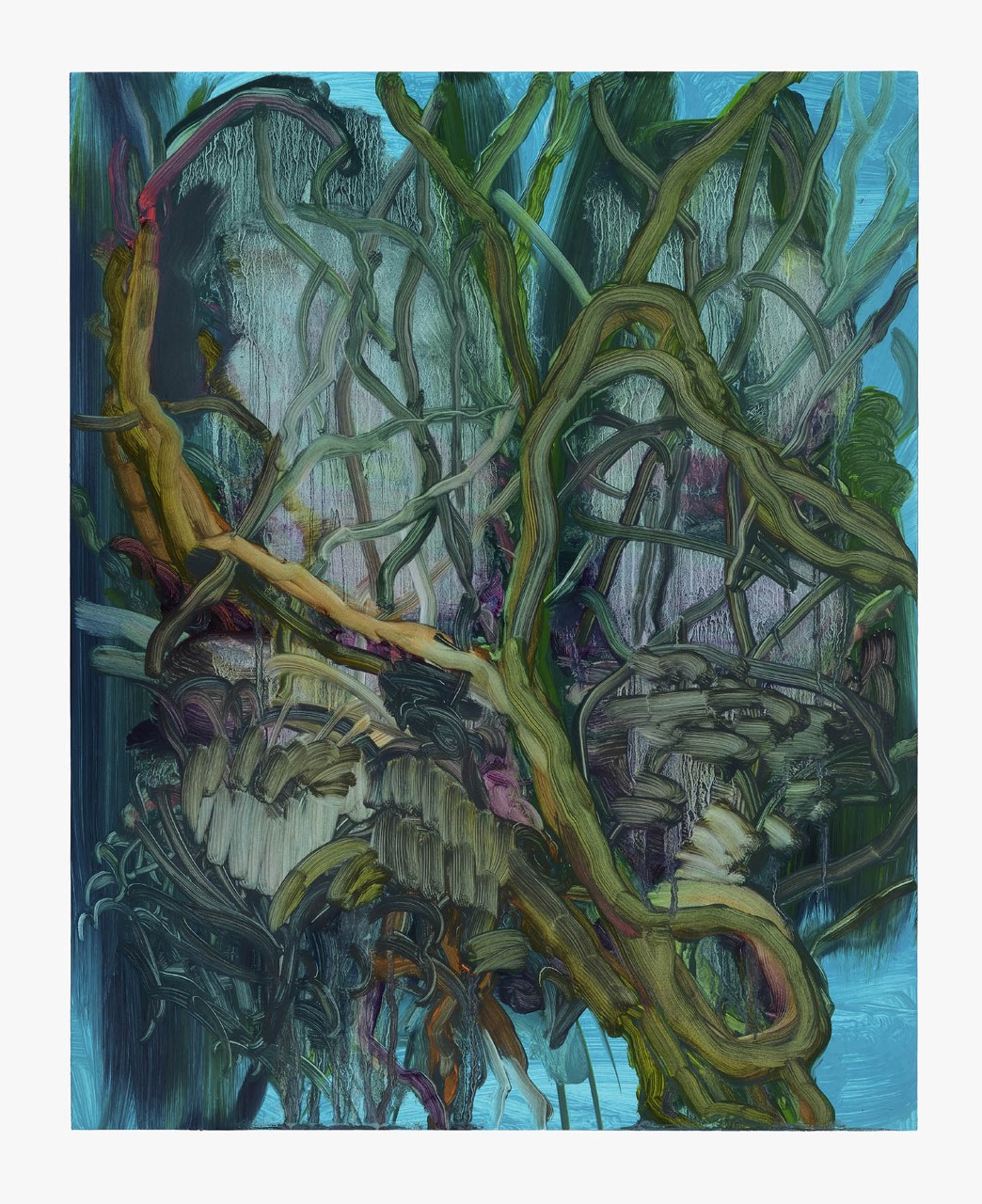 Barbara Howey, Woodland Fragment, oil on board, 2023
Barbara Howey is a co-curator of Plant Power. She is a painter, formerly lecturing at Norwich University of the Arts. Barbara is a committed environmentalist and aims to convey in her work both the beauty of the subject and the deep dangers it faces as a result of human malpractice and neglect. She is a member of the Contemporary British Painting group and has exhibited widely with them. Recently she has co-curated a touring exhibition with Judith Tucker, 'Entwined, Plants in Contemporary Painting'.
Caroline Hyde Brown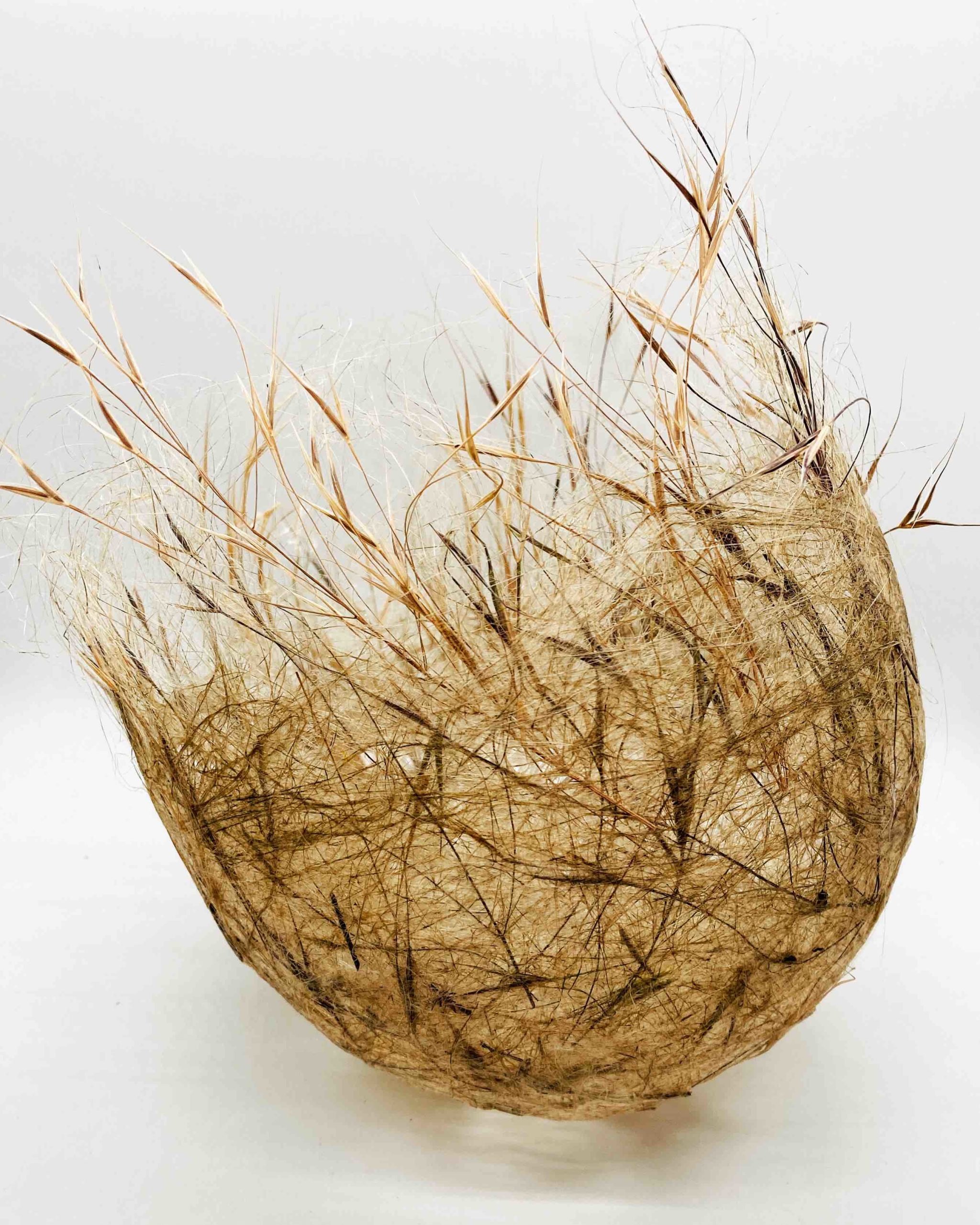 Caroline Hyde Brown plant bowl, 2023
Caroline Hyde- Brown originally tried as a designer and textile artist which trained her strong sense of form. She strives to maintain a strong sense of global responsibility and her approach is one of simplicity, co-creation, and collaboration. Telling stories through extraction of natural colour from flowers, herbs and weeds growing in her garden to echoes their ephemeral and fragile quality. She invests a substantial amount of time and research into sourcing her biomaterials.
Raji Salan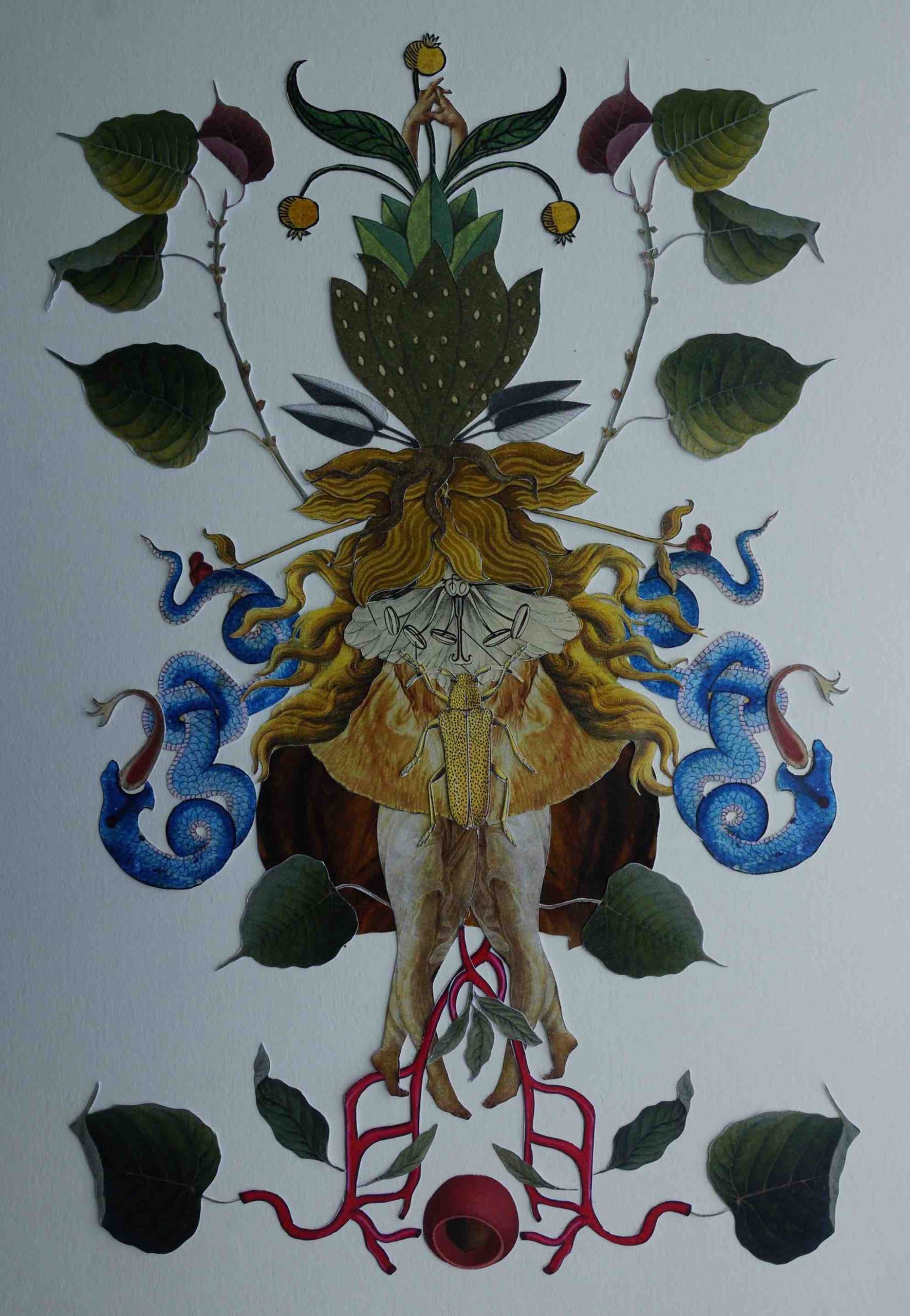 Raji Salan: 'Root'
Raji Salan's arts education and practice have a cross-disciplinary approach to the arts and sciences. She has used a variety of analog and digital methods, including camera obscura photography, wood relief carving, and drawing. Her current exploration in collage enables her to research, collect and archive images from many sources that develop her intuitive approach to alternative methods of image making. Using images from various cultures has come from her experience of growing up in a diverse environment. The biosphere is seen in her collage work, inspired by her interest in anatomy and botany.. Referencing the first organisms found growing on earth, microbes, human/animal anatomy, and the variety of colors found in all life, intertwining to create a narrative for the viewer to explore.
The delicate balance of life on earth is often her focus.She has exhibited at The Jerwood Drawing Prize 2010 and 2016 (London and UK tour), Household Name 2021 Elysium Gallery (Swansea), Galeri and CARN (North Wales).
Aurora Sciabarra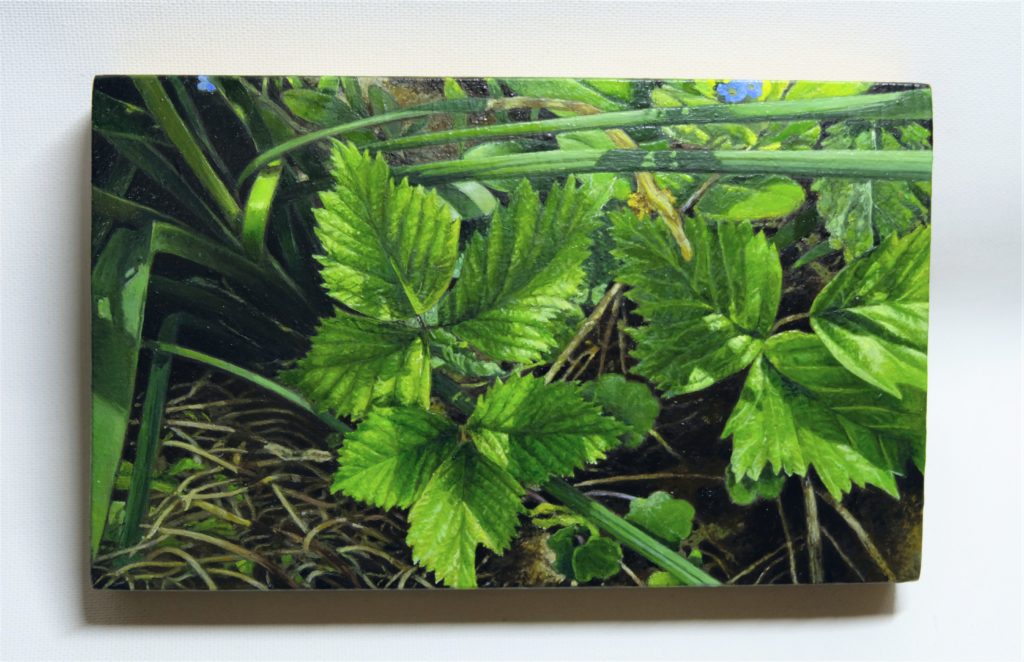 Aurora Sciabarra: Wild strawberry, oil on canvas, 2023
Aurora Sciabarra's artistic practice spans the disciplines of painting, to collages and installations. Her research is focused on consumption, over-production of consumer goods and agency. Through her work she investigates the concepts of people's needs and choices: to what extent human beings' way of living can affect the environment.
Julie Tocqueville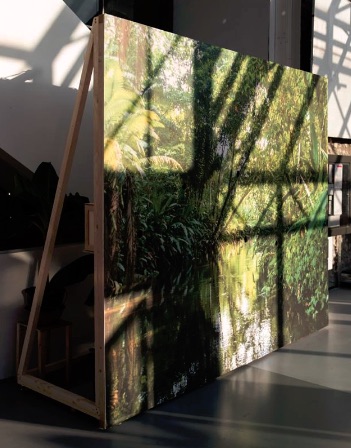 Julie Tocqueville: left to right: 'Out of reality an elsewhere', 2017; 'Extracts of landscapes' 2015, 'Earth-plinth', 2015
Julie Tocqueville is a French artist, based in Rouen whose experimental and conceptual art often concerns the integration of nature into alien environments. Believing that every situation has potential for art, she invents highly original means to interpret spatial experience in ways which can transform environmental understanding. She brings a sense of scale and architecture to the exhibition, showing how we can be sensitive to plants in the urban sphere. She has been part of a collective of artists whose work is concerned with the environment. As well as being an artist, she has a experimental music band Museau. With all her art forms she travels and exhibits widely around Europe. Her involvement with Plant Power has come about as a result of our collaboration with the City of Rouen, twinned with Norwich.
Aindreas Scholz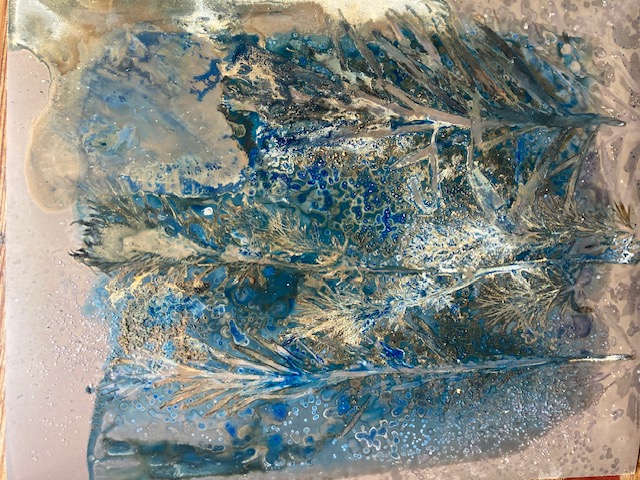 Aindreas Scholz, Cyanotype 1 & 2, 2023
Aindreas Scholz creates images in response to specific sites and his practice concerns
the connections between humans, non-humans, nature, and the wider environment, considering the ever-present climate crisis, He investigates processes of deep time in terms of geology; and immediate impulses caused by adverse weather phenomena and a warming climate. Recording
change is crucial to his practice and he aims to make that evident in all his images.He works in collaboration with the elements at each site, whether sea water, rain, or plant specimens. Sunlight, silt and soil help him create an inner world that connects to his viewers. Using both 19th-century and modern photographic techniques, Aindreas aims to innovate in terms of sustainable photographic printing
practices and processes and to push technical, creative as well as conceptual boundaries.
Judith Tucker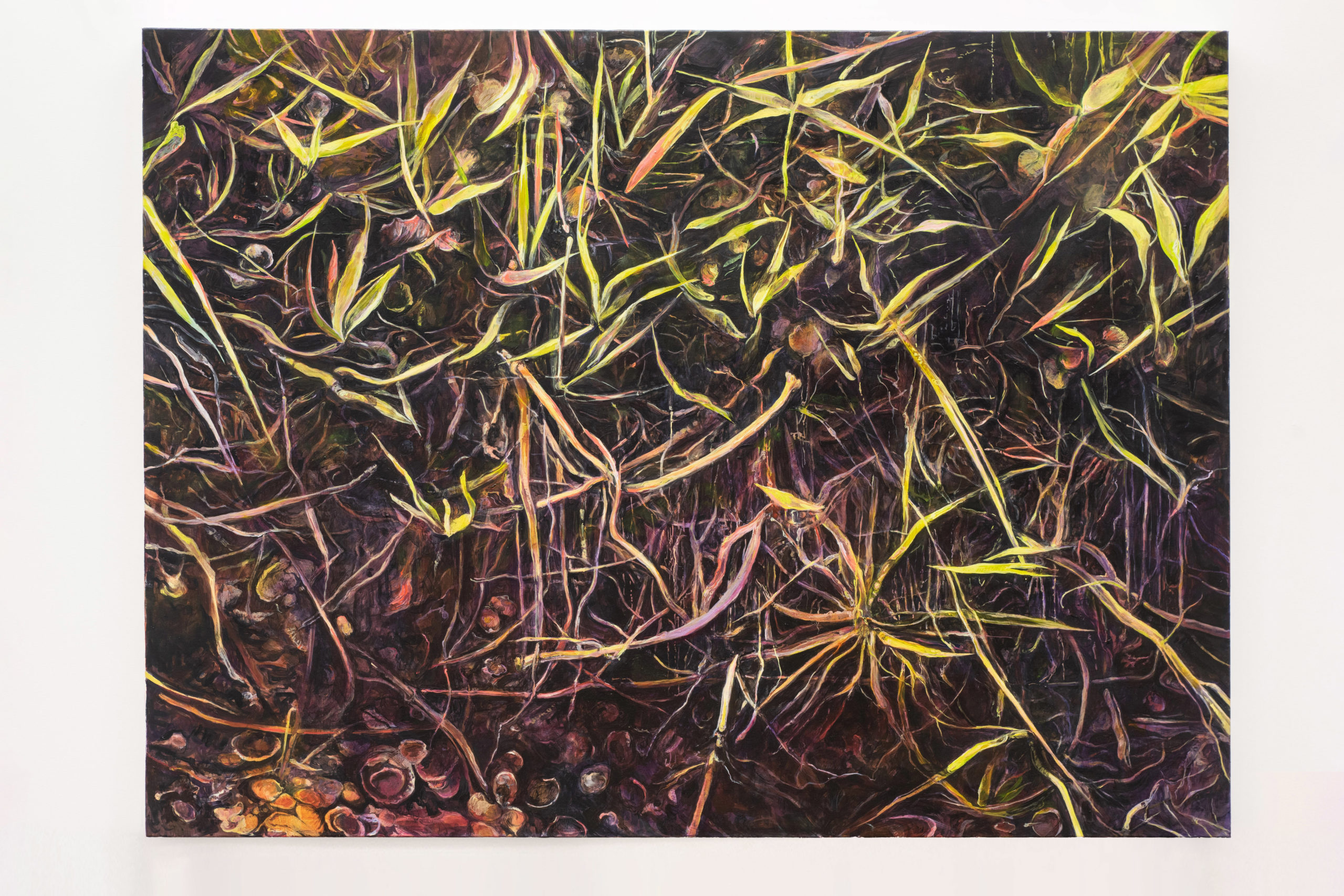 Judith Tucker, 'Dark Marsh – pioneering', oil on linen, 2022
Judith Tucker is a co-curator of Plant Power. She is an artist and academic at Leeds University. Her work explores the meeting of social history, personal memory and geography. It investigates their relationship through drawing, painting and writing. She often collaborates with poet Harriet Tarlo and previously they have shown their work Outfalls at GroundWork, a project which concentrated on Lincolnshire waterways. Current work which will be on show in Plant Power explores the minutiae of the natural environment of the salt marshes on the edges of Cleethorpes, a resort town also in Lincolnshire. She is Vice-Chair of Contemporary British Painting and co-convener for Land2, an organisation for ecologically-minded artists and writers.