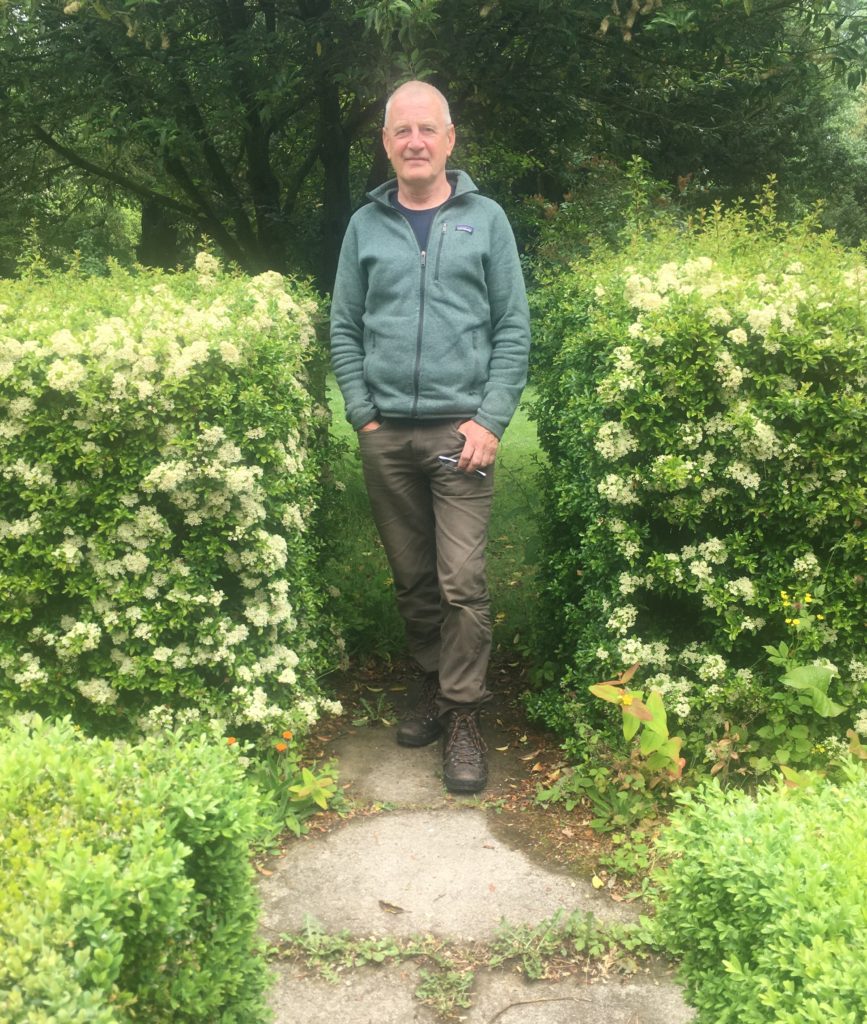 Tim Simmons is an artist photographer who shows us detailed and precise visions of landscape. His works show the world with great intensity and reach beyond what we think we see. Both scientifically and spiritually they access another dimension.
Tim has shown work several times at GroundWork. We showed his Masters film, 42.97° N Upstairs, during Sunlight and Gravity, the opening show in 2016. Most of the landscape photographs illustrated here were part of Out of the Wood. Then for the 11tHour in October 2019, we projected the film '12 noon on the Prime Meridien'.
Tim's new book!
Dewi Lewis Publishing has just brought out a monograph about Tim's work, covering aspects of his whole career.
Place in Time is accompanied by essays by Polly Gould, Camilla Brown, Judith Stewart, Veronica Sekules & Tim Holt Wilson
Judith Stewart is the editor of 'Place in Time, the work of Tim Simmons'.
You can buy the book from the gallery, or from our on-line shop where there are more details.

Crossing science and art, precision and emotion
Tim Simmons's work offers new tools for the environmentalist, crossing science and art, precision and emotion. Occasionally he produces a blockbuster, a vast projection, but at his best, he directs the gaze within quite an intimate space. This applies not only to the presentation size, but to the space within the image.
Each picture is a container for shafts of light. Because of the detail, direction, concentration of light, his clearings are often eerie, spiritual, mysterious. He uses the machines, not only those of production, but of the measurement of time and place, to accentuate the moment, to calculate the point of its greatest stillness, or to encapsulate its minutest movement.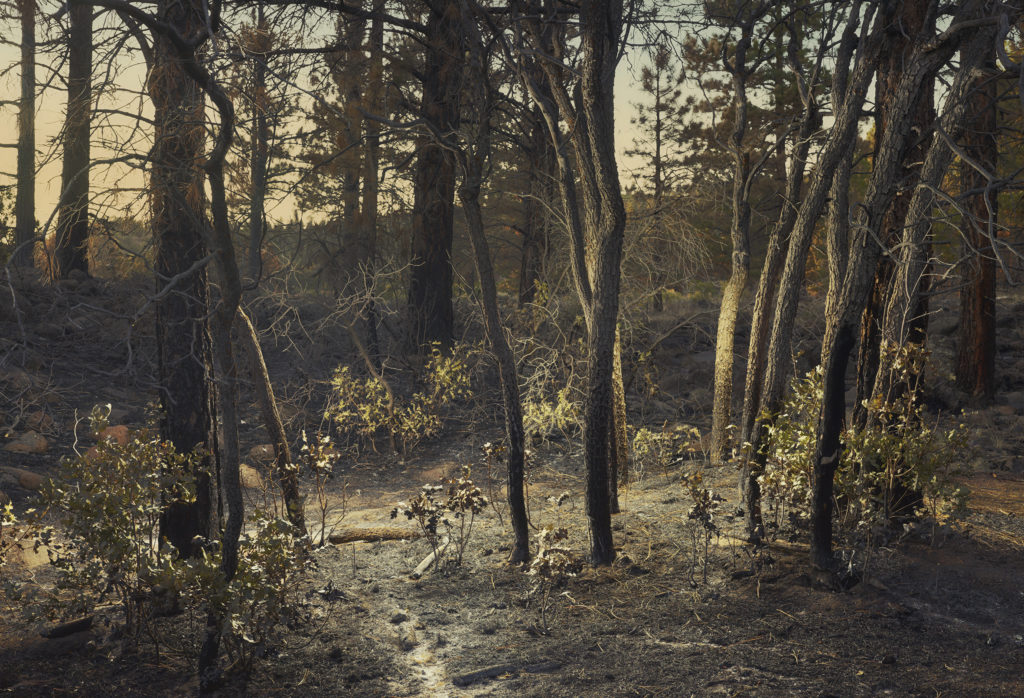 The exact place
But the effect is not cold and calculating as this might suggest. By finding the exact place and the time of its greatest portent, he deepens the content.  Paradoxically in searching for the greatest precision, he presents places which are more intensely and spiritually themselves.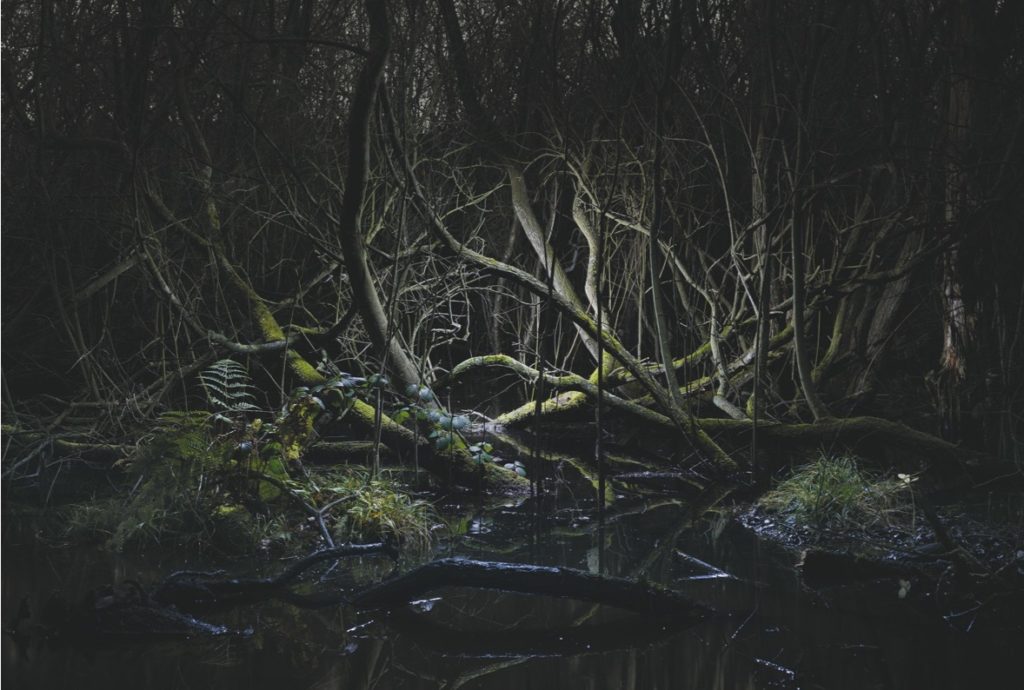 For the environmental campaigner, this offers a subtlety of place which heightens the minutiae we need to learn to care for. Simmons's work gives us the tools and the argument, plus the intangible qualities which make us want to care.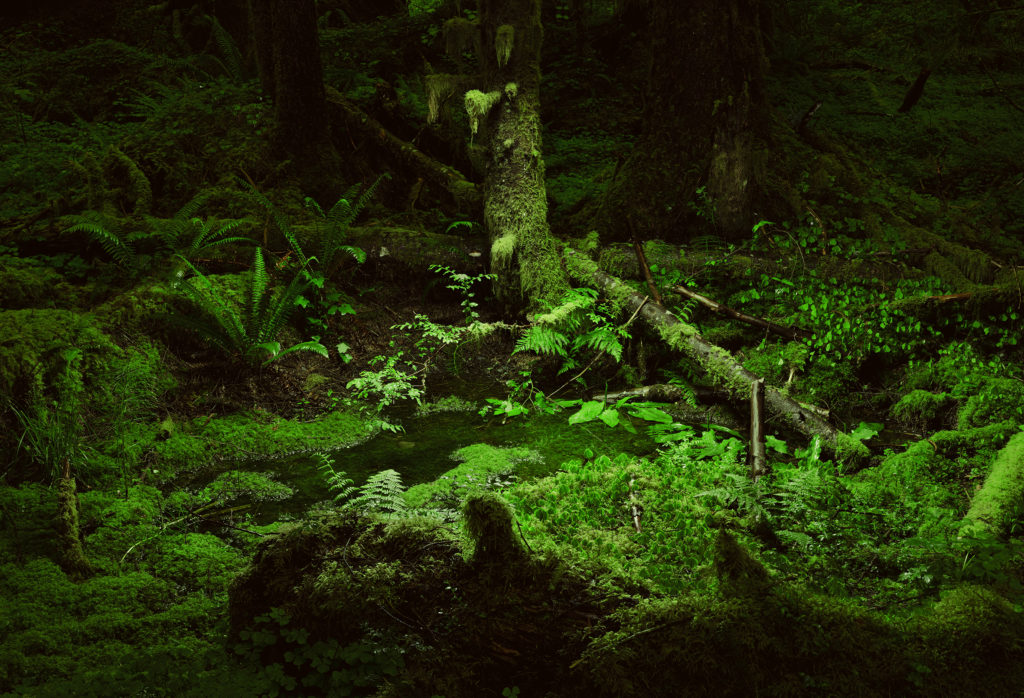 Simmons's interest in time-space shifts and in the science of perception have led to innovative experiments. His work reflects on how the movement of the earth subtly controls the relationships we humans are able to have with its phenomena. Included in this is a fascination with the speed of sound and how this correlates with the speed of the earth's rotation.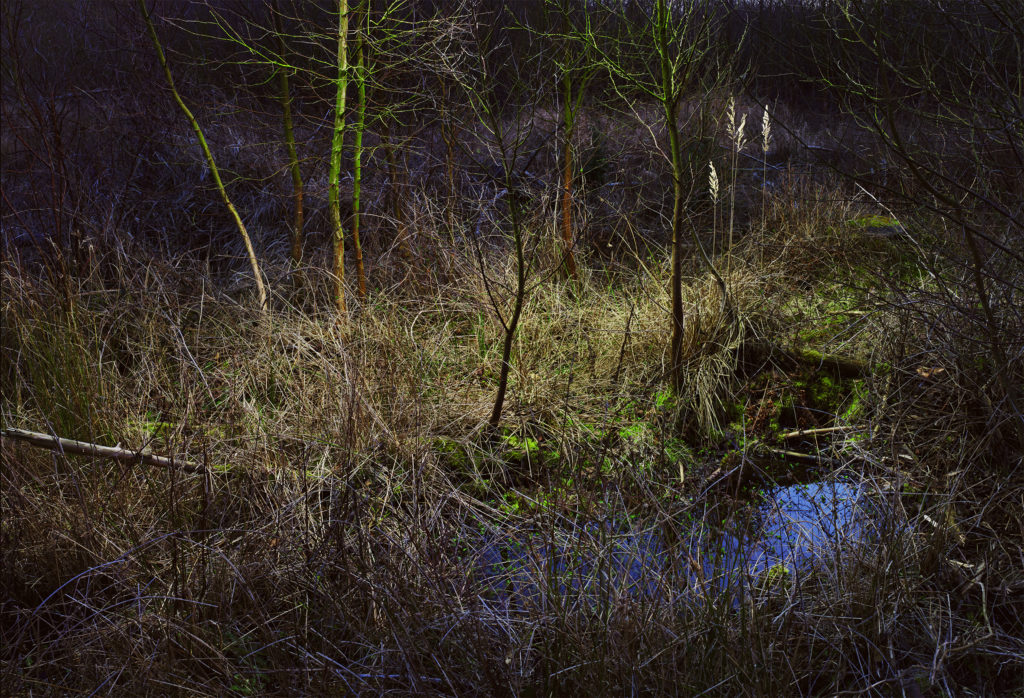 Lighting and drama
He carries a weight of equipment and will often work at night, with the addition of artificial lighting in order better to control the impressions he can make. In the studio he will then work further to bring out colour and detail of the image so that its power is exactly as he wants it.
Tim Simmons's dramatic photographs of dense woods and their undergrowth from Norfolk and the United States represent the strange beauty of forests. From isolated places, Tim's work has a symbolic dimension, connecting landscape with ideas about time, distance, motion, movement of the earth.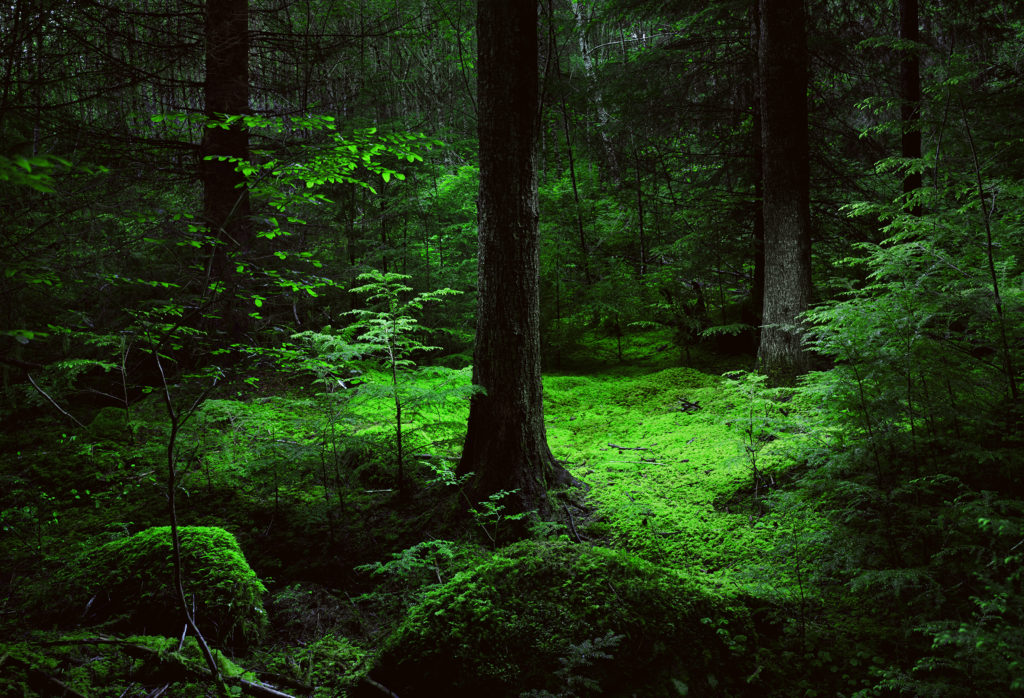 He often enhances natural lighting conditions with the use of artificial lighting to sharpen the image and give it an intense clarity and a greater sense of mystery and expectation. Tim researches his locations carefully. He looks for exact phenomena, or for particular atmosphere. They are often out of the way and inaccessible, deep into forests, mountains, or icy places.
Brief biography
Tim Simmons began developing his artistic practice in the late 1990s alongside his career as a commercial photographer. He gave up commercial photography in 2005 to concentrate on his art practice and in 2013 enrolled for an MA in Fine Art at Norwich University of the Arts, graduating with Distinction in 2015. He has shown at Bloomberg New Contemporaries in 2015, Nottingham Contemporary and the ICA, London. Since graduating he has shown at Aspex Gallery, Portsmouth; Oriel, Mostyn; Fermynwoods; Artsway, Hampshire; GroundWork, Kings Lynn; and Format, Derby. Internationally, he has exhibited in the USA, Lithuania, Israel and South Korea. In 2016 he was Associate Artist at Fermynwoods Contemporary Art & Art Work Placement, connecting artists and businesses. Tim lives and works in Norfolk.