5 November-17 December 2016
Work by:
Dominic Ash
Lorraine Bewick
Lee Grandjean
Cordelia Spalding
Calum McClure
Par Avion
Tim Plunkett
Tim Simmons
Tara Books and Gond artists from India
Ian Tyson
Toby Winteringham
This exhibition and the events associated with it led directly to the Borough Council writing a new Tree Strategy. The gallery's work with trees and forests as a subject continues, with a campaign together with the Borough Council of King's Lynn and West Norfolk and King's Lynn Civic Society, for street trees for King's Lynn. Involvement continues with many of the artists, as associates of the gallery and its concern with environment. Trees and Environment
(extended to 21 January 2017)
Out of the Wood celebrated trees, forests and the art of wood. The exhibition included a range of work from the lyrical to the practical. Its aim was to raise awareness of the beauty and usefulness of wood and trees in our lives, showing a variety of ways in which woods, forests and trees inspire images and stories, and equally can provide a precise and versatile creative medium. It included work by artists who made atmospheric painted and photographic images in forests, as well as those who carve out of the wood, sculpting, modelling, shaping and turning timber into artefacts.
Although the exhibition is finished, the gallery's work with trees and forests as a subject continues, with a campaign together with the local Civic Trust for street trees for King's Lynn. Involvement continues with many of the artists, as associates of the gallery and its concern with environment.
Tim Simmons
The strange beauty of forests, is represented by Tim Simmons's dramatic photographs of dense woods and their undergrowth from Norfolk and the United States. Tim's work has a symbolic dimension, connecting landscape with ideas about time, isolation, distance, motion, movement of the earth. He often uses artificial lighting to enhance the natural conditions. The effect of this is an intense clarity, a sense of mystery and expectation, showing us an aspect of nature with greater intensity.
Lee Grandjean
Lee Grandjean, formerly deputy head of sculpture at the Royal College of Art, explores wood as a surreal medium for sculpture. Living deep in the country and always sensitive to the suggestiveness of natural forms, he is an intuitive and opportunist user of found eccentricity.
He has made little assemblages, incorporating roots and branches with geometric forms, some painted, some left in a natural state. They verge on the figurative and are shape-shifters, leaving room for the imagination. Images cross over between nature and artifice and their titles hint at deeper stories yet to be created
Calum McClure
Calum McClure is a painter and printmaker based at Glasgow Print Studio. His work is steeped in the experience of nature and landscape, full of the colour and atmosphere of European and North American woodlands. He is fascinated by reflections and light and shade, but as a painter, this leads him to rethink how specific responses to nature can become expressed in lateral rather than literal form. His images range from the closely detailed, to those which verge on the abstract evoking a quality of dry or damp woodland atmosphere but at the same time remaining true to the particular sense of each place.
Ian Tyson
The precision and angularity of Concrete Art and modernism lie at the root of the work of Ian Tyson, renowned internationally for many years as a book and print artist. He lives and works in the South of France and the intensity of the light and shade has inspired in his work an ever crisper three-dimensional form, leading him to work increasingly as a sculptor.
Here, he is showing a collection of reliefs and sculptures which climb up the wall like an abstract forest. Tyson's work is minimal and measured and made from carefully judged, formal elements which nevertheless explore the hardness of timber and the natural colour of each species.
Cordelia Spalding
Norwich based artist and workshop leader, Doo Gurney, has made woodcuts, drawings and engravings based on the gnarled patterns of bark and tree rings. She has experimented with patterns and forms, and her graphic style has a retro, slightly surrealist quality. A Woodland Trust selected artist, her carvings and engravings use discarded laminate engineered floorboards, the shavings from machined timber, twigs and copper wire
Lorraine Bewick
Lorraine Bewick's work reflects her home environment on the edge of a country house estate, bordering once productive orchards and the wide open landscapes of the coast. Her paintings of the Wash and North and West Norfolk capture isolated panoramas and luminous light. Trees, bark, and fruits in her orchard appear in her work and she records them as small monuments to specific details and atmosphere of her local places.
Tim Plunkett
Tim Plunkett began his career as an environmentalist, graduating in environmental sciences from the University of East Anglia. He is seriously knowledgeable not only about the properties of trees and their habitats, but about the politics of conservation of woods and forests.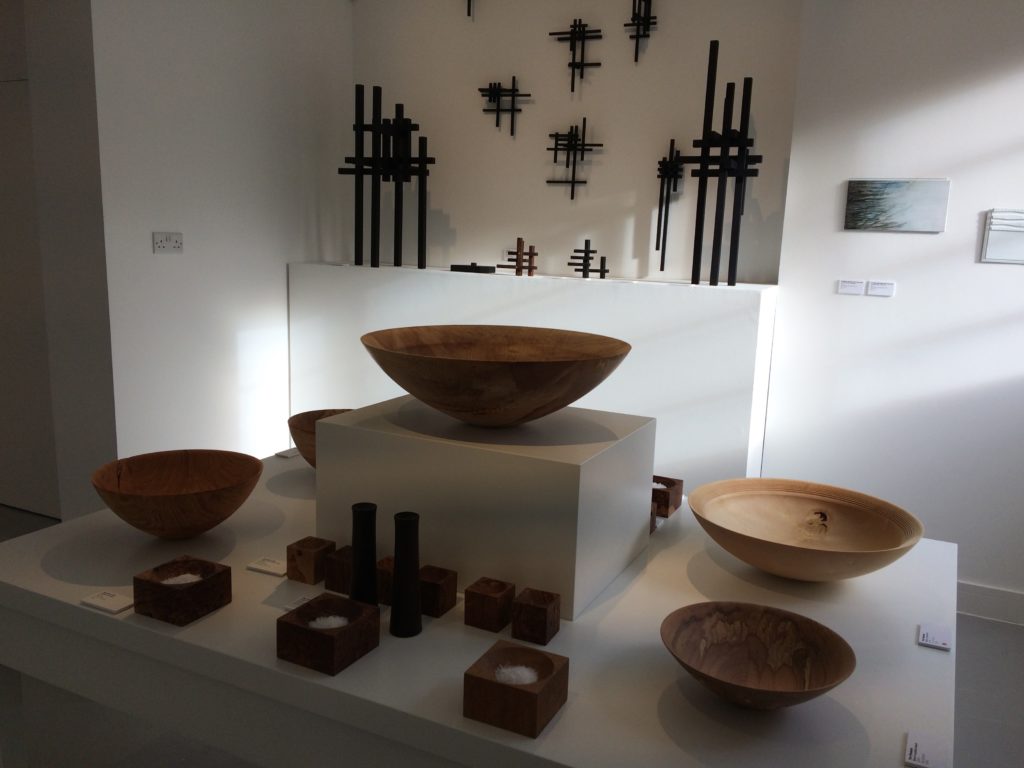 Tim Plunkett studied environmental sciences and has been involved in direct action to oppose the destruction of ancient forests and cultures. He aims to produce simple, elegant uncluttered pieces which show the unique character of each species of tree, which all come from sustainable local sources.
As a designer, he only uses native hardwoods, locally sourced, and is showing a range of bowls and boards finely turned and finished over two seasons.
Table furniture by Par Avion and Dominic Ash
Furniture for the table can share the attention to detail and craftsmanship of a work of art, turning a festive dining occasion into an opportunity for display of fine craft. Dominic Ash from Dorset is showing salt and pepper table sets made from oak and ash. Par Avion domestic and exhibition furniture designers have made peppermills from bog oak cut with sharp precision.
Members of the Gond and Bhil peoples, forest dwellers of Central India create handmade illustrated books, which bring alive their sense of an environment full of beauty, wildlife, and folklore. A selection of these, published by Tara Books, is on show in the upper gallery project space. Hanging above the stairwell is a large patterned bark cloth from the island of Tonga in the South Pacific Ocean region, made from the beaten bark of the Paper Mulberry Tree.