Claude Cattelain is an artist- performer and sculptor He often performs sculptural feats using his body as an active participant in the creation of a work. The surrounding environment is often his tool or his partner. He might use the elements, burning to make a drawing, or water to sink a post.
Claude actively demonstrates the role of an artist as a force in the world and as a metaphor for human strength, will and endeavour. Constantly he is attempting the impossible, struggling to overcome obstacles. He uses his body as an instrument to make images, to create sculptural form. But he also tests to the extreme, his strength, balance, and powers of concentration.
'Colonne empirique en ligne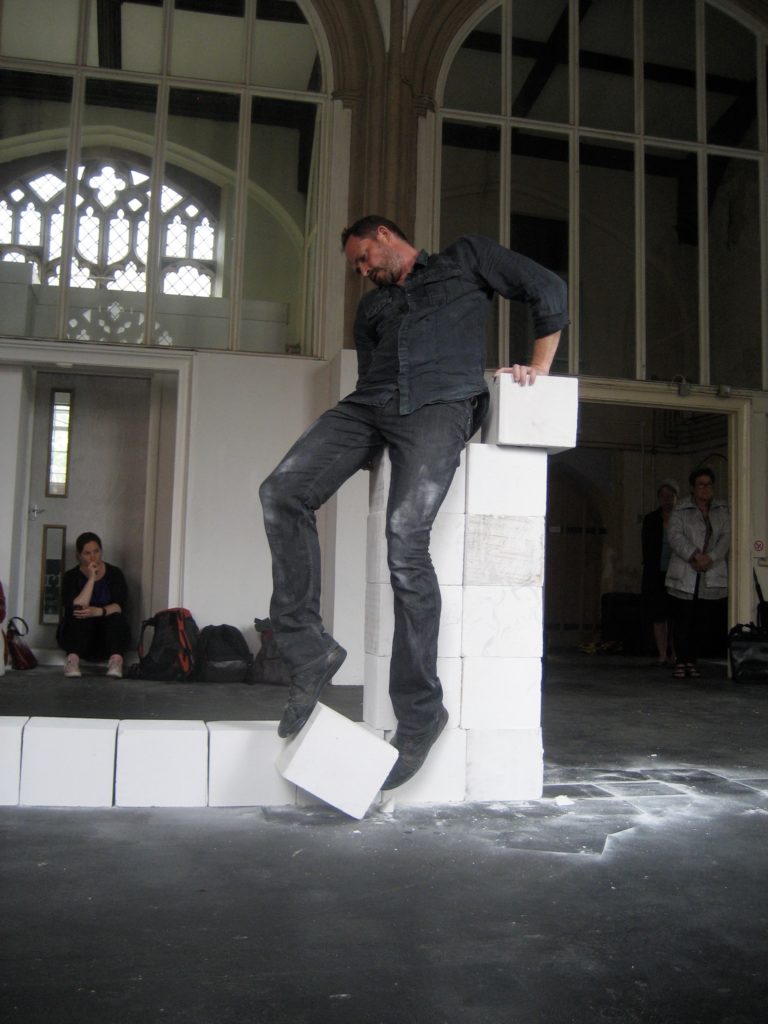 For the performance 'Colonne empirique en ligne', he reconstructs a horizontal line of white Ytong blocks into a vertical column, moving them one by one from their ground line. In doing so, his body must not touch the ground, so the column becomes both his task and his perch.  His balance is increasingly perilous, grasping the next block becomes ever more challenging and eventually impossible.  Here Claude is performing it in Norwich in 2014 as part of a European cross-channel 'Interreg' funded programme 'Time and Place'.   fabrica.org.uk
'186 cm Underground'
Claude often puts himself in situations where he undertakes tasks which are nearly impossible or fruitless, but the effort to complete them creates tension and drama. His work explores some of the fundamental visual languages of art, such as balance, symmetry, proportion, line, form. At one level it is about sculpture and drawing, but using the body and a limited range of formal tools and structures. claudecattelain.com
This is a work (the title relates to the artist's height) which the artist first performed in Brussels in 2012. Using a heavy mallet, he drives a stake as far as he can into the ground. It is both a metaphor for life and death, and a trial of strength. Claude performed this version on the coast at Sheringham in 2013, as part of an Art and the Sea programme commissioned by the Sainsbury Centre at UEA, and funded by The Crown Estate. claudecattelain.com
Construction, risk and performance
Claude Cattelain is a most remarkable performance-sculptor. He has a talent for creating drama and tension, but there is always an underlying point. For one performance he made for the same European project as the two above, he needed just a broom. On a specially blustery day in Brighton, he went to a jetty by the sea shore with it and swept the water. It was a fruitless funny eccentric act. But it was also profoundly about our uselessness in the face of environmental disaster.
For many performances he manipulates materials with his body to create sculpture. Often he employs the simplest of means, a few planks. Once again, they are nail-biting to watch, yet no less meaningful.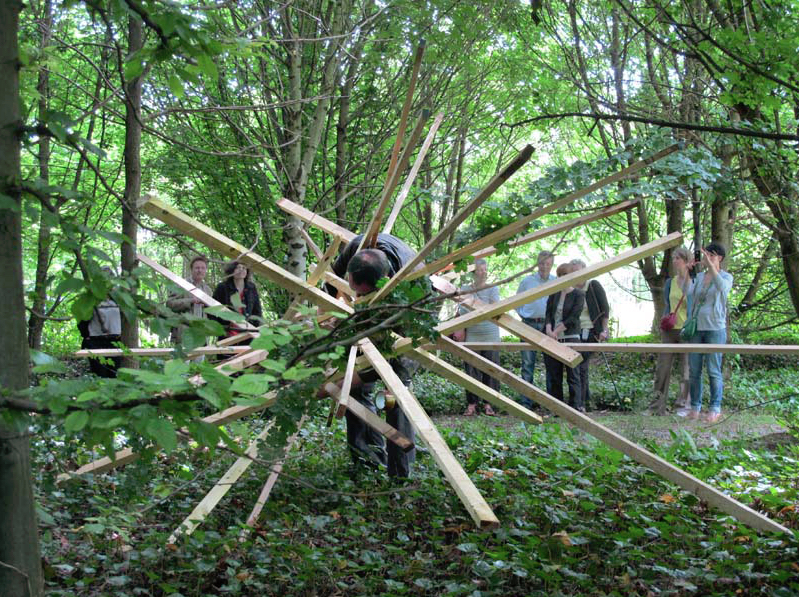 For Pick Up, he runs along a woodland path, collecting long planks of wood. As the planks stick to his body and interlock, he finds it increasingly hard to move, until he is brought to a halt.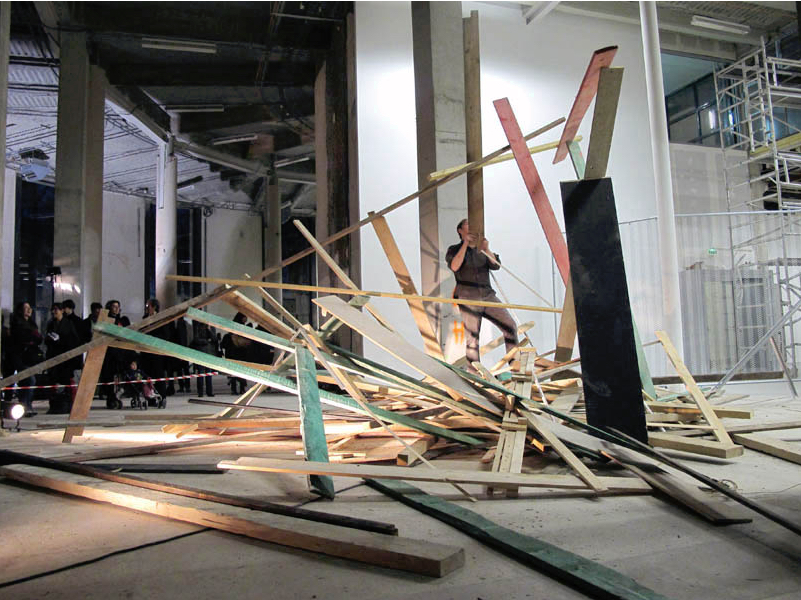 Armature Variable, is a sculptural installation which he has remade in numerous exhibitions. Deliberately unstable, it shifts and collapses constantly. He rebuilds it over and over, sometimes for up to 35 hours. It pursues a theme, familiar from others of his works about effort, striving, attempting a goal. It turns out to be impossible, his efforts are thwarted. And yet what he is also doing is achieving an endless sculpture, shifting its form, using and recycling materials. So it is a paradox. Beauty and frustration combined.
Large-scale sculptures
Empirical Construction with clamps (left, above) is made flat on the floor, fixed together, then raised up. The risk is that it is either acceptable as it is, or not. On the right, Empirical Construction in situ, he makes from boards held in place only by the diagonally placed bars. It is designed to block the door. The risk is, can it stay put?
About the artist
Claude Cattelain was born in Zaire and lives and works in Valenciennes and Brussels, Belgium. He has had over 30 solo exhibitions and is very frequently included in group shows. His large-scale sculptures also explore elements of risk and balance, often seeming to defy gravity. He works in wood and metal to make huge constructions.