Simon Faithfull has a distinguished body of work which combines nature and human experience. It often tackles environmental issues and risk. He is endlessly inventive, creating structures and scenarios. He walks on detailed, sometimes perilous journeys. Water and fire are ongoing features and aspects of his subject matter. He researches carefully, planning, writing, sketching to aid his process.
Proposals and ideas
Simon works in many different media, both digitally and analogue. The results of his work appear as video, photography, drawing, writing and performance. His work is often tinged with humour. He draws digitally every day as a means of documenting every aspect of what he sees, building a complete catalogue of experience. Simon constantly generates proposals for new projects and is generous in sharing them.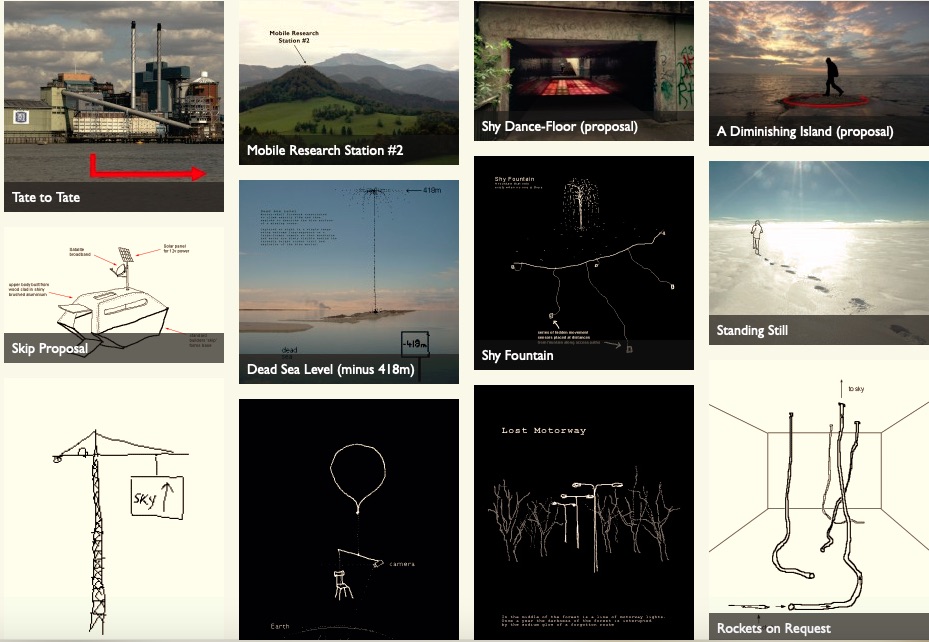 Questions are at the heart of his work
Simon's practice is tremendously wide-ranging and varied, but always grounded in research and guided by an overall question. Sometimes these can be 'what if?' kinds of questions. Such was the example illustrated below. He was working in Calais with then director of the local museum, Barbara Forest, to install 'Reef', 2014, a work commissioned for 'Time and Place', an EU Interreg IVC project. It was a film about the sinking of a boat to create an artificial underwater reef.
Incidentally, Barbara invited him to rehang the many sea-scenes in the collection. He did so by lining up the horizon lines, crossing through time, genre and medium. It was an aesthetic decision, and became an installation work in its own right: Sea Level, 2015. . Typically, it produced some surprises, amounting to so much more than a simple idea. So many interesting cultural questions emerged, about representations of the sea over time and place.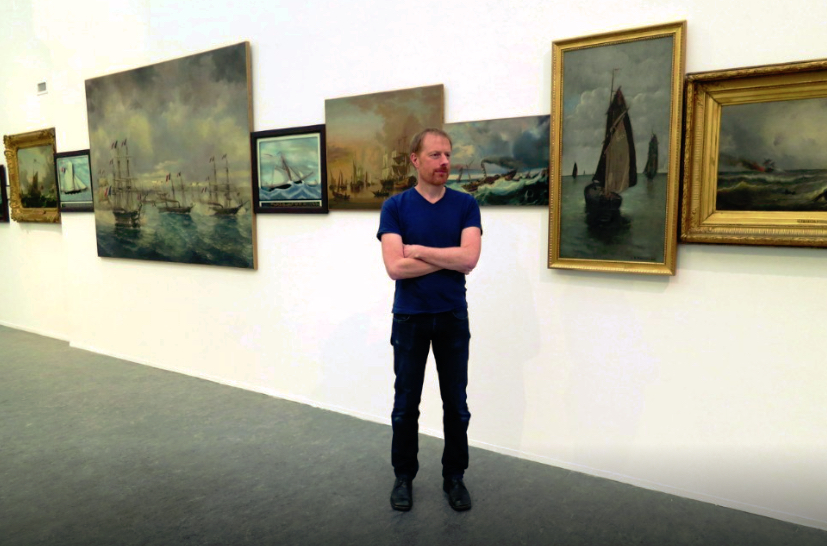 Risk and danger
Simon Faithfull often places himself in situations of risk and danger, pitting his strength against the elements, especially fire and water. But the risk is essentially a consequence of his curiosity. He has an over-riding desire to discover aspects of the way in which the world is affected by human histories, by human structures, by invention, measure and exploration, both constructive and destructive.
Going Nowhere 1.5
A man in a bright yellow suit takes a purposeful but ultimately fruitless journey, walking round in circles on a sand island. Gradually the sea rises to wash over him. He disappears. Or rather, we just don't see him again, just the waves rolling as usual.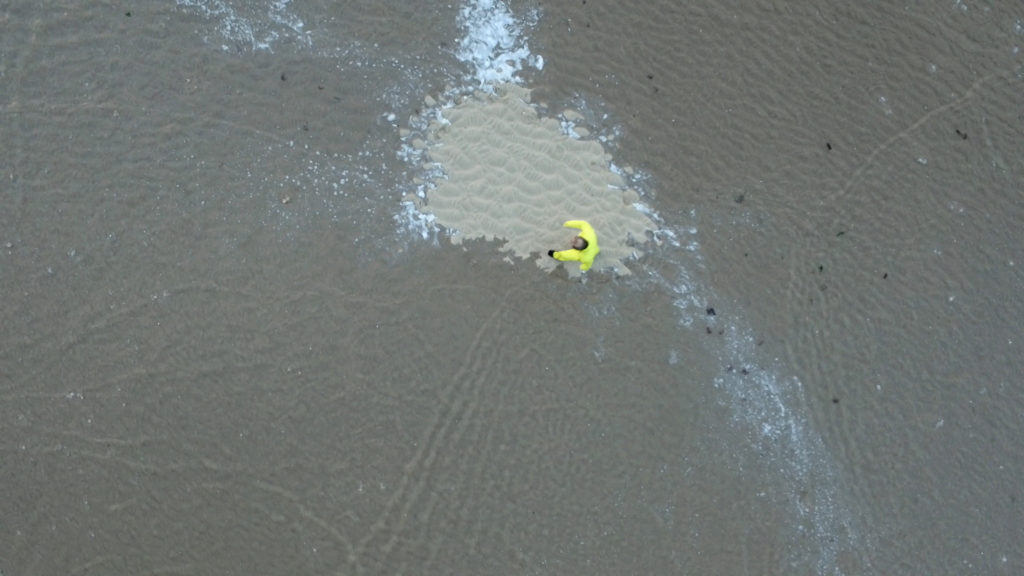 But the film evokes what we fear most. Running out of space, losing time. Having nowhere else to go, or nothing else to do but engage in a useless journey. Is it a metaphor for the inevitable futility and pointlessness of a life? What can we do to avoid this fate?
Ultimately the work asks some of the biggest questions we face. Will the land run out? Will these be the consequences if we do not face the problems of rising sea water?
Going Nowhere 1.5 is one of a series of works which test situations of extreme exposure to water. It was made in 2014 with the aid of funding from the Crown Estate. And we showed the film as part of Water Rising in 2019.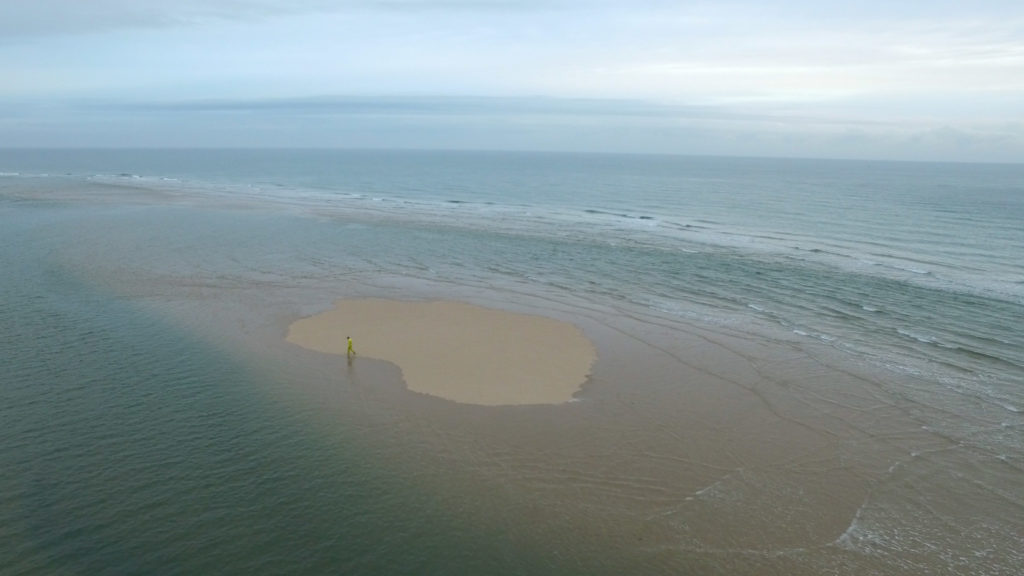 Measured walks and precision
Simon Faithfull's work frequently involves precisely measured walks. These have been along the Meridien line, on the sea-bed, drawing a line from one place to another.
His walks have at least two effects. On the one hand he is devising formal artistic ways of drawing his path upon the earth. He is also encountering many aspects of human relationships with nature and the environment. At one level, they are endurance tests. They are exercises in precision, of planning as well as execution. They both follow and create new maps. But they are also ingenious variations on the the creation of sculpture.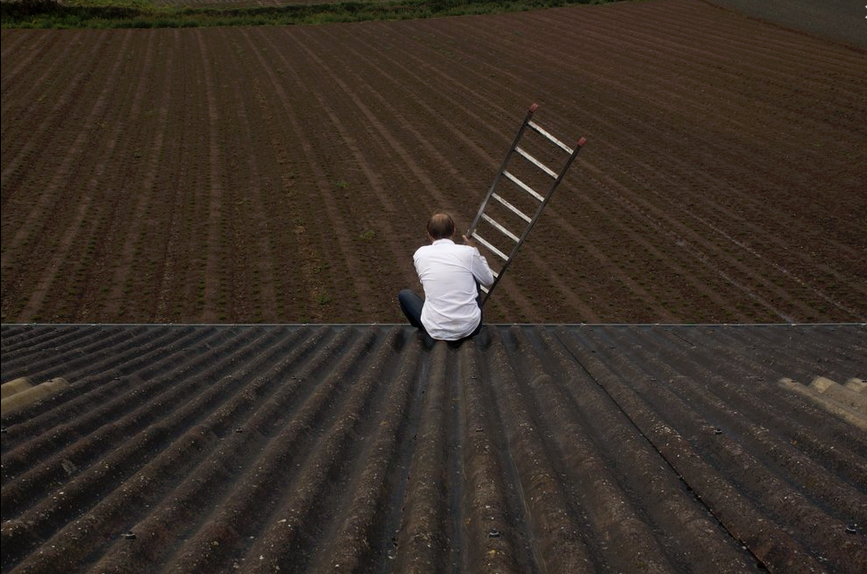 Quenanville as Antipode
This was a walk around the circumference of parallel zones in France and a diametrically opposite island in the Pacific, 12,742 kilometres through the centre of the earth.
The effect can be funny, as he scrambles across muddy fields, over people's garden walls. through their kitchens, along busy roads, in the pursuit of an accurate route.
He traces the perimeter of corresponding opposite spaces, but it is only part of a metaphor for a human's solo journey in the world. It is also about creating the particular in the context of the generic. As he passes through different kinds of terrain, both public and private, it can appear to be quite banal, funny, absurd. But it is also a test, going to the edges of civilisation. He is pitting human and geological resources against one another. Experiencing extremes of climate and the elements. Fundamentally, it is also an exercise in sculpture, of human movement through the world.

From Veronica Sekules, Cultures of the Countryside, p. 192-3. Routledge 2018
Teaching, curation, exhibiting
Simon Faithfull lives in Berlin and teaches at the Slade School of Art, among many other places. He has had over 30 solo and duo exhibitions and multiple group ones. He constantly both exhibits and curates exhibitions internationally.