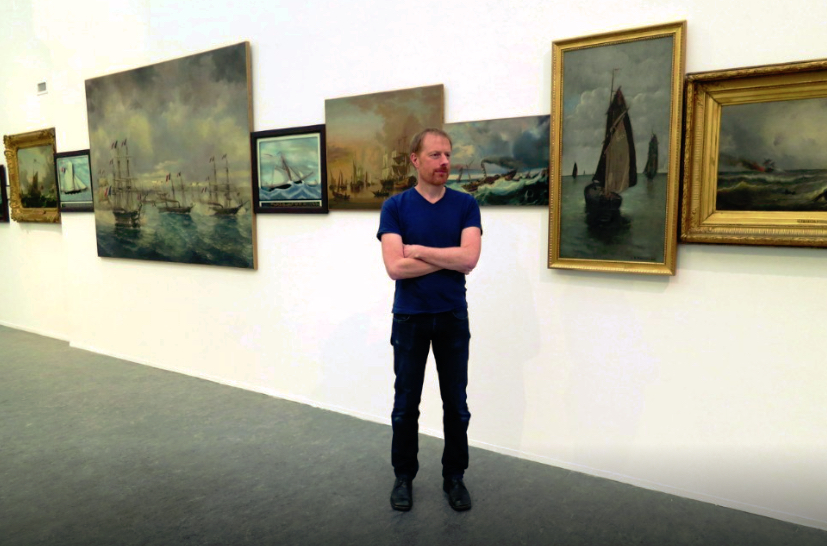 Simon Faithfull lives in Berlin and teaches at the Slade School of Art, among many other places. He constantly both exhibits and curates exhibitions internationally and has a distinguished body of work which combines nature and human experience tackling environmental issues and risk. He walks on detailed, sometimes perilous journeys and often works with water and fire. He makes art from the results in video, photography, drawing, writing and performance, often with a tinge of humour. He draws digitally every day as a means of documenting every aspect of what he sees, building a complete catalogue of experience. He constantly generates proposals for new projects.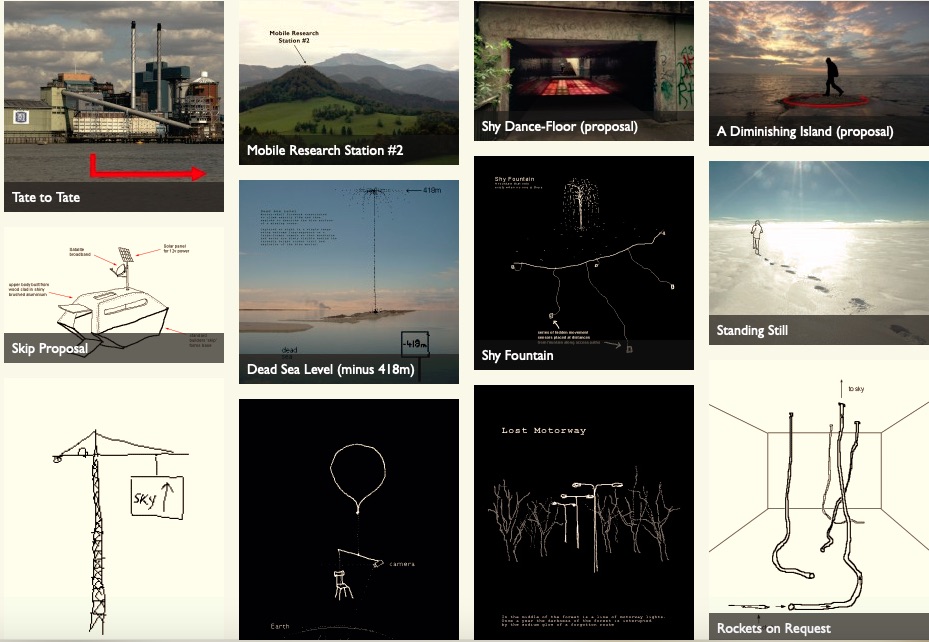 Above is a page from Simon Faithfull's website documenting proposals for projects, some realised, some yet to come. It is a typical example of his generosity in sharing his ideas.
Simon Faithfull often places himself in situations of risk and danger, pitting his strength against the elements, especially fire and water. But the risk is essentially a consequence of his curiosity, his desire to discover aspects of the way in which the world is affected by human histories and by human structures, by invention, measure and exploration, both constructive and destructive.
Going Nowhere 1.5
A man in a bright yellow suit takes a purposeful but ultimately fruitless journey, walking round in circles on a sand island. Gradually the sea rises to wash over him. He disappears. It is what we fear most. Running out of space, losing time. Having nowhere else to go. Will the land run out? Is it a metaphor for the inevitable futility and pointlessness of a life? What can we do to avoid this fate? Will these be the consequences if we do not face the problems of rising sea water? Going Nowhere 1.5 is one of a series of works which test situations of extreme exposure to water. simonfaithfull.org
Simon Faithfull's work may involve precisely measured walks, along the Meridien line, on the sea-bed, around the circumference of parallel zones in France and a diametrically opposite island in the Pacific (see above, detail from Quenanville as Antipode). The effect can be funny, as he scrambles across muddy fields, over people's garden walls. through their kitchens, along busy roads, in the pursuit of an accurate route. Through such formal artistically devised ways of drawing his path upon the earth, he is also encountering many aspects of human relationships with nature and the environment.