9 March – 1 June 2019
Roger Coulam. Lynn Dennison, Simon Faithfull, Stewart Hearn, Susan Hiller, Sophie Marritt, Peter Matthews, Annie Turner.
This exhibition featured works by artists who are thinking about the resourcefulness we need as we live with water. How do we save water? How do we pit our strength against water? What happens when water threatens to engulph us? How do we cope when there is too much or too little water?
Context for the exhibition
We all face a changing relationship with water, needing to adapt increasingly to its constantly rising levels. Sea level rise is accelerating. United Kingdom Climate Projections 2018, predict that sea level will rise by 1.15 metres by 2100, enough to submerge London. We need to think carefully how to meet this challenge.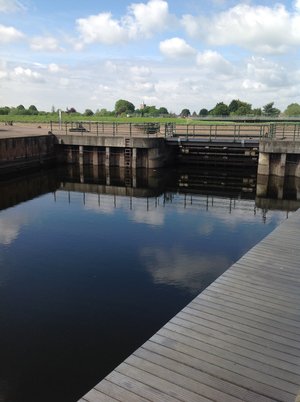 Science and technical know-how is being crucially engaged. Engineers, planners and environment agencies are busy forming strategies to mitigate its dangers. But as many recognise, we also need to embrace cultural change and adaptation to new sustainable patterns of life. Without this the relentless, watery surges of climate change will still defeat us.
Artists and water
Artists are onto this. Being acute observers of change, many are thinking creatively about direct encounters with water. They create images about experiences, raising questions about its beauty and power. The need for greater understanding of water's future becomes more urgent. So artists are making propositions about how we may form new and different attitudes to it.
The exhibition contents
The exhibition contained a number of underlying narrative threads. One is about the spectacle and drama of water's turbulence. There were works about the ways in which humans pit their strength against rising water levels. Several tackled the risks of being submerged. On the other hand there is the opposite imperative: to conserve, to create barriers, to keep safe and dry. Which attitude is paramount is one of the discussions we as viewers need to have. The exhibition was intentionally thought provoking about different perspectives. It contained work in a variety of media: film, painting and drawing, photography, ceramics and glass. There was also an extensive events programme supported by Anglian Water.
Roger Coulam
Formerly a world renowned storm-chasing photographer, Roger Coulam has made a spectacular series of stormy images. These centre on the lighthouses on the North-East Coast around Tynemouth.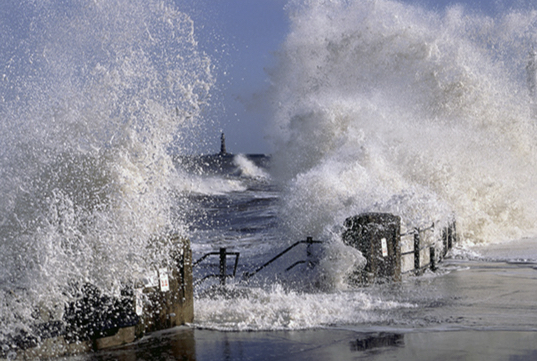 Roger trained initially in environmental science, and turned professional as a photographer in 2003. He was for a time, world renowned as a storm-chasing photographer. He travelled extensively, conducting tours in search of nature's strongest and strangest dramas.
The images on show here relate to Susan Hiller's Rough Moonlit Nights. Indeed he used to collect such postcards himself.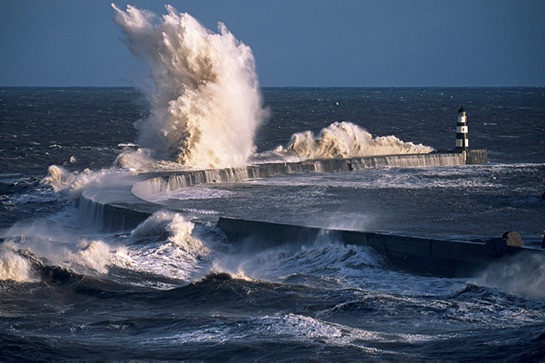 Some of Roger's most powerful watery images, are closest to his home in North-East England. Because he knows the place so well, he can judge exactly when the massive waves will break over the coastline. He could capture moments of extreme tension. Literally as water was rising and rearing like a great monster, dwarfing the lighthouses.
His interests have also ranged widely in the natural and historic environment. Inspired by archaeological remains, plastic waste, details of nature and landscape, he has made many series of semi-abstract images. He has turned some of them into artist's books. You may buy some of these series from our on-line shop here.
Susan Hiller
The artist grew up in America, with formative study in film, photography and anthropology. Her diverse practice extended through sculpture and installation, sound, video, photography, assemblage and collage. She often tackled human psychology, the paranormal, the impulse to collect and convey powerful experiences as a result. Her work is reckoned to be very influential on younger artists. She had solo exhibitions at Baltic Gateshead, Tate Liverpool, Tate Britain and exhibited extensively in Europe and America. She is represented by Matts Gallery and the Lisson Gallery, London.
Sadly, Susan, a key exhibitor in Water Rising, died during the preparation for the show. She was pleased to be part of it. We will miss her presence but are privileged to enjoy her considerable legacy in her wonderful dramatic work.
Annie Turner
Annie Turner uses the everyday medium of ceramic to cross the line between utility and sculpture. Her forms are abstract, yet almost but not quite representational. They remind us at the same time of attempts to contain water, and the futility of resisting its powers.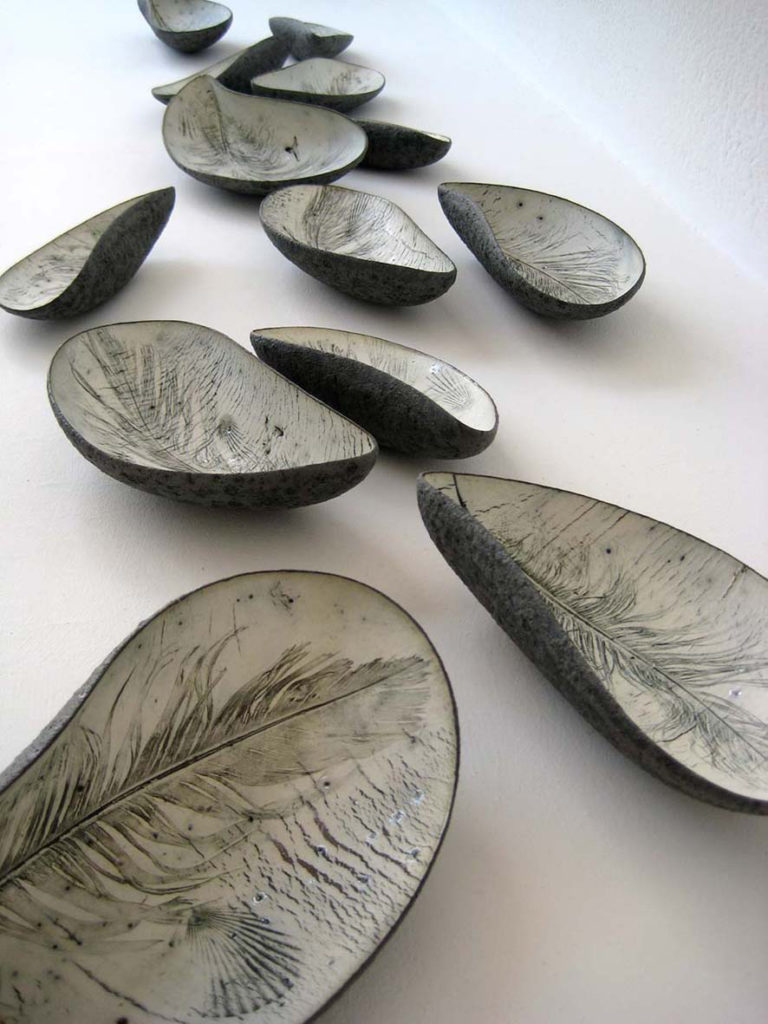 Works which reflect on the technology of the river Deben
As a child, Annie Turner was brought up alongside the River Deben in Suffolk. Now she has now returned there to live and work..
Annie Turner's ceramic sculptures reflect on the technology of the river. Her ladder and collapsed net forms relate to water-based industrial forms. Such things abound in this water-scape in order to manage it with ingenuity in the face of the winds and tides which constantly batter and change it. Her works recall a kind of every-day engineering which enables navigation and harvest.
Stewart Hearn
Master glass-blower, Stewart Hearn's phalanx of bottles held the centre of the space. They provided a counterpart to the images of submersion and danger. Reminding us of the need to regard water as a valuable resource. Suggesting another message about drinking water, conservation. But they also sent a strong message about sculpture, about light and about craft. Never before had Stewart shown his work at the heart of a mixed media art exhibition. Here they contributed to the narrative in a way they have not been able to do before.
Stewart Hearn runs London Glassworks, now based at Chatteris in the Fens. He has many years as a master glassblower ranging from practical domestic to art glass. Narratives are suggested by his choice of titles, or the forms and colours he chooses – a love of colour gives his work characteristic vibrancy. His work, often produced in series, is widely collected.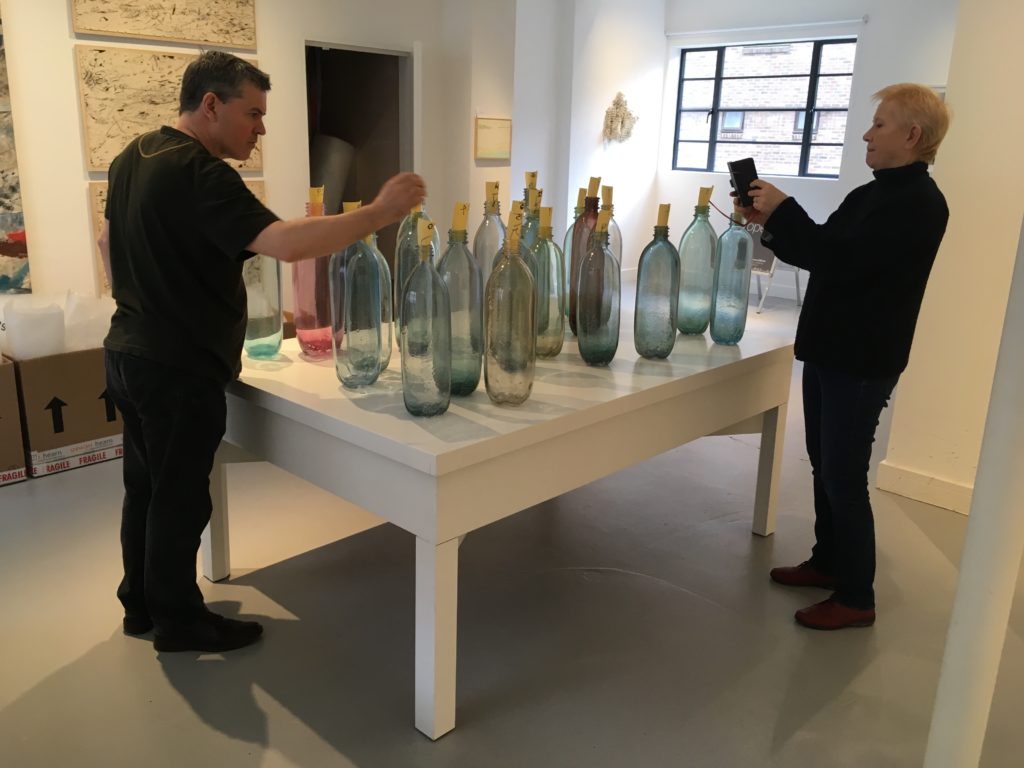 In fact they carried their own story. These large glass bottle-like vases are intentionally reminiscent of archaeological finds. Originally made for a Thames River Festival, they have become an ongoing series. Partly they are based on Roman and medieval glass dredged from the River Thames. But they are also reminiscent of plastic bottles. The artist thinks of them as representing 'flotsam and jetsam'.
We are reminded that water both protects us and makes us, it is an essential resource for human survival.
Sophie Marritt
Sophie Marritt showed a series of haunting and delicate pictures of the watery area around King's Lynn and the Wash. She reflects on the proximities of industry and open landscape. The ever-present pools and canals of water which characterise parts of Eastern England, are in her work. She paints with both precision and delicacy. However, her images are not straightforward. There is almost as much left out, as included within them. There is a softness and almost a mist which hangs over her work. The unusual blue and rust tints in her colour palette, gives her works an atmosphere of the residue of industry. She represents a water-scape undergoing change.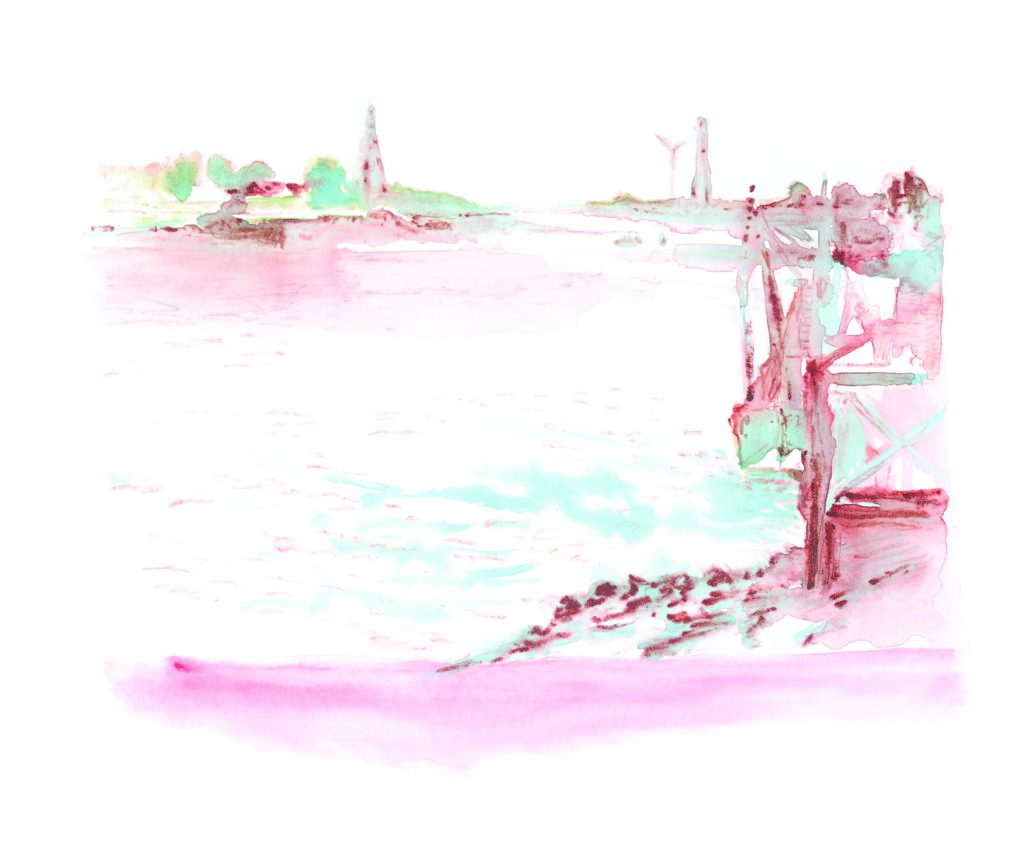 Sophie made the collection of paintings on display specially for Water Rising. She wished to capture the watery landscapes of the Wash and the Fens of Norfolk, Lincolnshire and Humberside.
Sophie Marritt originally trained and worked as a scientist. Her practice as an artist began at Norwich University of the Arts. Her work is mainly concerned with sea, landscape and nature. Now she is based in a studio in Norwich. She paints, as well as making short video works. Lately she has been developing a series of videos and works concentrating on sound.
Simon Faithfull
Simon Faithfull walks on detailed, sometimes perilous journeys and often works with water and fire. He makes art from the results in video, photography, drawing, writing and performance, often with a tinge of humour.
The film, 'Going Nowhere 1.5' shows a lone man in a yellow suit walking doggedly around an intertidal island. We see the figure walk around the decreasing space. As the sea expands around him, the sea is eventually all we see. You can read more about Simon's work on his artist page here.
Simon Faithfull lives in Berlin and teaches at the Slade School of Art, among many other places. He constantly exhibits internationally and has a distinguished body of work which combines nature and human experience. He tackles environmental issues and risk. In summer 2019, he has a solo exhibition at Hestercombe Court, Somerset, and Newlyn Art Gallery in Cornwall.
Peter Matthews
Peter Matthews was born in Derby, lives in Leicestershire and regards Cornwall as his spiritual home. He has a natural affinity with the sea. However he spent much of his youth exploring the countryside, enjoying solitude as he explored the forests and rivers of Derbyshire. Matthews has created his work in the earth's oceans, Cornwall, Hawaii, Chile, Taiwan. In doing so, he spent long periods—ranging from hours to days – floating or submerging in the ocean. He keeps his artistic media either cached in his hat or strapped to his wrists or ankles. This includes charcoal, pencil, oil stick and gel pens. The surfaces he draws on can range from paper to canvas sheeting. He pins it to an "old piece of plywood" which acts both as drawing board and flotation device. This method also allows him to explore—in his words—"the fluid midpoint between sea and land, thought and form."
The artist makes durational drawings while he is submerged in the ocean. He paints using the elements, the sea and local pigments and stones. In the picture above, he is throwing a canvas into the water.
Matthews exhibits internationally – in Italy, Germany, United States, as well as extensively in the UK. His work was recently at the John Moore's in Liverpool. He has lectured in the US and been artist in residence at the Scripps Institute of oceanography. An Arts Council grant in 2019 enabled him to create work for a solo exhibition at the National Maritime Museum. This commemorated World Oceans Day, June 2019.
Lynn Dennison
Lynn Dennison, a printmaker, photographer and video artist has made many dramatic site based video installations. Often these involve weather and water phenomena. She has shown them at a number of locations including the De La Warr Pavilion, Bexhill-on-Sea, Caernafon Castle in Wales, and the Lookout Tower at Aldeburgh, Suffolk. Her work is often semi-narrative and contains elements of mystery and the surreal. She collaborates with sound artist Gen Doy, as Dennison and Doy, to make immersive multi-sensory works.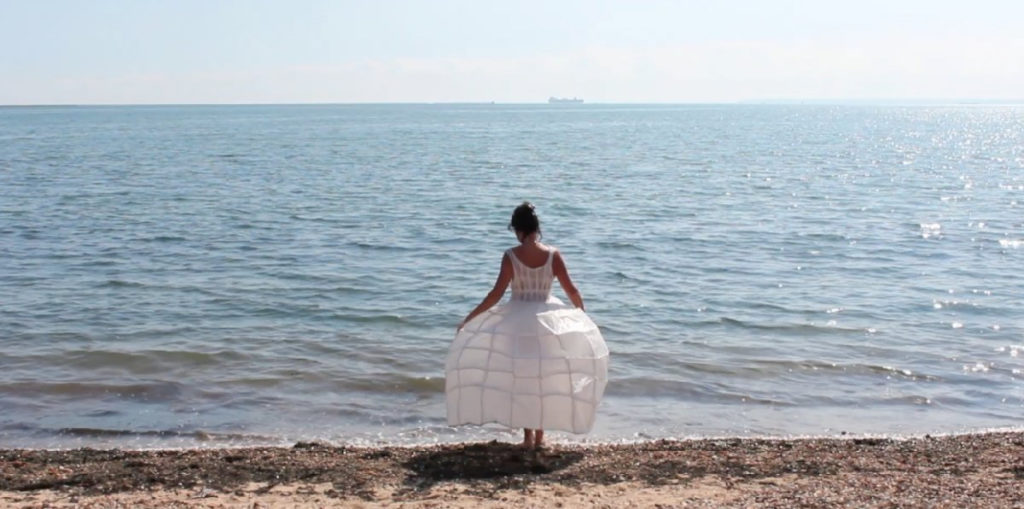 In Dress: Sea, a woman is seen from behind and dressed only in a crinoline skirt. She performs a determined and steady walk directly into and under the water. As with Simon Faithfull's work, it is the artist performing . In a similar way to his work, the edge of eccentricity about her clothing gives the scene more theatrical impact. It immediately sets this apart from conventional action and prepares us to believe it at a different level. We see the woman disappear. Is she escaping some difficulty and ending her life, or is she returning to where she belongs?
Responses to the films
These two films shown opposite each other both ask and answer each other's questions . In quite different ways, however, they are about bravery and recklessness, purpose and futility, imagination and stark reality. In front of them we had many discussions about the differences between male and female approaches. The male apparently evokes the idea of the hero, striding round and round the empty island in the empty sea. The woman gingerly walks toward the horizon, where we see a ship. She walks until she totally disappears. It is a different kind of courage.
Nobody among our viewers regarded either film as scary or depressing. No one even thought they were about death. But almost everyone talked about sea level rise and how we have to face it with courage and ingenuity.