9 March – 1 June 2019
Roger Coulam. Lynn Dennison, Stewart Hearn, Susan Hiller, Sophie Marritt, Peter Matthews, Annie Turner.
United Kingdom Climate Projections 2018, predict that sea level will rise by 1.15 metres by 2100, enough to submerge London. https://www.metoffice.gov.uk/research/collaboration/ukcp/ We need to think carefully how to meet this challenge.
GroundWork Gallery sits directly on a river, the Purfleet, which is is tributary of the Great Ouse which we can see from our windows. We are in a flood plain and water is both our benevolent neighbour, having for centuries brought the trade and commerce which is the source of the Town's wealth, and its greatest threat, in our current era of climate change. Water Rising: making art in storm and calm, featured works by artists who are thinking about the resourcefulness we need as we live with water. How do we save water? How do we pit our strength against water? What happens when water threatens to engulph us? How do we cope when there is too much or too little water?
Roger Coulam
Roger Coulam, formerly a world renowned storm-chasing photographer has done a spectacular series of stormy images of lighthouses on the North-East Coast around Tynemouth.
Roger Coulam trained initially in environmental science, and turned professional as a photographer in 2003. The images on show here are from a large series of photographs made by the artist of the kinds of storms shown in the historic postcards represented in Susan Hiller's Rough Moonlit Nights. Indeed he used to collect such postcards himself.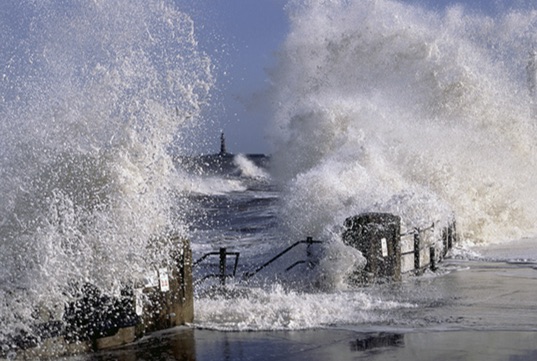 Now he is based largely in the North-East of England around Sunderland concentrating on his creative practice. His interests have ranged widely in the natural and historic environment and he has also made many series of semi-abstract images inspired by archaeological remains, plastic waste, details of nature and landscape.
Susan Hiller
Susan Hiller grew up in America, with formative study in film, photography and anthropology. Her diverse practice through sculpture and installation, sound, video, photography, assemblage and collage, often tackled human psychology, the paranormal, the impulse to collect and convey powerful experiences as a result. Her work is reckoned to be very influential on younger artists and she had solo exhibitions at Baltic Gateshead, Tate Liverpool, Tate Britain and exhibited extensively in Europe and America She is represented by Matts Gallery and the Lisson Gallery, London.
Sadly, the artist Susan Hiller, a key exhibitor in Water Rising, died during the preparation for the show. She was pleased to be part of it. We will miss her presence but are privileged still to be able to enjoy her considerable legacy in her wonderful dramatic work.
Annie Turner
As a child, Annie Turner was brought up alongside the River Deben in Suffolk, where she has now returned to live and work. She has a considerable reputation as a ceramic artist. Her work crosses the line into sculpture and her experience as a practical maker has attuned her to develop themes inspired by the kinds of materials and constructions, like dams, sluices, nets, through which her local landscape is managed and harvested. In spring 2020 she is to have a solo exhibition at Ruthin Craft Centre, Wales.
Annie Turner's ceramic sculptures relate to her life-time's experience living close to the River Deben in Suffolk. Her work reflects on the technology of the river, and the kinds of artefacts created to maintain it, to retain its banks, control its flow and harvest its bounty.
Stewart Hearn
Stewart Hearn runs London Glassworks, now based at Chatteris in the Fens. He has many years as a master glassblower ranging from practical domestic to art glass. Narratives are suggested by his choice of titles, or the forms and colours he chooses – a love of colour gives his work characteristic vibrancy. His work, often produced in series, is widely collected.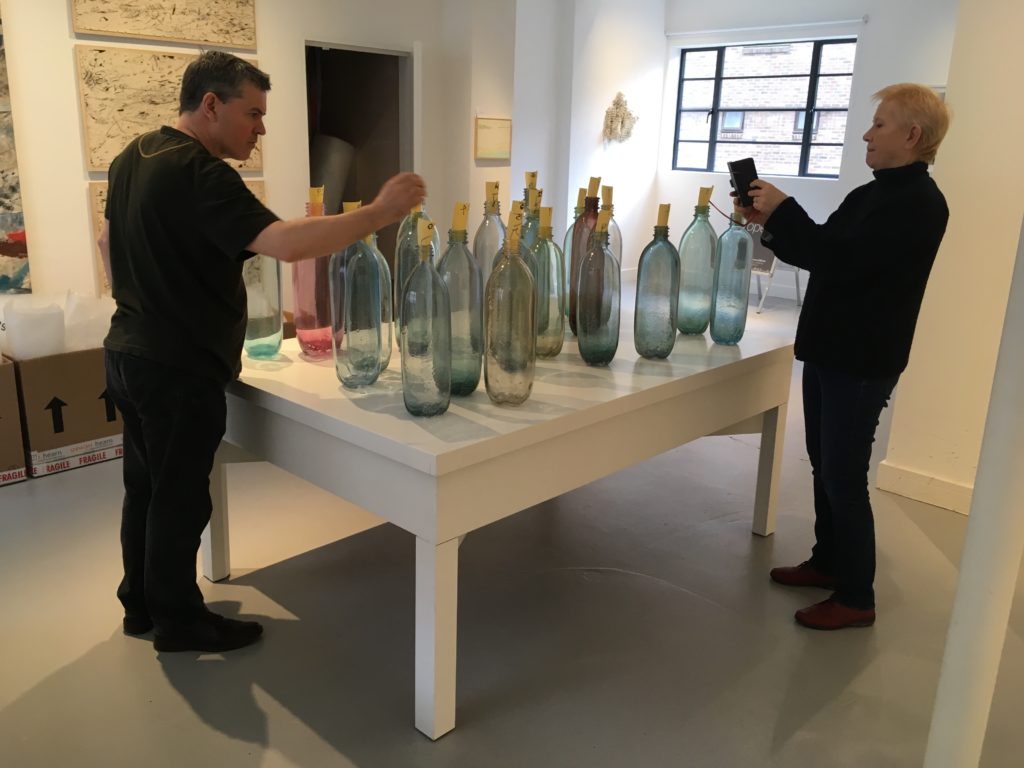 Stewart Hearn's large glass bottle-like vases are intentionally reminiscent of archaeological finds, being based on Roman and medieval glass dredged from the River Thames. But they are also reminiscent of plastic bottles. They were originally made for a Thames River Festival but have become an ongoing series. The artist thinks of them as representing 'flotsam and jetsam'.
Sophie Marritt
The collection of paintings on display was made specially for Water Rising, and to capture the watery landscapes of the Wash and the Fens of Norfolk, Lincolnshire and Humberside. Sophie Marritt originally trained and worked as a scientist and began practice as an artist following training at Norwich University of the Arts. Her work is mainly concerned with sea, landscape and nature. Her studio is in Norwich and she paints, as well as making short video works. Lately she has been developing a series of videos and works concentrating on sound.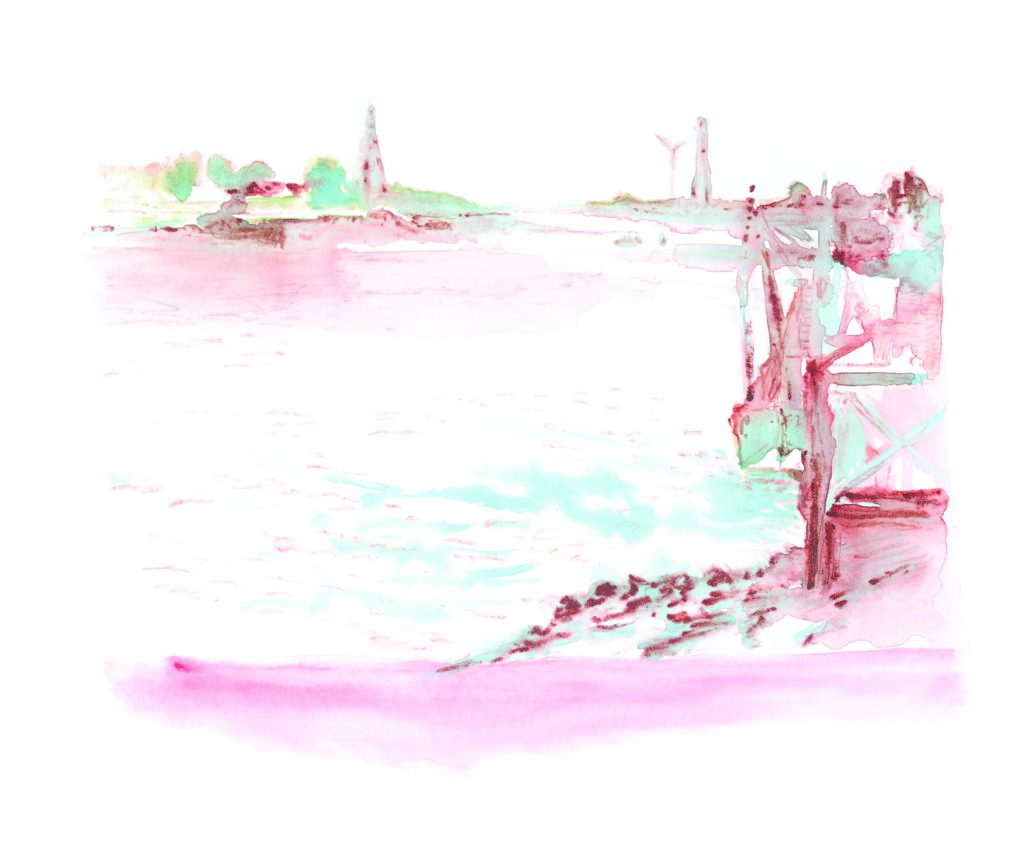 Sophie Marritt has painted a series of haunting and delicate pictures of the local watery area around King's Lynn and the Wash, reflecting on the proximities of industry and open landscape.
Simon Faithfull
Simon Faithfull lives in Berlin and teaches at the Slade School of Art, among many other places. He constantly exhibits internationally and has a distinguished body of work which combines nature and human experience tackling environmental issues and risk. He walks on detailed, sometimes perilous journeys and often works with water and fire. He makes art from the results in video, photography, drawing, writing and performance, often with a tinge of humour. In summer 2019, he has a solo exhibition at Hestercombe Court, Somerset, and Newlyn Art Gallery in Cornwall.
Simon Faithfull's film, 'Going Nowhere 1.5' shows a lone man in a yellow suit walking doggedly around an intertidal island. We see the figure walk around the decreasing space, as the sea expands around him, until the sea is all we see.
Peter Matthews
Peter Matthews was born in Derby, lives in Leicestershire and regards Cornwall as his spiritual home. He has a natural affinity with the sea, but spent much of his youth exploring the countryside, enjoying solitude as he explored the forests and rivers of Derbyshire. Matthews has created his work in the earth's oceans, Cornwall, Hawaii, Chile, Taiwan. In doing so, he can spend long periods—ranging from hours to days – floating or submerging in the ocean, bobbing in the water. He keeps his artistic media either cached in his hat or strapped to his wrists or ankles. This includes charcoal, pencil, oil stick and gel pens. The surfaces he draws on can range from paper to canvas sheeting, pinned to "old piece of plywood" which acts both as drawing board and flotation device. This method also allows him to explore—in his words—"the fluid midpoint between sea and land, thought and form."
The artist makes durational drawings while he is submerged in the ocean and paintings using the elements, the sea and local pigments and stones. Here he is throwing a canvas into the water.
Matthews exhibits internationally – in Italy, Germany, United States, as well as extensively in the UK, recently at the John Moore's in Liverpool. He has lectured in the US and been artist in residence at the Scripps Institute of oceanography. In 2019 he won an Arts Council grant in order to create a new body of work for a solo exhibition to commemorate World Oceans Day, in June 2019 at the National Maritime Museum.
Lynn Dennison
Lynn Dennison, a printmaker, photographer and video artist has made dramatic site based video installations, many involving weather and water, at a number of locations including the De La Warr Pavilion, Bexhill-on-Sea, Caernafon Castle in Wales, and the Lookout Tower at Aldeburgh, Suffolk. Her work is often semi-narrative and contains elements of mystery and the surreal. She collaborates with sound artist Gen Doy, as Dennison and Doy, to make immersive multi-sensory works.
The artist performs this mysterious ritual, walking slowly into shallow waters of the sea, until she is submerged. The work makes an interesting parallel to Simon Faithfull's 'Going Nowhere 1.5' and in the gallery they are seen opposite each other.