Sir Richard Long has had a phenomenally distinguished and successful artistic career since the 1960s. Thoroughly a modernist, he developed distinctive work with land, nature and text. Even when he was barely out of Central St Martin's art school, he stunned the art world with his innovative walks, turned into sculpture. The myriad of ways in which he develops his practice directly with landscape have ensured his global fame. He makes poetic or documentary text works, sculptural installations of stones both in situ and transported to exhibition settings, and photographs. His way of working solo, mapping and interpreting landscape, has both diversified, and remained utterly consistent.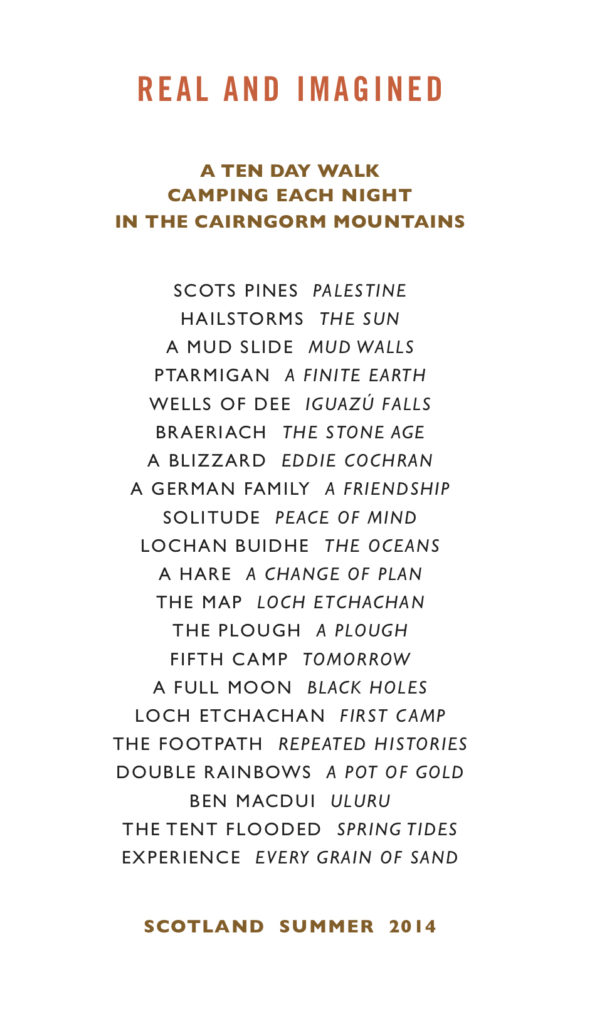 For Richard, the walk is the foundation of his work, where it begins, and often where its strongest traces remain. The walk measures his space in relation to the earth and the cosmos. He traces an exact path, precisely judged in orientation, miles, time, paces. It is an act of sculpture. Photographs and poetic texts record forms, lines, words, chance occurrences, selective observations, memory and association.
Sometimes he has moved stones along the path of a walk. Some of his works have been monumental-scale stone and slate floor reliefs, taken out of the land and placed inside the gallery, or outside in another formal landscape. Houghton Hall in Norfolk a few miles from King's Lynn has several permanently sited examples. (see below for the temporary flint work in the Stone Hall at Houghton)
An inspiration to many artists
Sir Richard Long (knighted in 2018) is an inspiration to many artists. Especially younger artists look to him as the founding artist in the land art movements of the last 40 years. However, he doesn't like to be pigeon-holed in any particular genre (with the possible exception of modernism). We were very fortunate to be able to discuss a lot of this with him during the exhibition at GroundWork. Here below is the film of that discussion, made by James Murray-White.
Long has never defined himself as an environmentalist and is even suspicious of the definition 'Land art' , by which he has become known. He is nevertheless extremely sensitive to the natural world and attuned to its underlying structures. He uses nature directly in many forms, often saying that it is nature itself which forms the work. However, measure and precision are very important, even through his mud works and those which seem most intuitive,.
The Great Ouse River Drawing
Richard Long made The Great Ouse River Drawing for GroundWork Gallery in situ as part of its inaugural exhibition, 'Sunlight and Gravity', which also featured the work of Roger Ackling. He used mud from the Great Ouse, King's Lynn's major tidal river.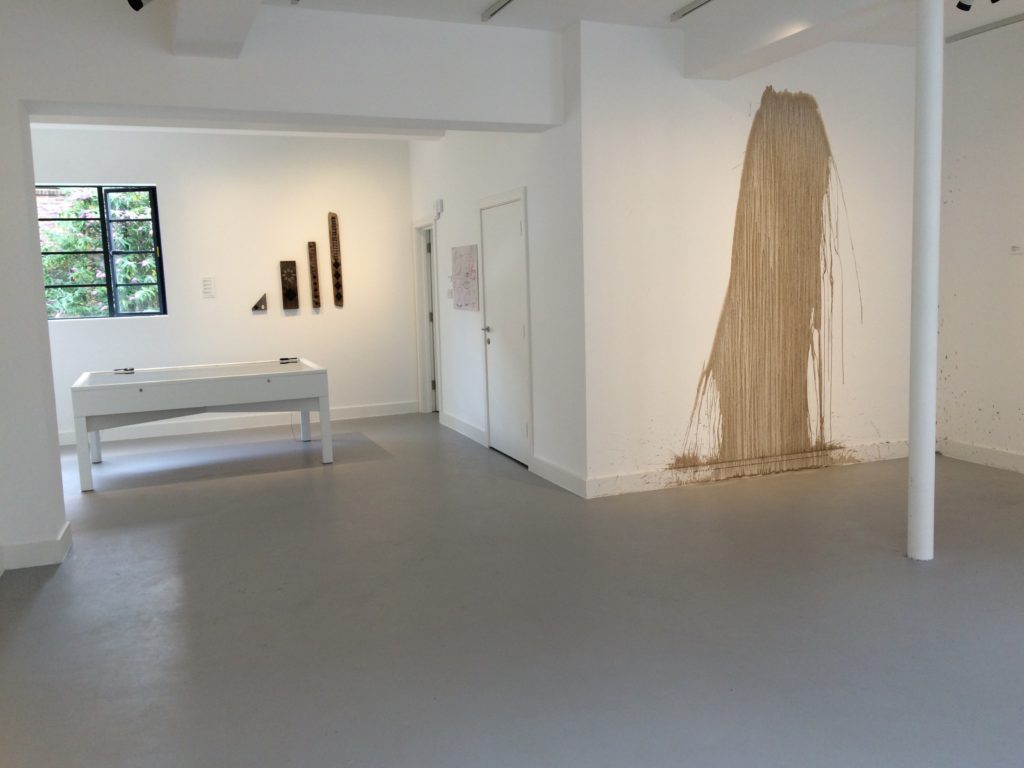 He began the Mud series of works in the early 1990s, with dramatic thrown splash works made spontaneously on gallery walls and floors. He also made hand-print images, in London, New York, Los Angeles, Athens, Paris, Dusseldorf (where his first ever exhibition was held in 1968) and Rome. There have been many more since, the latest being at his solo exhibition at the Arnolfini, Bristol in 2015. Each one incorporates the properties, tidal patterns, geology of a particular river. The making of the work involves bravado, risk and skill.
He gives himself a few moments to make it succeed, and once made, the work will not be redone. Twenty years of experience has enabled that to happen.
For this work he returned to his original methods, throwing with speed and precision, using mud diluted and sieved to exactly the right consistency. As it dried on the wall, it gradually cleared from being a mud slick, to reform the structure of the river bed, naturally re-creating its finely branching forms. http://www.richardlong.org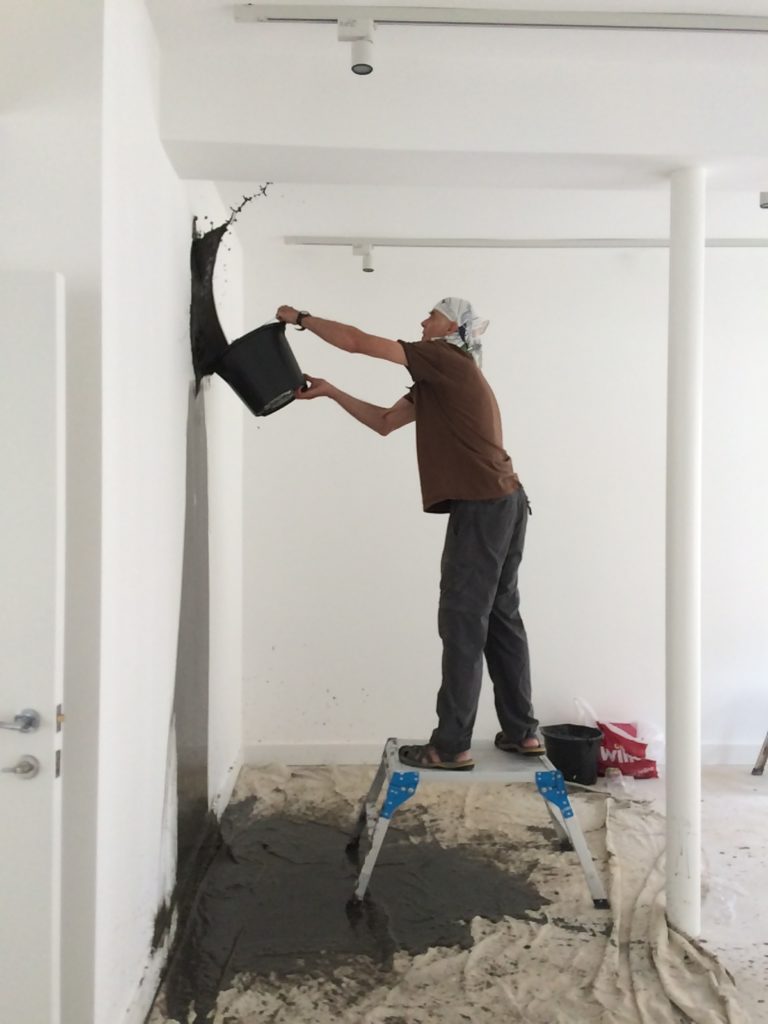 The ongoing life of The Great Ouse River Drawing
Richard Long's dramatic splash mud drawing remains, opposite the entrance, as a signature work and talking point. People have already said how it reminds them of the essence of a river, of long–flowing tresses of hair, of the bark of a tree. In a similar way it forms a starting point for a dialogue with each new exhibition, and it is always interesting to see what kind of different interpretations emerge.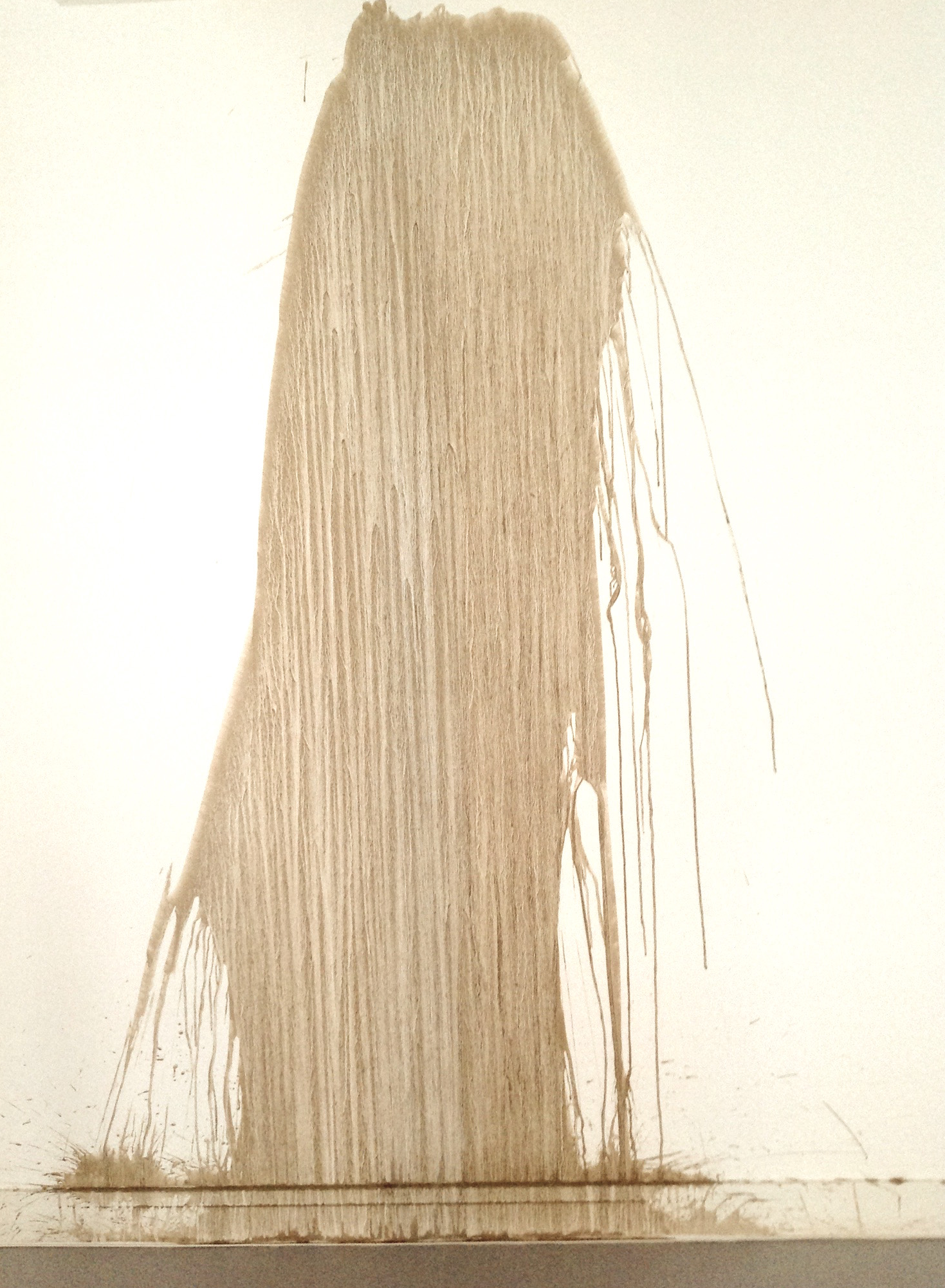 Selecting flint with Richard Long for Houghton Hall, 2017
Richard Long's 'North-South-East-West' in the Stone Hall at Houghton during the summer of 2017, was a supreme example of art created from the environment. The stone hall is a masterpiece of William Kent design from the early 18th century.
Long's work integrated a formal arrangement of rough stone within the elite craftsmanship of this grand house. It added to what was already a symphony of black and white. Very precisely measured, perfectly oriented to true north it appeared both highly considered, yet rustic in that context. It introduced a whole series of visual dialogues between wild and cultivated, modernist and historical, luxury and simplicity. It was very thought-provoking in so many ways about skills, resources, money, materials, contexts… https://www.houghtonhall.com/richard-long-at-houghton/