£485.00
Rice Paddy: Winter 2019 Stalks, oil on canvas 44 x 44 cm
Rice Paddy: Sunrise 2019 Stalks, oil and gold leaf on canvas 44 x 44 cm
Rice Paddy: Deep Snow brings Nitrogen to the Paddy Field 2019 Stalks, oil & gold leaf on canvas 44 x 44 cm
Rice Paddy: Nursery 2019 Seeds and oil on canvas 44 x 44 cm
Rice Paddy: Warm Rain 2019 Stalks, oil on canvas 44 x 44 cm (sold)
Rice Paddy : Great Harvest 2019 Stalks, oil & gold leaf on canvas 44 x 44 cm
These paintings are sold separately. Please state your preference in your order. Contact the gallery for special prices for two or more
Description
Isao Miura Rice Paddy paintings take us on a journey to Japan via abstract art. They relate back to his childhood experience in the flooded paddy fields of his family farm on the north-west coast of Japan. The formal square-sequence of his paintings, relates to the grid forms of the fields, as well as to the simple quadrated square of the Japanese character for paddy (ta). His imagery incorporates waves and sprays of rice stalks, seeds strewn directly over the surface and blended into the paint.
Isao Miura is an exhibitor in Japan Water.   You can listen to him talking about these paintings in the recording of our event The Art of Rice. He discusses how he evolved abstract art from life experience and describes their layers of symbolism.
This sequence of paintings takes us through the seasons as the rice paddies change.
From left to right from the top:
Rice Paddy: Winter,
Rice Paddy: Sunrise,
Rice Paddy: Deep Snow brings Nitrogen to the Paddy Field
Rice Paddy: Nursery
Rice Paddy: Warm Rain
Rice Paddy : Great Harvest
About the artist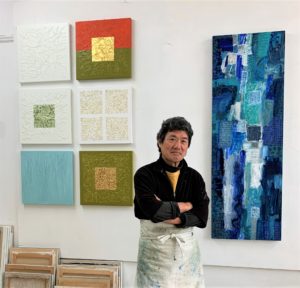 Isao Miura is a Zen Japanese painter and sculptor based in London. His media include oil and inks on canvas, paper and tatami (Japanese reed mats). He makes sculptures in bronze, wood, stone and installations using a variety of found or crafted objects. He trained in Japan, then at the Chelsea School of Art and the Royal College of Art in London, where he studied first under Roger Ackling and then with Ken Kiff.
Additional information
| | |
| --- | --- |
| Dimensions | 44 × 4 × 44 cm |