£650.00
Lisa Keiko Kirton
Fusion High
Coffee grounds on paper, stitched with string from a hemp cloth, 2018
Image size 29 x 42 cm
Framed size 55 x 66
Description
Lisa Keiko Kirton: Fusion High, is a collage from her collection of mixed-media paintings shown in Japan Water. Lisa Keiko Kirton made this work especially with great intuition and experiment.  Fusion High is an exercise in imagination, using calligraphy. Essentially it relates to her ideas about environment, purity and pollution.
Lisa has had an early career making large dramatic works, many of them working with communities.  Since moving to London, to a smaller space, she has been mostly limited to two-dimensional works. She works largely at her kitchen table. But she has continued to broaden her range of materials; including pine needles, coffee grounds, earth pigments, salt, dyed thread, wax and paint. Therefore, as with Fusion High, surfaces are sometimes rough or sparkly.
Some of her works reflect her fascination with the Jomon period in Japan and the Mesolithic period here. Others, like Fusion High, include images reflecting Japanese calligraphy. For some larger works she folds sheets of rice paper meticulously, providing a network of creases, often stained with natural pigments to provide a background for items such as pine needles and coffee grounds. These works have been exhibited in London and at CAF Nebula, Saitama, Japan, as an invited artist in 2019.
About the artist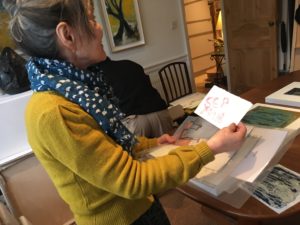 Lisa Keiko Kirton studied at Glassell School of Art, Museum of Modern Art Houston Texas, then she moved to Scotland where she pursued sculpture at the Scottish Sculpture Workshop in Aberdeenshire. Whilst living in Scotland, in addition to metal & bronze sculpture she undertook participatory works, involving local communities, farmers and fishermen, ​and ​using amongst other objects, rope,​ soil ​ and pine trees.
Her first water-inspired participatory exhibition was in London. She hung a large sheet of rice paper, and using dried straw, she constructed the kanji character of ta (meaning rice field) to segment the paper. She then asked visitors, using their hands, to splash water on the paper. The result was folded neatly, then torn into small pieces before finally being burnt.
Lisa Keiko Kirton believes continued care for the ocean to be vital to our existence.