£980.00
Nana Shiomi
Mirror Pond – Kingkakuji, 2009
Woodcut print
edition of 30
Image size: 80 x 60.5
Paper size: 96 x 76 cm
Please note: this print has almost sold out, we have only one numbered edition and 2 A/Ps left. Online they are sold unframed
Description
Nana Shiomi Mirror Pond, Kingkakuji, shows The Golden Pavilion (Kinkakuji) in Kyoto. This is  one of Japan's most beautiful buildings.  But as the artist says:

'But if it hadn't been built next to a  pond, would it have been able to attain the same reputation for beauty? A certain power resides in the mirrored image which reflected on the water.'

This crystal clarity of the reflection was for us a defining image for the exhibition Japan Water. An absolute icon. It so clearly stands for purity. One can almost not tell which is the real building and which is its reflection. Behind it we see its famous gardens. To represent these, Nana has given the golden building its beautiful livid green lush and verdant background.

Nana's subject matter is very much about the purity and power of water. The clarity of water here is a wonderful example of that. In other works we have the surge of the waterfall, waves lapping at the shore, storms and tea-cups. Her varied approach to water covers all the seasons.

About the artist

Nana Shiomi is a printmaker, born and raised in Japan, now based in south-east London. During her artistic training, completed at the Royal College of Art, 1989-1991, her identity changed. At first she only looked at Western contemporary art, but gradually she re-discovered her Japanese side and increasingly it has shaped her distinctively.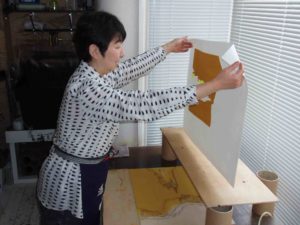 Her former tutor at the Royal College, Professor Chris Orr, says:
'Her vision has a clarity that the precision of printmaking draws out and yet there remains an enigmatic and intriguing space that defies complete analysis. Thus her work is delightful to look at and yet disturbing……
Technically her sure touch never lets her, or her audience down. It adds significantly to the tradition of Japanese printmaking but lies with great affection in the heart of our European heritage.'