£1,950.00
Nana Shiomi
The Sound of Waterfall Jumper and The Sound of Waterfall Thinker, 2014
Pair of woodcut prints on Japanese paper
Image size 119 x 40 cm
Paper size 134 x 43 cm
Edition of 30
Please note: online these are sold unframed.
Description
Nana Shiomi: The Sound of Waterfall: Jumper and The Sound of Waterfall: Thinker is a pair of large woodcut prints. They show a surging waterfall, where a carp jumps in one and at the bottom of the other is the thinker. We just love the idea of a thinking carp. As the artist says – the world needs both jumpers and thinkers. The landscape setting is partly rocky and apparently also it seems to be partly indoors. The artist's signature motif of floorboards form parallel line structure at the top of the prints.
The Sound of Waterfall
Interestingly, it is the sound of waterfall rather than the sight of waterfall in the title. Immediately we imagine the rushing sound it must be making.
Dramatic in impact these prints are among the artist's masterpieces. Currently they are on display in Japan Water, commanding a view across the space from the entrance.  They form a wonderful counterpart to  Richard Long's Great Ouse River Drawing. The prints are quite a technical feat. The artist made them from 24 separate woodblocks, each measuring 60x40cm.
Nana's subject matter is very much about the purity and power of water. From the clarity of reflections, the surge of the waterfall, waves lapping at the shore, storms and tea-cups. Her varied approach to water covers all the seasons.
About the artist
Nana Shiomi is a printmaker, born and raised in Japan, now based in south-east London. During her artistic training, completed at the Royal College of Art, 1989-1991, her identity changed. At first she only looked at Western contemporary art, but gradually she re-discovered her Japanese side and increasingly it has shaped her distinctively.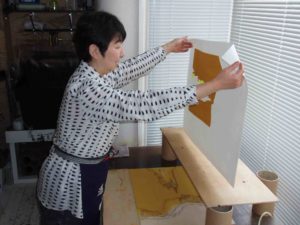 Her former tutor at the Royal College, Professor Chris Orr, says:
'Her vision has a clarity that the precision of printmaking draws out and yet there remains an enigmatic and intriguing space that defies complete analysis. Thus her work is delightful to look at and yet disturbing……
Technically her sure touch never lets her, or her audience down. It adds significantly to the tradition of Japanese printmaking but lies with great affection in the heart of our European heritage.'