£245.00
Chris Ruston
A Dangerous Idea
Darwin Box, 2015
Hand-painted display box containing shells, fossils, nuts, seeds, skeletons, and altered book Charles Darwin's 'On the Origin of Species
30 x 15 x 4 cm
Description
Chris Ruston A Dangerous Idea is a box of treasures which folds together in the form of a book.  Originally she made it as a commission for an exhibition about Charles Darwin. Her inspiration was an Italian reliquary diptych (1300-1350) which she saw on display in the V&A Museum. To be precise, it was in the Medieval and Renaissance Gallery, Room 10, case 16.   Admiring this structure, she made a small case divided inside with compartments. These she filled with relics,  incorporating elements which reflect changing contemporary attitudes to the sacred.
Darwin's theories revolutionised our understanding of the natural world. They also challenged traditional views. As she wanted to reflect all of this, she began by incorporating an altered book ('On the Origin of Species' by Charles Darwin.  Various natural objects represented aspects of the natural world. These included nuts, seeds, fossils and skeletons. The inclusion of a mirror places the viewer into the work, while the burnt match is a symbol of how Darwin's theories ignited long held beliefs.
A Dangerous Idea was on display in GroundWork Gallery's exhibition Bugs Beauty and Danger,  from March to December 2020
About the artist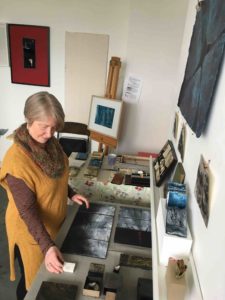 Chris Ruston is an artist based in Southend, Essex. Her work explores issues around our changing climate. She also often combines interests in history and storytelling. However, she seeks to express more than her personal story, often connecting to much wider issues. Earth's story is a constant thread through her work. Her interests reach out to broad aspects of life and the environment.  She invites us to think about how the past, present and future come together. Initially Chris trained as a fine artist and has become known for her innovative approach to form and design of the artist's book.