A practical workshop round the kitchen table with Kaitlin Ferguson
Learn 3D printing from biomaterials at the first in a series of relaxed and informative workshops around our kitchen table These are always linking art and environment. They are small scale, and enjoyable. Each one with a practical outcome, they are also thought-provoking, based on the artist's practice of deep thinking and research. You will always come away with new skills. No experience is necessary.
Date and booking
Saturday September 23rd
Kaitlin Ferguson
3D printing with waste and biomaterials
10-4
£55 per person / £44 concessions
Book via mail@groundworkgallery.com using the heading 3Dprinting workshop
And you can book via Eventbrite: https://www.eventbrite.co.uk/e/learn-3d-printing-with-waste-biomaterials-tickets-702175865917?aff=oddtdtcreator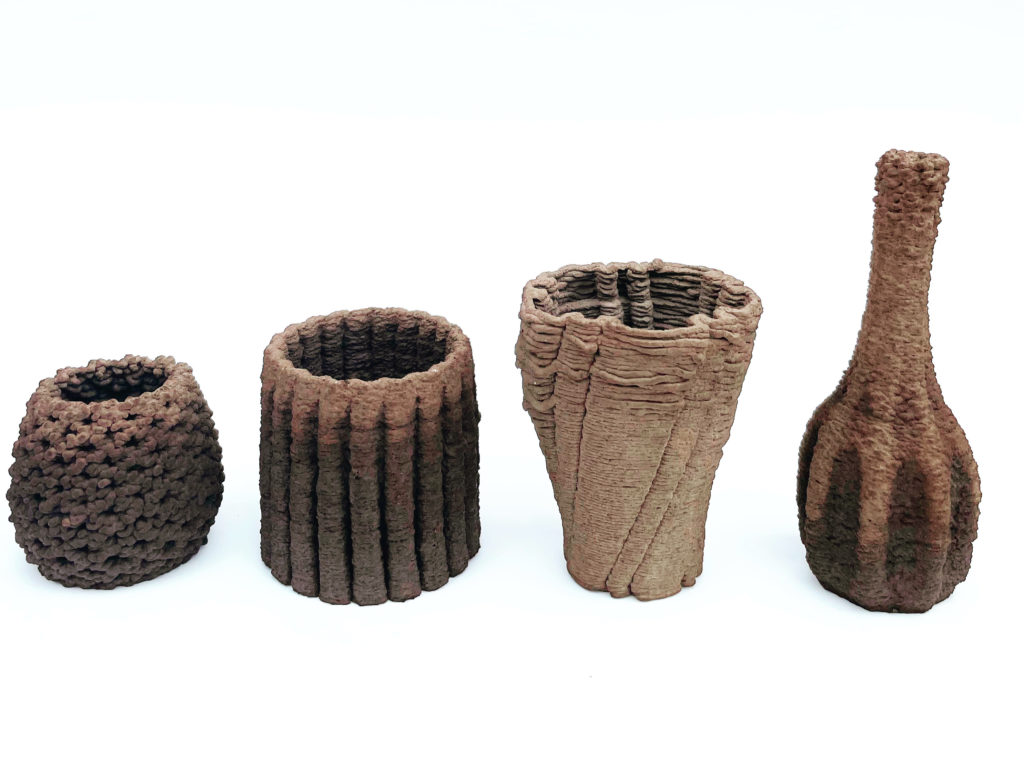 About the artist
A regular exhibitor with GroundWork Gallery among many other places, Kaitlin Ferguson is developing her workshop practice around innovative skills for creating 3D artefacts, rooted in her understanding of geology. Using waste materials to make sculptural, useful and beautiful artefacts, her work relates to a deep concern about the environment and how we need as a species to engage more sensitively with it, to lighten our load
" …..Through creative applications I seek to disrupt the current human centric viewpoints and reframe these perspectives within the deep time scales of the planet. To reveal new readings of the environment; ones that seek to deconstruct and heal the deeply embedded divides between nature and culture which surround us….. "
Kaitlin is a skilled educator, also regularly involved with the Sainsbury Centre and Kettles Yard, Cambridge, where she ran a public creative research lab in 2022.
Workshop outline:
The workshop will involve presentations about 3D printing, digital design for additive manufacturing and will guide participants through the creation of decompostable sculptural materials which can utilise domestic and industrial waste for art making. You will learn about creating 'biomaterials' for printing out of waste streams, such as used coffee grounds.
Kaitlin will also present her own research from the 'Extraction: Art on the Edge of the Abyss' Residency, which saw her utilise surplus powdered chalk from Norfolk quarries and develop it into a biomaterial composite for 3D printing.
Workshop Timings:
10 – 10.15am – Welcome
10.15 – 11.15am – Exhibition Tour, followed by Kaitlin sharing her body of research from her Extraction Residency
11.15am – 11.30 Tea & Coffee Break
11.30 – 12pm Introduction to 3D printing presentation
12.00 – 12.30pm Talk through the 3D printer and demo mixing biomaterials (e.g waste coffee grounds and chalk composite) (TBC.)
12.30 – 1pm Lunch
– 2.45pm Experiment with 'manual extrusion' or printing by hand, mixing biomaterial recipes and piping with syringes.
2.45 – 3.30pm 3D printing digital design presentation over tea and coffee
3.30 – 4.00pm Clear up & discussion around next steps
4.00pm Finish
By joining the workshop you are also joining a movement. Through each one you will learn how we can make efficient use of limited resources in order to make our environment more sustainable. Ultimately, we are doing our bit to think better about the environment and climate change.
We keep the fees as low as we can but we have no public subsidy and we pay our artists properly so the fees also need to reflect that.