Here are recent introductions to GroundWork Gallery in writing, film and poster. One is a lovely piece of writing by Anna Green who visited in late summer. The other is short film by Peter Clitheroe of Outhouse Filmworks featuring director Veronica Sekules giving a short intro, and the third is Pearce Marchbank's latest poster for the railway station.
Visiting GroundWork Gallery
by Anna Green
We visited GroundWork on one of those magical late September days: low sun picking out the clean, clear lines of the Gallery and the Custom House against a cloudless blue sky. Having not visited for several years, our short walk from the station reminded us just how engaging Kings Lynn is: elegant bell gables, cobbled lanes, fine old churches, medieval bricks and flintwork cheek by jowl with modern warehousing, and a spankingly refurbished quayside. Everywhere, too, waterways: beside the gallery whispering with picturesque reeds; but on the outskirts choked with debris – the glories of Lynn's Hanseatic past co-exist with the realities of eco-neglect.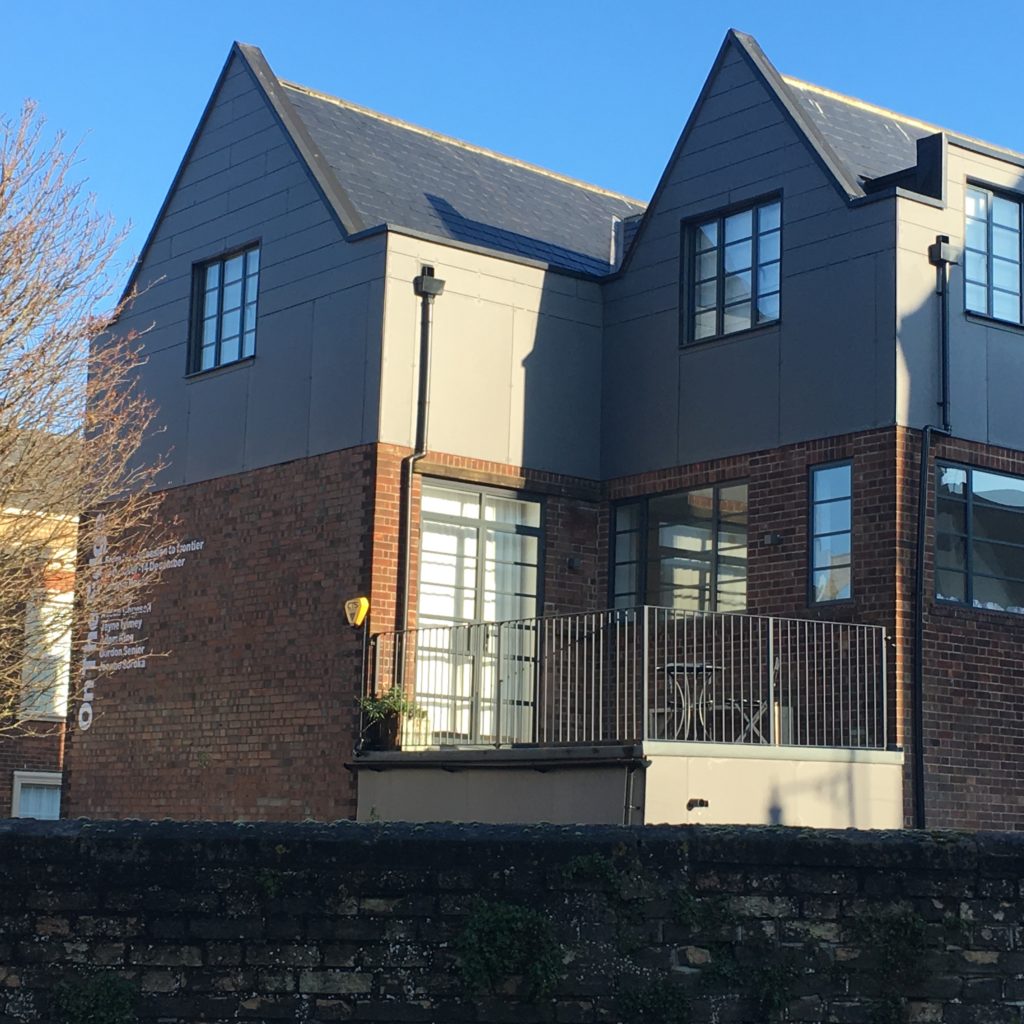 Getting our bearings better when we finally extracted ourselves from the current show, The Ground Beneath Our Feet, we realised further just how symbiotic exhibition and location are. Whilst some artists tackle the grimmer aspects of local and international climate change head-on, others make a cunning beauty out of it. Some are precariously witty; others achingly wistful. Holding or negotiating this cognitive dissonance is surely how art can mediate our lived experience of climate change, at an immediate as well as global level, interrogating the negative social and environmental consequences of industrialized natural resource extraction.
The Ground Beneath Our Feet, without hectoring or finger-pointing caused us – all over again – to question how we might individually make an impact or leave a trace, however tiny; how to hold on to hope, whilst recognising disaster.
Means of transport
One way might be to use public transport: and take in more Fenny loveliness along the way. It was an easy, five minute connection at Ely to take the train from Norwich to Kings Lynn. Gently undulating grassy fields and forest gave way to flat, rich, black loam. On our second day we bussed (Lynx 49) twenty minutes out of Kings Lynn to the charming village of Harpley, walked five along a nasty 'A' road before turning into Houghton's wide exterior avenue, and spending the afternoon at Houghton Hall amongst Sean Scully's observations of that particular ground beneath his feet: vast wooden sleepers; rusting metal cages; sandstone blocks placed with exquisite precision to best interrogate the contradictions of the Walpole estate. After a top quality scone and tea we resumed the Harpley bus route, but this time to Fakenham – another twenty minutes – then boarded the bus (First Eastern Counties X29) back to Norwich, top deck front seat giving us grandstand views over some particularly evocative countryside. It happens to stop 30 seconds from our house.
Another very pleasurable way of making an impact could be to plough some money back into the local economy, maybe at the GroundWork foundation itself, and stay over in Kings Lynn: despite its charm clearly also suffering from the Cost of Living Crisis. Next time we'll sleep either in GroundWork's fabulous penthouse apartment (sleeps two +) above the gallery, or the adjoining apartment, yet to be fully announced (sleeps six +). Both conjure up the calm stylishness of Kettle's Yard: art and furniture (some designer, some handmade) quietly interspersed with unexpected arrangements of found, natural objects in a contemporary setting. We ate in an unassuming, family-run Turkish restaurant, and were plied with home-made specialities 'on the house' and rather delicious Turkish wine. There's plenty of choice all round town.
Back home, still blissed out, we turned on The News and had the ground taken rudely out from under our feet: Sunak's U turn on climate change. In the midst of fury and sorrow a line from the ancient Celtic church's liturgy came to me: 'Today is a new day which has never been before'…
The magnum opus at GroundWork – exhibitions, collaborations, partnerships, learning, residencies and more – despite engaging with the horrors of what we have done to our planet, also holds out that hope.
AG 03/10.23
Introduction to GroundWork Gallery: The Film
Peter Clitheroe made this short film as an introduction for the Norfolk Arts Awards, 2023, for which the gallery was shortlisted. https://norfolkartsawards.org/
Here is the link to the film:
And here is the station ad by Pearce Marchbank
And…. here is a copy of the new advertisement on King's Lynn Station!