£820.00
Black Arches Moth mezzotint on Arches paper, 2019, edition of 20; 29 cm diameter image. Sold unframed.
Description
Sarah Gillespie, Black Arches Moth (The Nun) is one of a series of 20 mezzotints made by the artist in 2019-2020. Each one is most carefully observed. The prints are all in small editions and repay endless close scrutiny. As a viewer you will be well rewarded in benefiting from the artist's vision in studying these fascinating delicate and much misunderstood creatures.
An interview with the artist
Find out more about Sarah Gillespie's work and artistic techiques from an in-depth interview by writer Karen Eng. https://groundworkgallery.com/sarah-gillespie/
More about the Black Arches moth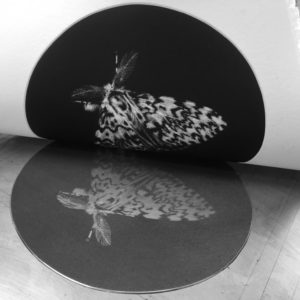 Family – Tussock moths (Lymantriidae)
Wingspan 36-56mm
The adults fly at night and are attracted to light, especially the males. They can sometimes be found resting on tree trunks or posts during the day. The caterpillars can be found from April to June after they have overwintered as eggs.
Habitat is in woodland and parks with mature oaks, but also other trees including Midland Hawthorn, birches and elms.
Caterpillar food plants are mainly Pedunculate Oak and Sessile Oak, but also other trees including Midland Hawthorn birches and elms.
Distribution
The moth is well distributed in the southern section of England, East Anglia and the south Midlands. Local in Lincolnshire, West Wales and the Isle of Man.
Additional information
| | |
| --- | --- |
| Weight | 1.0 kg |
| Dimensions | 29 cm |