£995.00
pi stool
Hand crafted, Limited edition
Bog oak & skeined willow
H 44 cm / W 60 cm / D 38 cm
(price excludes transport, to be organised separately)
Description
This Par-avion co: pi stool is part of their original 2016 collection of sustainable homeware. From the signature 'pi collection', the stool has innovative detailing, with a hand carved frame and a basketry woven seat. Its design is inspired by Danish modernism. Par-avion co like to make a blend of traditional crafts and modern styling in their furniture-making. Crafts they use regularly include wood-turning and carving, basketry, and pottery. Par-avion co share GroundWork Gallery's concerns for the environment and we always have a pi stool on display in the gallery.
Bog oak
Bog oak comes from trees that fell and were submerged in peat bogs where they were preserved for thousands of years. The intact trees absorbed the peat and other sediment from the outside in, turning them a black to greyish-brown colour. As the bogs dried out, the fallen tree trunks gradually came closer to the surface where farmers cleared them away. For a long time bog oak was not at all valued, but now it is very sought-after.
Pi stool Carbon footprint
The pi stool is entirely hand-made from local materials . The bog oak Par Avion use for their limited edition pi stools, trays and letter openers was harvested from the Cambridgeshire Fens. This area is less than 75 miles from their base in Norwich. The oak is carbon dated to approximately 5000 years ago. To put that into perspective, these mighty oaks were standing during the stone age!
About the artists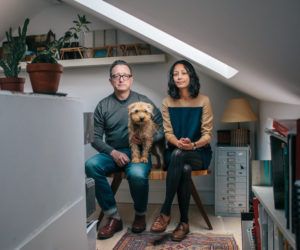 Par-avion co is an East Anglian design partnership consisting of husband and wife team Simon and Monica Cass. With backgrounds in architecture and furniture-making, the pair design and produce high quality objects. Concern for the environment and sustainability is very important to them. They aim to keep a low carbon footprint by using only local materials and craftsmanship.