£325.00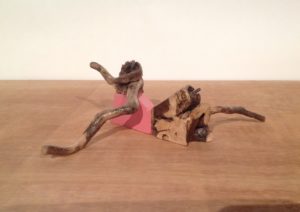 Lee Grandjean
Small Nude, 2016
h. 19 x w. 25 x d. 30 cm.
Wood & paint & varnish.
1 in stock
Description
Lee Grandjean, Small Nude, 2016, h. 19 x w. 25 x d. 30 cm. Wood & paint & varnish.
This is one of the series of small table-top sculptures made for GroundWork's Out of the Wood exhibition from November 5 – December 17 2016. This work is a collage of different bits from an apple tree root, constructed with cut and painted sawn timber. Its title suggests a figure, but the form is not literal, so the viewer is left wondering about its different physical features. As with much of Lee's work, it has humour, and there is an edge of the cartoon about its form, with over extending 'arms' and use of bright colour.
Lee Grandjean is formerly Deputy Head of Sculpture at the Royal College of Art, having previously worked at Wimbledon. He trained at NE London and Winchester School of Art. His work has been shown extensively in the UK in 16 solo and 70 group shows. He is one of GroundWork's featured artists.