10 March – 2 June 2018
The Surrey Hills is a film about a landfill site incongruously situated in the Surrey Hills, a designated area of outstanding natural beauty. The site is almost full and it's the job of one man, Nigel, to hide the unpleasant spectacle of our own waste from us whilst reshaping the hills for generations to come. Now in 2018, the site is full, completely covered and with trees growing. Nigel would have been proud of the result of his topological handiwork. But are the new hills he has created merely an illusion of nature with unknown consequences hidden beneath?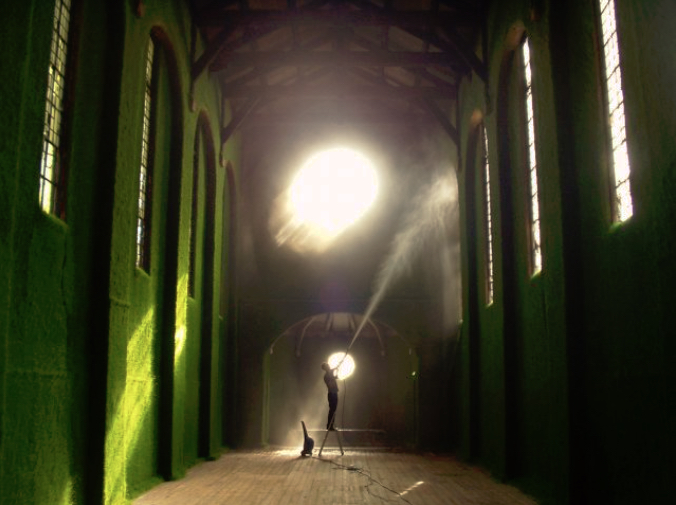 Originally commissioned for the touring exhibition 'Wild New Territories' in 2012, the film was shown, as above, as an installation on an old TV discarded amongst rubbish. For this installation for TrashArt at GroundWork Gallery, the artists have chosen to use electronic waste, the world's fastest growing waste problem.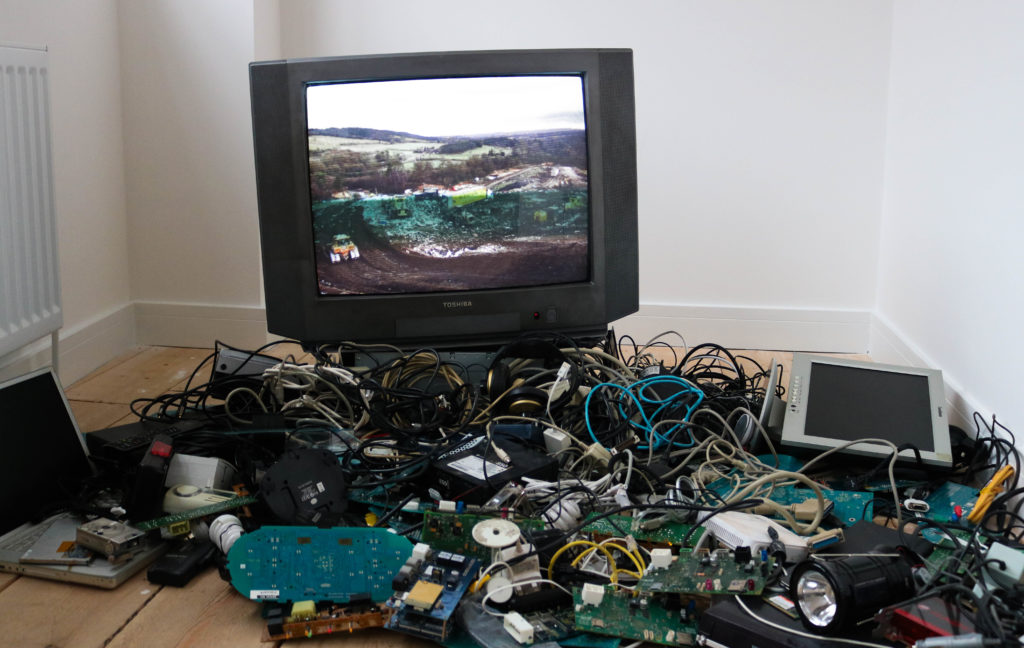 Electronic waste installation
There is no doubt that advancements in technology have had huge benefits to society, but it's becoming increasingly clear they are also having a negative impact on the environment. With planned obsolescence limiting the lifespan of the products we buy, encouraging us to replace and update regularly, we are depleting the earth's rich resources. In addition, we are creating mountains of electronic waste, with much of it destined for landfill or the incinerator. It seems we have an insatiable appetite for the latest technological gadgetry, that quickly becomes outmoded, with smartphones now having an average lifecycle of under 2 years. Our economic system is based on consumption, our political process endorses it and we don't seem to be tiring of it. But the implications are huge. It has recently turned out that much of our recycling ends up in landfill, with United Nations research in 2017 showing that only 20% of electronic waste is actually being recycled. It is particularly difficult, and apparently not cost-effective, to extract the multitude of precious metals that have gone into making electronics, and once in landfill or incineration they end up leaching into our ecosystem and posing considerable environmental and health risks. Our desire for the latest high tech wizardry has huge consequences for the environment. Is it time for the giant tech companies to take more responsibility and a more environmentally conscious approach? Could components be designed that facilitate recycling and the recovery of precious metals?
Background to the film and the artists
Henry/Bragg are artists Julie Henry and Debbie Bragg. They highlight subject matters that mean a great deal to them, such as the erosion of working class culture and the age of global consumerism.
The Surrey Hills toured worldwide in 2012/3 as part of the exhibition Wild New Territories; from London to the Teck Gallery Vancouver and then onto Berlin. In March 2014, the artists were invited by Film and Video Umbrella to show and talk about their work at the Media Space in the Science Museum London, in conjunction with the exhibition 'Only in England.' The first solo exhibition for artist duo, Julie Henry and Debbie Bragg. was Talent Show at the Anthony Wilkinson Gallery in 2000, followed by Dyed in the Wool at the Millais Gallery 2005, and a group show Rundlederwelten as part of the cultural festival for the World Cup 2006 at the Martin Gropius Bau Museum, Berlin. In 2011, their Blooming Britain project, a study of people who enter gardening competitions, toured as a large scale outdoor exhibition at gardens around the UK, and was shown in 2014 at the Chelsea Flower Show.
Instagram/Facebook/Twitter: HenryBraggArt
www.henrybragg.com