Ceramics by Kathryn Hearn,
June 23rd – September 16, 2018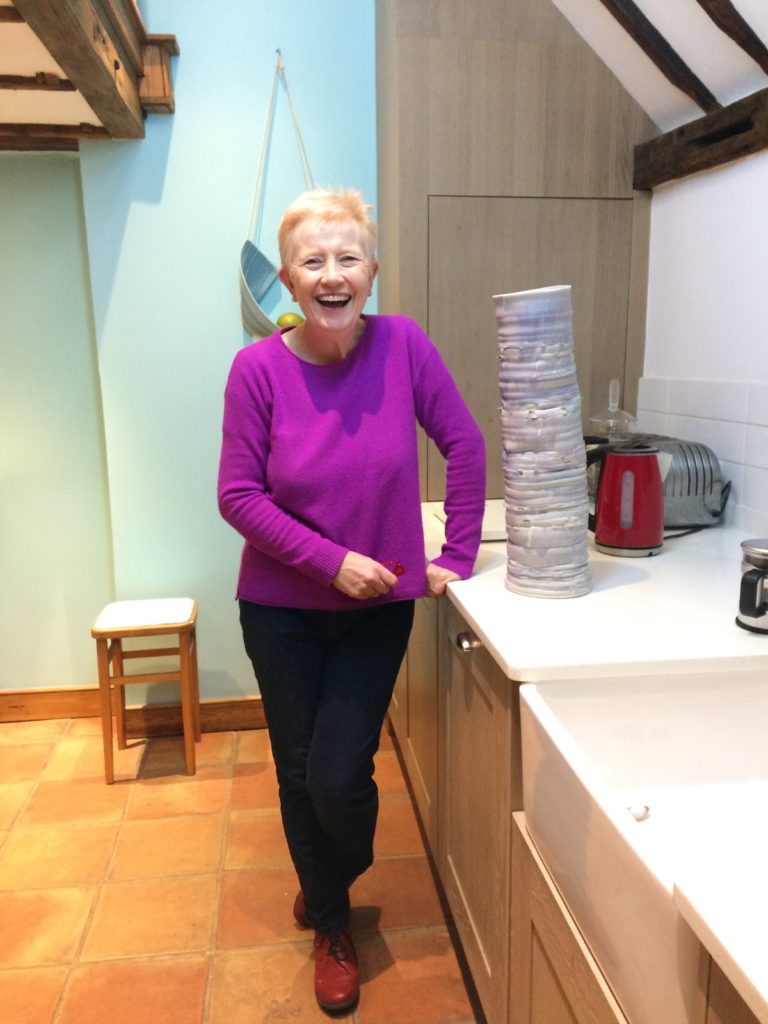 Formerly Course Director in ceramics at Central St Martins in London, Kathryn Hearn moved a few years ago to live in the Cambridgeshire Fenland town of Chatteris. The surrounding landscape and culture have fascinated her ever since. Chatteris, is one of four fenland towns which once were islands. This area of Cambridgeshire lies between Norfolk, Suffolk, Essex, Bedfordshire and Lincolnshire. It isn't the heady centre of academia which is Cambridge nor the undulating fields of Huntingdonshire,. It is a flat and functional environment.
Fenland resourcefulness
Kathryn Hearn has become interested in how the Fenland landscape and its peoples have emerged following the draining of the fens in the 1700's. This remarkable development enabled the establishment of the agricultural industry, which is the forerunner of where she lives today. But it is the history of struggle and survival which she feels give the place its character. The local people are resourceful and their needs have triumphed over commercial interests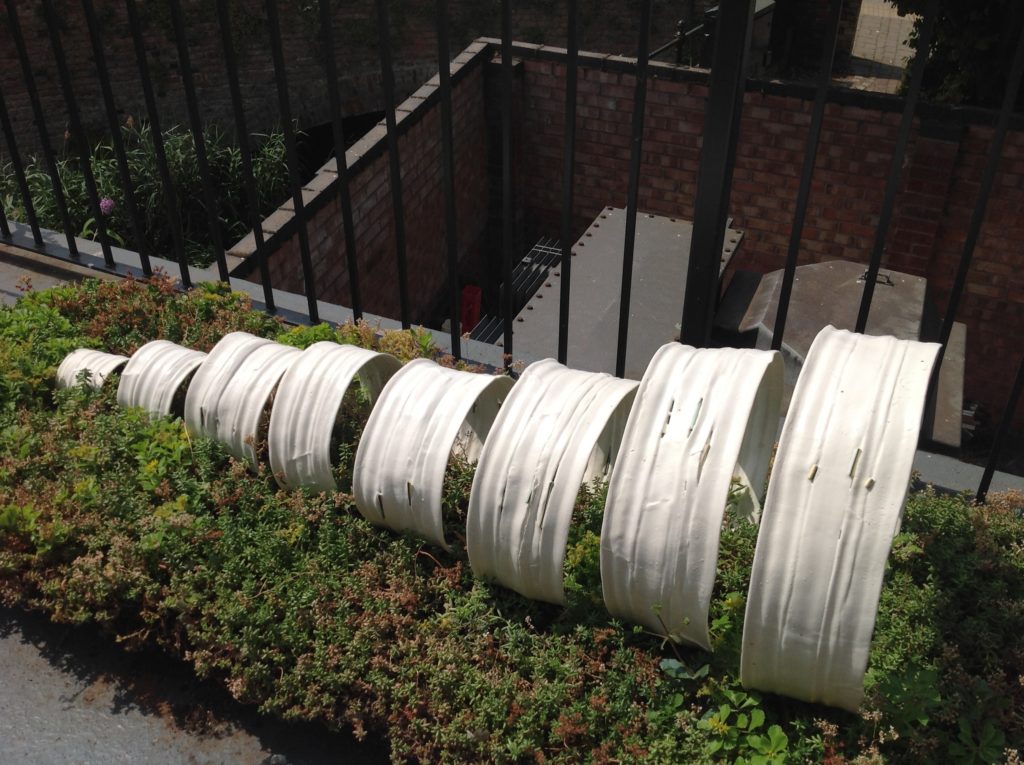 This Fenland body of work (on show in 2018), reflects her responses to her new surroundings. This ancient but managed industrial landscape with its wide open spaces and extraordinary light, colours, hues and textures provided her with a creative opportunity. The large expanses of atmospheric sky inspired her hand-built porcelain vessels. Also, the very industrial character of the agricultural landscape has left its mark. She finds there is something uncompromising about this functional environment.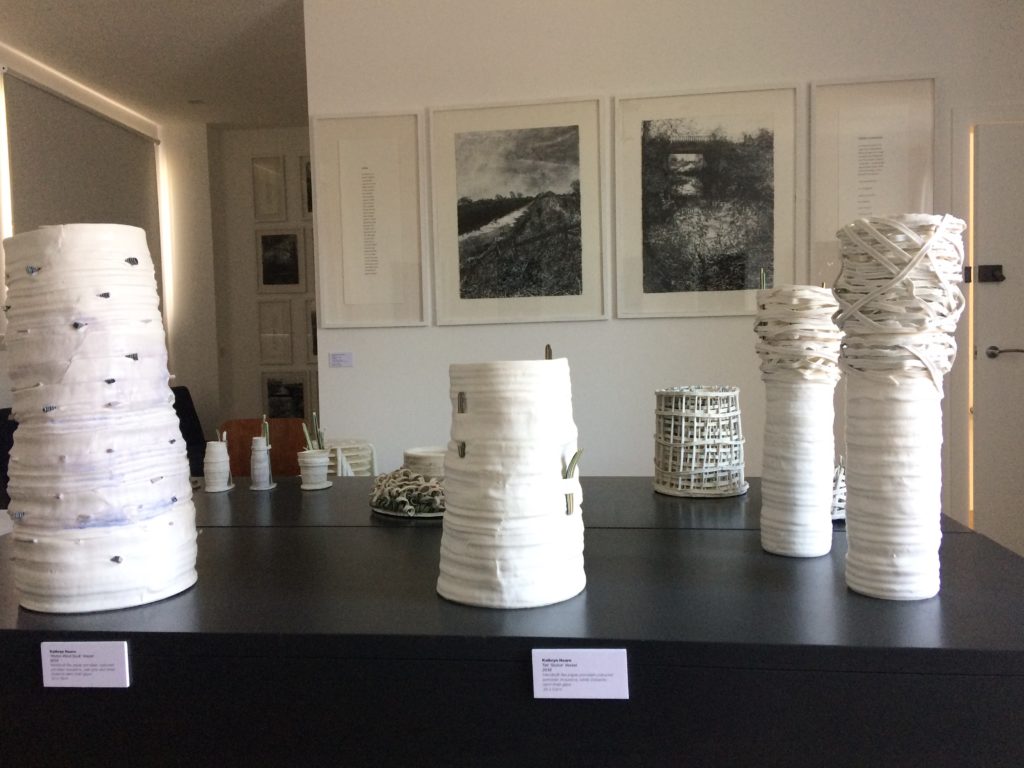 Especially, her work pays tribute to the farmer's resourcefulness, with an ingenious use of craft. Repairing and refurbishing every bit of machinery or building, however ramshackle, is very much the local tradition. She has adopted some of that attitude and interpreted it, for example, in the way she makes her work in sections with attachments.
Contrasts between industrial agriculture, craft and the natural
Above all, her use of wrapped and strapped forms around her pots have their origin in the Fenlander's tenacious and protective attitudes.
They sometimes live in remote windswept homes behind barriers of Leylandii trees which have been grown as an embattled fort. Usually pollarded to extremity with the tree trunk revealed, chopped at its peak and leaves removed from the outside whilst remaining verdant and private from prying eyes within its inner safe world.

Kathryn Hearn
This narrative is so different from where she grew up in the Lake District. There, farmers have more autonomy. The landscape is much more connected with artistic culture and a long established tourist industry. Consequently, it is a cherished land. In contrast to this, Fenland appears to be a curious and 'other' place. It is a backwater, culturally undernourished. It is not a conventional acceptable beautiful environment in the same way.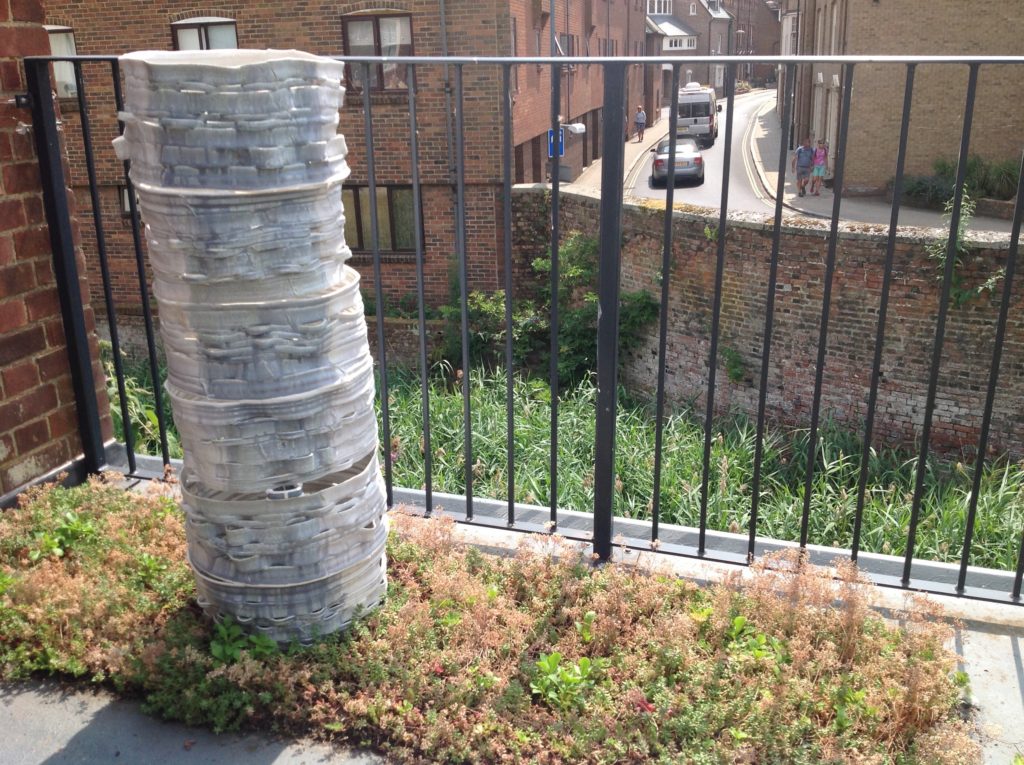 Hearn's works seek to express this uncomfortable beauty with the contrasts between industrial agriculture, craft and the natural. She uses handbuilding of porcelain in an immediate and visceral way, trying not to use conventional solutions to the finishing and refinement in the shapes. Instead she deconstructs the forms in the making. The colours and her use of relief and shadow, reflect the light and atmosphere of the Fenland terrain and the liminal spaces between ground and sky. 

Kathryn Hearn's work at GroundWork was shown alongside Judith Tucker and Harriet Tarlo's Outfalls, a body of work in drawing and poetry which reflected another landscape not too far from the Fens, in north Linconshire. Kathryn Hearn exhibits regularly at Ceramic Art London.