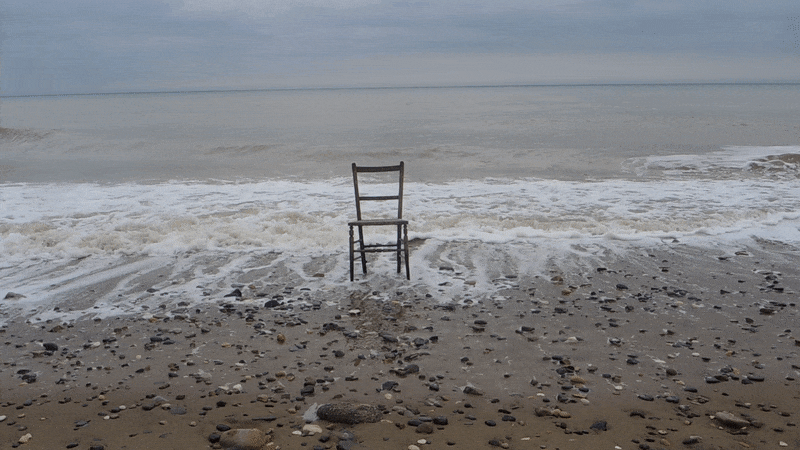 Helen Goodwin Impermanent Edge was a work on a digital journey. It took the form of a virtual exhibition tour for a limited period.
The work is about impermanence, seen through the eroding edge of landscape on coastal places where the artist has lived.
On the East Yorkshire shore, the cliffs and beach at Skipsea, is the fastest eroding coastline in Europe. The work aims to catch the impact of wind, tide and sea on the cliffs, and on human life, through the shifting buildings and their contents, to capture the effect of impermanence.
I move objects from one place to another. I had a cottage on the cliff top at Skipsea for five years. Before it was taken by the sea, I removed a chair I still have, which moved with me from Skipsea to Hull to Brighton. I brought it back to visit.
This digital journey
This digital journey followed the path of the chair, moving back up from Brighton to Hull and East Yorkshire, to the place where it once sat beneath white muslin curtains in a wooden hut on the cliff top looking out over the sea.
It links eroding coastlines where I've lived: the chalk cliffs of East Sussex and the till (clay) of East Yorkshire.

Helen Goodwin
A response to changing environment
The work was made on the beach in March, at a time of fierce, forceful winds. White cloth to reflect the ebb of the waves, the tidemark of sea on the edge of land, fixed on upright wooden struts sunk deep into the sand. They connect the sea to sky. They draw the wind in the air. Their movements with wind and water show how the earth moves and reforms and shapes the impermanent edge of shoreland. The flag-like constructions become fragile and surrender to what later seems was inevitable. Just as my cliff-top cottage finally did.

Helen Goodwin
Edgelandia and Penned in the Margins
This work was part of a micro-commission from Edgelandia and Penned in the Margins to create a response to the changing environment and meet local people. The coronavirus changed exhibition plans from physical to digital, from a single place to a journey.
I work in landscape, using materials of place such as stones, soil, chalk, and material culture of people, such as thread, objects, pictures. As glaciers did and the sea does take and move geological materials, I may use materials of one place in another. Here chalk on clay and tarmac.
The journey began here:
https://onca.org.uk/event/impermanent-edge-helen-goodwin/
About the artist
Helen's practice is largely site responsive and performative, often working in chosen outdoor locations, and with an emphasis on impermanence. The particular locality, both people and place, is the basis and provides materials that feed into her work. She focuses on issues of place, space and belonging using material culture as well as found geology, and other materials of place. She is particularly interested in the ever-changing edges of landscapes which has led her to look further at ideas around environmental impermanence.
Helen has worked and studied in the UK and other European countries, China and Mongolia, on arts related projects. She has been selected on various international arts residencies. Helen received a postgraduate scholarship from the British council and Hungarian Ministry of Culture to study in Budapest for two years under the supervision of the artist and tutor Dora Maurer. She has an MA in Drawing from UAL Wimbledon, London and was amongst 10 students selected from UAL courses to attend a period of research in Tokyo. For a period of 8 years Helen worked and lived in China. Swedish curator Anna Mellergard invited her to facilitate a cross-cultural arts project between artists from China and Sweden. This culminated in exhibitions in both countries, funded by SEDA. She continues her practice through exhibitions and residencies and has works in international private and institutional collections.
Helen Goodwin 2020