Jan Eric Visser
10 March – 2 June 2018
The artistic practice of Jan Eric Visser has been focused entirely on the transformation of his everyday garbage items into autonomous works of art. He likes to refer to this process as 'Form Follows Garbage', exploring the boundaries of his control over shape, material and color, at the same time addressing pressing environmental issues like resource shortage and overconsumption by reducing his own carbon footprint.
Jan Eric Visser is an artist who sees the value and potential beauty in the waste from his household. Once it has served its original purpose, all the paper and card, plastic packaging and local newsprint which comes in through the front door, becomes transformed in his studio into sculptural forms.
"Interesting and thought-provoking"
"Good to see use of rubbish so effective"
"I love the whole idea of using up trash"
"Really interesting process, and necessary, yielding some beautiful pieces"

comments by visitors
Jan Eric Visser's urge to make art comes from a deep understanding of the ways in which a form needs to occupy space. He is a sculptor creating extraordinary figures, hovering mysteriously somewhere between humanoid and abstract. His work is unusual not only in its quality of surface and colour, scale and shape. Its material presence is inextricably related to the ethics of its production.
"I must admit that I don't look upon art as another commodity that is easily understood and consumed. Every day I am working towards a transformation of matter, and therefore of myself"

Jan Eric Visser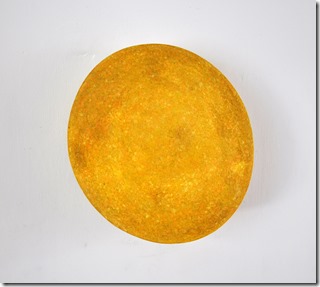 'Waste is the new gold'

Jan Eric Visser
On one previous trip to King's Lynn, the artist collected trash along the River Great Ouse. These have now been incorporated as works of art, on display throughout Trash/Art until 2 June.
"Would really like to make a change. We only get one world, do not waste it!"

Said by a young visitor to the exhibition, 30/03/18<
In another place or context, the materials the artist starts with, common household waste, might be rubbish to be discarded without care, at best, recycled into another household product. But in Jan Eric's world, it becomes part of another form of existence for artistic purpose. As art, Jan Eric Visser's work is part of a new kind of environmental politics.
In the industrial sphere, new artefacts created from former waste products can produce value, which challenges existing habits and norms, and helps us to make best and most economical use of limited resources. In the art-world, the same kind of action is like alchemy, changing base material into something more precious. In such a way, Jan Eric's art is transformative
Innovation in waste materials
Jan Eric Visser is constantly on the search for new and innovative waste materials. Above is a new sculpture made with two of them. The base is a translucent concrete developed by the University of Eindhoven to include waste glass and minerals to aid self-cleaning. The sculptural form is a material called Aquadyne made from 100% post-consumer-waste plastics.
Aquadyne is a new material which has macro and micro pores that enable the rooting of plants. It may be used for drainage, green roofs, green facades. Even vegetables may be grown on it! It was developed in the North-East of England by Mr. Gaskarth, who invested a great deal of personal effort, time and money, putting everything on line to develop this material out of rubbish.
The new type of concrete has been developed by Technical University of Eindhoven. Concrete is the second most produced material in the world after drinking water. Unfortunately, it is highly unsustainable in terms of CO2 emissions and resource efficiency. Now, the University of Technology Eindhoven have developed a new type of concrete in which aggregates and Portland cement have been replaced by waste materials, such as glass waste. Also a mineral has been added to render the concrete self-cleaning and eliminate air pollution. Thus it uses UV light to prevent the growth of algae and degrade small particles in the air we breathe known as nitrogen oxides. Its performance is increased by 40% as the various glass particles used in the concrete intensify the UV light.
"I think both materials – Aquadyne and Recycled Glass Concrete – embody the new aesthetics of a post-industrial future in which valuable resources will be cherished and no longer incinerated as 'waste'."

Jan Eric Visser