13 October – 16 December, 2018
Shaun Fraser, Wayne Binitie, Flora Bowden, Kabir Hussain,
Theories of the Earth, offered a timely insight into issues of climate change alongside deeper stories of the earth's formation. Four artists ventured into the earth's history and geology to investigate our understanding of the changes to the environment. Wayne Binitie, Flora Bowden, Shaun Fraser and Kabir Hussain explored the elemental and physical matter of the earth. Stone, peat, bronze and ice provided the 'core material' of the show.
Glass and bronze sculptures, drawings, photography, video and audio installations and jewellery created a fully immersive experience for the viewer. It was varied: multi-sensory and both representational and abstract. The exhibition spoke about the histories and futures of human inhabitation and its impact upon the earth.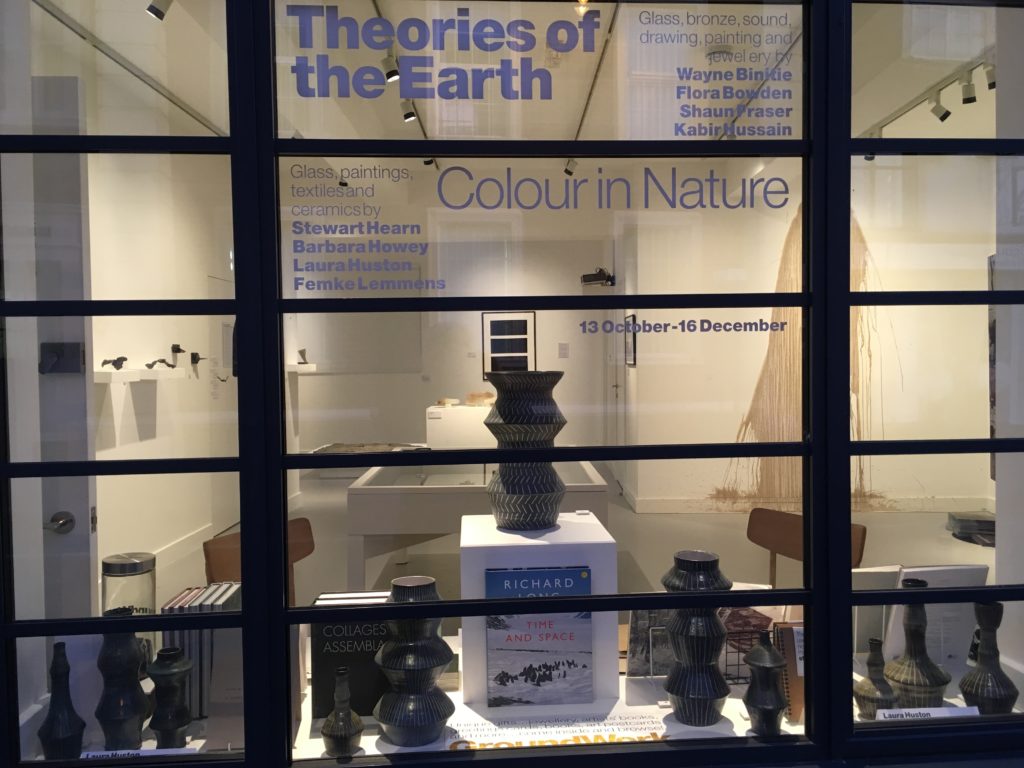 The artists developed and re-imagined this narrative or 'story' of the earth through their long-term engagement with environmental history.
They were dismayed by the fleeting changes they observed in different landscapes. The frightening rate of disappearance of what seem to be enduring features concerned them. So, through their subtle range of artistic images and impressions they aimed to communicate the importance of environmental change .
Wayne Binitie and Shaun Fraser formed a professional and personal friendship while studying glass at the Royal College of Art. They both visited Iceland and had been fascinated by its stark, magical and mysterious landscapes. Subsequently, Wayne has worked with the British Antarctic Survey, studying glacial water. He took recordings of compressed ancient air bubbles trapped in ice-cores and transformed them in sound and image.
Wayne Binitie
Wayne Binitie imagines what it would be like to hear see and feel the climatic atmosphere of the glacial past. He makes haunting video sound-scapes and collections of 'water manuscripts' on paper and canvas.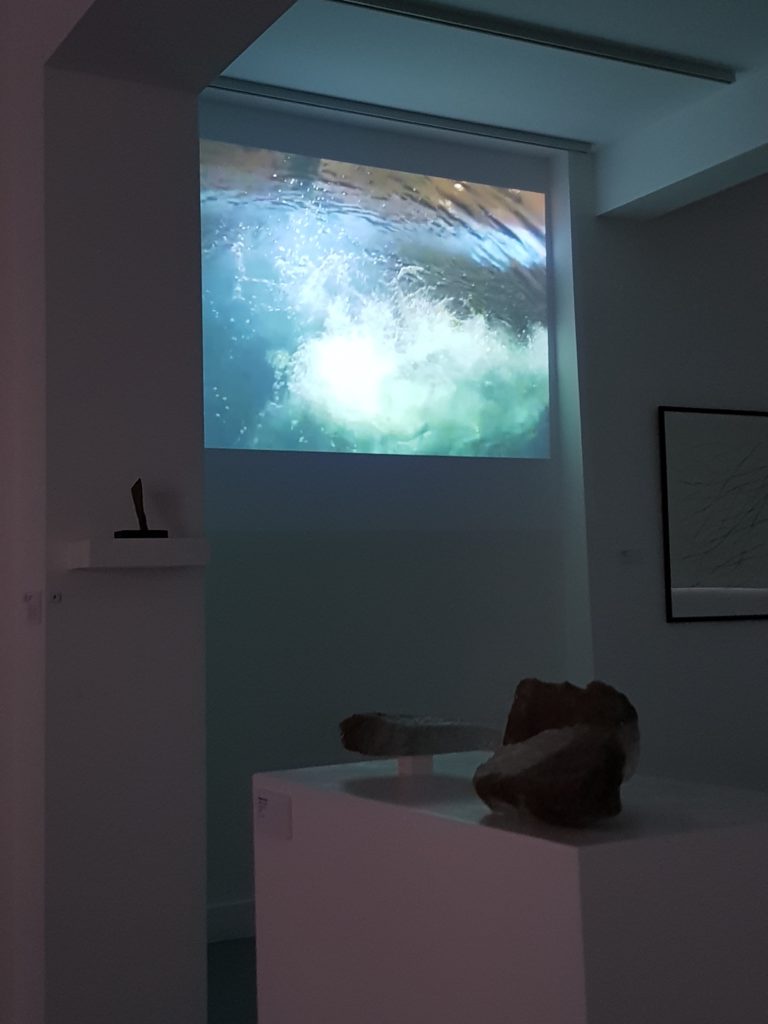 Ice core archive
He has been collaborating with the British Antarctic Survey, researching their ice-core archive which ranges over 800,000 years. Ice cores contain small bubbles of compressed air from the ancient past that make popping sounds when dissolved in water. His video-sound piece 'Vortex' consists of intermittent vortices of compressed ancient ice core, emanating a sound, relayed throughout the exhibition. It permeated the space with the Antarctic's historical glacial presence. Other-worldly and a little eerie, it enabled the viewers to access a deeper level of perception.
Wayne's work comments on the institutions which are responsible for monitoring the changes to the earth. His practice based research with the British Antarctic Survey brings scientific research alive through his sensory media.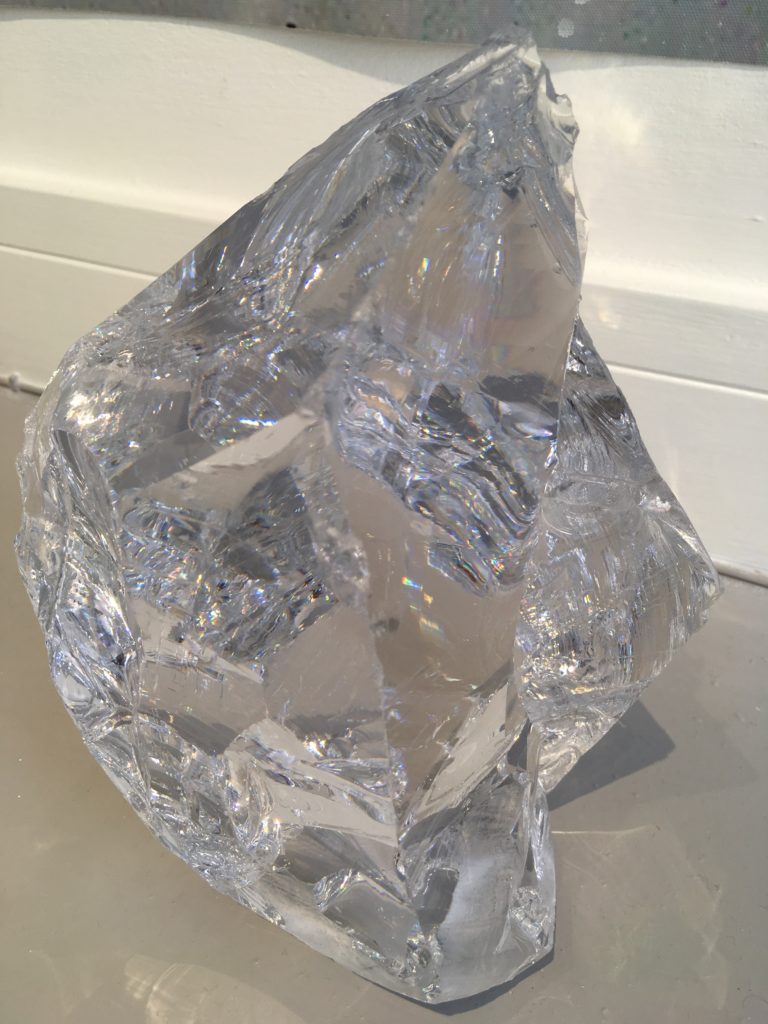 Concern about climate change
Wayne investigates the urgent and ethical stewardship of glacial water at a time of accelerating climate change. He uses water as an aesthetic subject and medium. He asks, how can a contemporary art practice reveal and communicate the urgency of climate change to new audiences? In this work, his research rethinks the use of digital and industrial technologies. He aims to reveal and communicate artistically the significant role of glacial water within the wider global climate change challenge.
Wayne wants viewers to experience first-hand the conventionally inaudible and invisible glacial 'stories' contained within the ice core archive. He is pioneering new methods of digital analysis. The idea is to 're-archive' glacial information and data from the rapidly disappearing Antarctic landscape.
About the artist
Wayne Binitie has exhibited at the Victoria and Albert Museum, Christie's, the Royal College of Art and the Scott Polar Research Laboratory, University of Cambridge. He has studied at the Goldsmith's college, the Slade School of Art and the Royal College of Art.
Shaun Fraser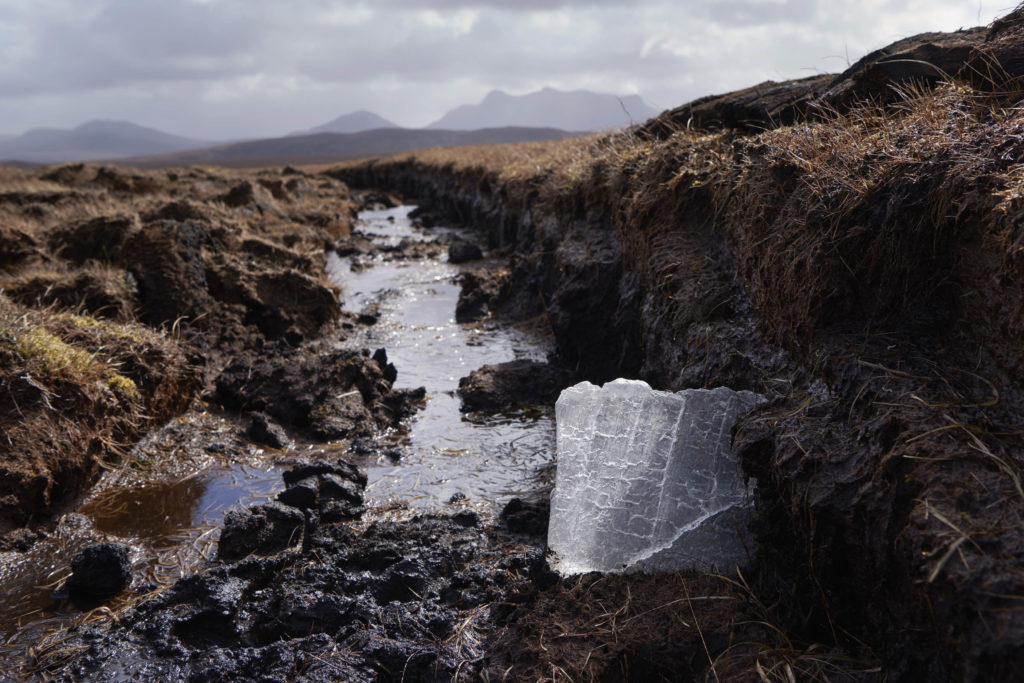 For Shaun, growing up in the Highlands of Scotland, landscape has always featured as part of his notion of self. His work often comments upon links to landscape and connections with a wider sense of environment. By incorporating soil and natural inclusions into his sculptural works he hopes to tap into some of this disposition; the ability to evoke this sense of place.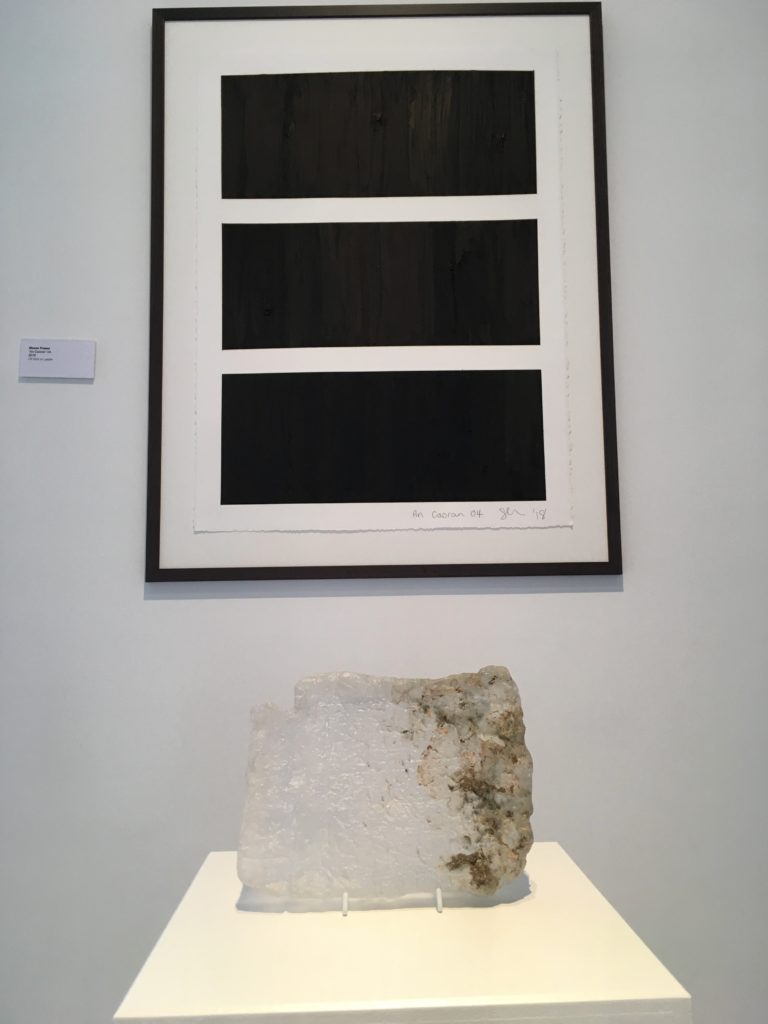 Peat transformed to glass
Shaun showed a series of glass sculptures cast from peat, which he has both sourced and cut personally. His work – transforming soil into glass – comments on the physical impact and changes to the earth. It 'converses' with Wayne Binitie's glass cores from the Antarctic.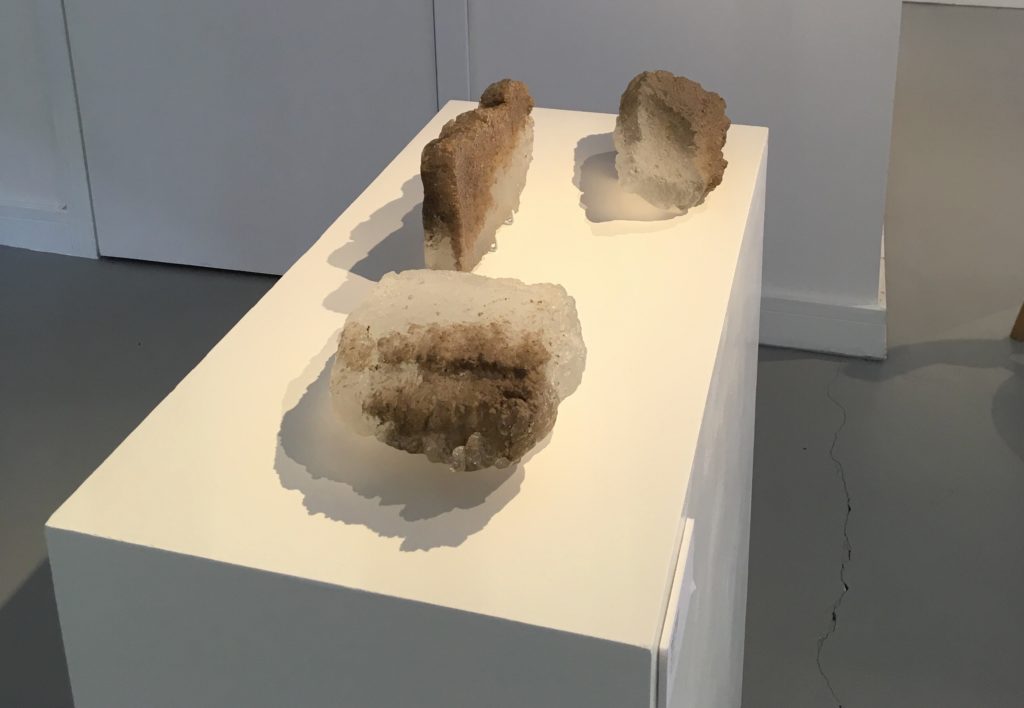 By interpreting peat as glass he is connecting the viewer with the ancient and precious qualities of both materials. Some communities still use peat as a fuel source today. In years gone by it was effectively a life-source. Glass has played a significant role in the history of human development and also carries a weighty art historical legacy. Glass effects a transformation from a fibrous and dark material to something clear and full of light. It is a metaphor for changing landscapes. His work constitutes a 'material language' that poses questions of cultural and historical value and hierarchy.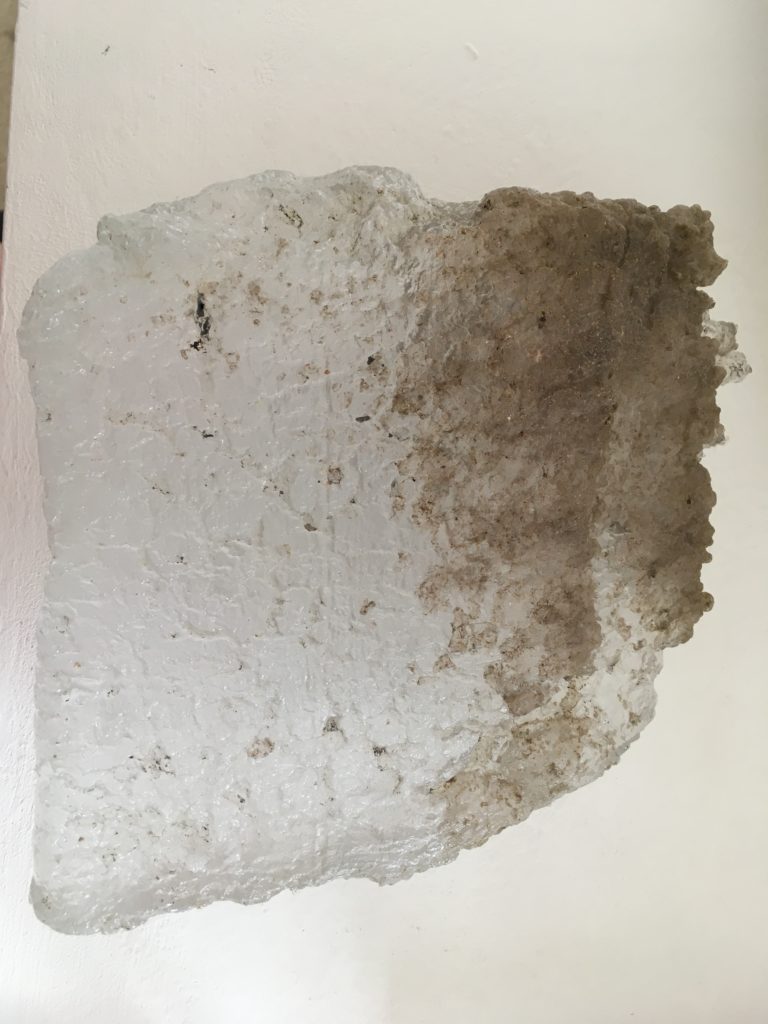 About the artist
Shaun Fraser is a graduate of the Edinburgh College of Art and the Royal College of Art. He grew up in the Highlands and well understands the importance of landscape in notions of the self. In August 2017 Fraser had a solo exhibition at An Lanntair in Stornoway. He is also developing a European profile.
Flora Bowden
Flora Bowden has developed a new visual vocabulary of stone. This has been inspired by her research into geological studies taking place in the 18th century in Enlightenment Edinburgh. A seminal publication, 'Theory of the Earth', by the geologist James Hutton in 1795, gave our show its title. It was one of the main subjects of Flora Bowden's research.
Exploring the theory of deep time, it transformed our understanding of the age of the earth. Hutton observed geological formations across Britain and most famously at Siccar Point in Berwickshire. Drawing from this, Flora's work comments on the language through which we understand the earth's changes.
A new way of environmental belonging
Flora developed a range of symbols to translate these huge ideas into graphic form. Her chosen media are tiny, she makes jewellery and delicate drawings. She uses Hutton's images to create a new abstract vocabulary that takes on the power of symbols and tokens. Furthermore, they also offer a new way of imagining environmental belonging. She looks at contrasting issues of permanence and instability of the reproduced image. Flora is experimental in her approach, re-purposing it within contemporary culture.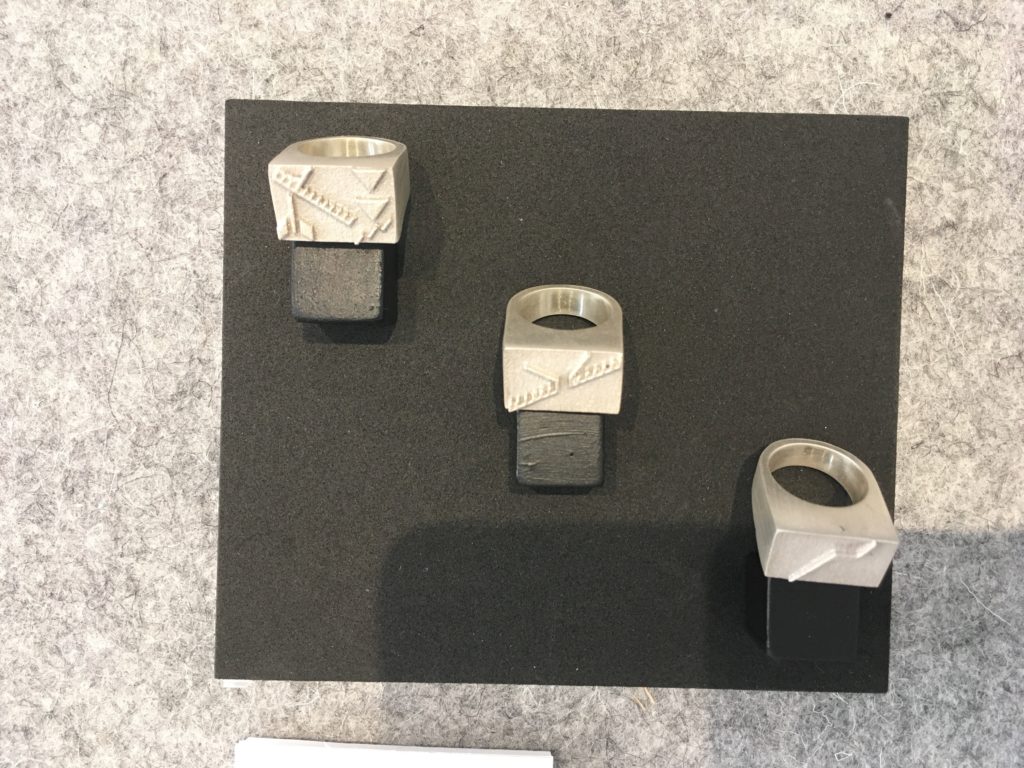 Flora's jewellery is personal, intimate and immediate. It offers a tactile, embodied language of touch. The drawings on the other hand are intricate and elusive. They offer a meditation on the reproduction of the image. Flora used this process to explore how she could both create and de-stabilise meaning.
The artist says:
'One plate in particular details the mineral formations of granite and feldspar, which present very angular, geometric forms. Hutton describes these as having a 'typographic character', which has been the starting point for much of my work. The idea of a vocabulary or language of stone interests me, and how I can develop this from Hutton's image.'
About the artist
Flora Bowden studied a PhD in Fine Art at the Royal College of Art. Previously she studied at Middlesex University and University College London. She has exhibited at APT Gallery in the Creekside Open, the Royal College of Art and the Jerwood Drawing Prize.
Kabir Hussain
King's Lynn, Suffolk and London-based artist, Kabir Hussain, exhibited bronze sculptures inspired by the landscapes of Norfolk, India and Peru . He is a different generation from the other artists. He trained at Leeds and Chelsea art colleges and has been exhibiting nationally and internationally since the early 1980s.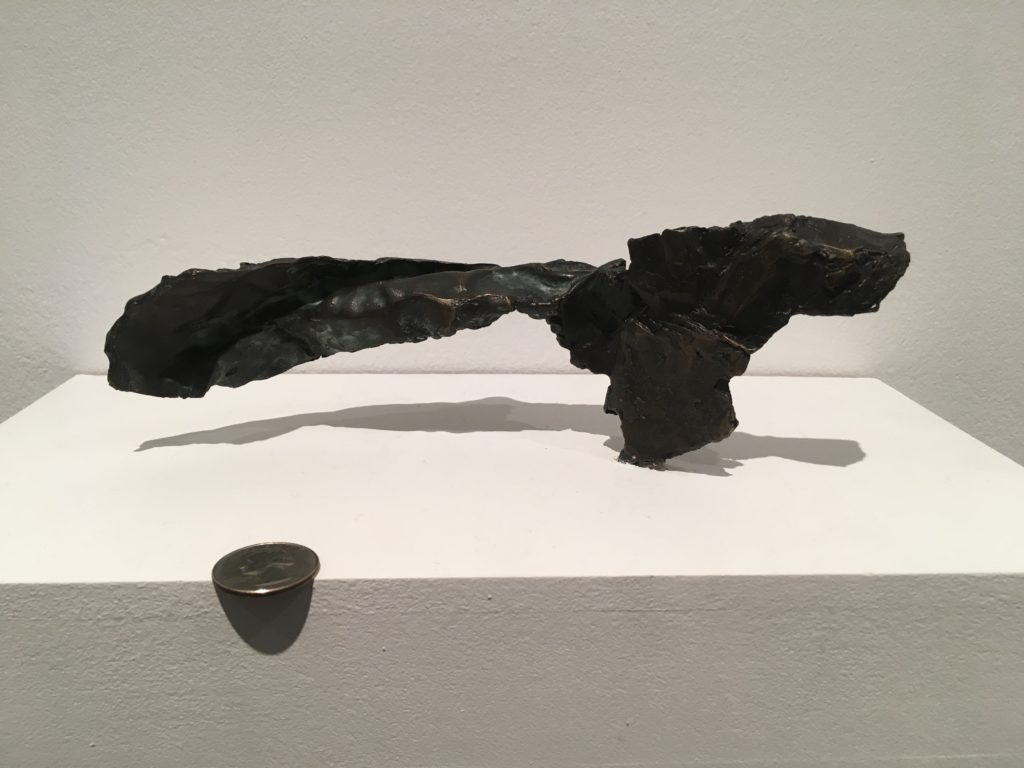 His responses to landscape are physical and cultural
Originally from Pakistan, his responses to landscape are both physical and cultural. His works form a slow unfolding drama both of his relationships to the earth and of his perceptions of time. He creates delicate bronze casts of ground and landscape. Some of these are tiny enough to sit in the hand, some are planar and map-like. Others describe dramatic or mountainous features. They are evocative of the slow unfolding drama of geology, movement and  environmental change.
Landscapes as memories
He compares the process of heating bronze as a kind of 'speeding up of the ageing process'. He links it to the changes we are currently experiencing. Kabir's aim is modestly descriptive: to inform the viewer about what is happening and record it. But his results are tender and poetic. His work has implications for us. How we might hold memories close and pay closer attention to the details of what we experience.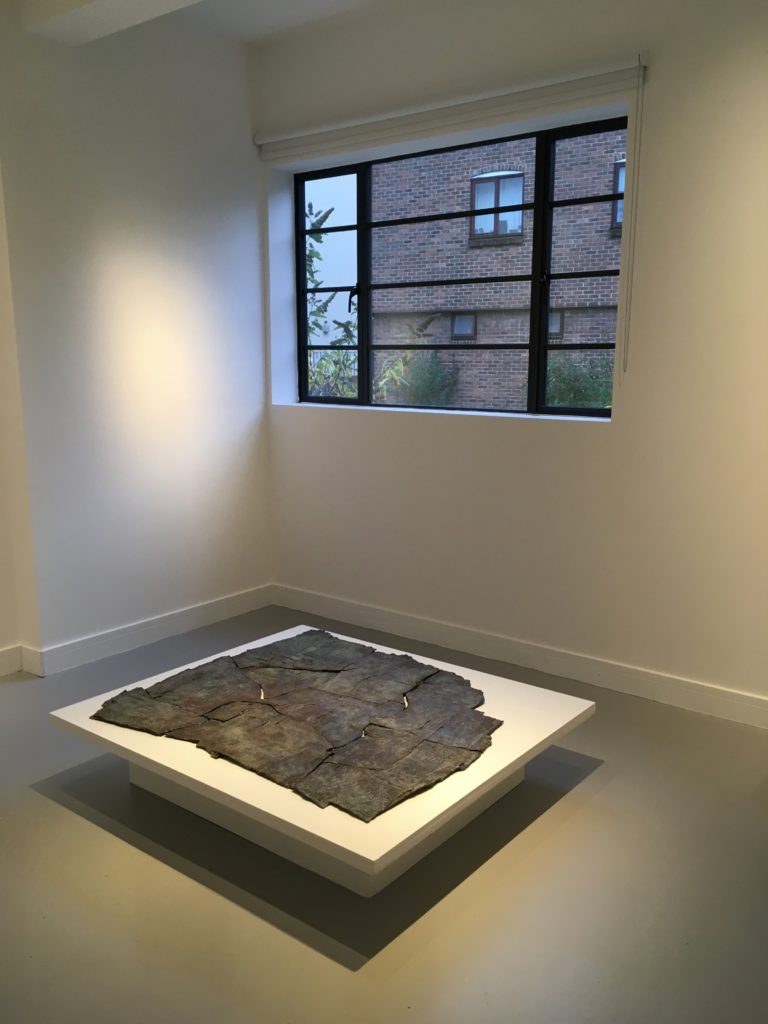 About the artist
Originally studied fine art at Leeds and Chelsea; now based between Norfolk, Suffolk and London. He works as a master bronze founder. Exhibiting regularly since 1984,. Significant solo exhibitions Mapping Norfolk at the Sainsbury Centre in 2008 and Flatlands, at Leeds in 2016. He has recently been artist in residence for a year for the Alde Valley Festival, White House Farm in Suffolk. Currently artist in residence at Cable Street Community Garden, Shadwell, London E1.