Slow Art Day is an international event in museums and galleries everywhere. As the name suggests, it is all about slowing down. Slow looking.
But also for us it is about slow making. Making work together, learning new skills. Sitting together and chatting as we do so.
Join us Saturday 2 April from 12-4 – it is free, just come and take part
One day each year – April 2 in 2022- people all over the world visit local museums and galleries to look at art slowly. Participants look at works of art for 10 minutes each and then meet together to talk about their experience. That's it. Simply, the goal is to focus on the art, and the art of seeing.
It is so important in our increasingly frenetic world to slow down. Take 10 minutes by yourself to look at something carefully. Then look again. At GroundWork Gallery we have plenty to look at slowly and a comfortable environment for contemplation. But on 2nd April we want to go a stage further and move from thinking to making. Come for an afternoon of sewing and talking. Make your own portrait in a new way.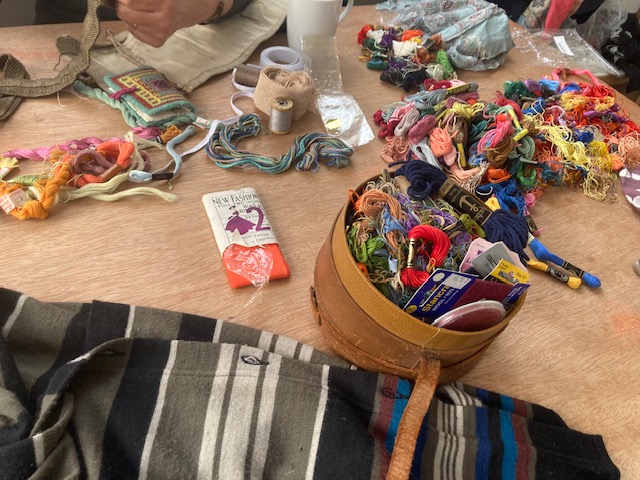 Join us for slow art-making
Many of our artists take time to enjoy the whole world of their making. Being deliberately slow. Because that is the best way to really enjoy the whole process.
So on this special day we are joined by Jane Frost working with textile.
For Slow Art Day at GroundWork, artist Jane Frost will be sharing 'Fair Trade: Material Matters', a long term collaborative, sustainable project that combines hand drawn self-portraits and hand stitching onto recycled wool blankets. This project brings people and places together. Drawings and conversations are shared in the spirit of creative commons, and restorative actions.
https://www.frostart.co.uk/FrostArt.co.uk/fair-trade-material-matters-tour-21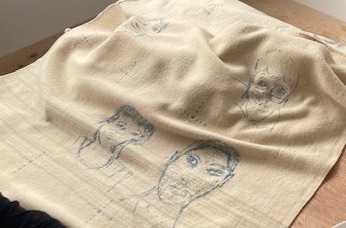 Jane Frost
The whole process of 'Slow Making' is fundamental for Jane Frost's work. Collaborative at it's core, it includes drawing, stitching, weaving, walking and talking.
Since 2007 'Slow Making' has been the basis for my work, including walking and conversations. Slow Making is done with reflection, care and consideration of the environmental effects of the source, process and use of materials


Slow Making is about relationships and action

I balance periods of time spent working with communities to working alone in my studio; each is an essential element of my artwork. Relationships include the spiritual and non-physical experiences people have with their environment and other-than-human inhabitants.

Jane Frost