Very sadly, in spite of the musicians having applied several months in advance, Rishab Prasana's visa for the UK did not arrive in time, so we have to cancel this event for the second time. It is incredibly disappointing and frustrating and frankly an embarrassment that the British authorities cannot process a simple transaction that would enable a cross-cultural musical collaboration to take place.
Read below for what you are missing. We will not be deterred and will try again to organise something next year.
Sangata: Ear to Ear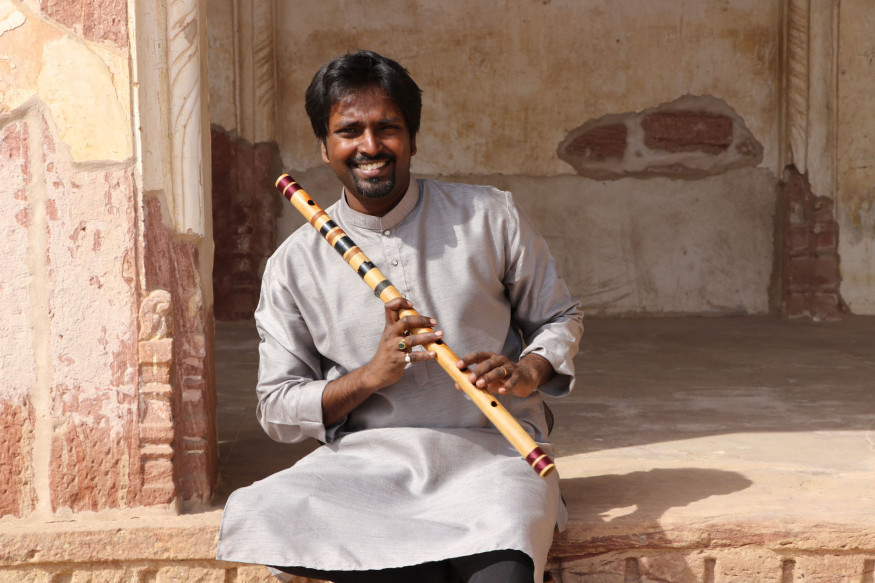 Sunday 2 October 2022, 6pm GroundWork Gallery,17 Purfleet Street, King's Lynn, Norfolk PE30 1ER
As part of Sangata Norfolk: concert and celebrations, come and join us for a couple of hours for a cosy evening of Franco-Indian culture in King's Lynn.
Bansuri player Rishab Prasanna from New Delhi and flautist Jeanne Miramon from Paris offer an informal talk about the Indian tradition of learning music by ear and improvisational style, passed down the generations contrasted with the western tradition of composer-led score-based learning.
Timing and Booking
CANCELLED
Sangata Norfolk: CONCERT & TALK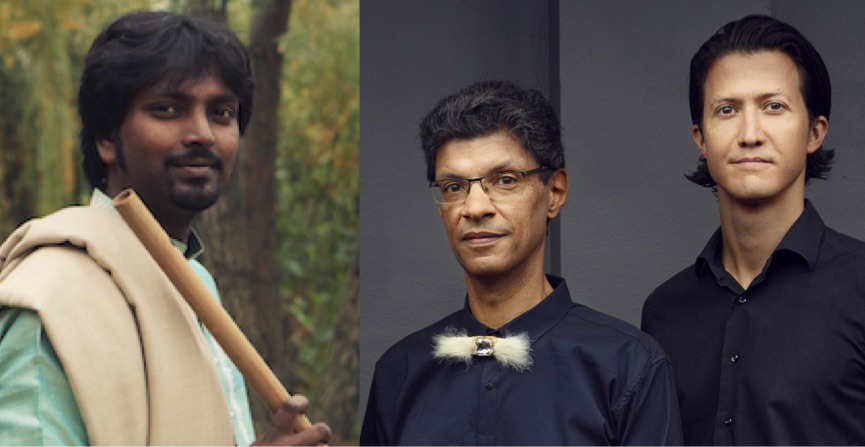 CANCELLED -we are grateful to the mayor and council for their offer of the use of the town hall.
((Tuesday 4 October 2022, 7.30pm King's Lynn Town Hall, ))
In the atmospheric surroundings of the Stone Room of the Town Hall in King's Lynn, world-class musicians Carjez Gerretsen (clarinet), Rishab Prasanna (bansuri) and Thierry Pécou (keyboard), from Ensemble Variances based in Rouen, offer Sangata, a musical and cultural cross-over navigating between orality and writing, modality and harmony, composition and improvisation, which takes you on an original and exciting musical journey where emotion is the only guide. Prepare to be impressed!
Timing and booking
Cancelled
Direct any enquiries about this event to: mail@groundworkgallery.com :
What is Sangata?

Sangata is a contemporary interplay between the Western tradition of composed and conducted music with the Eastern tradition of learning by ear, and improvisation, both with something to offer the other. These high- calibre, world-class musicians bring out the best of both traditions and their paths of development as players to perform an original and innovative blend played by world-class musicians of Ensemble Variances, led by director and composer Thierry Pécou accompanied by Bansuri player Rishab Prasanna and clarinettist Carjez Gerretsen, with digital visuals by Karen Eng.
Norfolk-Rouen connection
Sangata Norfolk inaugurates King's Lynn joining in with the Norfolk & Norwich historic connections with Rouen in Normandy, France. Norwich and Rouen have been twin cities since 1959. This association is growing in breadth and importance as we support Rouen as a candidate city for European City of Culture in 2028.
This concert, co-organised with Culture-Shift Norwich, is a contemporary interplay between the Western tradition of composed and conducted music with the Eastern tradition of learning by ear, and improvisation, both with strengths and both with something to offer the other. These high-calibre, world-class musicians bring out the best of their traditions and their paths of development as wind instrument players to perform a unique multi-cultural concert in King's Lynn – this is a fantastic opportunity to hear this kind of work – prepare to be impressed!
The musicians
Carjez Gerretsen

Born on 31 of January 1984 in Groningen (Netherlands) he was a pupil of Michel Lethiec in Nice conservatory before being accepted in Lyon CNSM (Conservatoire National Supérieur de Musique) in Jacques Di Donato's class. Selected in 2005 to integrate the "Orchestre Francais des Jeunes" under Jean-Claude Casadesus direction and the World Youth Orchestra for a tour via Rome, New York and Slovenia, his various meetings during his studies brings him to open his artistic mind.
Carjez discovered the world of Theatre by acting and playing in the play L'Histoire vraie de la Périchole set directed by Julie Brochen at the Festival international d'art lyrique d'Aix-en-Provence in 2006, as in La Cerisaie of Tcheckov in 2010. Since then, he is definitely attracted by original projects (with ensembles like Variances, Justiniana, Virévolte, etc.).
Carjez can be slightly mischievous, he has the energy and infinite curiosity of a little child and loves to share his ideas and knowledge with everyone around him, all with an irresistible charm. His dad, a great jazz trombonist, taught him to listen with an open mind to any kind of music, thus creating the musical omnivore and eclectic musician Carjez is today.
Rishab Prasana

Rishab was born in a renowned family of musicians from Varanasi who have traditionally played the shehnai for many generations. Son and disciple of the great flute and shehnai maestro Pt. Rajendra Prasanna, he has been initiated into the art of flute playing by his grandfather Pt. Raghunath Prasanna, and received early training from his uncles Pt.Ravi Shankar Prasanna and Sh. Rakesh Prasanna. Today, it is is next to his father that he keeps learning finer skills of Hindustani music and flute techniques.
Nurtured in his family by the tradition (Gharana) of Banaras, Rishab is equally at ease with the light classical genres like thumri, chaiti, kajri and dhun (folk music of India). Since 2009 his career brought him to Europe where he opened his art to new dimension with musicians from different musical traditions (Swedish folk, jazz, contemporary, Greek, Arabic). Rishab has performed in various venues over the world including WOMAD festival (Australia and New Zealand), Darbar festival (UK) and accompanied his father on the main music festival stages of India.
As a solo performer of Indian classical Music he regularly performs in France (Détours de Babel, Les Allées Chantent, Musiques et Patrimoines). Regularly he gives concerts around the world (Switzerland, Italy, Sweden, Denmark, Germany, Japan, UAE, Kuwait, Spain, Holland, Netherland, Mauritius, Egypt, Algeria, Tunisia, Slovenia, Belgium, Israël).
His musical collaborations include the projects Joussour (a 6 musicians band of oriental jazz music), Milap (a duet of contemporary creations based on Indian music, premiere of Zakir Hussein), Ahimsa (a puppet show on Gandhi's philosophy), Drifting Orchestra (contemporary music with 6 musicians and 3 dancers), East (a trio of traditional Music from Sweden and Latvia) and more recently 99 (a musical project directed by poet and rap singer Marc Nammour, première in Avignon Festival). He also appears as a guest artist in many album of world music including the famous band Dreamer Circus (Sweden), Neggus&Kungobram (France), Samsmala (France).
Apart from his career as a musician Rishab also teaches numerous students in Europe and India. He was invited as a senior lecturer at the Mahatma Gandhi Institute in Mauritius to conduct a workshop for the teachers in the university in 2013 and regularly participates to projects in collaboration with associations ethnomusiKa and Kalasetu.
Awards: Surmani, Sangeet Sadhak, Sangeet Shiromani puraskar, 1st Prize Sahara Competition (2008).
Thierry Pécou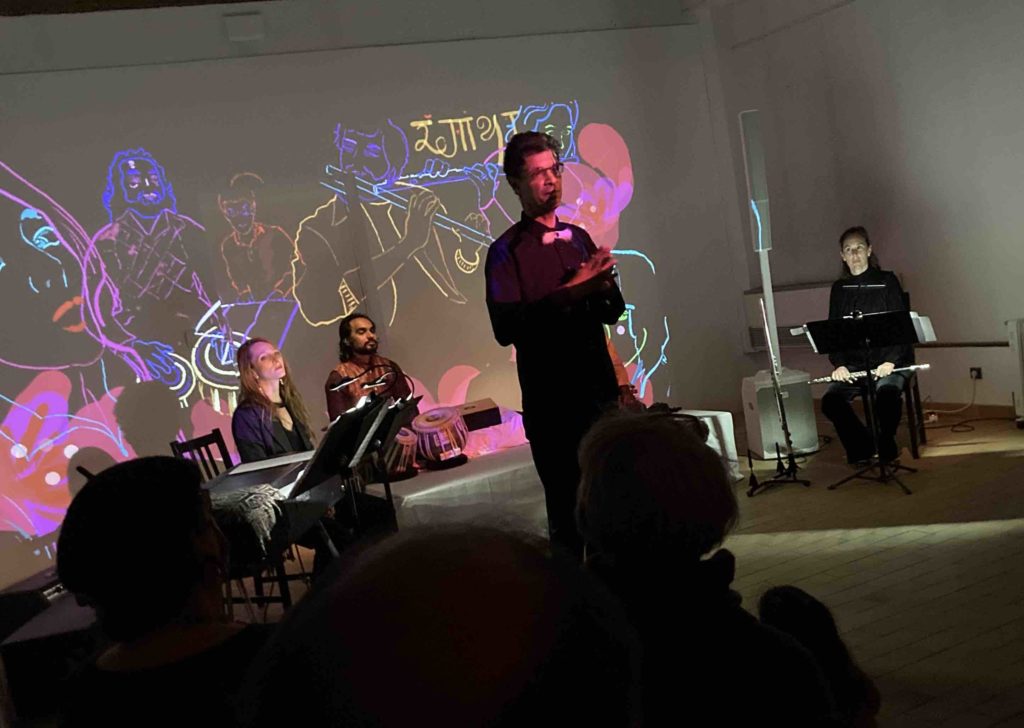 French composer, Thierry Pécou, founded Ensemble Variances in 2010. Since then he and they have focused intensively on current issues in their music, like ecology, migration, colonization or medical-ethical matters. Thierry, who originates from Martinique, is influenced by the contemplations of the French philosopher and poet Édouard Glissant (Martinique). Famously he spoke with authority about cultural diversity and the enrichment of life through diversification as a guideline. The programs of Thierry Pécou and Ensemble Variances are primarily focussed on contemporary music, but – in the spirit of Glissant – embrace all musical aesthetics.
Thierry Pécou founded Ensemble Variances in search of new ways to draw the listeners into the concert. By enfolding the audience musically and sometimes even theatrically, each Ensemble Variances concert becomes a story of its own, binding the sequence of works together. These stories, often inspired by Amerindian, Afro-American and Indian cultures and told by this close-knit group of musicians, lend the performances a sense of ritual enactment.
The ensemble has been invited to festivals and institutions such as Cité de la Musique Paris, Festival Présences de Radio France, Auditorium de Lyon, Musikfestspiele Potsdam, the Lux Ae- terna Festival of the Elbphilharmonie Hamburg (Germany), Wigmore Hall London (UK), Bourgie Hall Montréal and Ottawa Chamberfest (Canada).
Jeanne Miramon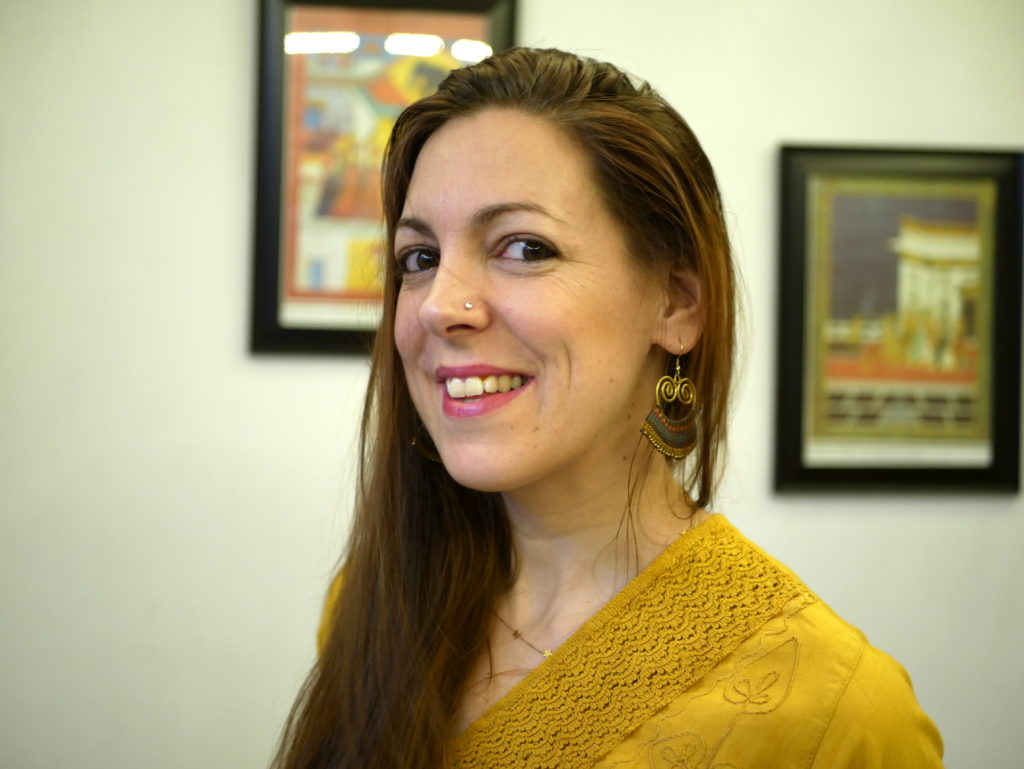 Attracted by the flute at a very young age, Jeanne's studies were very much inspired by this instrument; graduated from Toulouse and Versailles conservatory in silver flute and chamber music she started a training on the Indian bamboo flute bansuri in London before going to India to learn with the master Rajendra Prasanna.
She obtained a Mphil in ethnomusicology from Royal Holloway University (London) and a Master degree in musicology from Sorbonne University (Paris). Guided by the professor François Picard (musicology) and the researcher Françoise Nalini Delvoye (indo-persian culture), Jeanne pursues her research on the practice and transmission of bansuri in India. She published scientific articles on non-written music analysis and South Asian performing arts, and regularly participates to seminars and conferences. In parallel with her research and teaching activities, she organizes events on traditional music (concerts, conferences workshop). She co-founded the NGO Kalasetu for the promotion of Performing Arts of South Asia in France and India and launched a new program 'InChorus' for French and Indian young artists in Delhi in collaboration with Alliance Française of Delhi. Today, Jeanne lives between India and France where she shares her activities between research, artistic production and teaching.
Karen Eng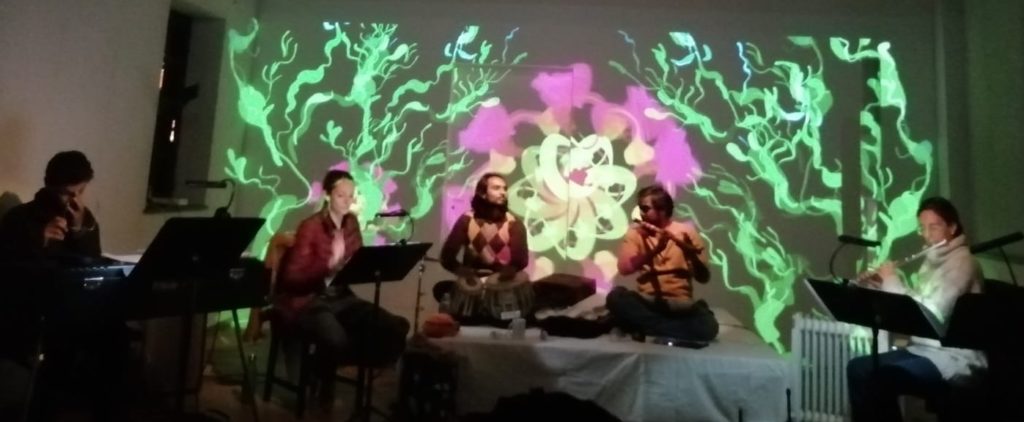 Last autumn, artist Karen Eng completed a residency with Ensemble Variances where she improvised digital projected visuals alongside the musicians for a joint performance.
Karen Eng is a writer and artist, based in King's Lynn but working internationally. She has taught a number of workshops for GroundWork Gallery previously. Karen is also a regular contributor as artist, producer and social media consultant for Collusion, the Arts and Technology organisation based in Cambridge. She is a specialist in digital art. For tonight's production Karen will be using Tagtool to create art live, having performed before in Rouen with Ensemble Variances.


Sangata Norfolk : EAR TO EAR