A creative writing workshop at GroundWork Gallery led by Patricia Mullin
Tuesday 6th June 10am- 4pm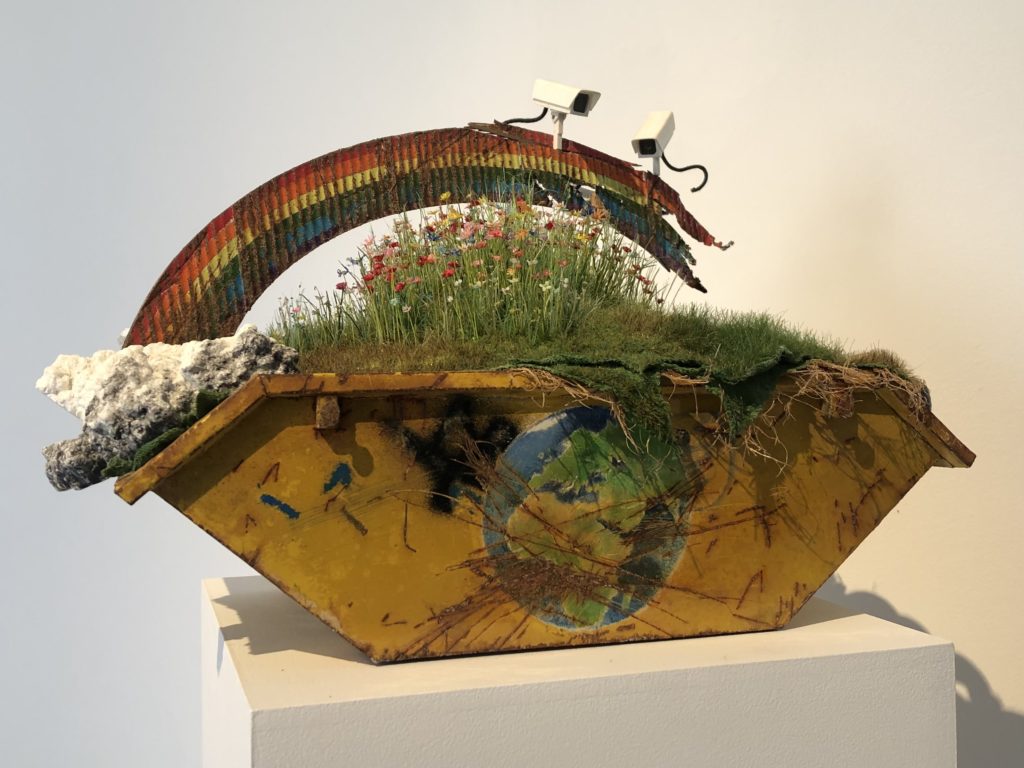 Join renowned writer Patricia Mullin for an intensive writing workshop. Inspired by the images in The Art of Waste participants will initially gather together words, phrases and themes for writing. Later, investigating the contradictions surrounding our relationships with 'stuff'. Through short writing exercises we will explore our past, present and future relationship with objects, beginning with the playthings of early development – sticks, mud, stones, paper, food – to the relentless over-acquisition and waste that home, work, family inevitably generate. Then exploring the creative possibilities for positive environmental change, through small steps, in a longer work of fiction.
(Patricia will bring some examples of creative writing relating to the exhibition The Art of Waste and her own images of found objects in wax relating to her fiction novel Casting Shadows.)
Booking
Booking essential either on Eventbrite: https://www.eventbrite.co.uk/e/life-debris-and-other-stories-tickets-598569666987
or direct from us via mail@groundworkgallery.com
Tickets £75; Concessions (over 65, students & unwaged) £60
Bring paper and writing implements. No prior writing experience needed, all levels encouraged and welcomed.
Light refreshments provided but bring your own lunch.
About Patricia Mullin
Patricia Mullin is a graduate of Central St Martins, Goldsmiths College and Norwich University of the Arts. After graduating from the NUA Writing the Visual MA 2007 she was on the shortlist for an Arts Council East Escalator Award in 2009.
She leads site-specific writing courses/workshops linked to iconic buildings, exhibitions and remarkable collections. Working with art and collections in museums, galleries and unique places of interest is Patricia's area of expertise. It complements her creative practice, where art and nature continue to inform her writing.
Stories and novels
Her novel Gene Genie ( Stone Press 2005) came out as an e–book in 2012. 'The Sitting', 'The Siren' and 'Folding', three of her short stories, published in 'Words and Women One, Two and Three' in 2014 /15 / 16, respectively. She received a commendation in the Yeovil International Literary Prize 2014 (Judge: Elizabeth Buchan) for her novel 'Casting Shadows' .
The Arts Council England awarded Patricia a grant to re-draft 'Casting Shadows', and the acclaimed author Jill Dawson was her mentor. She was on the shortlist for the 2016 Bridport Prize (Judge: Tessa Hadley), for 'Lick a short story' .
Workshop and masterclass teaching
In 2017 Patricia took part in the Modern Repose seminar and led 'Object Lesson' a workshop on creative writing from paintings and artefacts. This happened at Murray Edwards College Cambridge University (formerly New Hall). The college holds the second largest collection in the world of art by women; only topped by the one in Chicago, USA. Patricia is an Associate Tutor at the University of East Anglia. There she teaches short fiction courses inspired by the Robert and Lisa Sainsbury Collection, and special exhibitions at the Sainsbury Centre for the Visual Arts.
For a full list of writing, teaching and gallery credits please go to www.patriciamullin.com and select the Images and CV page.