Focus on a Deep Water workshop with Mary Blue to make a concertina book. Come for an exclusive private day at the gallery for an interactive creative experience using words and images.
Mary is developing a body of work which responds powerfully to her local environments. She is an inspiring teacher and will get you enthused to do the same, but in your own voice and style. Mary says: "My style of teaching art is not a matter of imparting rules, styles, or techniques, but of leading participants to come to a greater awareness of what they are seeing."
Date: Tuesday 15 November 10.00 – 3.30 pm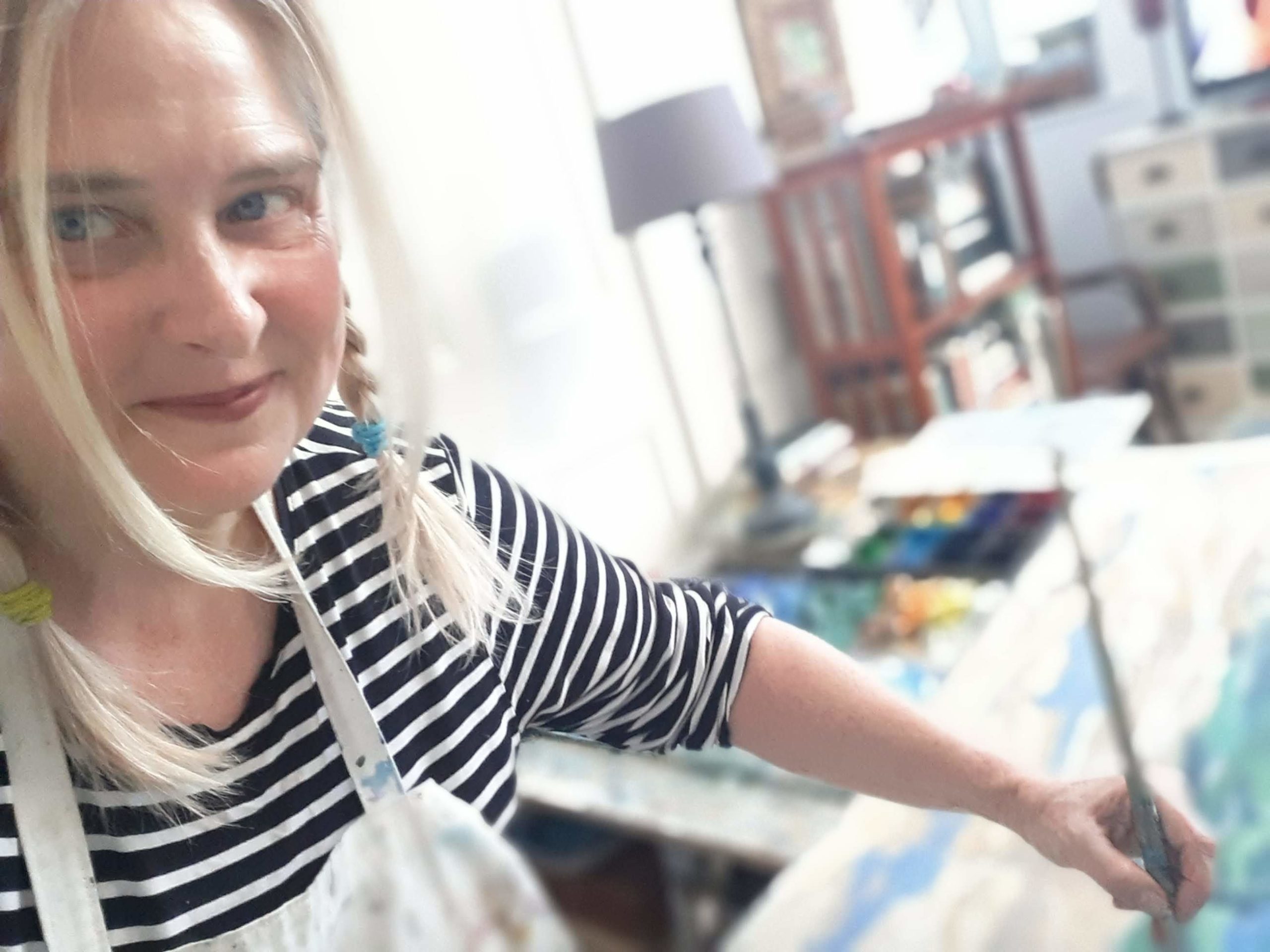 About the artist
Mary Blue is an exhibitor in GroundWork's current exhibition Deep Water. American artist who has now settled on the North Norfolk coast. She received her Master of Fine Arts in Painting from the University of Pennsylvania in 1989 where Neil Welliver, Bill Jacklin, Harmony Hammond and Red Grooms were among her tutors. She also studied at the Vermont Studio, the Maryland Art Institute, and Ecole des Arts d'Avignon France. Her work is exhibited widely in galleries along the Norfolk coast, in London and abroad. She was shortlisted for the Sir John Hurt Art Prize in 2020 and 2021. As an artist-educator, Mary designs immersive art experiences. Her workshops delight and inspire the young and young at heart. Most summers you can find her as a regular participant at Paint Out Norfolk, an en-plein-air competition.
Date and bookings
Tuesday 15 November 2022 10.00 to 3.30. Tickets £75 per person including all materials. Concessions £60. Double ticket: bring a friend, £110.00. Tea and coffee provided but bring or purchase your own lunch.
Book via Eventbrite: https://www.eventbrite.co.uk/e/deep-water-painting-workshop-with-mary-blue-tickets-451756474777
Or you can book via mail@groundworkgallery using the heading 'Mary Blue workshop'
Concertina Book Making – It's all about focussing on water.
The focus with this session is to observe first hand water. Then we will refine images through memory and experimentation observing the characteristics of water. Finally you will be creating book in response to what you have noticed.

Deep Water Workshop: Outline content and timetable
10.00 Session begins with general group discussion on the significance of water in our world. We will go onsite to the Great Ouse river.
Observing water first hand noticing sound, movement, power, colour, current direction, etc. You will be encouraged to write words about what you notice. Then you will create little sketches to work from, to construct the concertina book.
11.00 – Back at the gallery, work on a long strip of Fabriano Artisto paper. Using ink, pencil, watercolour, acrylic, create an image of water & allow it to dry.
12.00 – break for lunch
1.00 – Hand painting muslin for book cover, then hang up to dry.
1:30 – Folding long strip of Fabriano paper.
2:00 –Assembling muslin to cardboard backing, and attaching folded paper to bind book. Wrap together in raffia.
3:00 – Show and Tell:
Participants casually gather to show handmade books and discuss what they learned.
How did your observations inform your mark-making? What are your general thoughts on assembly of book? Do you think about water differently now?
3:30 Tea and close