Lotte Scott was born in London in 1990 and grew up in Somerset. She studied BA Art Practice at Goldsmiths University and MFA Sculpture at the Slade School of Art. She now lives in Frome, Somerset.
Since completing her Masters, Lotte's work has featured in a number of group exhibitions. These included: 'Lexis Over Land' at the Tremenheere Sculpture Gardens Gallery, 'Liquid Land' at Anglia Ruskin Gallery, 2018 and, here: 'Fragile Nature' at Groundwork Gallery. She has also had as a solo show, 'The Fields are Seas', at OUTPOST gallery Norwich. As part of SAW Festival in Somerset, 2019 she exhibited A Long Hundred. This was a site specific installation in a monastic fishery building near Glastonbury.
Lotte is the recipient of the 2020 Gilchrist Fisher Award, a biennial prize given to artists under 30 working with the theme of Landscape.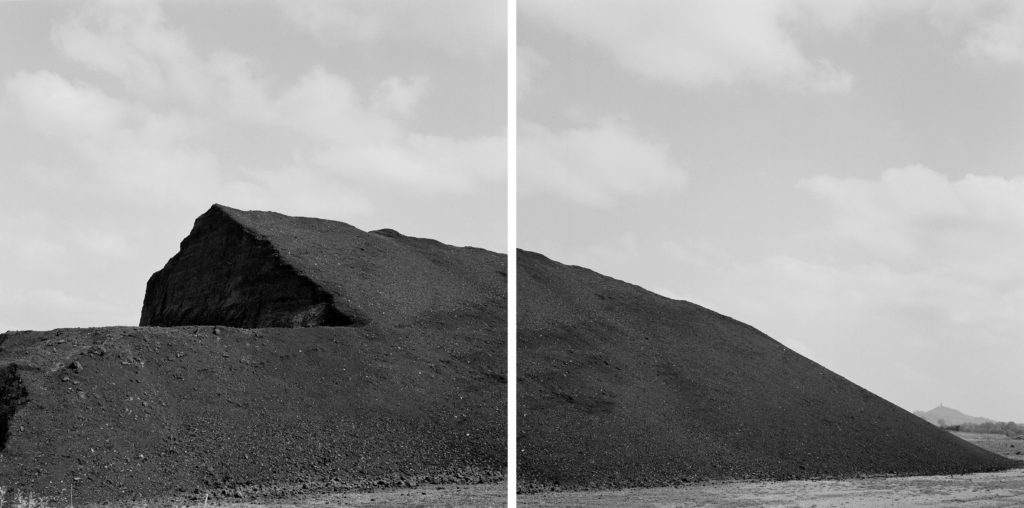 Free forms from peat, smoke, lime
My artwork explores place, time and material. Since 2013 my practice has focused on the peat moors Somerset. Here I am examining the indexical nature of peat as a living archive of land and people. Through photographs, sculptures and drawings I explore processes of transformation in the waterlogged landscape of the moors.

Lotte Scott
Art through risk.
Her free forms from peat, smoke, and lime find their own way. She makes solid, burnt, frozen and evaporating elements which equally might not conform. The material process forms the work as much as the artist. Lotte's studio is in a magical complex of buildings in Somerset's tranquil rural environment. There, a few miles from where she grew up, she experiments with a free collaboration with nature. She allows the material to find its form under her merest guidance.
This is a place that distills and suspends ancient matter. Here, centuries of destructive peat cutting have unearthed a wealth of prehistoric archaeology . My work offers up the materials of the moors for contemplation, considering themes of deep time, preservation, extraction and transience.

Lotte Scott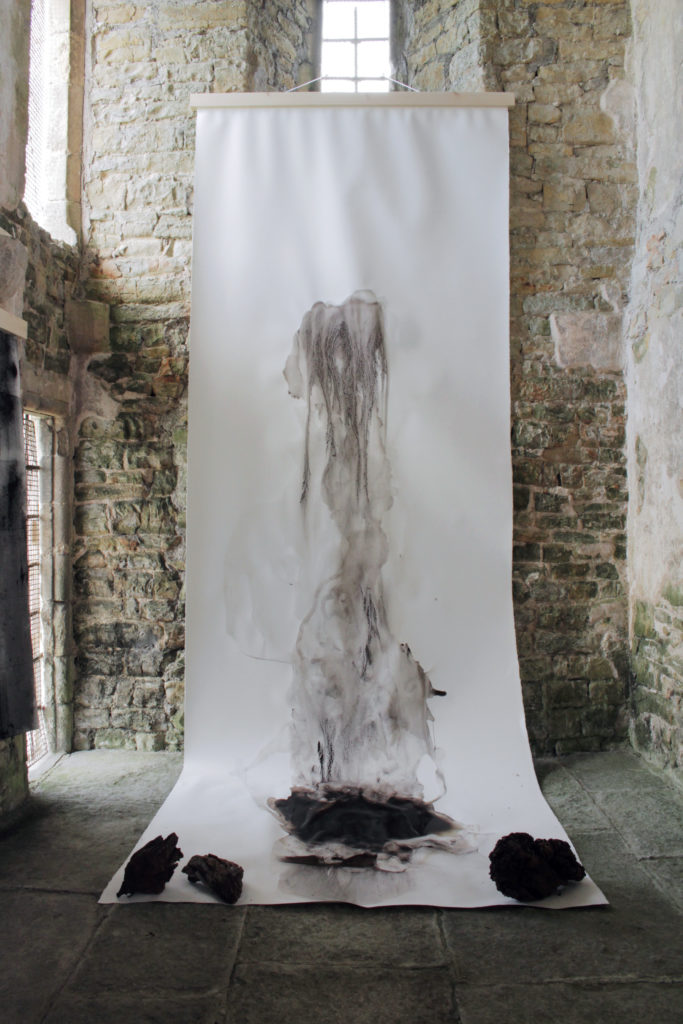 She is an artist who speaks of and from the land
Lotte is conscious of working in the wake of Richard Long's form of land art, whereby nature makes the work. While like his, her work has an element of risk or even destruction at its heart, it is differently motivated. He works in lines, circles, structured texts. His imprint on the land and expression from it is thoroughly modernist, often geometric. Lotte most certainly has a modernist tendency, as evidenced by her Long Hundred, (discussed below). However, she is overtly an environmentalist with a mission to speak of and from the land. The land and its materials and products are coaxed into new form. Underlying all of it is a sensibility to history and to the community that formed it. She is equally conscious of her power as an artist to create work politically as well as artistically.
Towards a feminist geography.
This was the subtitle of the exhibition she took part in at Tremenheere, Cornwall in 2017. Lotte brings a distinct feminist character to her work with the land. Her experiments with soil in suspension are gentle, enabling the material to find its own route in space. She does not throw, she drips, pours and trails. While her work is governed by process, she does not start with a form in mind. She is questioning her material. Her work is more about enabling, and not-knowing. She uses peat to draw attention to its endangered status, its preciousness and fragile structure. By using an endangered material like peat, Lotte is nevertheless enabling it to have a new way of being. Her work gives it freedom to take its own course in rivulets and pools of new form. But underlying that, philosophically, there is a lot about community, and about the identity of place and heritage.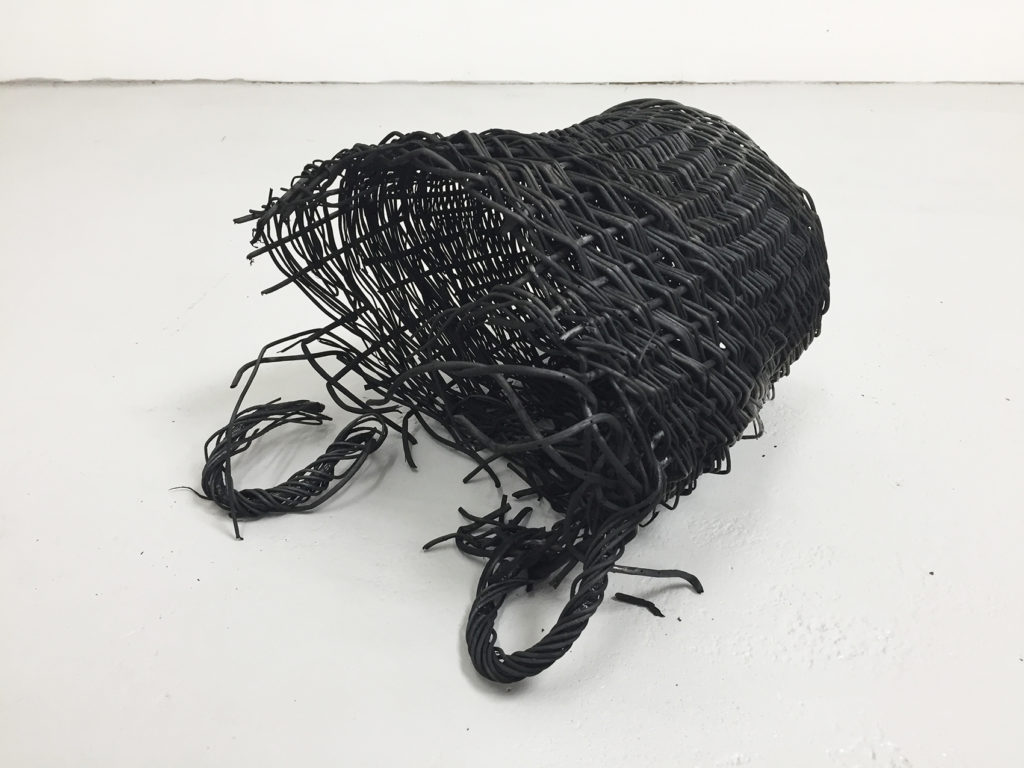 Disintegration of form
Lotte's burnt forms are entirely different from her works with soil. She uses her burnt basketry to explore the disintegration of form. She subjects a traditional craft object, local to the area, to the ultimate trial. And yet the forms survive, not as shadows, but with strength and beauty. The creation of them as sculpture, is both metaphorically and literally about destruction and reinterpretation.
'How in the face of … a world torn and fraying at the biological seams are we to recover a healthier relation to reality?'

Freya Matthews
She takes her basketry to extremes of tension and danger. And yet it retains strength in its new identity. A fragmentary structure of the deepest blackness.
As something dies, something else comes alive.
The Long Hundred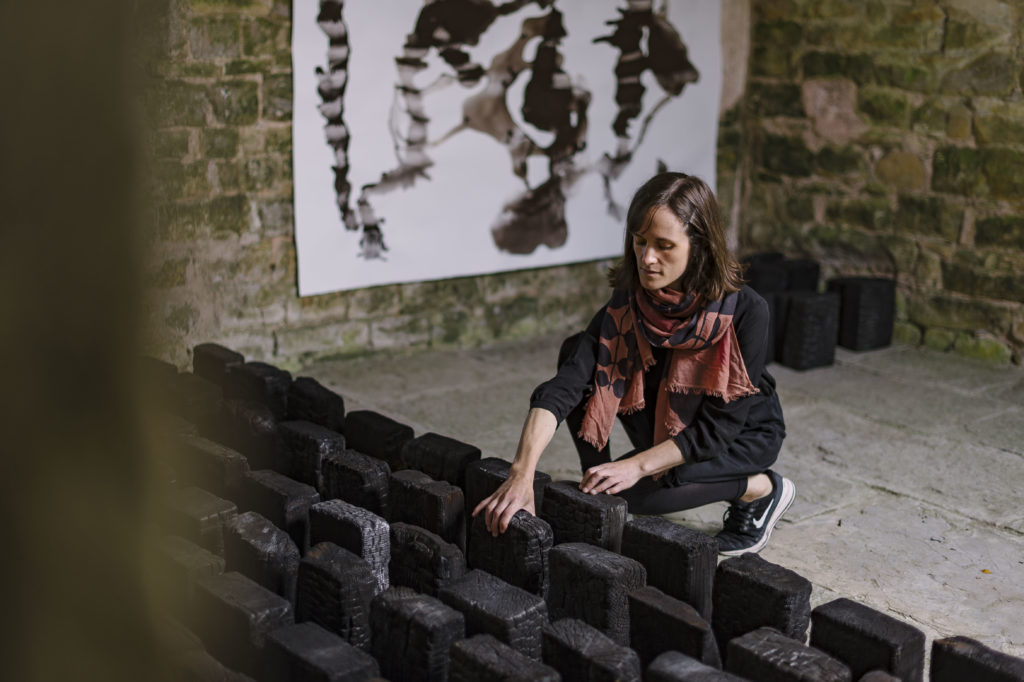 The Long Hundred, the work she made for SAW, in 2019, introduced a further development in her thinking. In preparation for it, over five years, she collected and formed 120 pine blocks. They were from a Victorian plantation Ashcott plot, which Natural England was felling to return to mere conditions. The number refers to the traditional measure for selling local peat. Each block is the size of a freshly cut Somerset peat turve, 8 x 10 x 4 inches. These blocks, she subjected to a similar trial of fire as her basketry. Using a technique similar to the making of charcoal, each block was slow-burnt to the limit of its endurance. Each one might have been destroyed. However with the careful assistance of her family, the blocks were nurtured into sculptural existence.
For the installation in the Abbot's Fish House, a monastic building at Meare, near Glastonbury, she formed the blocks into magnificent serried ranks.