29 June – 15 September 2019
Elspeth Owen, Paca Sanchez, Lotte Scott, Emma Howell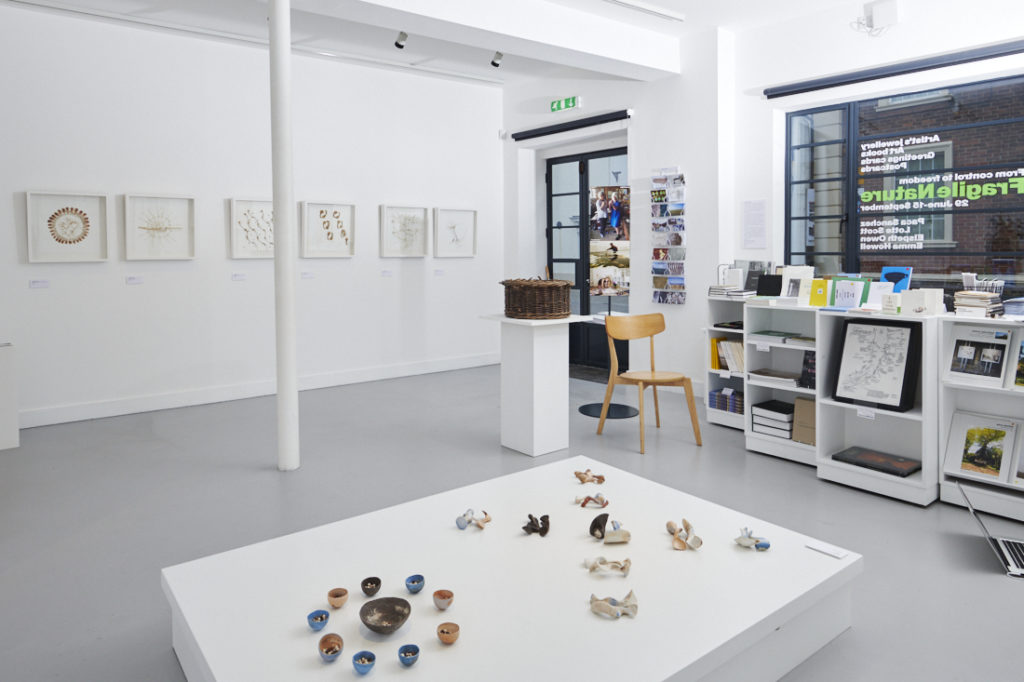 Four women artists of different generations featured in this exhibition. All of them attempted the expression of deep and quite original relationships with nature.
See the local press report here: https://www.lynnnews.co.uk/news/groundwork-artists-give-message-of-hope-at-kings-lynn-exhibition-9074936/
Introduction
French artist Paca Sanchez contributed work about the manipulation of nature itself. She makes direct use of plants, seeds, twigs to create poetic new order. In contrast, Lotte Scott creates free forms from unpredictable watery suspensions of peat. Also she turns into sculpture the disintegrated forms of burnt basketry.
Granchester based Elspeth Owen, is a radical, entirely original ceramic artist. Her practice plays with contrasts of fragility and strength, paralleled with a feminist's interpretation of nature, community and ritual. From almost the opposite impulse, Emma Howell, creates art in recovery from grief, dedicated to her dead father. His loss eventually brought her to a positive new creativity and fresh relationship with colour and form.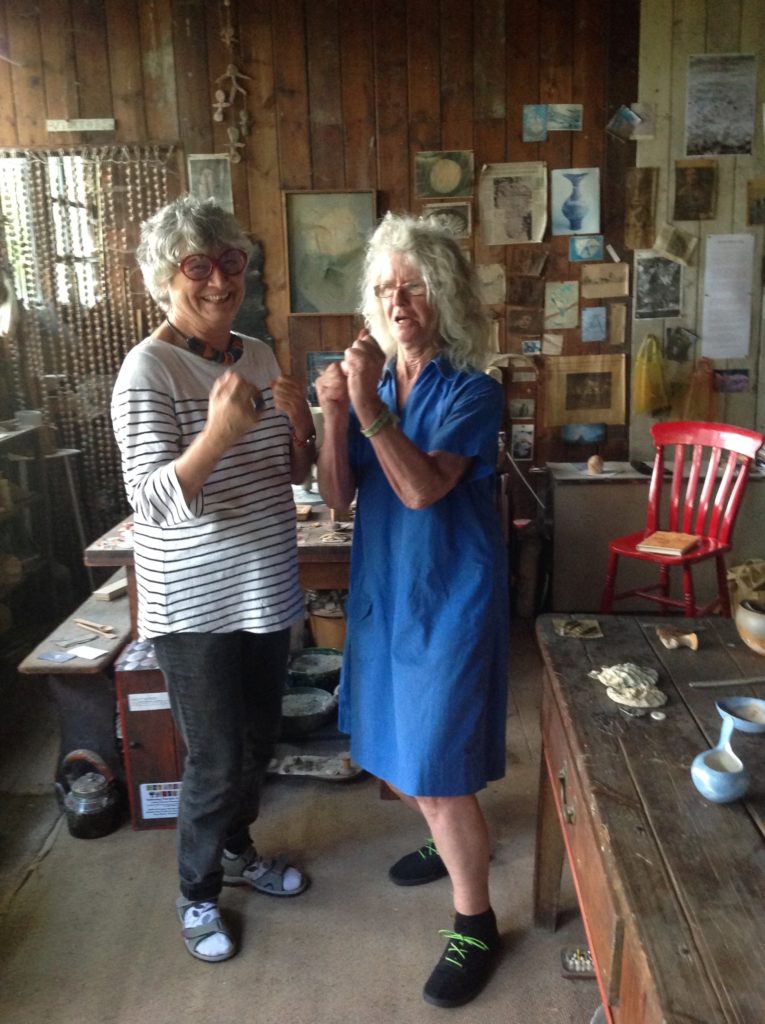 Paca Sanchez
Poetic calligraphy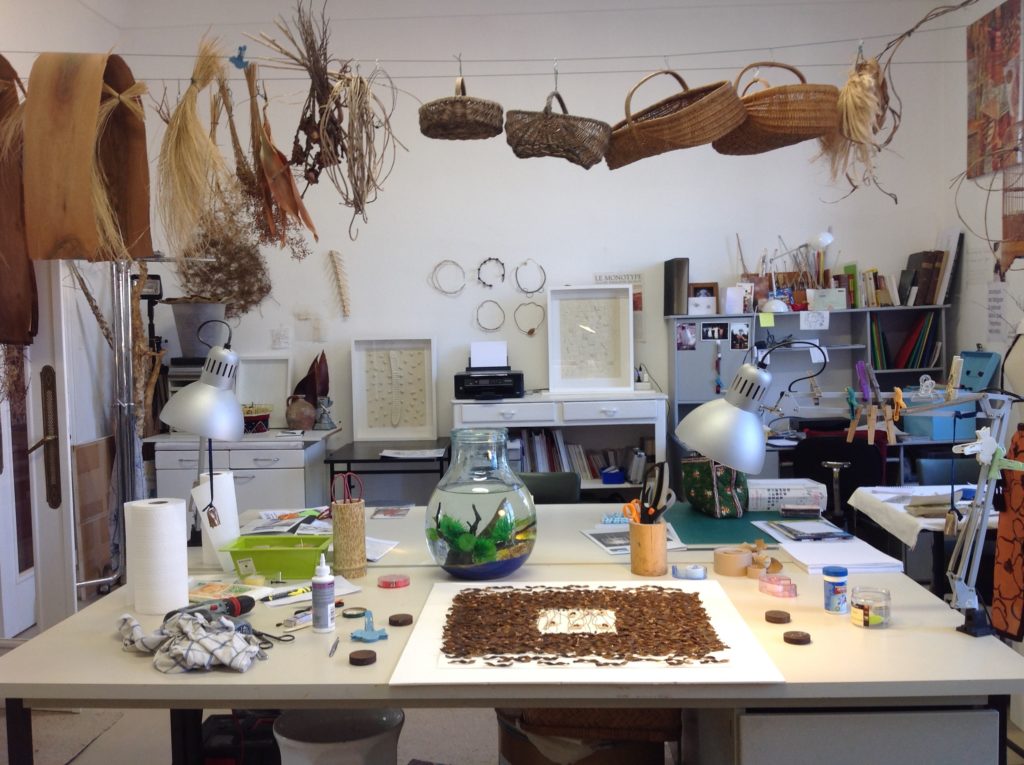 Paca Sanchez's work forms the nucleus of this show. She is a modernist with plants, making precise and controlled art from formal arrangements of leaves, seeds, flowers, stems, twigs. She orders and composes nature from her southern French studio. Carefully, she selects compositions from her vast collection of dried specimens. But always she allows the properties of the plants to dictate their form in the images. She works in somewhat formalised pattern, straight lines, grids, sweeping curves. It is far from being formal though, and she describes it as poetic calligraphy.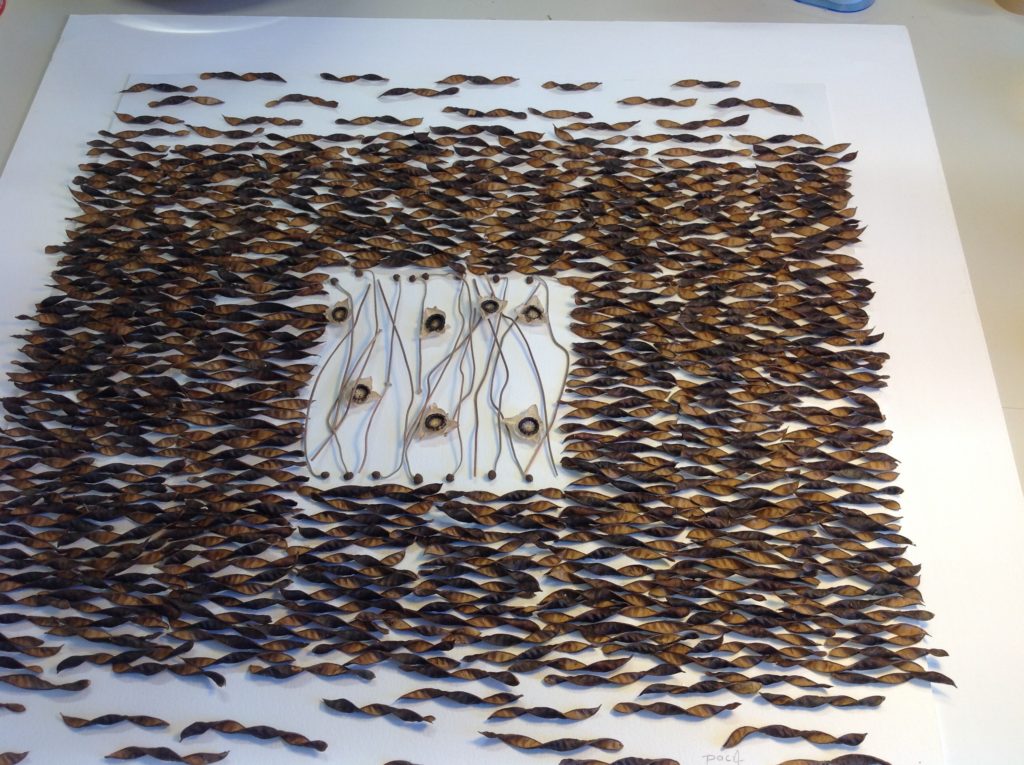 A commitment to restraint and simplicity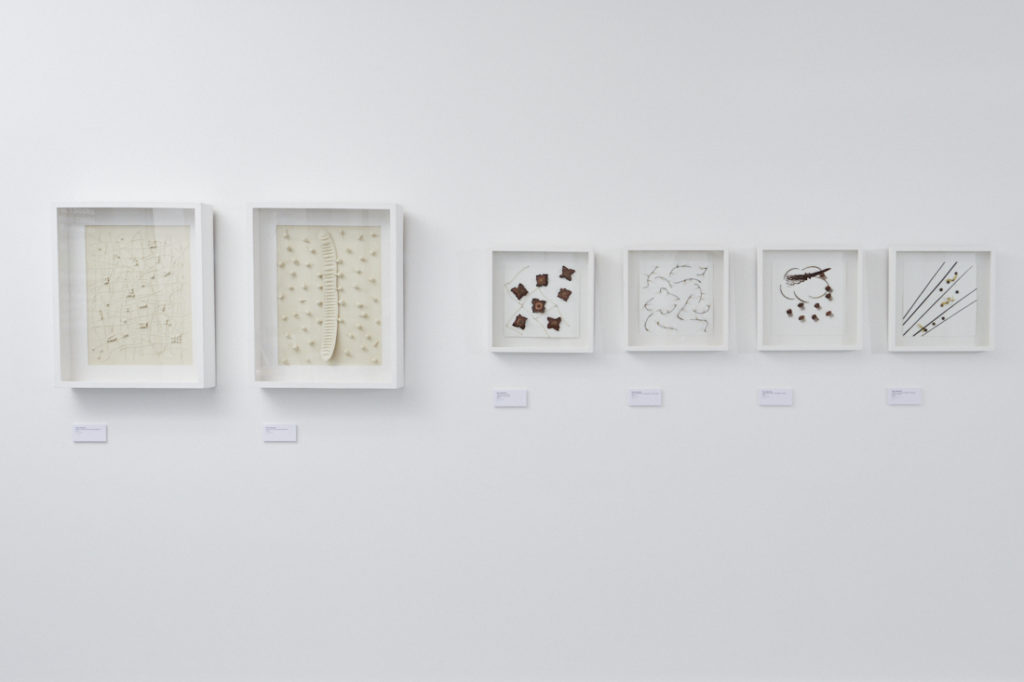 Paca's work has been seen as closely related to that of herman de vries. Like him, she is a kind of natural scientist composing images with real plants. They share an uncompromising European modernist character, a commitment to restraint and simplicity, an extreme economy of means. However, her use of plants has been quite independently developed, and her approach is distinctly lyrical. Paca's work is spatial in its composition, has tremendous range and inventiveness and is responsive both to material and place.
Living in France, but of Spanish extraction, she came to be an artist in the late 1980s, after another career. This was her first exhibition in the UK, but she is well known in France. There she has had some 40 exhibitions of her work, 14 of them solo, and 10 residencies.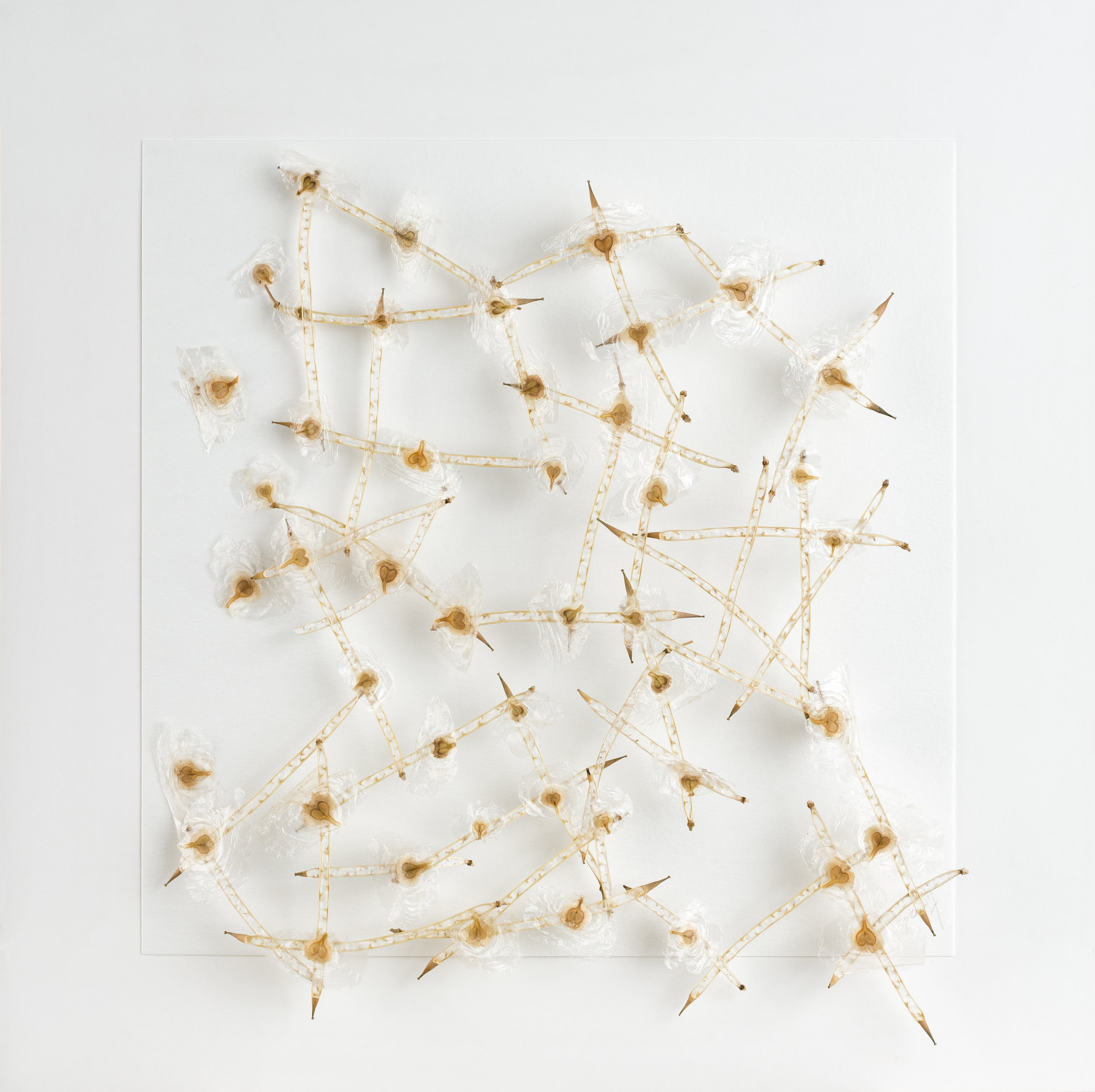 Elspeth Owen
'Art and environment' served as her art school training
Elspeth has her studio near Cambridge in the former Granchester village cricket pavilion. She came to pottery via evening classes in the mid-seventies. Originally she studied history at Oxford University and then worked as an academic, a social worker and a teacher. She says that Simon Nicholson's legendary Open University course 'Art and Environment' served as her art school training.
'I have been a feminist since the time when it was called being a member of the Women's Liberation Movement. And a peace protester since the Aldermarston Marches and Greenham Common.'

Elspeth Owen
Her artistic work has grown out of her position as a feminist and member of many of the radical environmental movements. These have stretched, from CND in the 1960s, to Greenham Common in the 1980s, to Extinction Rebellion today. She describes her joining the Women's Liberation Movement as coinciding with her realisation that she could become a potter. But her work itself was never political, or so she says. In fact she finds many ways to combine the rites of passage of femininity with a kind of ritual politics.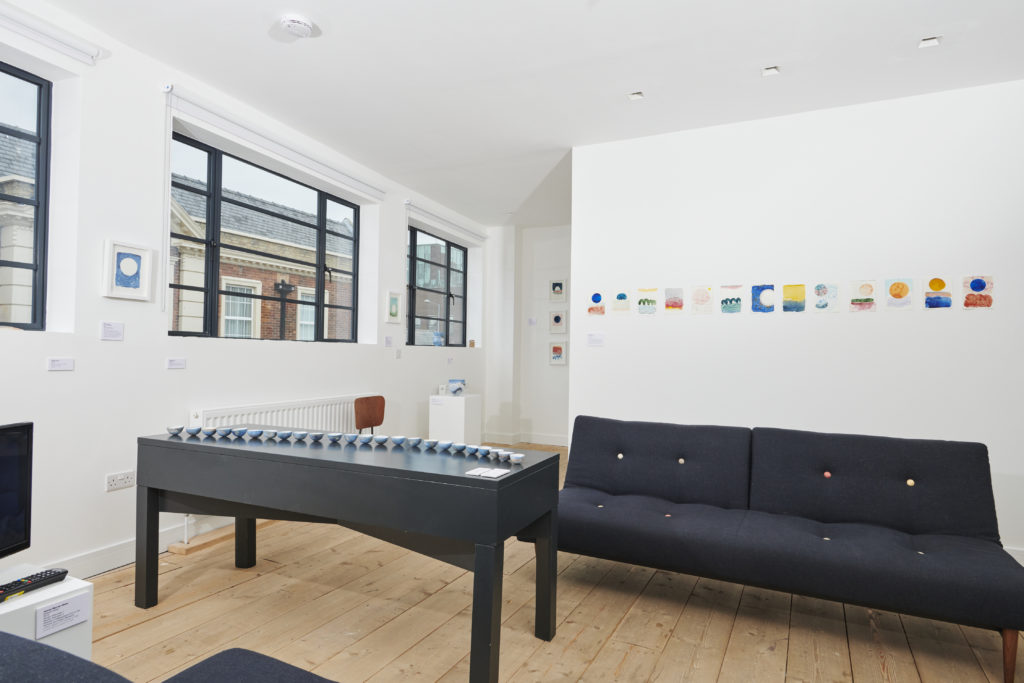 Underlying everything is a commitment to equality and justice
Recently the Victoria and Albert Museum bought her Menopause Pot, in which she fired some of her last tampons. She delivered it there by wheelbarrow, accompanied by a troupe of friends banging saucepans along Exhibition Road in noisy procession. Her consistent commitment to equality and justice underlies everything, This means she is reluctant to engage in the art-world's over-commercialism.
Her work, the thinnest egg-shell-like ceramics, she presents sometimes as individual pots, sometimes as installations. Elspeth delights in the accidental, the playful, in painterly shades and effects of cobalt pigments in blue-green-violet-grey. Each piece contains a contradiction. Her pots appear so delicate and fragile. Yet they are actually wrought through the violence of fire, and thus rendered strong. She can be solitary, spending many hours alone in her Granchester Meadow studio. But, the connections between herself and her friends and supporters are crucial to her continuing work.
Material woman
Her performative practice as Material Woman since 2003 has set up an even more direct link to the land. It has involved extensive journeys on foot to deliver precious items and to mark the blue moon as it occurs.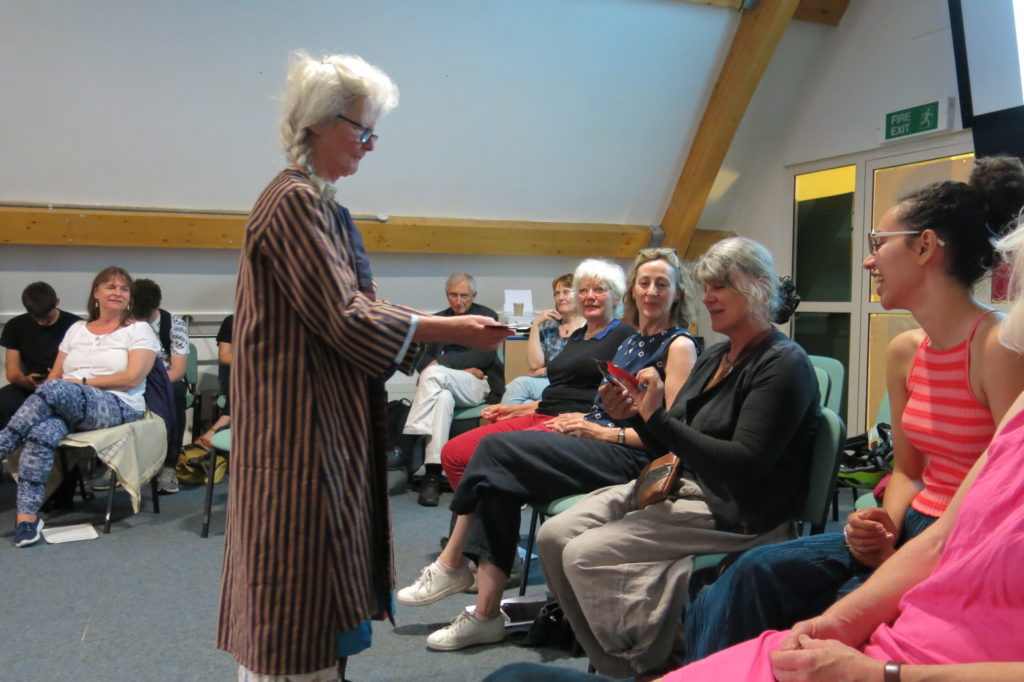 'Tender, direct, resilient, with a thin skin: that is how I think my work may touch you. To sustain working in this way means my remaining open to the emotions and sensations of an ordinary life. I keep slipping between categories – life, art, therapy, play, ritual. I find that I'm usually in more than one at a time, and with something up my sleeve!'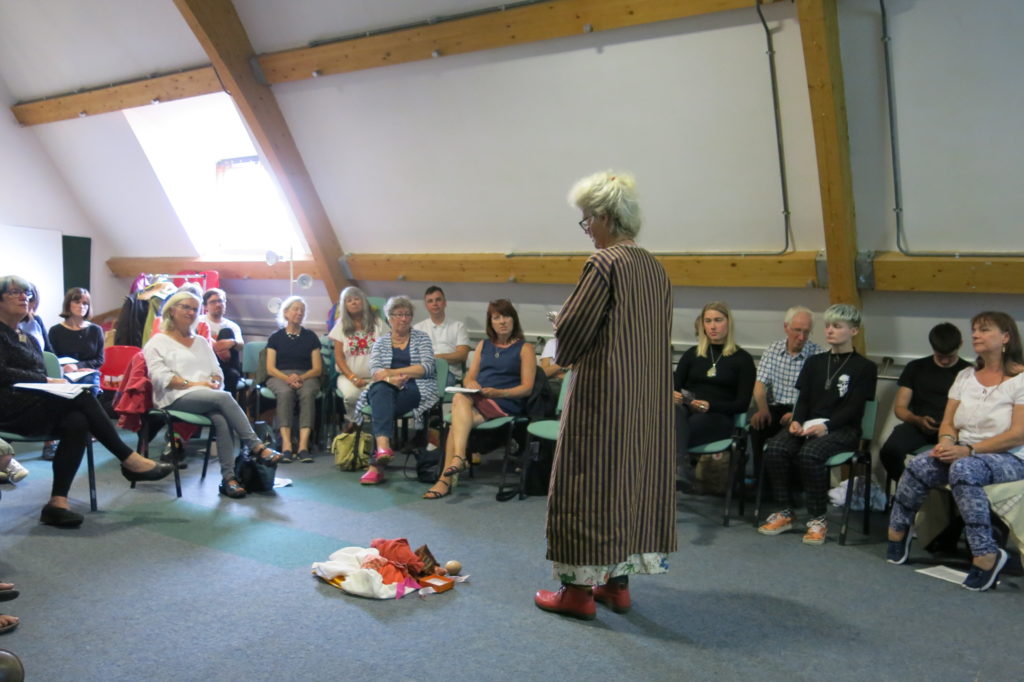 A lyrical sabotage of the conventional
Elspeth makes the most egg-shell thin ceramic vessels. They are often part of installations which celebrate natural materials, journeys, women's ways of life. Her work has been shown in Britain and in Canada, Croatia, France, Germany, Netherlands, Sweden, Switzerland, Taiwan and USA.
She quotes essays from a book about her pots, coming round again (1998). It was designed in collaboration with her nephew, Webster Wickham. Various people are quoted there, calling her ceramic work 'odd…yet enjoyable, exhilarating, and contemplative' (Gillian Beer); 'more anarchic and rougher' (Tanya Harrod) and 'a lyrical sabotage of the conventional' (Edmund de Waal).
Emma Howell
A colourful affinity towards landscape
Cotswold-based artist, Emma Howell graduated in Fine Art from University of Gloucestershire in 2015. She experiments with washes of thin colour to create abstract images, which are in fact quite representational. They are impressions of landscapes, moonscapes, patterns deriving from nature, and integral to nature. Following her father's sudden and unexpected death her work transformed. She began to use it as a way of nurturing a new and very fragile relationship with nature and society.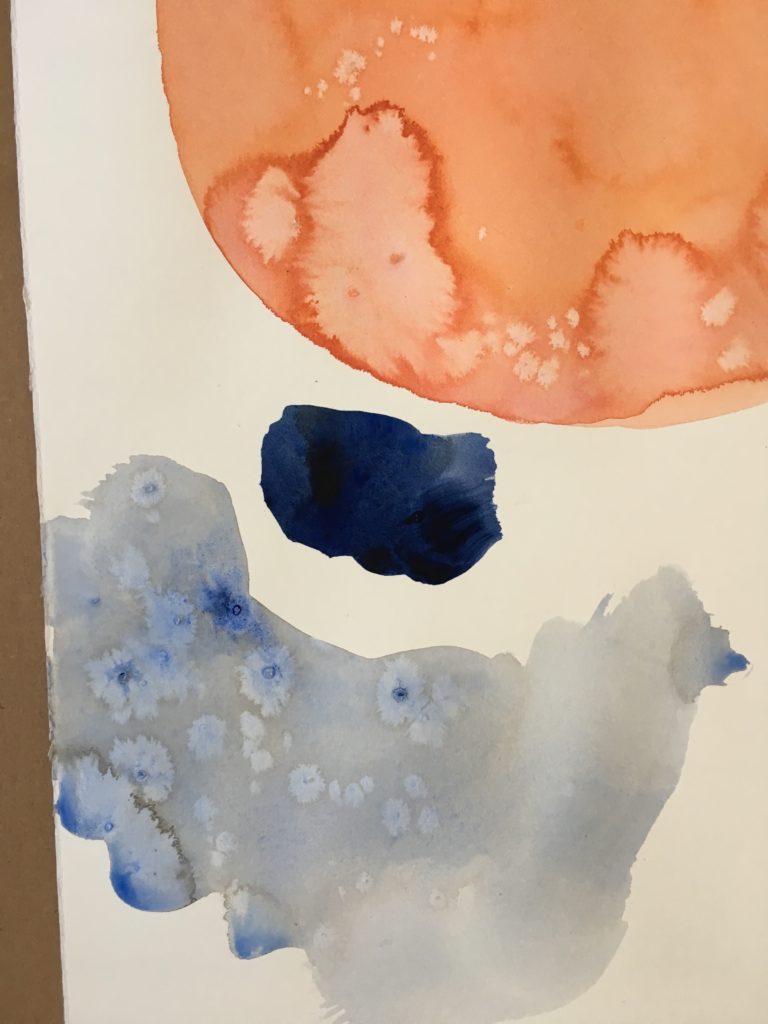 Her work is about the life affirming value of art as a means of recovery
Immediately in the wake of her father's death, she had become intensely melancholic finding the world empty and exhausting. However, gradually, her encounter with grief compelled her to build a deeper appreciation of the world around her. Her work acquired deeper meaning and symbolism. Increasingly she explores new sensations and perceptions, and a more colourful affinity towards landscape, conversation and culture. In overcoming the melancholy, Emma's work is about the life-affirming value of art as a means of recovery. Out of adversity she has forged a strong artistic personality.
Her genuine struggle with emotional pain and the re-balancing of her creativity has made Emma's art internationally sought after. Now, she describes herself as 'an active adventurer and explorer both in art and life'. The artist feels at one with nature, taking her audience with her along her journey. Emma Howell dedicates her art to her father. His loss taught her how to embrace the adventure that life can offer.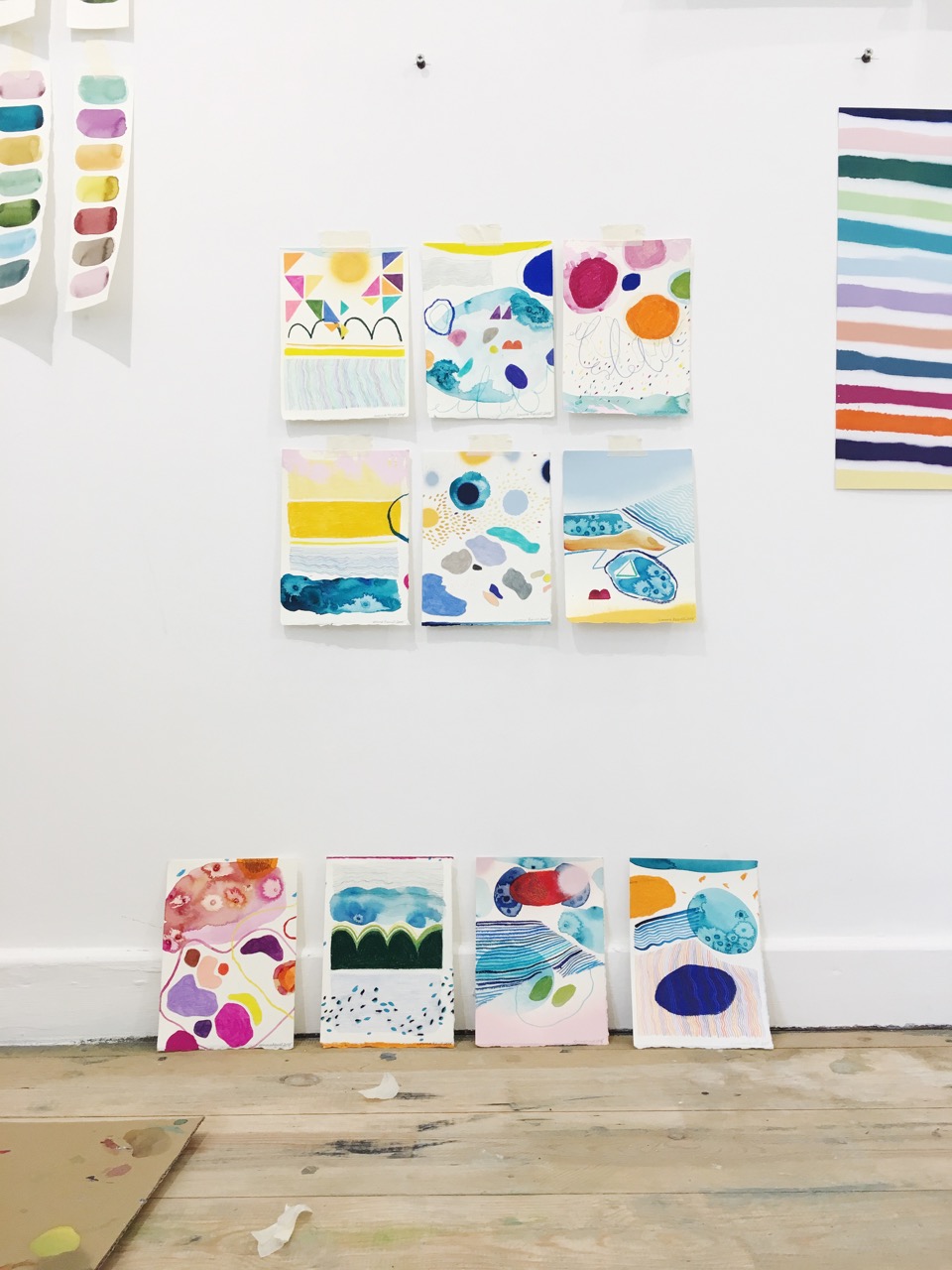 Lotte Scott
Natural materials used in an experimental way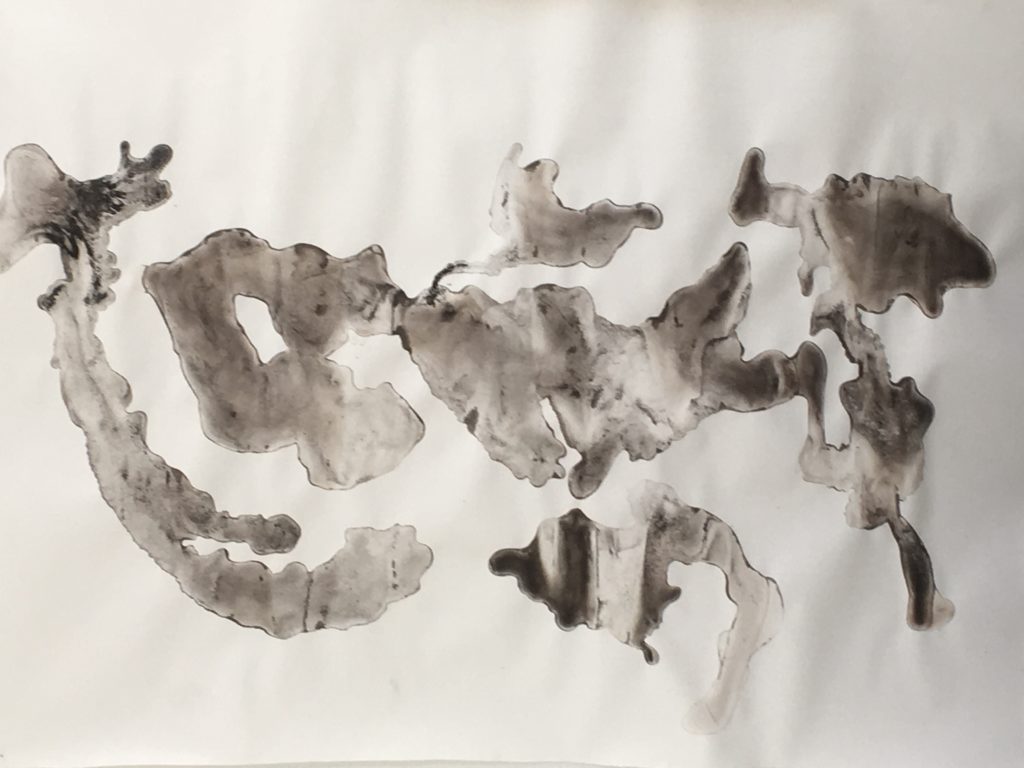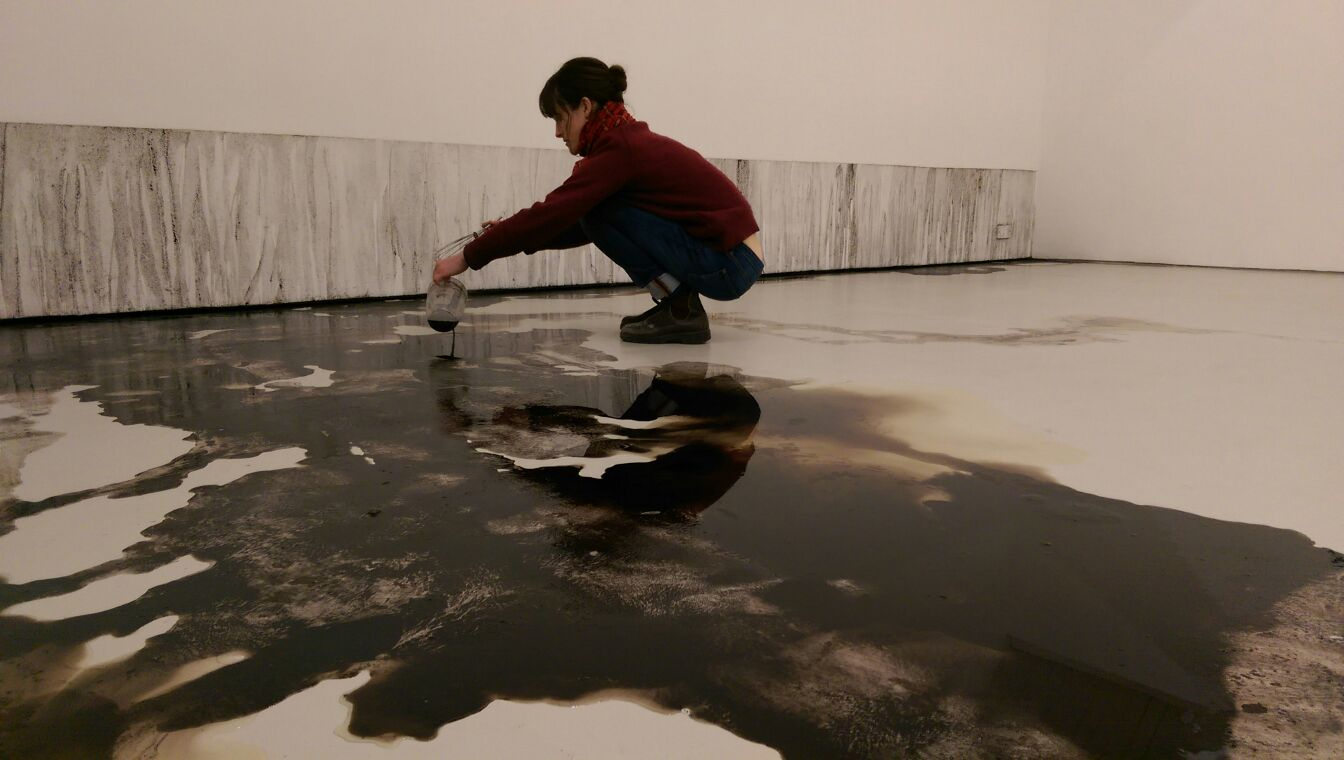 Creating art through risk, from smoke, soil, peat and lime; Lotte lets solid, burnt and evaporating elements find their own way. The material process forms the work as much as the artist.
Lotte is experimenting with a free collaboration with nature, allowing the material to find its form under the merest guidance.
Fragility of peat
She uses peat to draw attention to its endangered status, it preciousness and fragile structure. Her work is about form and process. But underlying that, philosophically, there is a lot about community, and about the identity of place and heritage.
Characteristically, Lotte's work crosses categories as much through materials as definitions. Land becomes liquid, solid becomes fluid, hilly becomes flat, drips are horizontal or vertical. While everything is manipulated nothing is controlled – all is allowed its freedom
Towards a feminist geography
Lotte's work uses natural materials, such as charcoal, lime, soil, in a highly experimental way. Her way of working enables them to flow and express their properties freely, finding their paths in the gallery.
Lotte Scott's artwork explores place, time and material. For the last five years her practice has focused on the peat moors of the Somerset Levels.
An interest in archaeology and local distinctiveness also informs her work. She creates a balance in her work between nature and artifice. To some extent nature makes her forms. But then, she faciltates their journey, enabling her materials to take their course.
Lotte Scott is a GroundWork featured artist and has her own page elsewhere on this site in the artist section.