The Language of Lichen is artist Annie Woodford's long term research project. Annie always researches any new subject thoroughly while she is developing a new body of work. Here she tells the story. We see some of its results in FieldWork, our exhibition with haptic/tacit from 25 March-25 June 2022.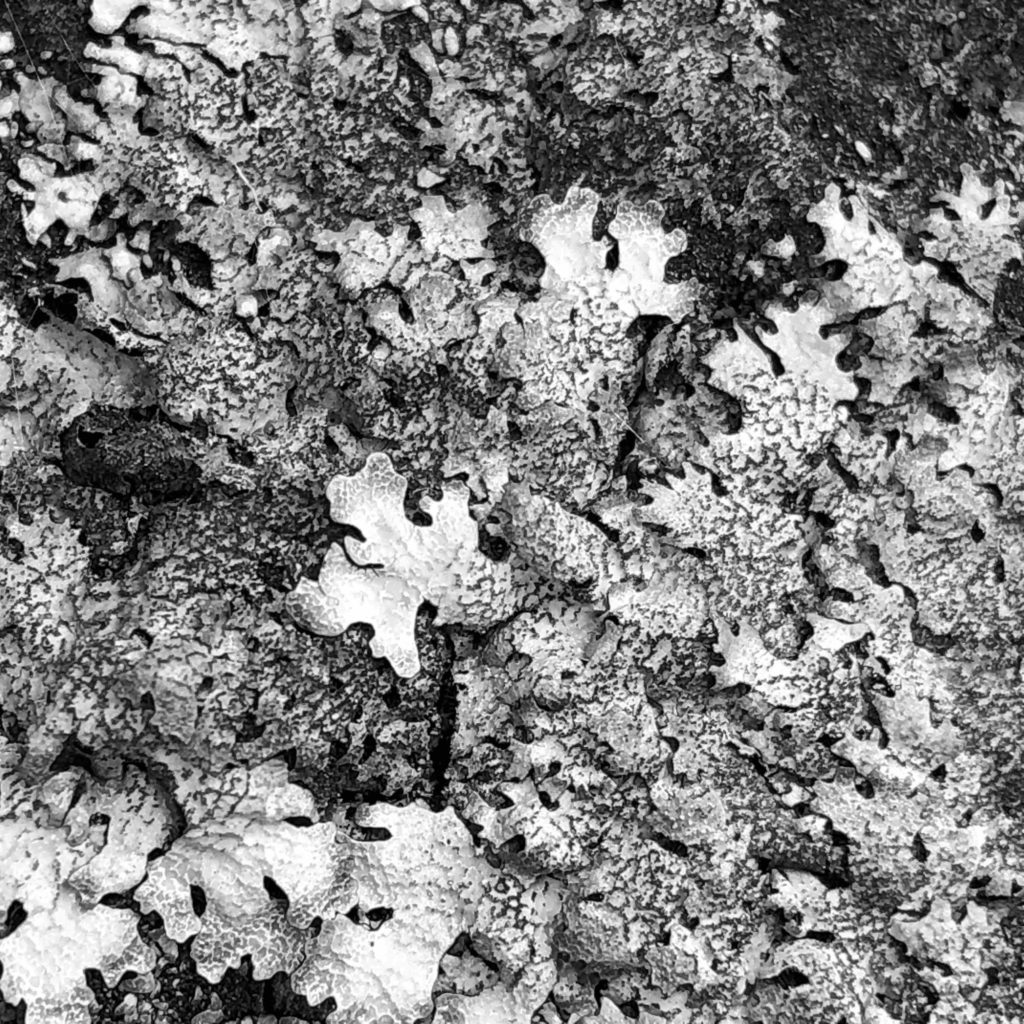 What are Lichens?
Lichens are mini-ecosystems consisting of at least two organisms: a fungus (mycobiont) and a photosynthetic partner, an algae (photobiont) living together in a symbiotic relationship.
Discovering Lichen
By Annie Woodford MA R.C.A.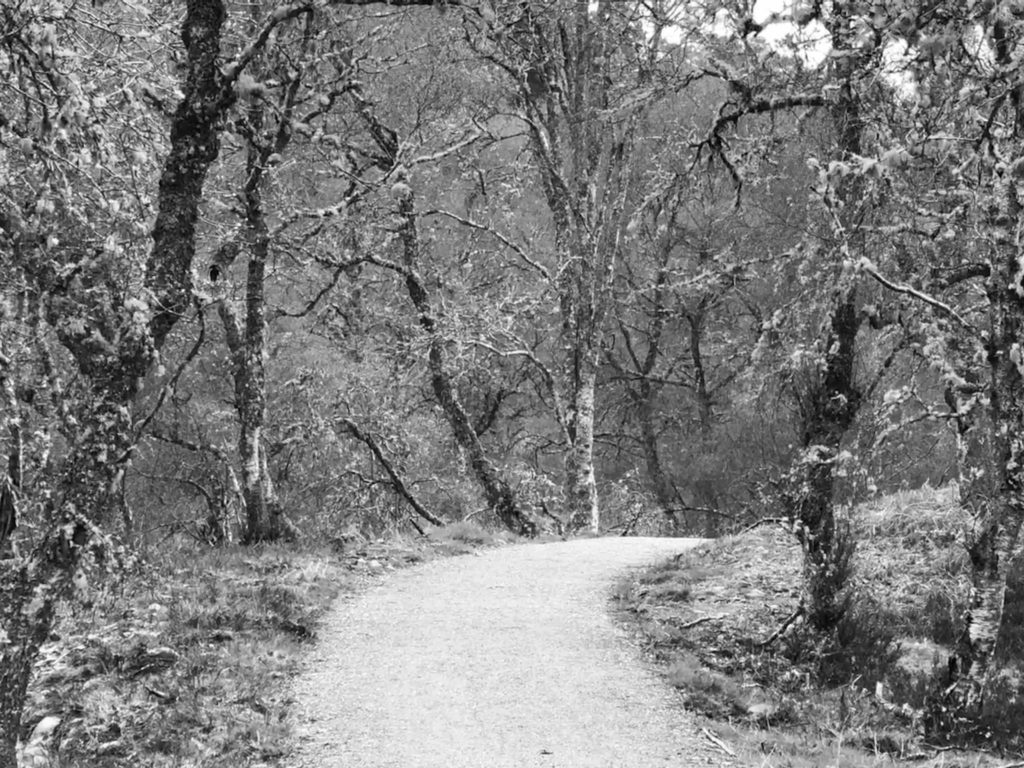 We moved to Highland Perthshire in 2016 to a house and studio complex we designed. Once it was complete, we were at last able to spend time walking in the surrounding landscape. It is an environment dominated by mountains, hills and river valleys, clothed in ancient woods and copses. It was during this period that I became increasingly aware of the presence of lichen.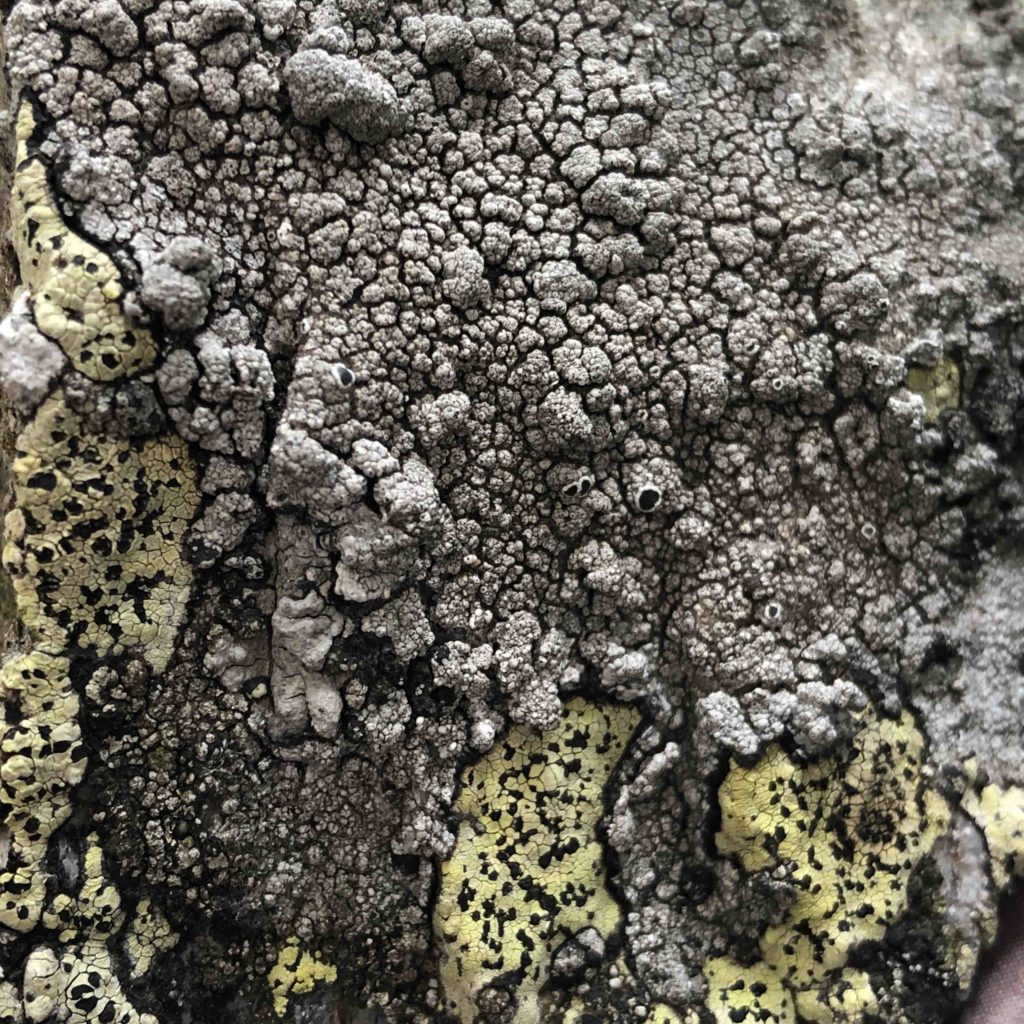 The location of our house and studio is in an area where lichen grows in abundance, both on stone and throughout the ancient woodlands and copses. Indeed, even the newly built dry-stone wall surrounding our land has both ancient and newly colonised lichen covering much of its surface. And the trees we planted in 2017 have acquired a covering of lichen along their trunks and branches.
Consequently, I am immersed in a place where lichen is omnipresent: a persistent presence, its beauty and complexity inspiring my recent research and making.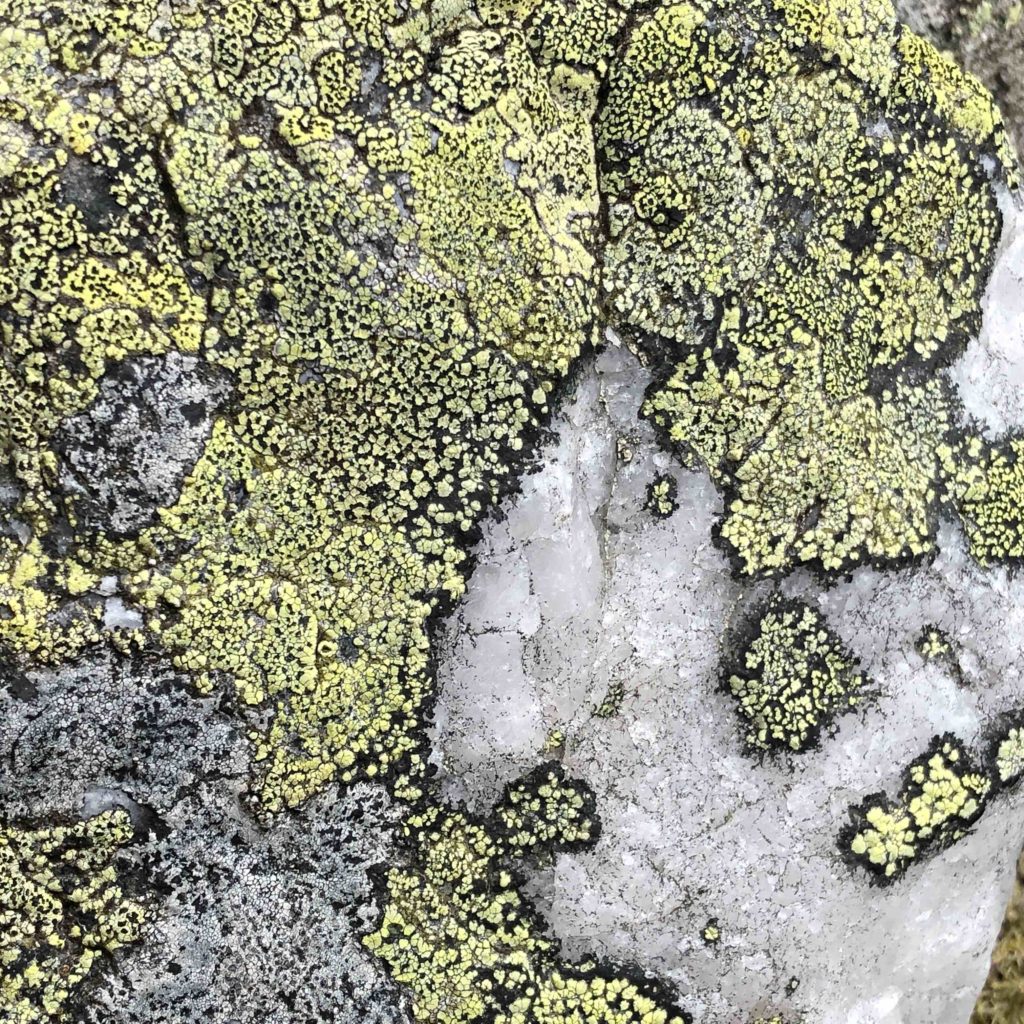 A profusion of lichens
I became fascinated by this profusion of lichen and the rich variety of its forms, colours and the diverse habitats it colonises. So, in 2018 I began a research project 'The Language of Lichen'. I wanted to discover more about this complex, symbiotic organism. Deepening my research beyond the field, I began to work with the extensive lichen collection housed in the Herbarium at the Royal Botanic Garden, Edinburgh. With the assistance of the curator Dr Heleen Plaisier, I began to investigate the copious variety of lichen species found in Scotland.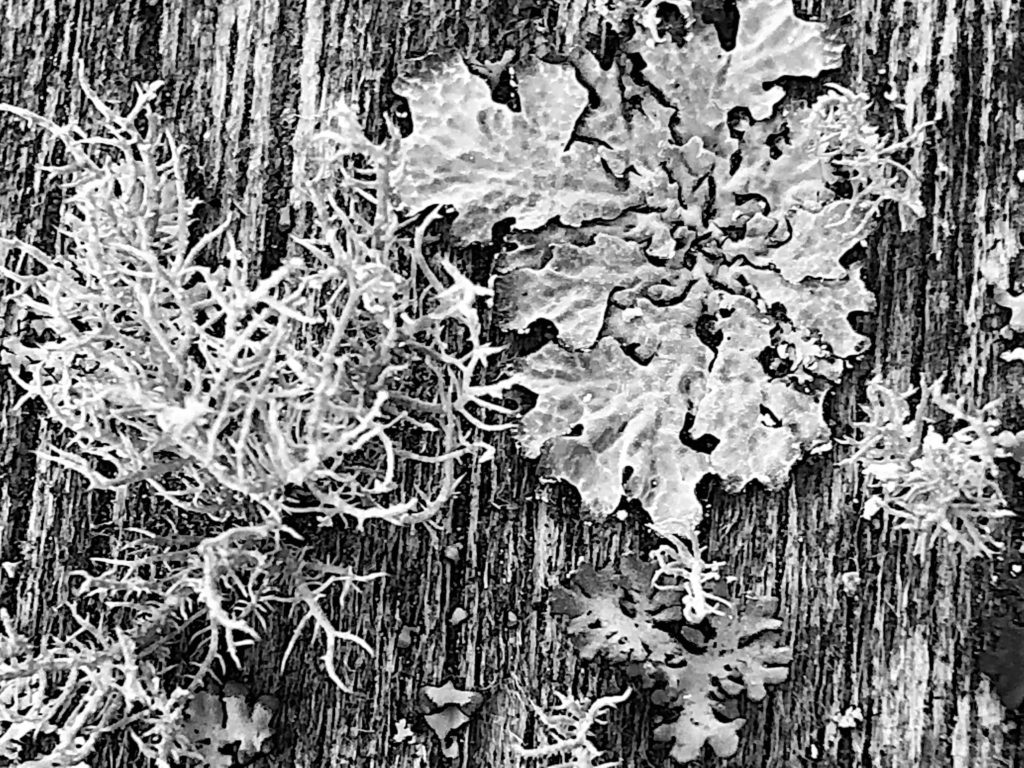 Fieldwork in the Highlands
I also conducted Fieldwork independently, in both the Cairngorms and the Highlands. Observing the colonisation by, and diversity of lichen in its natural habitat has been a fascinating and enriching experience. Furthermore, my detailed inspection of individual species has given me an opportunity to discover the beautiful range of colours and forms that lichen exhibit.
The complexity and variety of structures, hues and tones only becomes apparent under a magnifying glass. In addition, by exploiting a long held interest in microscopy (in particular Scanning Electron Microscopy) I have been able to discover the world of lichen at a level normally unseen by the naked eye.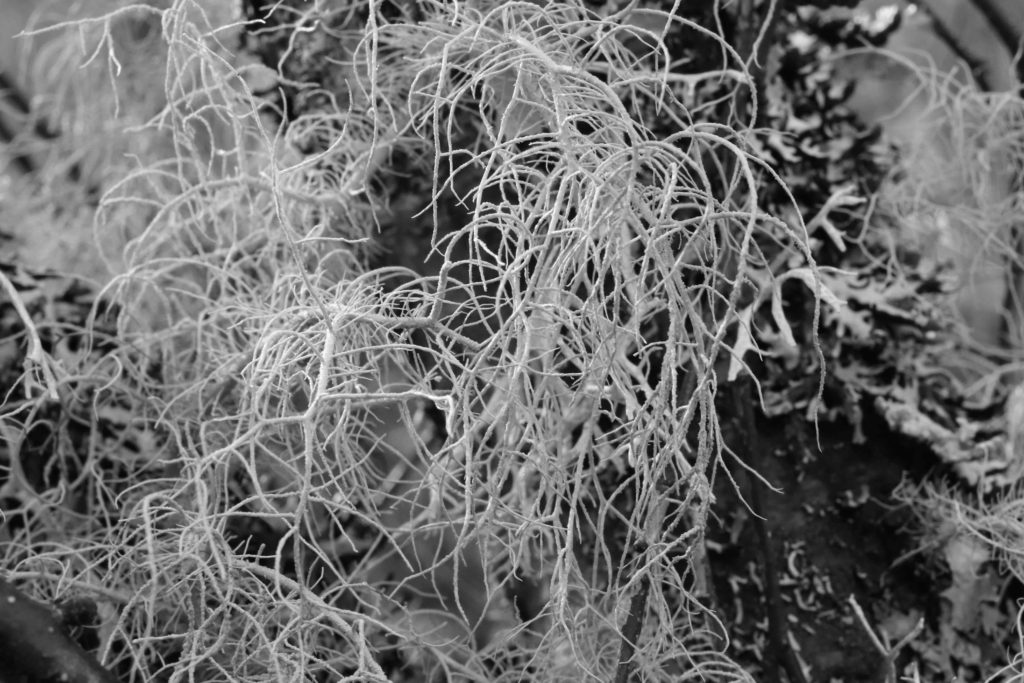 My aim is to depict and describe the beauty, complexity and variety of lichen forms, both at macroscopic and microscopic levels. Also, I hope to bring a sense of wonder, igniting interest and highlighting the importance of lichen. I would like to signal their habitat biodiversity and the role they play in ecology and within world-wide ecosystems.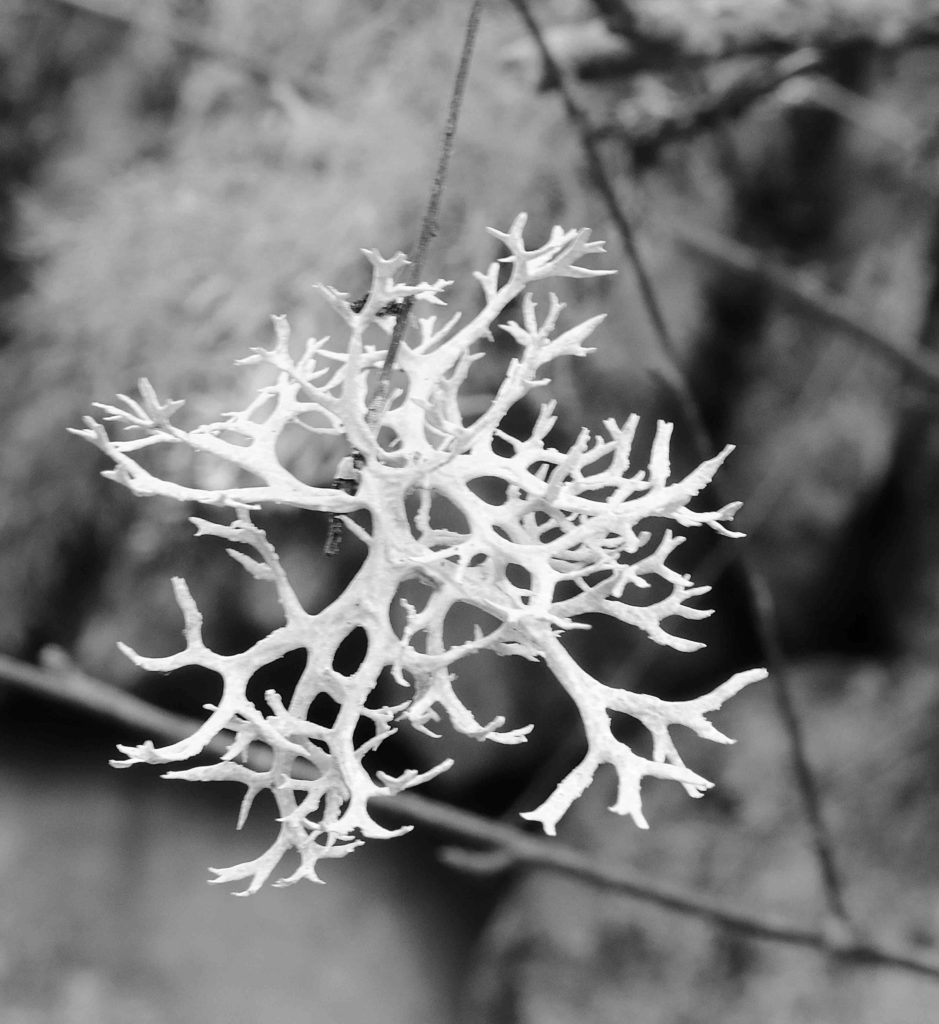 Where do lichens occur?
Lichens occur worldwide. It is estimated that there are up to 30,000 lichen species on Earth, some as yet unidentified. They appear in all terrestrial and some aquatic and marine habitats. They play an important role in biodiversity, converting carbon dioxide in the atmosphere through photosynthesis into oxygen. Lichens have long been successfully used by scientists as ecological indicators. They are very sensitive to pollution and changes in temperature and humidity. Their presence, decline and absence in an area allow scientists to understand increasing levels of pollution on ecosystems. Ultimately this becomes a useful indicator of the impact of climate change.