£170.00
Shizuka Tatsuno (designer)
hiiro water jug with lid, 2015
Unglazed Bizen-Ware ceramic
Made by Daikura pottery
Available in red only.
Jug: h 225mm, contains 500ml
Cup (lid): h. 95mm, contains 190ml
1 in stock
Description
hiiro water jugs are perfectly cylindrical and modernist in shape, re-designed by Shizuka Tatsuno from a traditional Bizen ware product.  The lid fits absolutely perfectly.  Taken off the jug, it forms a cup. Each jug and lid is presented in a special box also designed by Shizuka Tatsuno. We displayed hiiro water jugs in the gallery as part of Japan Water.
Water kept in Bizen ware containers is said to become sweeter, and the more the jugs are used, the better it tastes.
Daikura pottery
These pots are wheel thrown by Daikura pottery, who like all Bizen ware makers, are based in Okayama. As Daikura says:
Just leave your drinking water for a day in our Bizen ware "hiiro" water jug and enjoy an ever smoother drinking water.
Imagine the richness of life and make your daily drinking water even more delicious! There is an old Japanese saying that goes like this "water does not spoil in Bizen ware water jugs".
The clean lines of the product and its utter simplicity belies its complex history and precise technique of making. Bizen ware is very well known in Japan as one of the great pottery traditions. The difficult technique of making, with only clay and water, has been perfected over at least a thousand years. Made to order by Daikura pottery in the traditional way, these pots are unglazed, with only rice straw fired in the clay for decoration. Also, Shizuka requested additional fine gravel to be mixed with the clay to give them an extra rustic texture.
Shizuka Tatsuno (designer)
Shizuka Tatsuno is a young designer who trained in England at Kingston University, London and now operates from Tokyo. She designs jewellery, accessories and products for the household. Her aim is to add sustainability to well-made things. She works with local makers to refine designs and promote them more widely, passing on their authentic stories.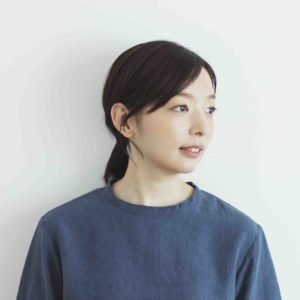 Bizen ware
Bizen ware is a stoneware with a history of over 1000 years.
 Because the clay is not glazed or painted, its quality depends very much on the very precise conditions of the firing.  This has a crucial effect on the colour and finish of the pottery. 
The pattern on the surface uses the technique of sprinkling rice straw to develop color.
The Daikura pottery uses a Nobori Gama kiln, fired to a temperature of 1250˚C, using pine wood as the fuel. No glazes are used so variations in colour, from reds, browns and yellows, to blues and greys, depend on how the pots are arranged and stacked in the kiln. After firing the pots have to remain in the kiln to cool down for 10 days.