Tom Baskeyfield and Mario Popham have created a series of joint projects all about stone and interconnections between place, people and landscape. The first one, 'Shaped by Stone' explored the relationship between the natural and built environment. It was an ecological, place-based project. Stone from an abandoned hillside quarry called Tegg's Nose (now a country park) now forms the footpaths, walls and roads of Macclesfield Town Centre. This connection between town and country was at the heart of the project and both artists drew from it to create a series of related works. They worked alongside each other, setting the scene by starting with walks, dialogue, and writings. These then formed the content for the exhibitions and book. The book can be purchased in our shop online here.
GroundWork displayed Tom Baskeyfield and Mario Popham's 'Shaped by Stone' alongside the exhibition of 'the stony path' by herman de vries. Also Sibylle Eimermacher's 'Meandering Eye' was at the same time, from 11 March – 27 July 2017.
The original version of Shaped by Stone was devised for the theme of 'Space' for the Barnaby Festival, a cultural festival in Macclesfield, Cheshire.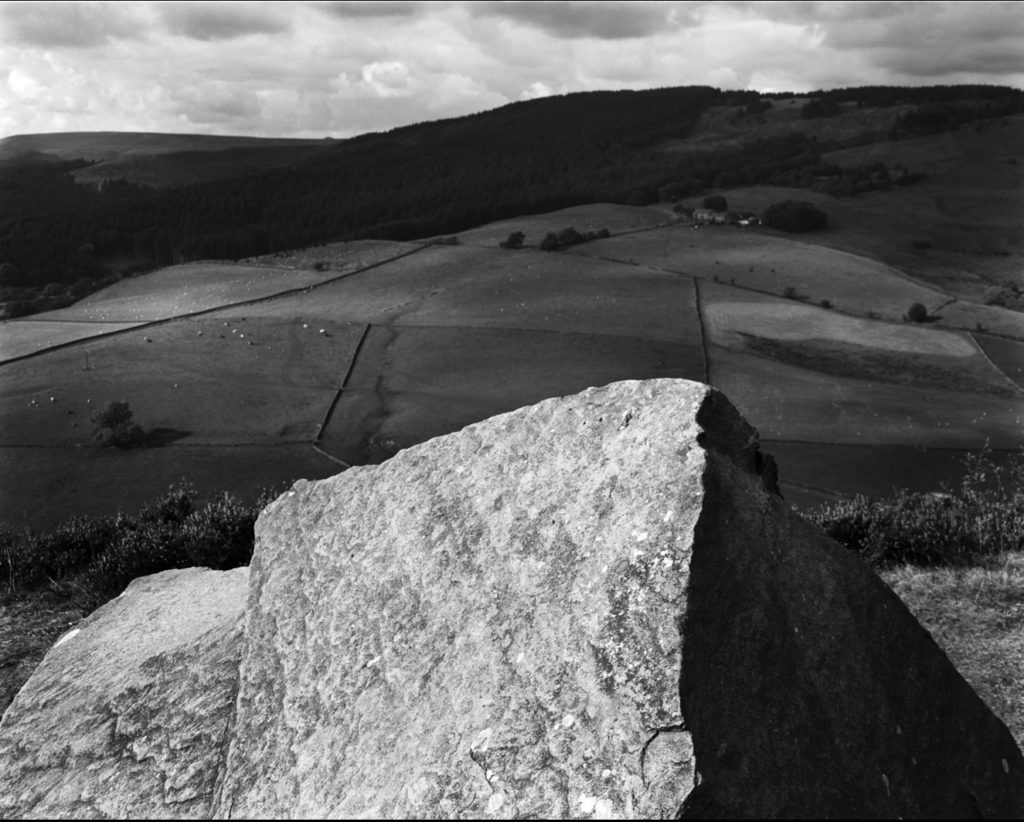 Interconnections between people, place, nature
Mario Popham's large format photography displays the town and landscape and creates a sense of overall context. In contrast, Tom Baskeyfield's drawings and graphite rubbings almost have the character of embossed relief sculptures. Between them their works give the environment a strong sense of poetry and atmosphere.
The artists share an interest in the interconnection of people, place, nature and landscape, and went on throughout 2017-18 to create a second collaborative exhibition project about Welsh slate. This project became 'Of Flesh and Stone', and is outlined below.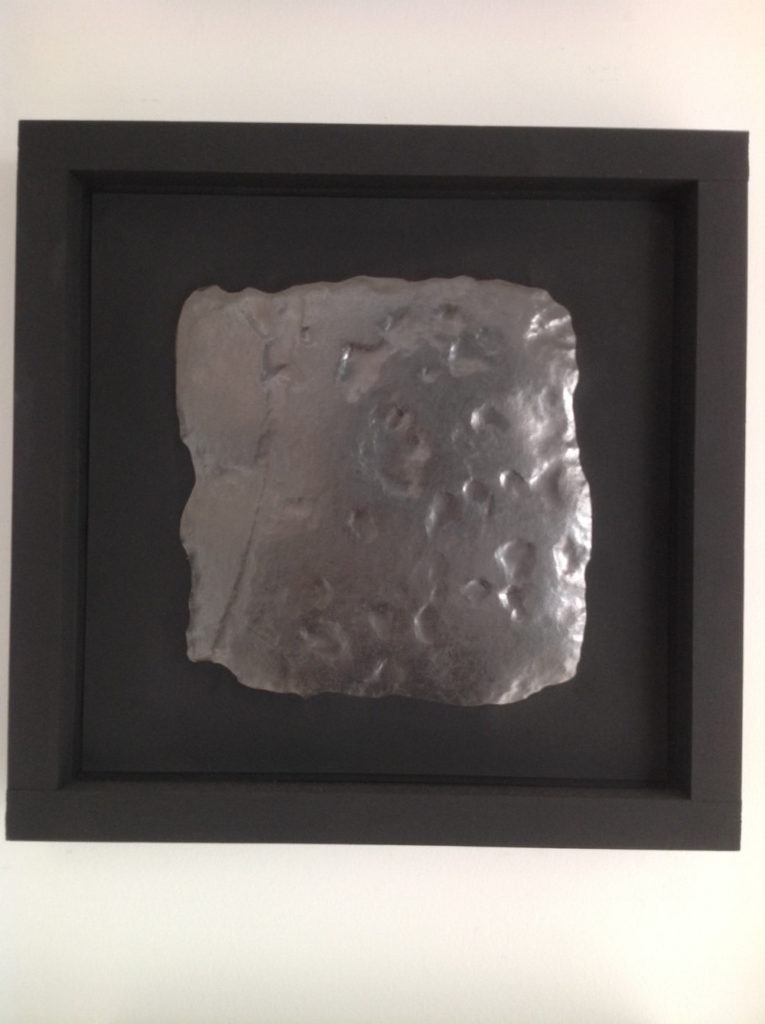 Of Flesh and Stone: from the hills of Wales to slate roofs of Manchester
Humans, over many centuries, have chipped, split and blasted stone. In doing so, they have been re-configuring hillsides and moving mountains. The large-scale extraction of slate transformed the mountains of North Wales. From there it fed the demands of the Industrial Revolution and its vast scale of development.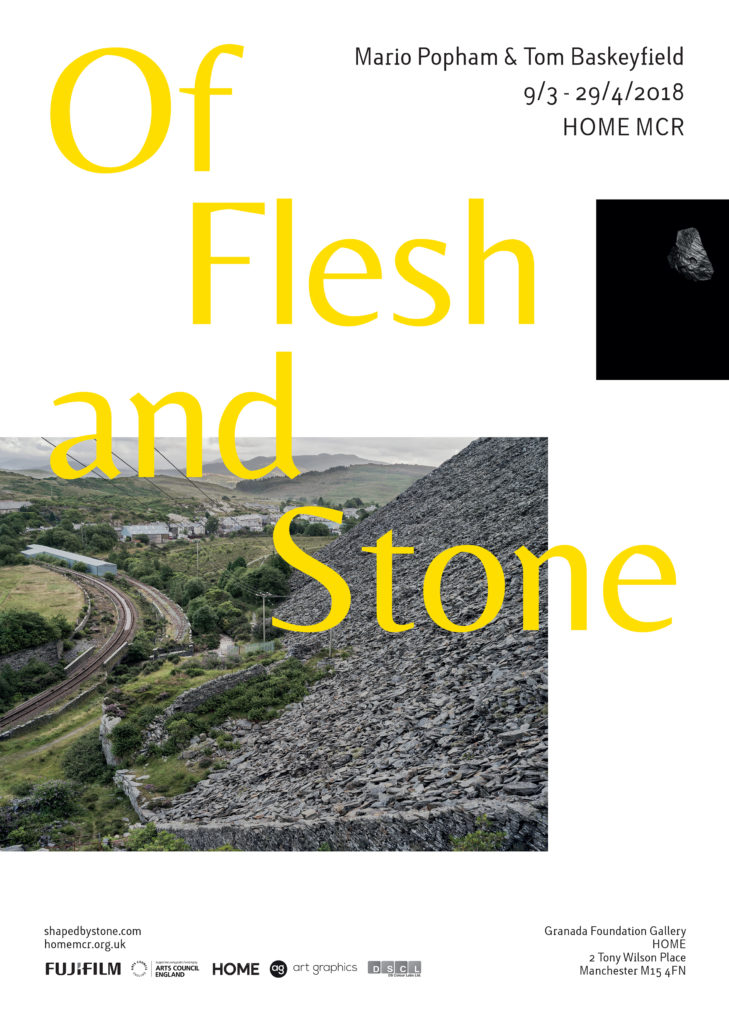 By recording the scars and remnants of this conquest, Baskeyfield and Popham examine this society and its past dependence on rock. Their project exists both as history and as a continuing narrative. While it literally built society's needs, the material continues to shape the human stories unfolding within these hills and valleys. Meanwhile, in the northern city of Manchester created by the very same forces of industry, the remnants of these mountainsides endure among the glass, concrete and steel.
This project led to an exhibition and book. You may purchase the book in our on-line shop here.
Tom Baskeyfield:
Tom Baskeyfield specialises in a unique relief drawing technique, embossed rubbing with graphite. He selects the place of making carefully and takes many hours for each rubbing. His works make direct contact with the stony landscape. As a result they are part-relief sculpture, part-drawing. But also, they exist as glistening abstract images. Not only do they evoke the hardness of stone, but they establish quite another kind of mystical presence.
Artist's statement:
"Over recent years my practice has developed in response to
the ecological crisis we find ourselves in, and a concern for how we got here. I am moved to seek out the connections and relationships we have with each other and the earth. This takes me back to the land where I am drawn, in particular, to fields and quarries as potential bridging places, sites of interaction between ourselves and the planet. The relationship we have with the land is deeply complex, formed over millennia. I see art as a lens, and a language, to explore this relationship and to respond and communicate."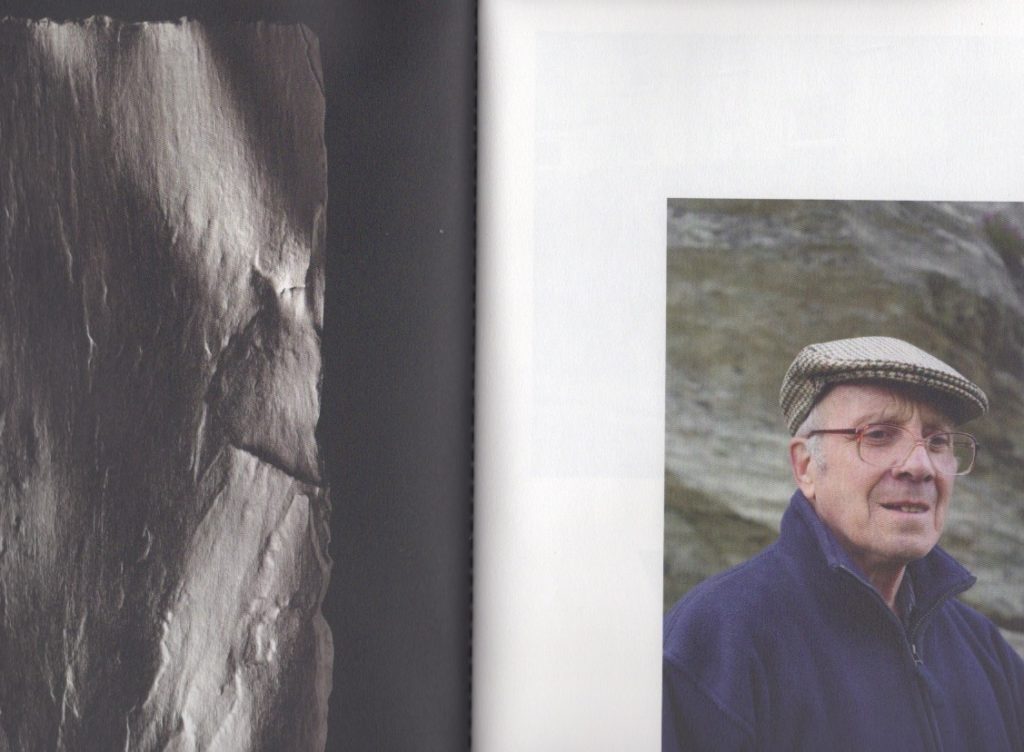 Mario Popham:
Mario Popham's photography gives us portraits, a range of insights, vistas, details of buildings and industrial contexts. The dialogue between the two artists makes this an absorbing and varied project and book.
Artist's statement:
"Walter Benjamin tells us 'the present comprises the entire history of mankind as an enormous abridgement'. I see photography as a means to make a lyrical enquiry into our common history, the ways in which we live with our past and our ever-shifting relationship to the natural world."