Peter Matthews is an artist whose studio is in the ocean and shore. He creates paintings while immersed in water. Hours can pass as he allows the sea and elements to engulph him as he draws and paints. His practice also embraces film, sculpture and photography as he responds to the environment and records its deep impressions. Peter was a key exhibitor in Water Rising, our exhibition for Spring 2019.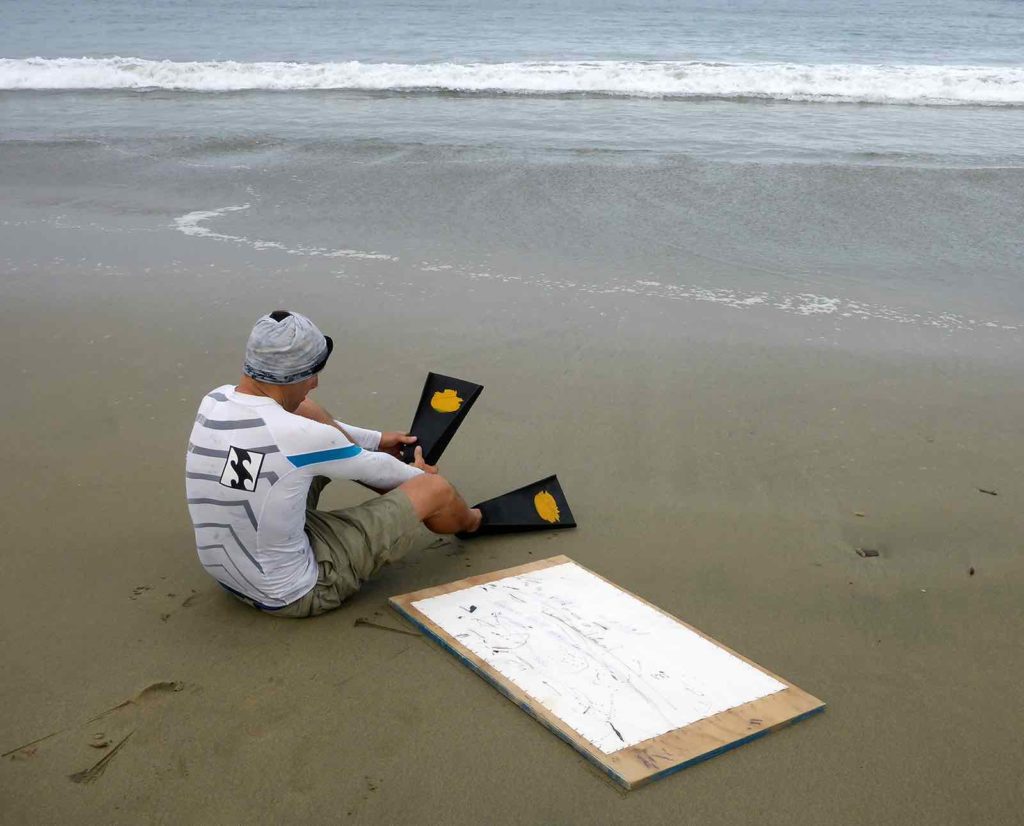 Peter Matthews was born in Derby, lives in Leicestershire and regards Cornwall as his spiritual home. He has a natural affinity with the sea, but spent much of his youth exploring the countryside. He always enjoyed solitude as he explored the forests and rivers of Derbyshire. A graduate of Nottingham Trent University, Matthews has since 2007 created his work almost exclusively in the earth's oceans. He deliberately crosses the world from, Cornwall to Hawaii, Chile to Taiwan. In the water he can spend long periods—ranging from hours to days. He floats or submerges himself in the ocean, bobbing in the water, thinking, watching, making art.
"The fluid mid-point between sea and land, thought and form"
Matthews lives his work immersively in his locations. For his ocean works, Peter keeps artistic media cached in his hat or strapped to his wrists or ankles. This includes charcoal, pencil, oil stick and gel pens. The surfaces he draws on can range from paper to canvas sheeting. He pins them to "old piece of plywood" which acts both as drawing board and flotation device. This method also allows him to explore—in his words—"the fluid midpoint between sea and land, thought and form."
"I am merely the instrument by which the sea draws itself…."
He often enters the water at dawn and may stay immersed until nightfall, and effectively "lets the ocean do the work for him"; sometimes the work is left exposed to the elements and tides overnight in which the piece continues its natural development. Matthews has described himself as merely being the "instrument" by which the sea "draws itself."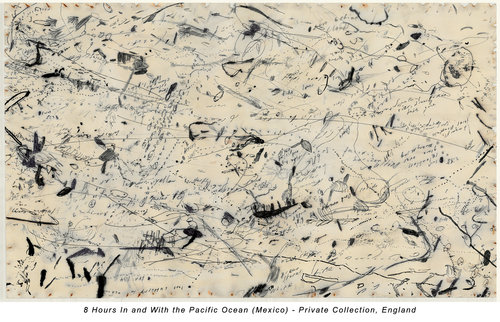 Matthews exhibits internationally – in Italy, Germany, United States. He shows extensively and often in the UK, recently at the John Moore's in Liverpool. He has lectured in the US and been artist in residence at the Scripps Institute of Oceanography. In 2018 he won an Arts Council grant to create a new body of work for the National Maritime Museum. He is represented by Beers Gallery, London. In September 2020 he is due to have a solo exhibition at the Glyn Vivian Gallery, Swansea.