A town steeped in heritage.
King's Lynn is a town of great beauty and history. truly one of the gateways to Norfolk's holiday delights, and indeed, it is also known to most people as a gateway out of the county, as it is at the confluence of three major roads leading south, west and east: the A10, A47 and A17. It is also the terminal station for the fastest train from London to Norfolk (less than 100 minutes from King's Cross).
King's Lynn is a town which is known for being well connected, but less known for itself. On arrival at its railway station, and following the unremarkable route into town, many will be completely unaware of the richness of its unique cultural, historical and architectural heritage which awaits them…….
Anyway, King's Lynn has no less than 481 Listed Buildings Grades I, II* & II, including the finest collection of mediaeval architecture anywhere in the country, for a town of its size.
Here you will find a very summary general overview of the attractions of the town. If you are interested in heritage and geology, you might also look at our resource about the Stones of King's Lynn, inspired by the exhibition of herman de vries 'on the stony path' held in 2017.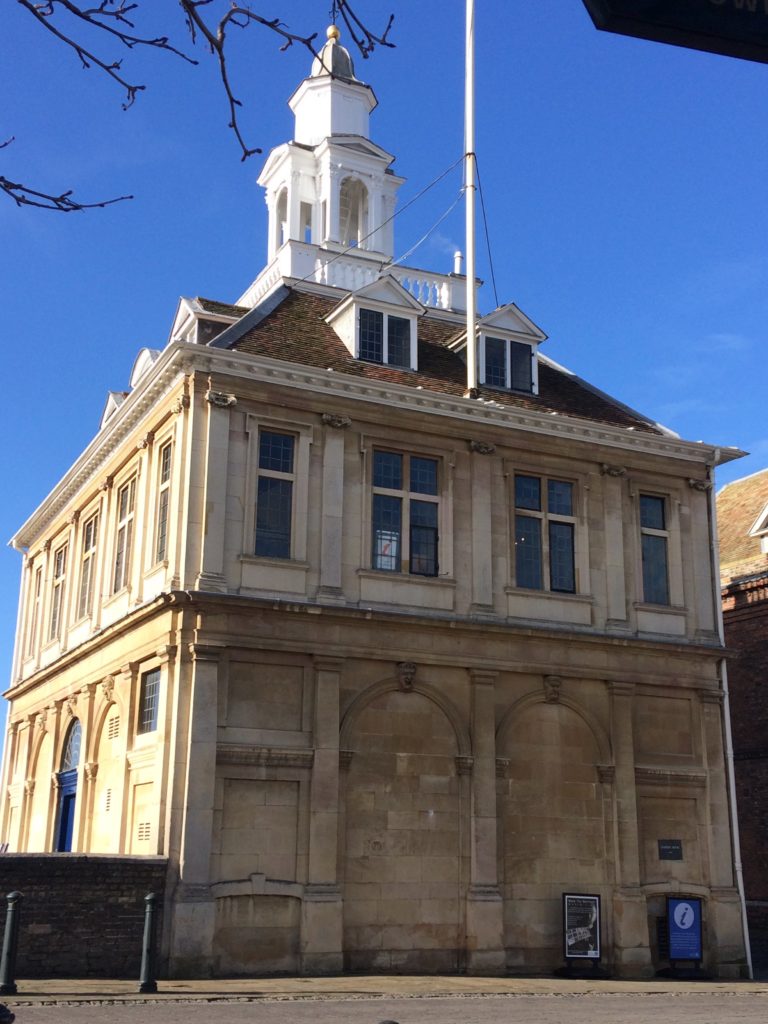 We will start with The C17 Custom House as it is the gem of the town, centrally placed on the axis between the high street and the river front and right opposite GroundWork Gallery – you see it below. It was described by famous architectural historian Nikolaus Pevsner as "one of the most perfect buildings".
Below here you see King Street with the Custom House in the distance. It runs alongside the river and contains all the great former merchant houses, all of which formerly had their own access to the river, which remains behind them and largely unseen from the road, except along Ferry Lane to the ferry to West Lynn.
Thoresby College, the 15th Century (in origin) home of the King's Lynn Preservation Trust, with a view along Queen Street in the Old Town
Two mediaeval Guildhalls, Trinity Guildhall, now the Town Hall, was described by Nikolaus Pevsner as "a delightful group of buildings, all quite different, but forming a perfect sequence".
The Trinity Guildhall, is now home for one of King's Lynn's museums, Stories of Lynn, containing the town's treasure and some of the most remarkable archives to survive from any medieval town.
St George's Guildhall, dating from c 1430, is the largest in England. Plays were performed there from 1444, which means that it is likely to be Britain's oldest working theatre, by some 300 years. Its stage was very probably graced by Shakespeare himself – certainly his company was performing his plays there in the early 1590s. http://www.shakespearesguildhalltrust.com/
Two Market Places of medieval origin, one of which is reckoned to be originally the largest in England.
Tuesday Market Place looking towards the Duke's Head hotel. This area is now largely car park (sadly), with a few market stalls every Tuesday at the south end nearest to the high street. How lovely if it could be a town garden!
St Margaret's Church: King's Lynn Minster containing a unique C17 Tide Clock and two of largest and earliest mediaeval merchant memorial brasses in England.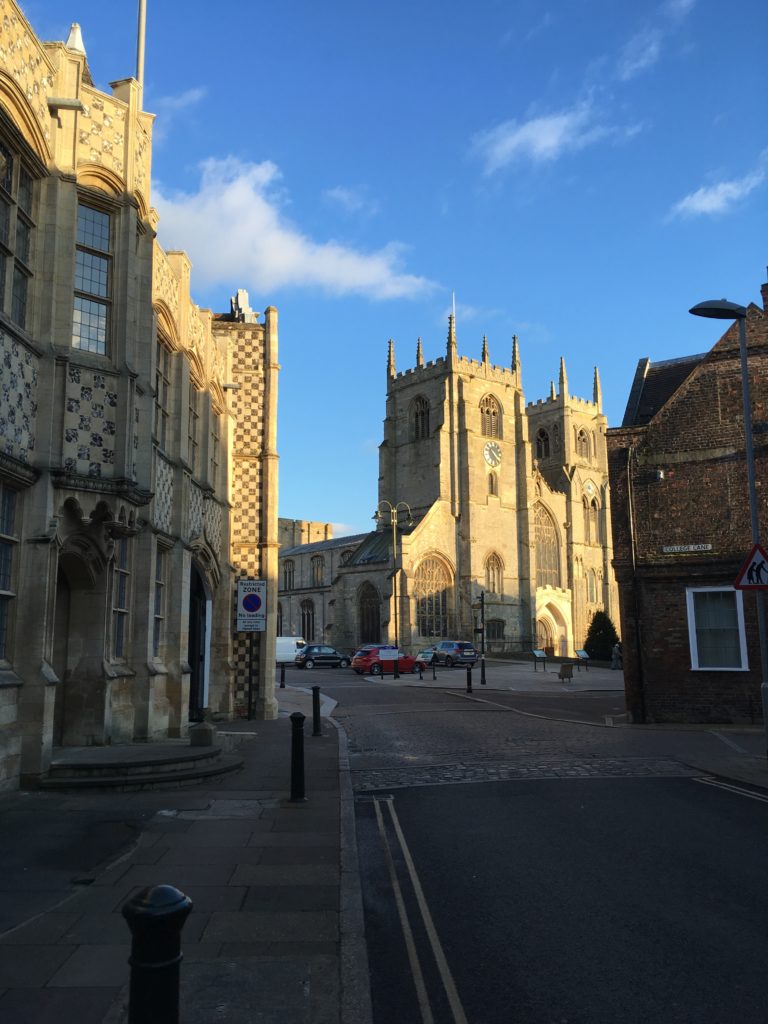 St Nicholas Chapel, the largest Chapel of Ease in England and home to one of the very finest examples of a mediaeval Angel Roof in England and a rare Consistory Court. Recently renovated and re-opened with the help of a £1.8m Heritage Lottery Fund grant and often housing interesting exhibitions, concerts, plays, events, dinners.
Hampton Court, lovely houses arranged around an internal courtyard in the Old Town.
England's only surviving Hanseatic Warehouse, dating from 1475 – recently renovated and brought back into use a popular bar, restaurant, galleries and retail space.
There are three museums: the Town Museum that houses the unique bronze age 'Seahenge', True's Yard Fisherfolk Museum a charming museum which celebrates the town's fishing heritage http://truesyard.co.uk/, and the recently re-opened Stories of Lynn in the Town Hall, containing the unique King John Cup and King's Lynn Town Regalia http://www.kingslynntownhall.com/storiesoflynn/. Here you will also find the unrivalled collection of borough archives in a new modern archive centre http://www.kingslynntownhall.com/townhall/archives/.
King's Lynn, Festival Town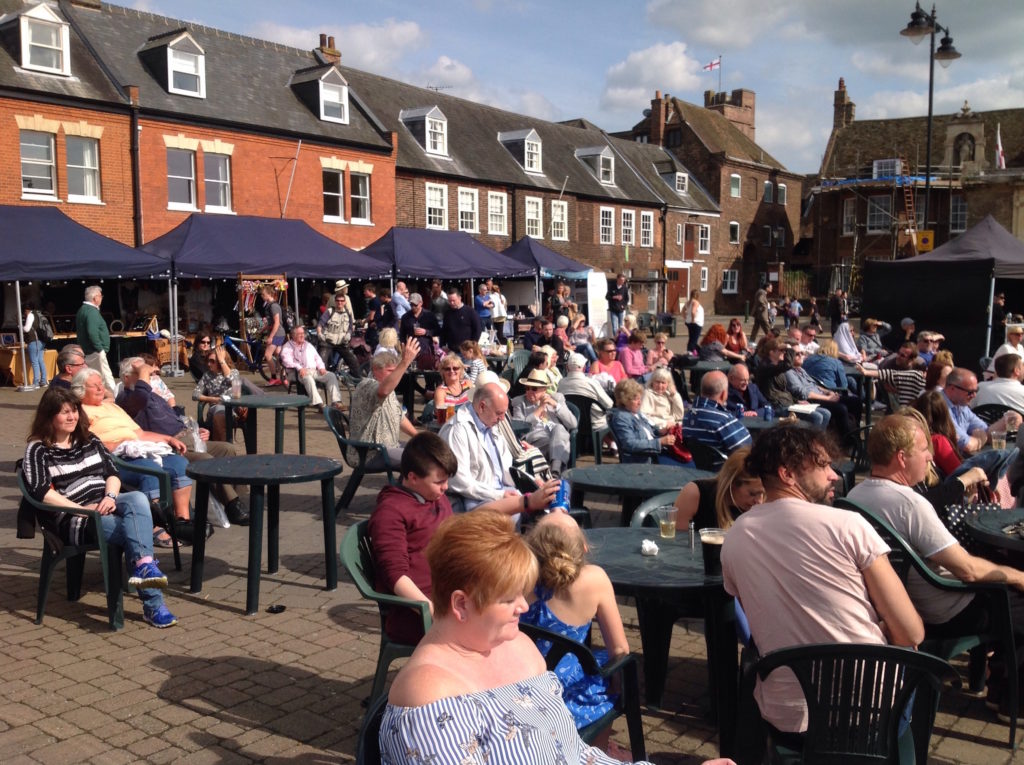 At least four major festivals take place throughout the year, as well as numerous celebrations and events. Fiction festivals take place in Spring and Autumn with readings and performances from major writers http://www.lynnlitfests.com/Welcome.html
Festival Too: 30 June-14 July claims to be one of Europe's largest free popular music festivals, attracting major acts and filling the town on festival nights with a lively party atmosphere. Expect noise, spectacle, fireworks http://www.festivaltoo.co.uk/LineUp.
The two weeks following 15-28 July is the time for the long-established King's Lynn Festival specialising in orchestral and chamber music, song, dance, recitals, talks and poetry http://www.kingslynnfestival.org.uk/whats-on. King's Lynn Festival, is part of a regional network called Look Sideways aiming at cultural tourism. This means that in addition to its traditional summer season, it organises two more mini-festivals in April and in October, with both musical and visual arts elements, with works of art from Norfolk Museum's modern and contemporary collections. For the full programme and booking, follow this link: http://www.kingslynnfestival.org.uk/whats-on
King's Lynn's ancient trading links with the Baltic ports are celebrated in May each year through the international Hanse Festival with music, dancing, boats, food and drink, overall with a distinctly medieval flavour. http://www.kingslynnhansefestival.co.uk/hanse-festival/
Lynn Lumiere was an innovative project to project images onto some of the important sites and buildings in town, in a joint initiative with Amiens through an EU funded project. The resource this gave the town has been taken up in a very contemporary way by a new arts and tech organisation Collusion, which has been running projects in the town since 2018, regularly commissioning new works.
There are two theatres and a 3-screen independent cinema.
Regular guided walks are conducted by volunteer Town Guides at least three times per week during the tourist season and there are several self-guided walks available in the town and in the Walks, a beautiful tree-filled park.
Leaflet trails for King's Lynn and surrounds.
http://www.visitwestnorfolk.com/wp-content/uploads/2015/07/1390-53_DKL_2016.pdf
http://www.visitwestnorfolk.com/wp-content/uploads/2016/03/Maritime_trail_web.pdf
http://www.visitwestnorfolk.com/wp-content/uploads/2016/03/1390-46_Hanse_trail_leaflet_web.pdf
http://www.visitwestnorfolk.com/wp-content/uploads/2016/03/162889-Kings-Lynn-Pilgrimage-Trail_2015.pdf
http://www.visitwestnorfolk.com/wp-content/uploads/2016/03/1390-43-6_Guided_Walks_leaflet.pdf
http://www.visitwestnorfolk.com/wp-content/uploads/2015/07/ACL_Lynn_Lumiere_booklet-1.pdf
http://www.visitwestnorfolk.com/wp-content/uploads/2015/07/Art_Cities_Landscape_2014.pdf