£420.00
Jonathan Meuli, Sketches After Hokusai, 2
(Gust of wind at Ejiri in the Suruga province)
mixed media on paper, 2020, 244 x 285 mm
Description
Jonathan Meuli Sketches After Hokusai, 2, Gust of wind at Ejiri in the Suruga province, is one from a group of four drawings. He made them after Hokusai's 36 Views of Mount Fuji, his famous woodcut series from 1829-1833. He drew them specially for Japan Water.
Hokusai's image of a 'Gust of Wind at Ejiri in the Seruga Province' shows Mount Fuji in the distance. In the foreground a group of figures cowers in the strength of the wind, hoding fast to their hats. For Jonathan the drawing was not so much a model as an inspiration. His version is far from literal. It is an exercise in imagination, about the turbulence of extreme weather.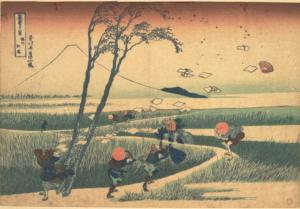 Hokusai , Gust of wind at Ejiri in the Suruga province, 1829-1833
Jonathan has been profoundly influenced by Hokusai and says: "Isao Miura (co-exhibitor in Japan Water) is my friend. But so too, I have learned, is Hokusai. I look at his pictures every day. They are postcards from places which I will never visit. Re-employing my imagination to supply colour, incident, passion, encounter, I now wonder whether other imaginings are becoming morally possible again. "
About the artist
Jonathan Meuli originally studied art history in Cambridge, followed by an MA at the University of East Anglia, before becoming a painter. He lives and works now in Glasgow, but maintains close links with East Anglia, for example showing a selection of his landscape and abstract paintings at Wolfson College Cambridge in 2018.
Since the devastating Japanese tsunami of 2011, Meuli has developed a powerful series of Wave Paintings and River Scrolls influenced by Hokusai but also by a fascination with colour and the actual observation of the movement of waves. Like the water beneath a wave, the underlayers of these paintings are dense and still and carefully planned, while the surface layers erupt in rapid brushstrokes.