Simon Read plays a pioneering role as an artist who engages seriously with environmental issues. In doing so, he works across many disciplines. For many years he lived 'environmentally', on a seagoing barge. He uses his teaching and research in higher education at Middlesex University to promote and network environmentally. Simon's art consisting of drawings, plans, constructions, inventions, reflects his environmental expertise and concerns.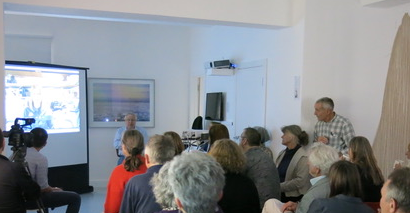 I believe strongly that the challenges we currently face over environmental change are sufficiently nuanced and complex to deny the application of singular solutions. For this reason I have devoted energy towards developing an understanding of the cultural implications of change. I am interested in the role that the cultural community has in re-assimilating societal perceptions of land, ownership, responsibility and belonging.

Simon Read
Lower carbon futures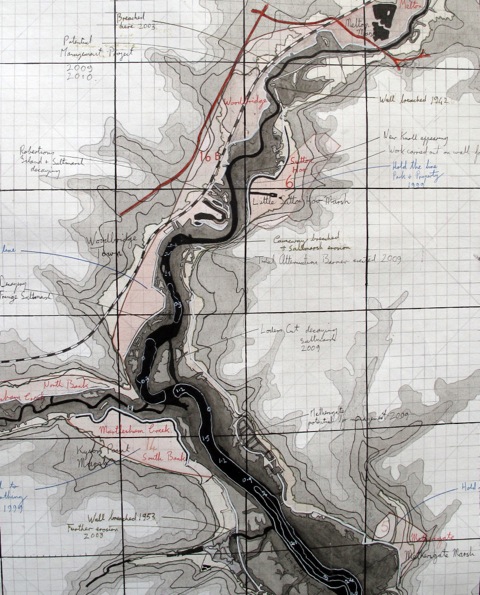 Climate change for the UK means that local councils and the Environment Agency, are planning for a lower carbon future.
The county of Suffolk, already experiencing coastal land-loss, is especially active. It aims to be England's 'Greenest County'. Since the 1990s, Simon Read has been taking a leading role in community partnerships formed around the River Deben. As a local with a vested interest too, he has contributed ideas around adaptation and enhancement of the river. These include proposals for restoration of its degraded saltmarsh (see drawing above)
Commissions and collaborations
Simon often collaborates with people and organisations seeking him out for partnership work. His sea-going life equipped him especially pertinently for consultations on watery landscapes, coastal erosion, estuary and shoreline strategies. For these he plays a seriously artistic role as an inventor-cum-intervener. He is definitely not a provider of aesthetic diversions.
Cultural implications of environmental change
His public commissions demonstrate his varied collaborators. These include 'A Profile of the River Thames, from Thames Head to Sea Reach', for the Thames Flood Barrier (1996). Then, 'Memory and the Tideline' for the flood defence works on Poole Town Quay (2001). More recent, is 'Cinderella River' an in-depth artistic and environmental study about the Lee Valley. This was funded by the Arts and Humanities Research Council in 2017.
My point is that understanding of where we are – landscape, land and so on – is very much a cultural construct. It is one that we've inherited from the 18th century if not before.

Simon Read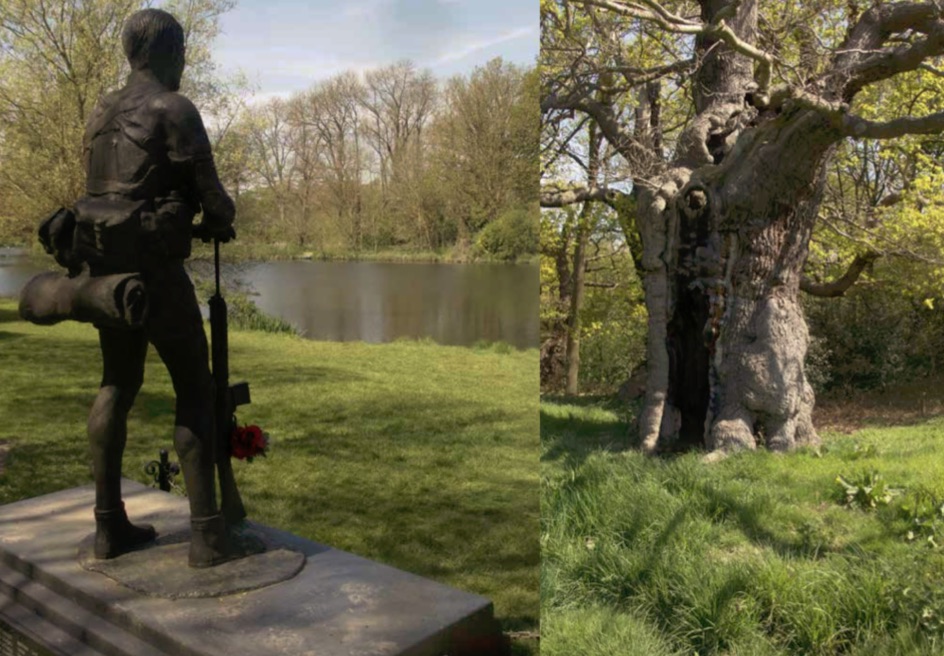 Simon is someone who clearly has an intimate understanding of coastal dynamics. As such, he has used his position as a senior academic to foster discussion on an interdisciplinary and international basis. But this has also extended to the vital importance of understanding the cultural implications of environmental change.
Using art to understand the inter-tidal saltmarsh environment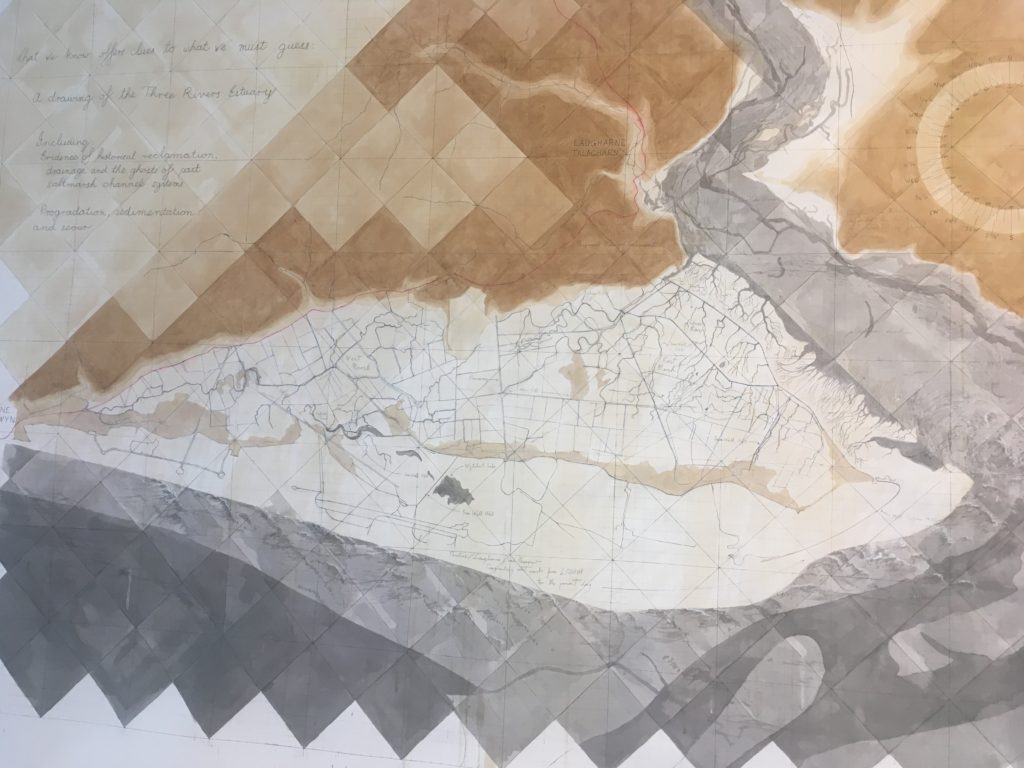 Ongoing and recent research projects include CoastWEB, funded by the Natural Environment Research Council and led by Plymouth Marine Laboratory. The project used locations on the Welsh coast in a study of the community benefits of a healthy intertidal saltmarsh environment.
For this project Simon produced some spectacular large drawings. It was a slow and painstaking process. On being asked by one of the scientists why he was not producing a photocopy instead, he replied:
…….Drawing is a means to combine what I have learned with what I surmise, and to see if it makes sense when transferred to paper. The act of understanding an idea is an act of living with it. This is where the reflexive and reflective process of art comes not play. Making is understanding and there can be no short cuts.

Here is where the relationship between science and art comes into play. For what use is art in this context if it isn't grounded? And what purchase can science offer for the imagination if it doesn't strike a poetic chord?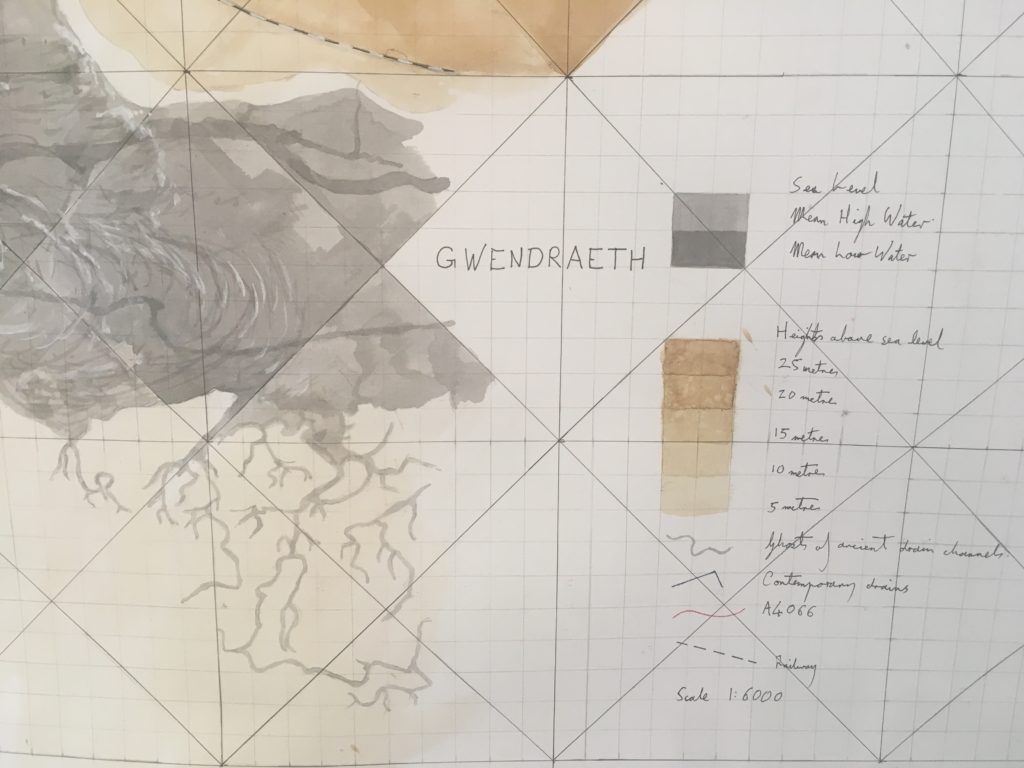 Awards, training, teaching, exhibiting
Born in Bristol, Simon Read studied at Somerset College of Art 1968-1969, University of Leeds 1969-1973 and Chelsea School of Art 1973-1975 and won an Arts Council Major Award in 1978. He went on to teach at academies such as Slade School of Fine Art, Chelsea School of Art, North-East London Polytechnic. Also at Reading and Manchester Universities and Bath Academy of Art.
For many years he enjoyed considerable success working through museum and gallery context. This has included developing an expanded interpretation of photography. Simon has exhibited his studio work widely both in the UK and abroad. Several major national and international collections own examples of his work.