Jayne Ivimey is an artist who has always dedicated her work to the environment.
She lives and works in Norfolk and has a longstanding passion for the geology, ecosystem and coastal landscapes of East Anglia. She studied Art History at the Sorbonne, Fine Art at Wimbledon College of Art and an MA at Norwich University of the Arts. But also, she spent 7 years in bird conservation in New Zealand, leading to a strong strand of interest in her work as an artist.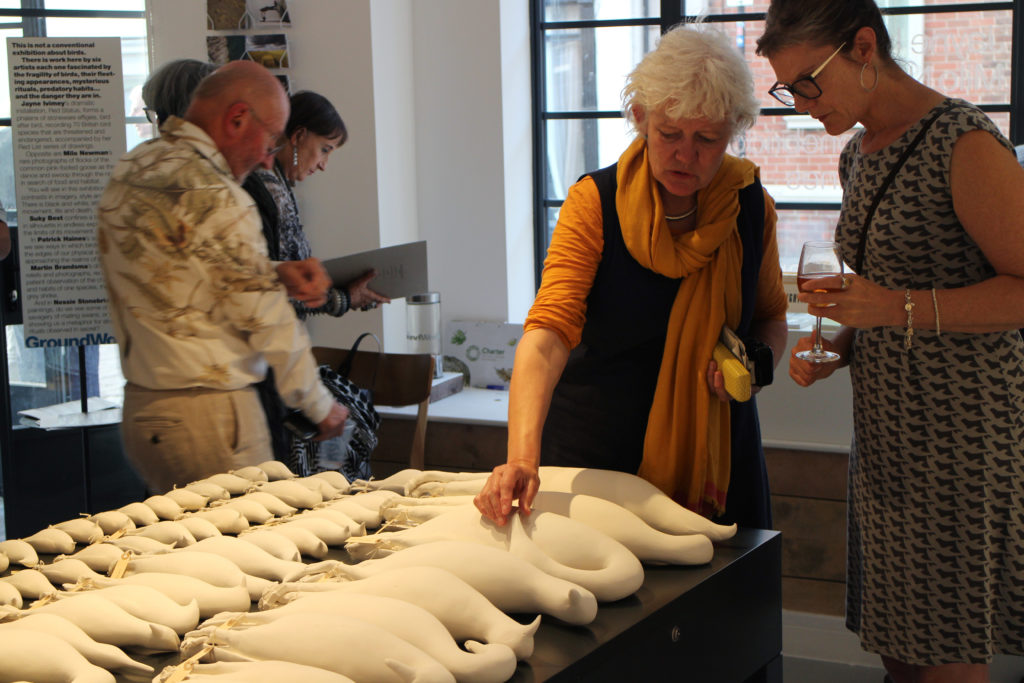 The first works Jayne showed at GroundWork were the result of this passion, in the exhibition Bird After Bird in 2017. Here she showed her stunning installation of ceramic effiegies of birds on the Red List of endangered species. You can see a fuller account of this work and read an extract from her notes on our Bird After Bird exhibition pages. This is a work she has continued to develop and has shown it a number of times in different forms, referenced on her own website https://jayneivimey.com/redlist.html.
Happisburgh cliff erosion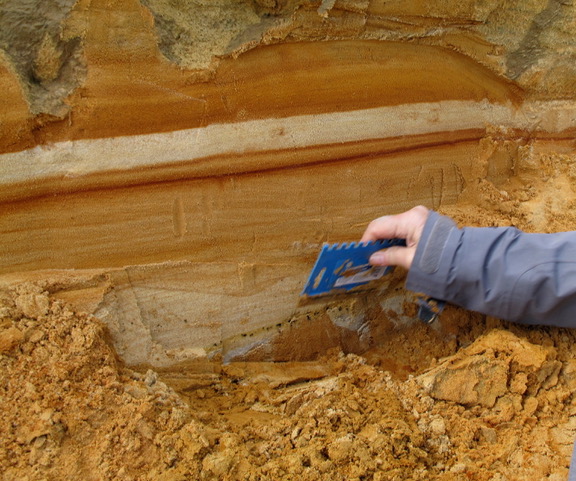 Jayne's works that we are highlighting here, are about the extraordinary coastal landscape at Happisburgh. This has become famous as a place of resilience. As one of the easternmost villages on the east coast of Norfolk, it is truly on the edge.
Storm damage
Jayne Ivimey made the drawings on this page over a period of about 3 months in 2004 after a particularly large storm.
Vulnerable cliffs
Since 2004, Jayne has been spending hours regularly drawing the landscape of the Happisburgh cliffs. Composed of a layer-cake-like sequence of silt, clay and sand, they have a repeating history of vulnerability to storm attack. Sea-surges and harsh weather are causing rapid erosion in bay-like formations.
Thirteen years at Happisburgh….
Shocked by the problems of its cliff-erosion, Jayne Ivimey continued her drawings annually, charting the rapid collapse of the seaward side of the cliff-top Beach Road.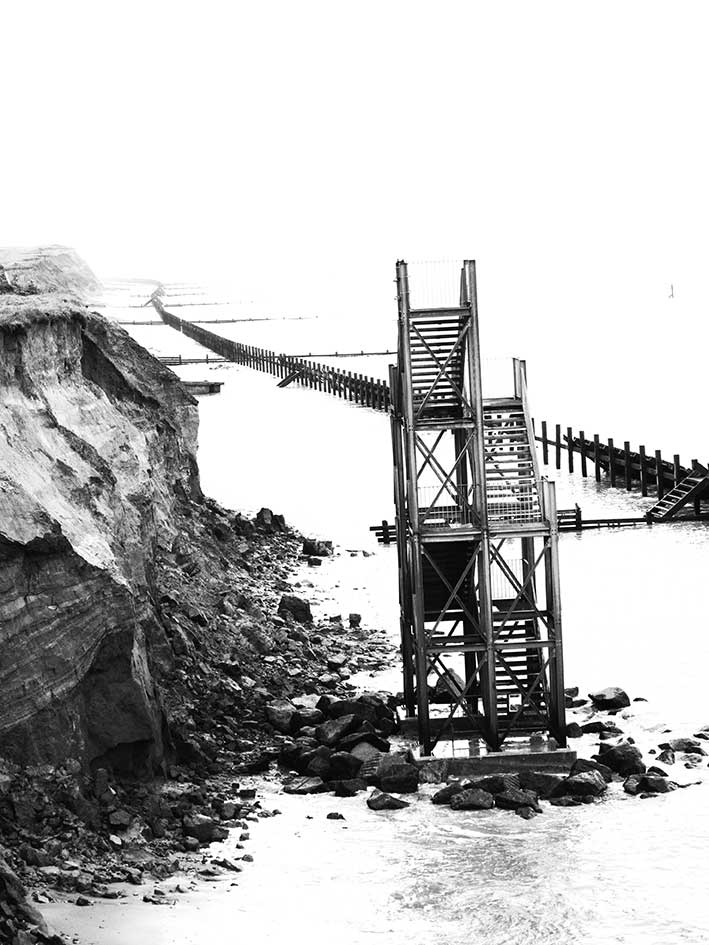 Seasonal regeneration
However, as Jayne's quote below suggests, her experience was not entirely negative. Even apparent destruction can lead to a germ of regeneration. Here it is our built environment which is suffering the consequences of storm damage, but nature survives.
Drawing and filming over 13 years on the cliff tops at Happisburgh in Norfolk, revealed a pattern of seasonal regeneration in which new life replaced old ….. reminding us that nothing in nature is permanent and that our tenuous connection with the land is ultimately beyond our control.
Jayne's work at Happisburgh continued intermittently throughout many years. Repeatedly she returned each season to observe, document and respect its losses. Many artists have been observing this place with interest. But no-one has taken such an intense view, nor looked with such care and intensity. In the course of her visits, she befriended Bryony Nierop-Reading who lived there. Her story follows….
'Because I'm part of this….'
'Because I'm part of this…..' is a short artist's film which charts the frightening progress of climate change and its effect on a Norfolk cliff-top resident. Jayne Ivimey tells her remarkable story of resilience in this moving and sensitive film.
Over the edge
For years, Happisburgh was the subject of much controversy as the Government had initially refused to renew its coastal defences. Eventually, as a result of pressure from residents, the government established the Coastal Pathfinder mitigation and engineering programme. Through this, they would be compensated. But then, as a result, they lost their cliff-top homes. Sadly, a proud terrace of Victorian houses and modern bungalows were demolished in 2012. Most villagers were rehoused. And the beach was cleared
One resident in particular held out against this. Bryony Nierop Reading, a former teacher, had a bungalow on Beach Road. It was at the end of the row, just before the steps down to the beach. She loved her view and her peace, and determined that her home would see her out.
It didn't, and in 2013, Cyclone Xaver did its shocking worst and her home tipped over the edge of the cliff. Luckily she survived.
'Because I am part of this…' was shown at GroundWork as part of the exhibition 'On the Edge', Oct-Dec 2019. You can buy copies of the film in our shop.
Life continues……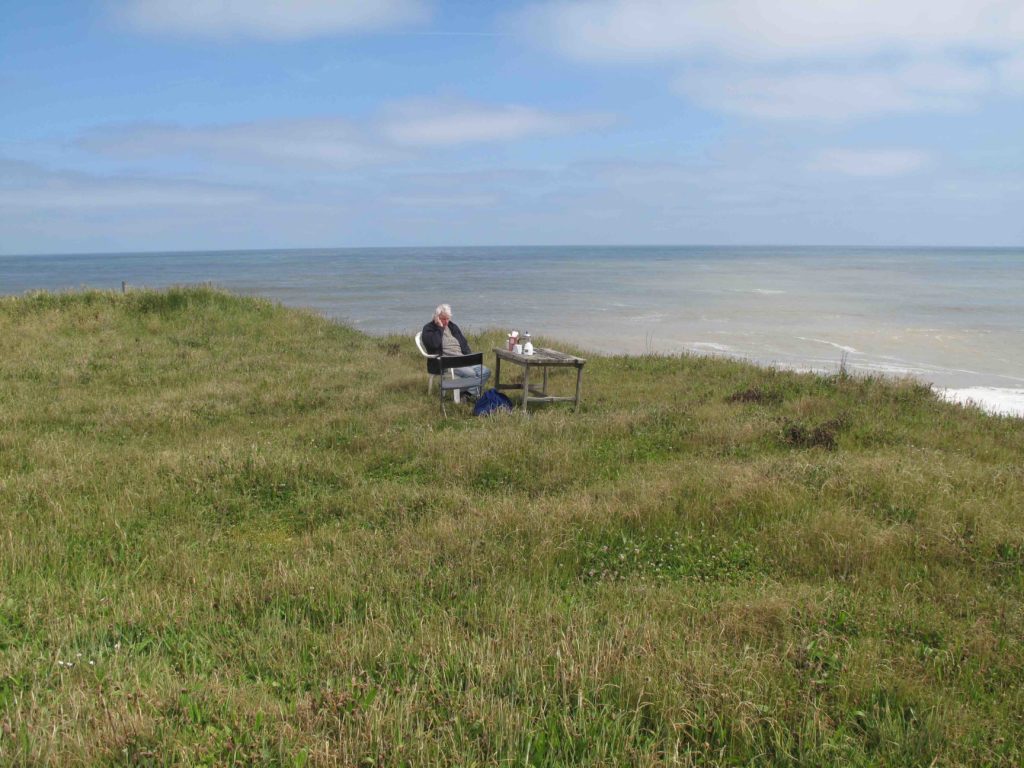 Talking to Bryony Nierop-Reading over the years inspired the making of this film.

Jayne Ivimey