Cornelia Hesse-Honegger works at the interface between art and science. An exhibitor in Bugs, Beauty and Danger, She aims to testify to the beauties of an increasingly endangered nature.
Describing herself as a 'science artist,' she worked for 25 years, as a scientific illustrator for the Natural History Museum at the University of Zurich. From 1969 onwards, she collected and painted true bugs, Heteroptera.
Morphologically disturbed bugs

Since the catastrophe of the nuclear power accident at Chernobyl in 1986 Cornelia has collected, studied and painted morphologically disturbed insects, mostly true bugs. These, she has found in the fallout areas of Chernobyl as well as in the proximity of many other nuclear installations.
Vegetation and bugs contaminated by nuclear fallout
The artist has conducted long-term research into the effects of radioactive fallout. This has convinced her that vegetation is contaminated where fallout from Chernobyl, or normal working nuclear power plants hits ground. As a consequence, insects like true bugs become to a certain degree morphologically disturbed. She has based her field studies, mostly in Switzerland, but also in many other locations including Sellafield in the UK. Her research concludes that all nuclear installations, including normal working power plants cause deformities on true bugs, Heteroptera. Above all, they are a terrible threat to nature
Early research in Switzerland
Cornelia Hesse-Honegger made her first trip in 1988 to collect true bugs in the environs of the Swiss nuclear power plants Gösgen und Leibstadt, in the Canton of Aargau. She found a big number of highly abnormal insects. As a result of the publication of her work, a huge discussion started on the dangers of low level nuclear radiation.
Of the Scorpion Fly, illustrated on the left above (she found the Soft Bug at around the same time), the artist says:
I found this insect during my first research around Swiss nuclear power plants. The amount of damage and the severances and malformations among insects completely shocked me at the time.
I published Watercolours and a text in a renowned Swiss magazine (das Magazin Nr. 15/ April 1989) For months thereafter the press discussed my suspicion, that the emissions from nuclear power plants were causing those deformations. The scientists claimed that this was not possible. Today we know more about the effect and danger of very low doses of artificial radioactivity.

Cornelia Hesse-Honegger
The evidence of art: Cornelia Hesse-Honegger's watercolours and prints
Cornelia Hesse-Honegger's work is extremely important. At first she was criticised in the scientific community, but now her work is widely acknowledged. She is often invited to speak at international meetings and conferences. Her collection of true bugs now amounts to over 18,000.
Today she and independent scientists can prove that even the lowest amount of radiation can cause cancer, illnesses, mutations and deformations. She has published many studies highlighting this issue and her watercolours and prints are exhibited internationally in museums and galleries.
Green Shield Bug, 1993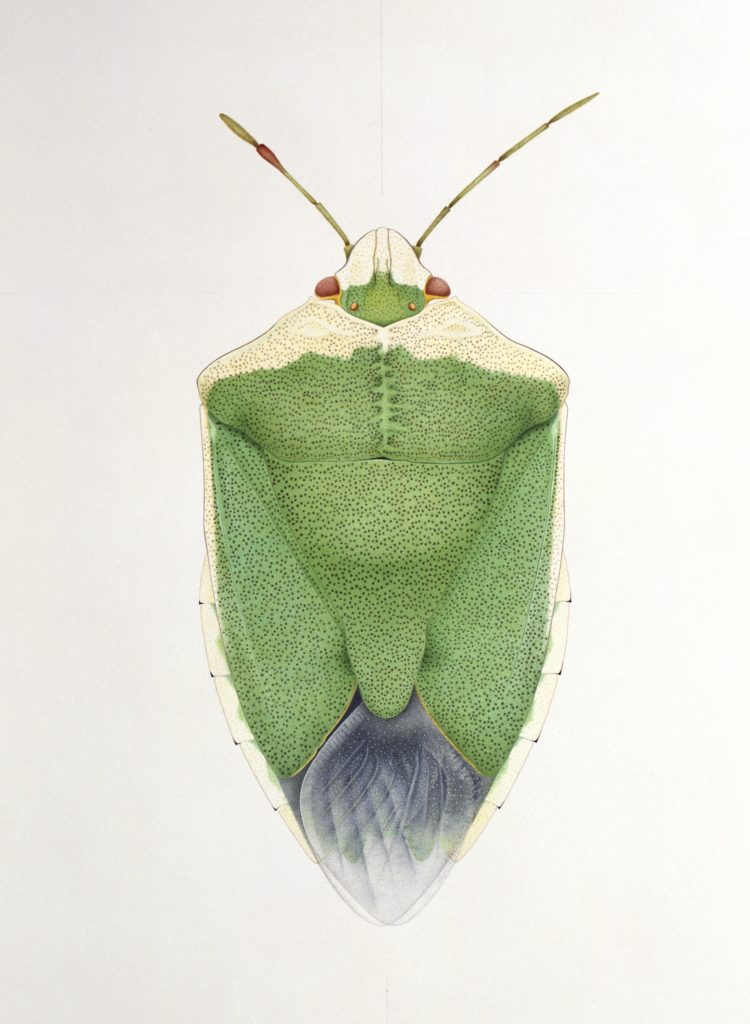 Of this Green Shield Bug, collected in the Var region of southern France in 1993, the artist says:

I collected in this area 12. 04. 1993 as a reference biotope. I painted the insect because it was so beautiful with the different greens. Out of 128 true bugs 8 had morphological deformations and 7 had dark patches on wings, thorax or abdomen. The area was very wild with no agriculture. Scientists ask for reference biotopes with no nuclear power plant nearby. In France, because there are over 50 reactors, it is difficult to find an area that is not irradiated by low-level artificial radiation.

My best reference biotope was in the Agent -Orange Spray areas in south Vietnam (2004), where out of 720 collected true bugs 11 had a disturbance.

Cornelia Hesse-Honegger
Harlequin Bug, 1992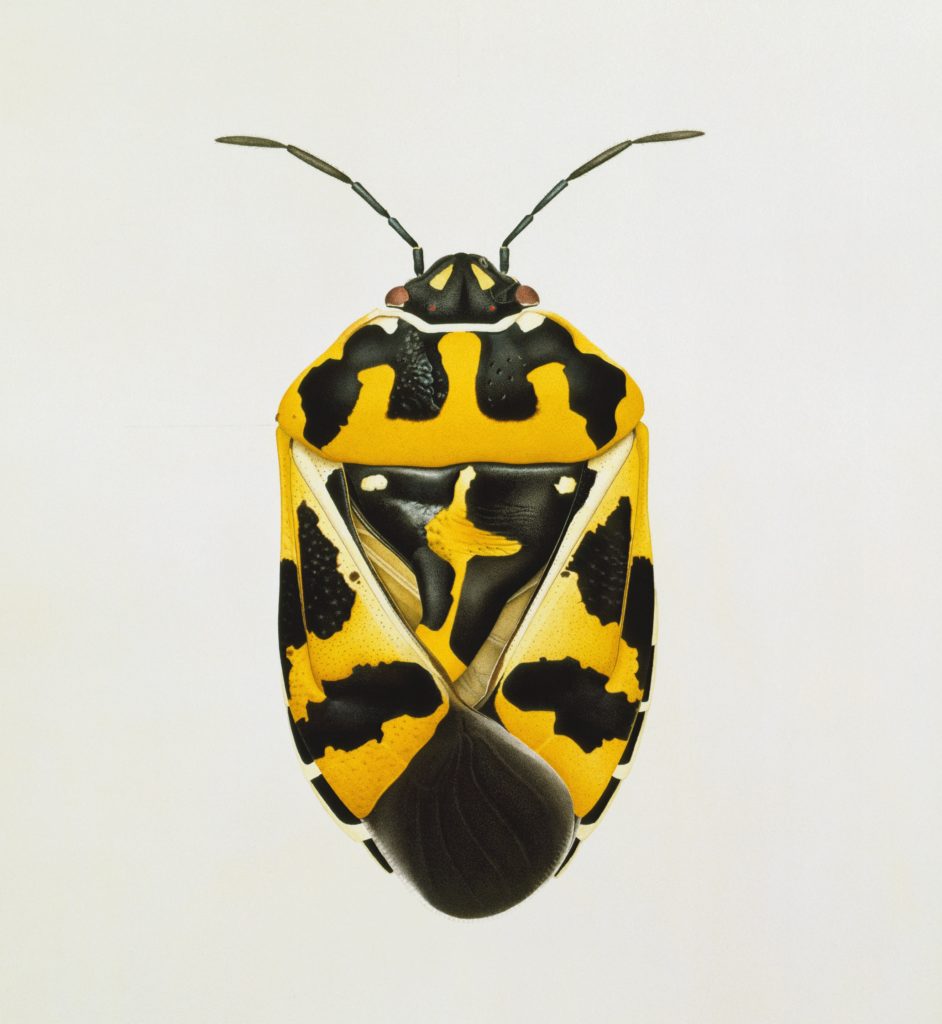 I collected this Harlequin Bug near the nuclear power plant, Three Mile Island, called Governor's Stable. The left feeler has only four sections, they are disturbed and have new sizes. The shield (at the centre back) is bent and the yellow form is asymmetrical.
The Three Mile Island accident was a partial meltdown of reactor number 2 of Three Mile Island Nuclear Generating Station (TMI-2). It was situated in Dauphin County, Pennsylvania, near Harrisburg. It was the most significant accident in U.S. commercial nuclear power plant history. On the seven-point International Nuclear Event Scale, it was rated a five as an "accident with wider consequences". There was a subsequent radiation leak on March 28, 1979.
I collected 180 degrees around the nuclear power plant in 1991. Along the Susquehanna River it was difficult because on the northern side was a steel Corporation and an international airport. On the southern side was a US Military Airport and a nature reserve. I collected on 14 sites. The worst was in the east where I found the Harlequin bug and in Goldsboro just opposite the plant in the west-north-west. As 12 years had passed between the accident and my research, I was not sure what to find. The results were shocking as one of the plants was still working. I cannot say whether the malformations were due to the accident and its cleanup, or the normal working nuclear power plant.

Cornelia Hesse-Honegger
Three Cidadas, 2017

Cornelia describes these as her most shocking discovery. They come from Shinobu Spa near Fukushima City, Japan, The left leaf-hopper has two feelers on the left side and a dark patch on the right wing. The right cicada is too small, with a growth on the thorax. The bug illustrated on the right has lost nearly all its colour.
In 2016 the Fukushima Biennale for artists invited me to give the opening speech for the Citizen Scientist International Symposium on Radiation Protection. For over two weeks beforehand, I collected true bugs and leafhoppers around the 20 km exclusion zone around the nuclear power plant Fukushima Daiichi. I observed an over 50% rate of disturbances. In areas near the power plant the true bugs were nearly extinct. One survivor was Cicadella viridis, although with heavy deformations and most of them without any natural coloring. Timothy Mousseau described a similar loss of colour on barn swallows in the Chernobyl 30 km exclusion zone.
Four Seed Bugs, 1994.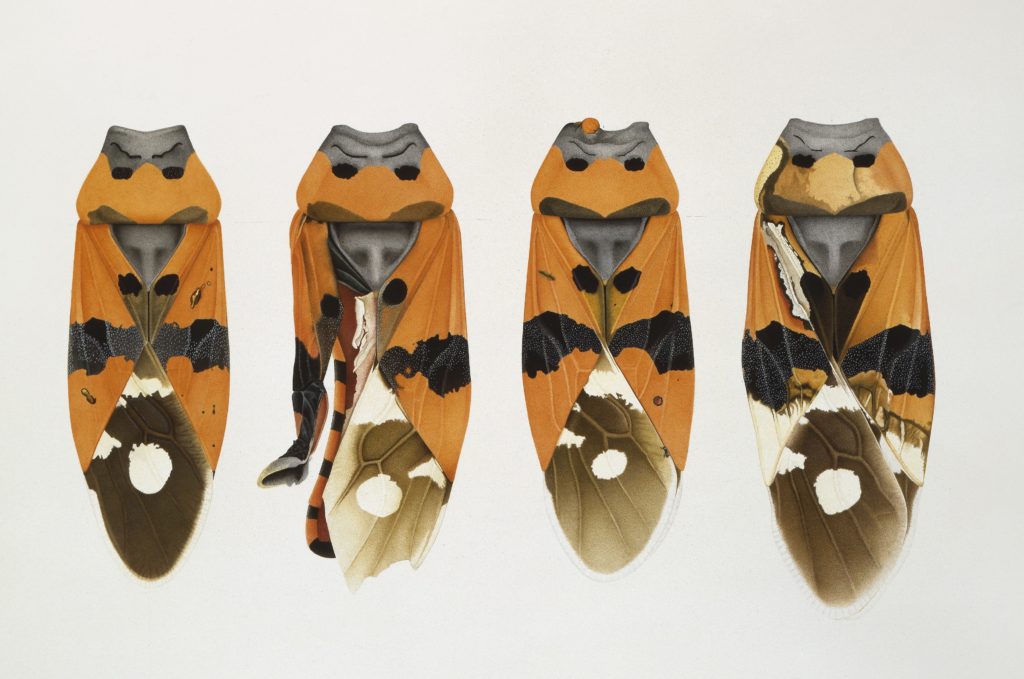 The picture shows different kind of forms of the same disturbance on the same Seed Bug species, from Tubre Italy. They have crumpled wings, blisters, holes, disturbance of pigment and chitin. Tubre was hit by the radioactive cloud from Chernobyl in 1986.
In the year following the accident in the nuclear power plant Chernobyl on April 26 1986, I was researching fallout areas in Sweden, and Ticino, in south Switzerland. Later I collected in other fallout areas in the south east of Switzerland ( Münstertal) and in adjoining areas in Italy (Tubre and Bormio). There was a high rate of deformation. At that time and even later no biologist was researching because everybody believed that the radiation from Chernobyl was harmless. These areas Münstertal and Vinchgau in Italy are very rural mountain areas with nearly no agriculture.

Cornelia Hesse-Honegger
Further references
See: Cornelia Hesse-Honegger, Heteroptera 'The Beautiful and The Other' Scalo Zürich
and
Cornelia Hesse-Honegger, Malformation of True Bugs (Heteroptera): a Phenotype Field Study on the Possible Influence of Artificial Low-Level Radioactivity, Chemistry & Biodiversity 2008
and
Locus+ commissioned and organised the touring exhibition Nach Chernobyl, 1996 and published the related book The Future's Mirror that same year.
Locus+, Newcastle upon Tyne
Morphological Abnormalities in True Bugs (Heteroptera) near Swiss
Nuclear Power Stations
Alfred Korblein, and Cornelia Hesse-Honegger

www.wissenskunst.ch
Nuclear Free Future Award 2015
Atomic Photographers Guild