£980.00
Nana Shiomi
7th May 1956, 8th May 1956, 2005
Pair of woodcut prints (vertical diptych), edition of 30
Image size: 93 x 62 cm
Paper size: 110 x 77 cm
Edition of 30
Please note: online this is sold unframed
Description
Nana Shiomi 7th May 1956, 8th May 1956 is a vertically arranged pair of woodcut prints. Each one shows a rolling wave lapping at a shore seemingly made of wooden planks. The artist, Nana Shiomi has in fact printed twice from the same block. So the prints are almost identical, but not quite, as each impression always differs. You could spend hours playing 'spot the difference'.
Nana's subject matter is very much about the purity and power of water. From the clarity of reflections, the surge of the waterfall, waves lapping at the shore, storms and tea-cups. Her varied approach to water covers all the seasons. She is a key exhibitor in Japan Water.
The title of the work
Why those dates – 7th May 1956 and 8th May 1956? Well in fact, the title refers to the artist's birthday and the day before. So, the images represent the world before her and the world with her. It is a lovely modest subtle reference to human presence in nature. There is almost no impact. And ironically the artist's impact is in the work. Printmaking is her medium and her statement. The title of the work is written on the work and Nana has offered to alter it to the dates relevant to anyone who purchases it. So you can ask her to add your birth date and the day before, or any other significant date for that matter. With appropriate dates, the prints could commemorate a death, a wedding or any landmark occasion.
About the artist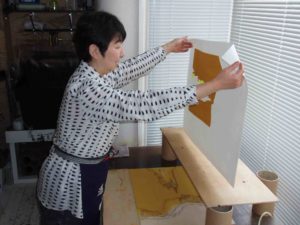 Nana Shiomi is a printmaker, born and raised in Japan, now based in south-east London. During her artistic training, completed at the Royal College of Art, 1989-1991, her identity changed. At first she only looked at Western contemporary art, but gradually she re-discovered her Japanese side and increasingly it has shaped her distinctively.
Her former tutor at the Royal College, Professor Chris Orr, says:
'Her vision has a clarity that the precision of printmaking draws out and yet there remains an enigmatic and intriguing space that defies complete analysis. Thus her work is delightful to look at and yet disturbing……
Technically her sure touch never lets her, or her audience down. It adds significantly to the tradition of Japanese printmaking but lies with great affection in the heart of our European heritage.'