Bronwen Gwillim is one of our most innovative contemporary jewellers. She recycles plastics as a raw resource for making. It is not only because she is interested in how we use the mountains of existing throwaway plastic. She seeks to reappraise plastic as a precious material.
"I make wearable, sculptural jewellery from recycled materials. Mimicking the effects of the sea, I work their surfaces till they feel natural in the hand, like a treasured pebble."
Bronwen wants to use plastic thoughtfully and sparingly. Not only does she avoid throwing it away, she cuts her shapes economically, nesting them to cut each new piece. So, for example, the oval assymetric earrings are cut from the centres of the loop earrings., This also means that her jewels form a coherent design whole. She also uses recycled silver for all the mounts.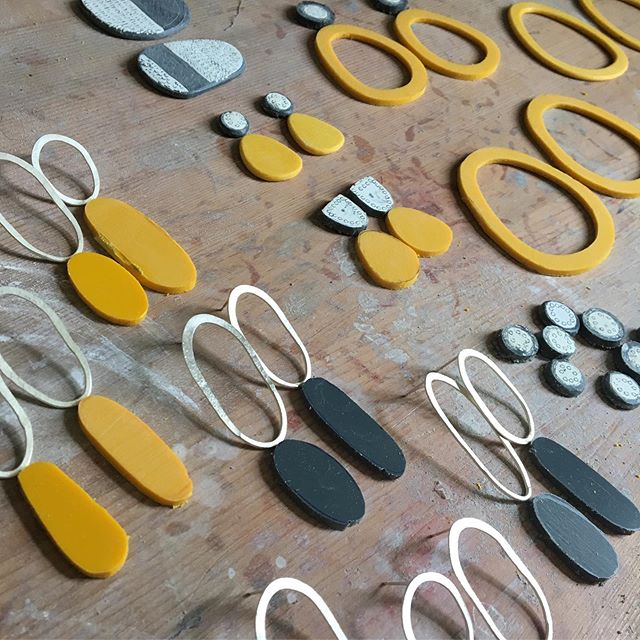 Her waste is mixed with binders and used to create a new composite material, so very little is wasted. She uses the composite material to set more complex shapes and build larger pieces. It also enables her to achieve subtlety in her stone-like mottled surfaces.
Shop Bronwen's Jewellery here
Bronwen lives by the sea in Pembrokeshire and uses plastics washed up on local beaches. She gains inspiration from effects of the light on the water. Also, from and powerful tides on the ever-changing shapes and textures of the sands and mud flats.
Her work is informed by ideas of landscape
Her colour palette of grey, blue, rust and yellow is taken directly from this landscape.
However, she begins from the intrinsic colours, textures and form of the material. She uses no dyes or paint (except for minimal decoration of her fossil pieces). The plastic is 'as found', but she is very particular about what she is prepared to use, selecting it very carefully.
Her shapes echo the landscape, resembling those found on a beach or dug up from the ground. Furthermore, as her quote above suggests, she is also inspired by the way the water forms and smooths and gradually erodes the landscape. This is evident in her slow and considered approach to making. She uses only hand tools to cut, file and scratch the surfaces. This is not only inspired by the wear and weathering in the landscape. But it is also a contrast to the industrial processes through which the plastic was made in the first place.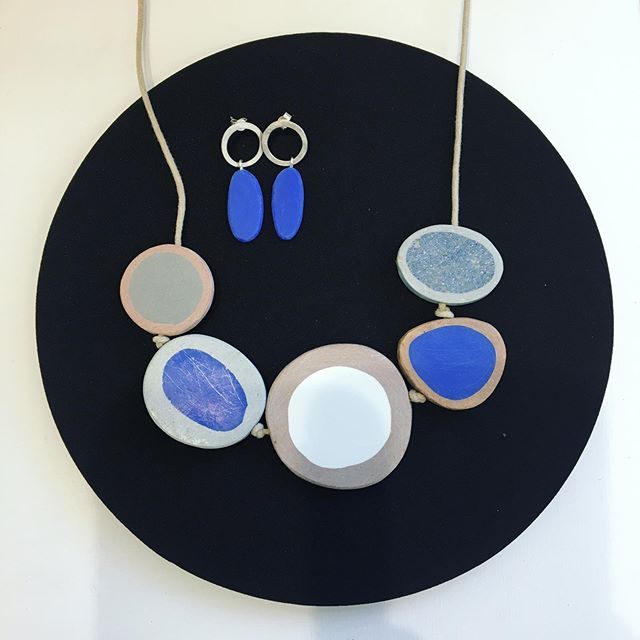 Trained as a jeweller, silversmith and textile & surface designer, at Sir John Cass, Camberwell and Bath Spa, she now calls herself a 'plasticsmith'.