This is the week for International Women's Day. For us it provides an excuse to celebrate women, to highlight their contribution to art and environment.

The big question lots of people are asking is – 'Is International Women's Day a good initiative or not?' Our question is: 'What is it that women artists bring to the environment movement that is distinctive?'
'Choose to challenge'
The theme for 2021 is 'choose to challenge', which is a brilliant one for us. Women don't NEED a day, but now we have been given one, we can use it to our advantage. It is used in the UK Parliament during this week as an occasion to list and celebrate all the women of power and impact. The women who have changed things. It is a chance for a special focus. Rather than being critical of it, I prefer to regard it as a positive occasion to celebrate women openly, to boast a bit. This blog will give it a bit of legacy too.
Celebrating women artists and the environment
So, over a couple of days, I made 4 Instagram posts about women artists and the environment, illustrating lots of work.
Of course in the Instagram grid format of little squares – worse on a phone screen – it evens them all up. It masks the fact that they are different scales, different media, very different contexts, subjects, interests. But nevertheless, the immense variety of images is very striking.
In the images below, I have captioned each group, summarising their main subject or material. Each grid is numbered from the top left, moving across each row in turn.
'Choose to challenge' describes the attitude of many women artists
In the course of doing these image groupings, it made me think.
And I used the occasion of International Women's Art Day to do a bit of counting.
I worked out that of the 70 or so artists I have shown at GroundWork so far, more than half have been (are! ) women. Without me even trying to fix it like that, it has happened.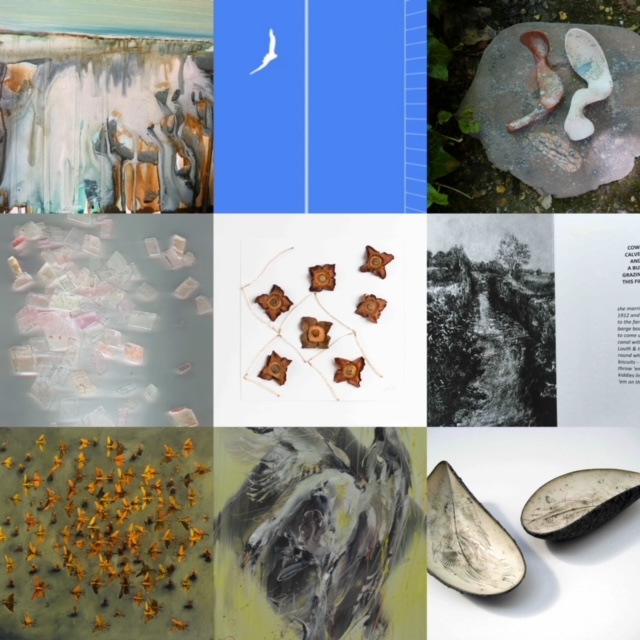 What is striking about women's art and environment is deep research and fearless experiment
What is striking about the collection of images of art by women GroundWork Gallery has shown, is the range of subject matter. But, more so it is the intensity of thought and energy that has gone into each representation. These images are hard-won. The product of deep thought. Real research and knowledge lies behind them. Fearless experiment. An absolute balance between abstraction and figuration, between design and subject matter. And perhaps, most importantly, a real attitude of equality among the choice and use of materials. There is no hierarchy of materials or media. Ultimately they are resourceful.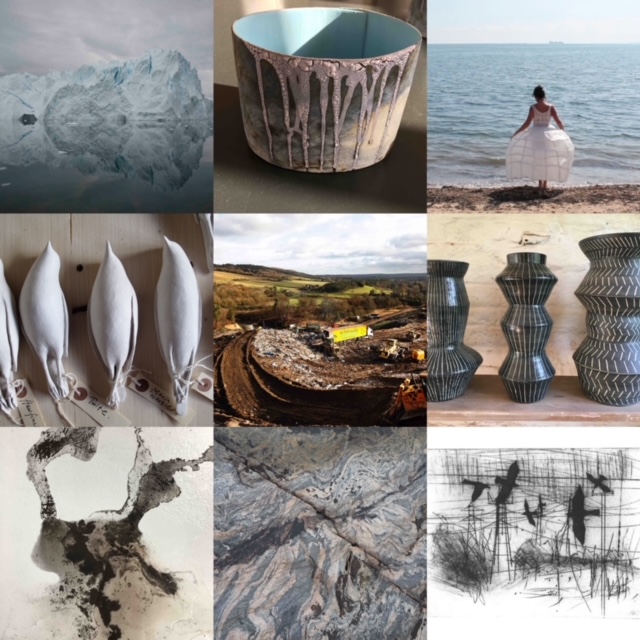 What is striking about women's art and environment is that there are no hierarchies
Overall I have been keen, (as I said in my first Instagram post), to dissolve the hierarchies between art and craft. That is not a gender thing, but more of a cross-cultural one. Having been trained for many years in the Sainsbury Centre, with a collection of World Art, it is very clear that the majority of the world's art through time has been related either to domestic or to ritual. Most of it is 3D. Very little, except the art of the West is made of flat stretched canvas with paint on… But in fact, although of course there are oil-painters, women artists have picked up on that variety of scale and context, maybe unintentionally….
Anyhow, I would love to hear from you if you agree or disagree – send an e mail (find it on the contact page)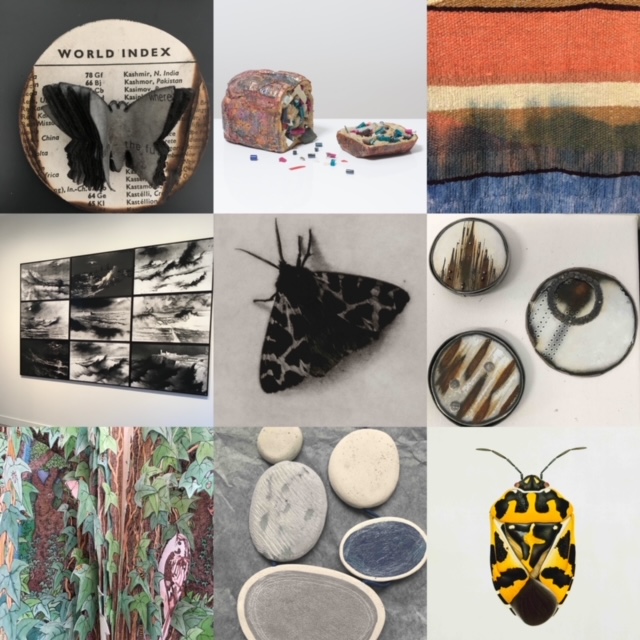 What is it that women artists bring to the environment?
In asking the question, 'What is it that women artists bring to the environment movement that is distinctive?'
we will leave the last word to @grayjordanart1:

I certainly do think that many women bring a special quality and much of it is bound up with refusing to respect arbitrary rules including those about what is craft and what is 'important art' . Somewhere in the art/craft debate is a crucial element of humbleness and without that, it is very hard to accept we are equals within the life-web of the world. I feel happy to see the progress on these debates as I remember clearly trying to write a final paper on this exact topic during a conceptual art degree in '99 and getting into such a row that I quit art for years. I also find a lot of women had a terrible art school experience so maybe that contributes to the rebellious perspective.
International Women's Day: a post-script
In fact International Women's Day is longstanding and predates even women's universal suffrage, having been founded in 1911 in New York as part of the earliest modern day fight for women's rights. Then, and for many years after, it had a real purpose.

Of course it is tokenistic. like any of the other commemorative days, such as – World Aids Day, World Poetry Day, World Day to combat Desertification and Drought, even Mother's Day. Almost every day in the World calendar commemorates something.
Now, post-Feminism, it has lost so much impact. Perhaps in our age when we expect women to take power without question, it exists as a reminder of the fights that got us here? Or, is the implication, as my sister says in her Instagram @visiblemend, that all the other days are for men?
Well, for me, the fact that there remains a single day for women is a legacy of history that we need to continue to remember. I shall continue to use it as an excuse to take stock and to celebrate women's role in creating a sustainable environment.