GroundWork Gallery, King's Lynn
The gallery opened in Summer 2016 with Sunlight and Gravity, containing exquisite works by the late Roger Ackling, made by burning sunlight marks onto driftwood. Shortly before he died of motor neurone disease, the artist agreed to exhibit, bringing in his best friend, Richard Long to show alongside him. At his suggestion, Richard made a new large mud drawing for the gallery wall, by throwing at it a bucket of dilute mud from the tidal Great Ouse. As the mud dried, it gradually revealed its structural pattern, looped high on the wall and beautifully feathered and branched. It remains as a signature work, as a symbol of the will of nature and the knowledge of the artist recognising its power. If it wasn't already evident, what has also become even clearer through the ten exhibitions that have succeeded Sunlight and Gravity, is how significant a figure is Richard Long. While he never professes to be 'an environmental artist' his work, often conducted alone, outside, in challenging locations around the world, has given inspiration – and courage – to so many young artists who look up to him and feel honoured to show their work alongside his. Also, there are those conversations. The Great Ouse Mud Drawing, 2016, has been a brilliant conversation piece, especially with those people whose opening gambit is: ' and did the builders throw their coffee at the wall there?'. That begins a discussion about value, knowledge, skill, seeing the river as never before. Supporting the work of artists who care, whether explicitly or implicitly about the environment is one thing.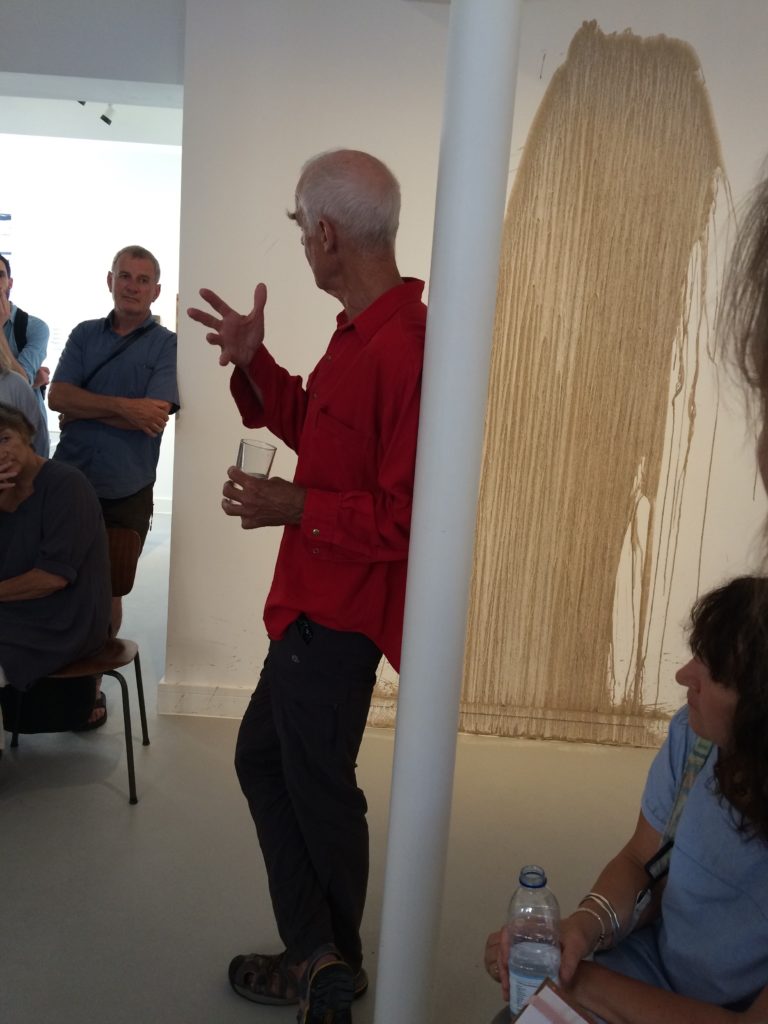 There have been some notable one-person shows, which included the first significant exhibition in England devoted to the great natural scientist-artist, herman de vries, On the Stony Path; and also TrashArt, the first in the UK for Jan Eric Visser, a wonderful Dutch artist who recycles all his household paper waste to make sculpture. However, what I have gradually learned, is that the job of the gallery is not about offering solo exhibitions, but to bring artists together across disciplines so as to create a larger reflection about the environmental issues at hand. In fact, even these two exhibitions also involved accompanying displays by other artists – Shaped by Stone was alongside herman de vries. Visser's show inspired the first community project: Waste Transformed, funded by the British Science Association to involve a group of sufferers of domestic abuse. This turned into a major programme of learning about, and experimenting with waste plastic to make art, which did indeed transform attitudes to science and the environment, as well as giving people personal confidence.
In developing the programme, the environmental theme always becomes the main driver, but that in itself is suggested by the artists' work. Water Rising formed the main theme for the Spring 2019 exhibition. Some significant artists were involved: Peter Matthews, Susan Hiller, Simon Faithfull, Lynn Dennison; different media from film to painting, including: Annie Turner, (ceramic) Stewart Hearn (glass), Roger Coulam (photography), Sophie Marritt (paint). The initial idea came from the work of Peter Matthews, a regular surfer, who uses the oceans as his studio. spending hours in the water drawing. He then translates the imagery onto canvas, to make paintings, which also act as his overnight shelter on the shore. Literally he lives with his work on many levels. The meditative process, the risk and danger it involves contributes to the power of the result. The lone figure surviving, or being submerged in calm waters, is a recurrent theme for other works in the exhibition. Simon Faithfull's thought-provoking film, Going Nowhere 1.5, shows a man in a yellow suit purposefully trudging round an ever decreasing circle of sand in an intertidal zone, until he is no longer visible as the camera pans over the vast seas. Though it is intended to be an unspecific location, in fact the work was made off the coastline at Wells Next the Sea in Norfolk, greatly facilitated by the harbourmaster, Robert Smith, who found us the location. Other works are about the more obvious danger and beauty of storms attacking the shore, and then, artefacts in other media tackle practical issues, about efforts to save water as a precious resource, about forming barriers to contain its force. What the exhibition did, was to raise some of our concerns about water in a mixture of ways that art is good at dealing with – imagination, fears, practical solutions, humour, wonder. Thanks to local advice and advocacy, the exhibition attracted sponsorship and involvement of Anglia nWater, which helped us to consolidate its messages and set it on a path of greater impact on wider attitudes to water and its futures.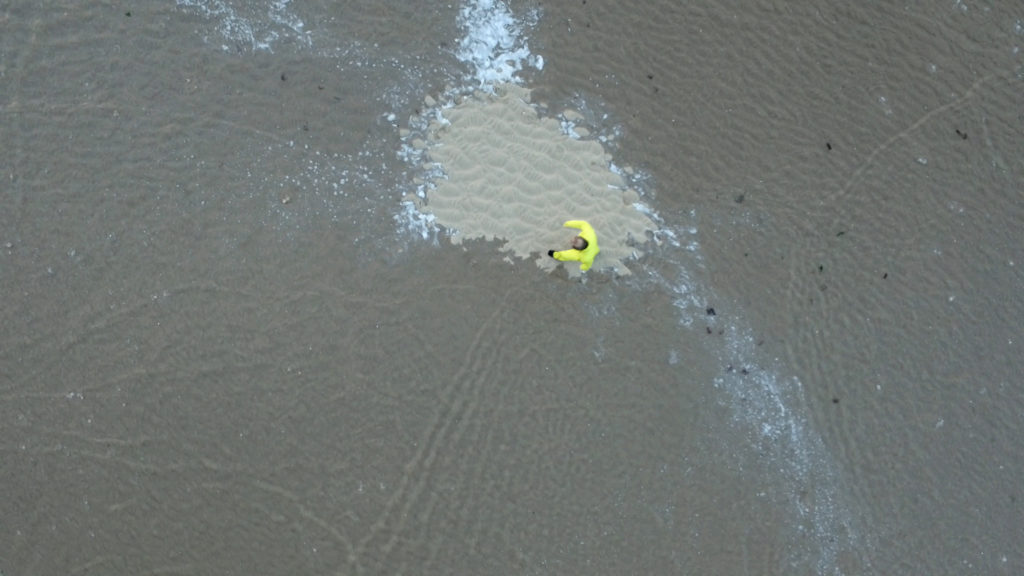 There are three exhibitions per year. Water will come up regularly, and a river exhibition is planned for 2021. Other themes are recurring, such as nature, plants, and the need for conservation and vigilance; the impact of pollution, climate change. The summer's theme for 2019 was Fragile Nature featuring two 80 year-old women artists, alongside two in their 20s, demonstrating attitudes to control and freedom in the way they make art. The final exhibition for 2019, On the Edge, tackled crossing categories, hybrids, suburbs – both literal and conceptual edges,. Some of the artists the gallery supports are people I have long known, but an increasing number have come to me to discuss their work, or have been generously recommended by their peers. I am always keen to promote sustainable practice and ideas which inspire wider public involvement. I am also increasingly missionary about the need for an ethical consumer culture around art. If we want good artists to live by their work, we have to buy it, but also we need to make better informed choices in the interests of a healthy environment. With that in mind, we are engaging in a new project looking at environmentally sustainable ethical jewellery. The gallery has always sold jewellery made by artists, and I always maintain that a wearer can use it to talk about the environment, no less than they could from a bigger work of art which is not so portable. The project is being led by Naomi Langford, under the banner GroundJewels, and is funded by the European Regional Development fund, and is about bringing new products to market in innovative ways. As with everything the gallery does, the main aim is to connect art and environment, involving artists and public in working positively together for the healthiest possible environmental future.
What has been very heartening about the whole GroundWork project is how it has been welcomed by the town and by the artistic community both locally and further afield. It has won several awards, among them, one for art and environment from CIWEM, (the Chartered Institution of Water and Environmental Management) and the Centre for Contemporary Art and the Natural World and one from the Mayor of King's Lynn, for the design of the building's conversion by Hudson architects and Norfolk Building Co. Most gratifying are the ways in which fruitful interactions through its programming between artistic and environmental themes, between artists and specialists in contingent fields of science and engineering, between writers and film-makers, across different generations and with a widening public at large, have led to the building of a larger culture linking art and environment and with a rippling effect of advocacy and influence. It exemplifies the old mantra of the environment movement, 'think locally act globally', or maybe it should be more appropriately 'think globally, act locally'.
Veronica Sekules, Director
A version of this article was published in Norfolk Coast Guardian, published by the Norfolk Coast Partnership, Spring 2019
"Roger Ackling, who died in 2014, harnessed one of the most powerful sources of nature in a direct and transformation manner – Sunlight."
It began at GROUNDLEVEL
GROUNDWORK GALLERY'S FIRST BLOG by PIPPA LACEY
This blog provides a virtual window into the workings and musings of the remarkable GroundWork Gallery, a new space committed to all aspects of the environment, and to the artists and designers whose ideas and works enable us to think about the fundamental elements of the world which we inhabit.
Our first posting offers an introduction to the recently inaugurated GroundWork Gallery, established in July 2016. We invite you to visit the Gallery in King's Lynn, to explore the GroundWork website and to keep an eye open for forthcoming educational events, talks and discussions. Please sign up to our mailing list to receive regular GroundLevel postings (right).
This month, GroundWork launches a new exhibition Out of the Wood, 5 November to 17 December 2016. Out of the Wood celebrates trees, forests and the art of wood through the work of ten artists and designers: Dominic Ash, Lorraine Bewick, Lee Grandjean, Doo Gurney, Ian Tyson, Calum McClure, Par Avion, Tim Plunkett, Tim Simmons and Tara Books & Gond artists from India. This arboreal exhibition marks the beginning of a year-long Trees, Woods and People campaign by the Woodland Trust culminating with a Charter in November 2017. GroundWork has signed up as one of more than 50 Woodland Trust's charter champions and will work through 2017 to raise awareness of the importance of trees, woods and forests, in King's Lynn and beyond.
GroundWork is a new contemporary art gallery located in the heart of King's Lynn, a pebble's throw from the historic Purfleet Quay. There are several unusual things about GroundWork and its founding concept that make this gallery an important addition to King's Lynn, to the national art scene and the international contemporary art world: the Gallery's broad vision, its pioneering aims and commitment to the environment and the building itself, transformed from a modest derelict brick building into a sleek town centre arts hub.
GroundWork is the vision of Director, Veronica Sekules, a passionate environmentalist with a wealth of experience working in art galleries and museums. GroundWork is dedicated to all aspects of the environment: from the wider atmosphere, the landscape, sea and shore, to its physical elements, stones, sand, water, mud, trees and plants. Veronica's concept is to reflect and show the ways in which artists record its character, its beauties, its puzzles and its threats and its dangers.
GroundWork's Director, Veronica Sekules is a passionate environmentalist.
Veronica Sekules says: "GroundWork aims to be a centre of activity, information, discussion and conviviality where people see and enjoy art, which helps them to think about the environment more deeply." By bringing together and displaying works of local, national and international artists, Veronica plans to encourage conversations and debates about the world in which we live and the ways that as humans we interact, respond and are inspired by our environment.
Environmental Passion Veronica Sekules brings more than 30 years of experience working with artists both as a curator and as an educationalist. She was Curator, Head of Education & Research and Deputy Director of the Sainsbury Centre for Visual Arts, University of East Anglia. During her career, she ran many projects, including Culture of the Countryside, a three-year Heritage Lottery funded programme, between 2008 – 2011. The project aimed 'to encourage a better understanding of the culture and heritage of the East Anglian counties through direct engagement with the Sainsbury Centre collections of art from around the world'. Her forthcoming book, Cultures of the Countryside and the Museum, is published by Taylor & Francis and traces the relationship between the museum and the micro-cultures of the countryside over the last 50 years, including: agricultural mechanisation, rural depopulation and changing demographics, the growth of environmental activism and the development of the heritage industry.
Veronica was one of the editors for World Art, a peer-reviewed journal published by Routledge. She trained as an art historian, has an MA in education, a PhD in Medieval Art and is an active educational researcher and writer, specialising in the Middle Ages and 20th-century art. She is widely published in these areas. She is also a member of the Children in Museums Award committee and is currently chair of judges.
GroundWork's inaugural exhibition, Sunlight and Gravity, July 2016
To underline the fact that this pioneering space intends to place King's Lynn on the international art map, GroundWork opened in July 2016 with a literally groundbreaking exhibition Sunlight and Gravity featuring the works of two internationally renowned British artists, friends and collaborators, Richard Long and Roger Ackling.
Roger Ackling, Sunlight
Richard Long made his indelible mark on the main wall of GroundWork, 'baptising' the gallery with mud from the nearby Great Ouse to create his latest Mud series work: The Great Ouse River Drawing July 2016 (detail above left). Richard Long began creating his Mud series of works in the 1990s, with dramatic thrown splash works made spontaneously on gallery walls and floors in London, New York, Los Angeles, Athens, Paris, Dusseldorf and Rome. The GroundWork Gallery now counts among these major art centres as a location for a site-specific monumental work.
Richard Long, Great Ouse River Drawing (detail) , July 2016
Although they lived at opposite cardinal points of England: Roger Ackling in Norfolk and Richard Long in Bristol, the two friends exchanged pieces of driftwood to create works for their 2006 New York exhibition: 1 + 1 = 2. 'Long would mark his Avon driftwood and sent them to Ackling, and Ackling did likewise in reverse with his Norfolk driftwood', says Veronica. Ackling inscribed his trademark sun-etches on the wood; Long, his muddy fingerprint stamps. Together they created works that occupy both the physical and spiritual realm, each in their own personal way (above right).
Roger Ackling, who died in 2014, harnessed one of the most powerful sources of nature in a direct and transforming manner. His careful and deliberate use of the sun's energy to inscribe indelible scorch marks into wood ensured that his work was highly weather-dependent. His neatly systematised weather notebooks were on display in Sunlight and Gravity for the first time.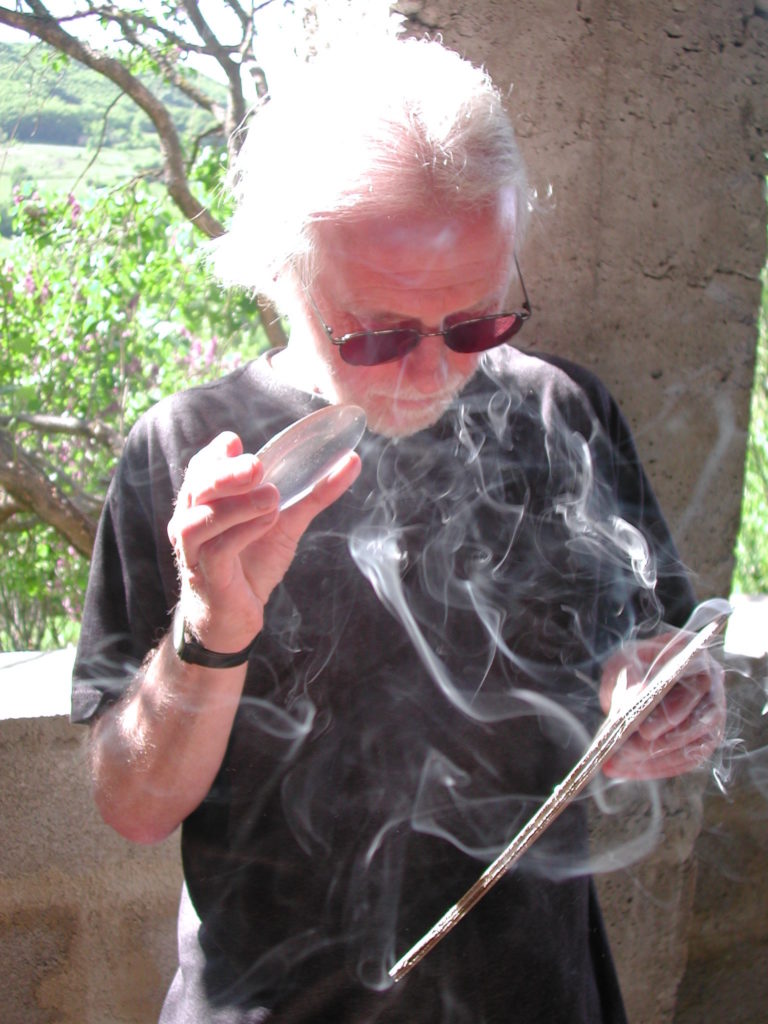 17 Purfleet Street One of the last remaining 1930s industrial buildings in the centre of King's Lynn, 17 Purfleet Street started life as a modest two-storey, flat-roofed brick-built carpenter's workshop and store. After the death of master carpenter and reproduction furniture maker, Charles Winlove, the building lay empty and neglected for two decades before Sandy Heslop and Veronica Sekules found it. Spotting the potential of the site as a gallery and accommodation, they began complex negotiations with local planning and national heritage authorities to restore the building and breathe new life into the overlooked space; at the same time, they evolved their ambitious plans for regeneration.
As with so many grandes passions before, finding 17 Purfleet Street was accidental and their love affair was whirlwind. Veronica Sekules recalls: "We bought the building by chance almost. Having inherited some money, we wanted to invest wisely and decided to buy a lettable property in King's Lynn. We had always loved the town, beautiful, historic but not quite flourishing at the moment and in need of wider discovery and attention. We imagined buying a little terraced house, then we saw 17 Purfleet Street, a plain and modest little industrial building in the heart of the historic town and despite its damaged condition, immediately realised it had huge potential. The setting is amazing, right opposite the seventeenth century Custom House, which is, as our late friend, architectural historian, David Thomson used to say: 'one of the best small buildings in Europe."
So began Sandy and Veronica's two-year long process to transform the Winlove Building, as 17 Purfleet Street is known, from a derelict ruin of a building into contemporary art space, shop and holiday accommodation. For the first part story of their Grand Designs transformation, read Veronica's post Regeneration from the Ground Upwards in King's Lynn (Part I).
The tardis-like building is deceptive from the outside (above). Behind its unassuming brick facade, the interior has been sensitively transformed by Hudson Architects and the Norfolk Building Company. On Ground Level is the 60 square metre Main Gallery, complete with Richard Long's The Great Ouse River Drawing, in situon the entrance wall, created for its opening exhibition in July 2016. There is a certain additional aptness to this work; during a building survey they discovered that No 17 stands upon the ancient silt of the Purfleet, a tributary of the River Great Ouse and while the present building is quite secure, it was not be possible to add the planned new second storey without prohibitively expensive deep-pile raft foundations. Original plans for the top floor were creatively reworked to become a penthouse loft, with a light-weight wooden framed roof, in order to maintain the building's structural integrity.
First Floor Living Room, GroundWork Gallery
The bright First Floor Living Room with its enlarged windows (left) provides flexible space acting as additional gallery or project space, meeting room, shop-come-studio space, complete with fully functioning kitchen and a wooden terrace.
A top floor Penthouse loft apartment looks out at beautiful views across central King's Lynn and to the neighbouring Grade I Listed Custom House and Purfleet Quay. The modern in-the-eaves Penthouse studio has a contemporary style, including colourful soft furnishings by London-based artist, Ptolemy Mann and decorations of British wool and slate. The Penthouse is available as a holiday let, sleeping between two to four people. The First Floor Living Room can also be converted into sleeping accommodation with sofa beds for two to four people, available after 5 pm. Proceeds from the rentals support the funding of the Gallery's programmes.
A connecting industrial stairwell allows further display space for large-scale works, such as Richard Long's From Circle to Circle from Space to Earth during Sunlight and Gravity. During the current Out of the Wood exhibition, a large patterned barkcloth from Tonga hangs on the stairs up to the Penthouse.
Woodland Trust Charter ChampionsGroundWork Gallery is one of more than 50 Charter Champions for the Woodland Trust's Trees, Woods and People Charter. The Woodland Trust aims to produce a new Charter 'to influence policy and practice and celebrate the role that trees and woods play in our lives'. The Charter will launch on 6th November 2017, the 800th anniversary of the Charter of the Forest.
Throughout 2017, the Woodland Trust and its Charter Champions are collecting stories about what trees and woods mean to people; and building a picture of their value to everyone in the UK.
These stories will help to create a set of guiding principles around which the Charter is to be written. https://treecharter.uk #TreeCharter
Follow GroundWork GalleryFacebook Twitter@GroundworkKL#outofthewood#kingslynn
Pippa Lacey, November 2016
KIng's Lynn Custom House
King's Lynn Purfleet Quay
Tree Stories: Harding's Pits Doorstep Green
Harding's Pits
Richard Morrish, Chartered Landscape Architect:
Harding's Pits Doorstep Green
Sometime in 2003, a man rang and said: 'Would you like to come and help us with our community project in King's Lynn? We need to put in a grant application.' His name was Roger Turff, a semi-retired journalist who lived on Queen Street in central Kings Lynn. Roger had been asked by a local Councillor to develop a community-led project for Harding's Pits, about five acres of open space in South Lynn that is owned by King's Lynn Borough Council.
The history of this space is quite extraordinary. It is thought to be named after a 19th century Victorian entrepreneur, engineer and farmer called William Derisley Harding who developed the brick pits. In WWI, requisitioned warhorses grazed here before heading to the Western Front in France. In the 20th century, it became a municipal rubbish dump. Then in the 1960s, the dump was capped off and it was used as a fairground winter retreat for the fairground travellers. All the people of South Lynn had used the space for generations and there are lots of good stories about Harding's Pits. I met one lady who said she had conceived one of her children there. The Council had tried to sell the site to supermarket developers in the mid-1990s but there was a lot of opposition because although it was basically a wasteland, locals revere this space. Local people had all used, or abused, it for many years and they didn't want it to be developed.
ity.
Woodland Trust Charter ChampionsGroundWork Gallery is one of more than 50 Charter Champions for the Woodland Trust's Trees, Woods and People Charter. The Woodland Trust aims to produce a new Charter 'to influence policy and practice and celebrate the role that trees and woods play in our lives'. The Charter will launch on 6th November 2017, the 800th anniversary of the Charter of the Forest.
Throughout 2017, the Woodland Trust and its Charter Champions are collecting stories about what trees and woods mean to people; and building a picture of their value to everyone in the UK.
These stories will help to create a set of guiding principles around which the Charter is to be written. https://treecharter.uk #TreeCharter
Follow GroundWork GalleryFacebook Twitter@GroundworkKL#outofthewood#kingslynn
Pippa Lacey, November 2016
Tree Stories
On Monday 12 December 2016, GroundWork hosted a fun and informative evening of Art and Trees. Many thanks to all who attended and to those who have already donated their Tree Stories for the Woodland Trust Charter for Trees, Woods and People campaign. Lucy Faulkner-Gawlinski's wonderful tale of her two walnut trees, Pippa Turlow's lone childhood tree and Benjamin Musgrave's lovely lilac tree are the first of your personal Tree Stories. We plan to share more Tree Stories throughout 2017. Keep the stories coming.
Lucy Faulkner-Gawlinski: A Walnut Tree I was a widow with three little boys. I had to find a house for us to start our new life in. The house I found had a mature walnut in the back garden. I loved it – the smooth bark, the horizontal branches, one of which quickly became a swing branch and the spicy scent of the leaves in the spring was the best thing of all. A few years went by and my brother, who was training as a boatbuilder, came and built a treehouse for us. It was a perfect place to sit with a book amongst the leaves and it was also the site of a memorable water fight.
Then I found I was in love, and with someone who was prepared to take on my three-not-so-little boys. So we had to move house. I was sorry to leave the tree and the tree house. As I was scraping up the last crop of walnuts, I found one that had split and had a shoot emerging. So, I took it and it was the first thing I planted in the new garden. It is now a substantial tree and I have my eye on one particular branch for the grandchildren's swing.
Pippa Thurlow: The Lone Tree In December 1940, my father, a soldier aged 28 years, married my mother, not yet aged 18. A decision probably predicated by the death of my grandmother's fiancé at Gallipoli. She was a sister on a hospital ship based at Alexandria at the time. She did go to Gallipoli. Apart from the occasional desultory lodgings through the war, my parents did not have a home or life together until 1948. My sister was born in 1942, myself in 1945. Our early years were spent with our mother at our grandparents house in a rural Essex village. A few fields away up a sloping footpath on the skyline stood a lone tree. This was our walk, or rather where small legs ran to get there first, and to find our mother's initial 'K' carved in the bark by our father. Over the years the tree became gaunt, the bark more deeply rutted, the 'K' distorted and more difficult to find. But perhaps there begins my love and respect of trees. In my mind I can search those bark ridges with my fingers still.
GroundWork Gallery Facebook Twitter@GroundworkKL #outofthewood #kingslynn
Pippa Lacey, December 2016