Placrylic plant-based paint is a revolutionary discovery by artist hana of a range of paints made entirely from vegetable matter. It contains no plastics and no toxins. We heard about Placrylic from artist hana directly, when she contacted the gallery to see if we might be interested. Funnily enough, a number of us were in the middle of a discussion about exactly this subject. Acrylic paints are a complete anomaly for artists who are serious about the environment and wanting to be ecologically minded. Why was it taking so long for new kinds of non-plastic artist paints to be developed? But artist hana has got us there …..read on…..
Discussions about paint with Mary Blue
Over the course of the last few weeks I have been talking frequently to Mary Blue, one of the artists showing in Deep Water. Mary and I have known each other for a few years and I have watched her career as an artist develop. Knowing her environmental credentials and passion for sustainability I was looking for an opportunity to show her work. With Deep Water it came. She lives right by the sea at one of Norfolk's premier coastal resorts, Wells-next-the-sea. It is a charming and largely unspoilt fishing town. However, as we learned during our summer Extraction exhibit and residency programme, its coastline is suffering from erosion. This is a result of aggregate dredging and the increasing effects of climate change. Knowing this, has heightened Mary's attitude to the sea as subject matter. The climate imperative deepened the impact and power of her approach to imagery.
The problems with oils and acrylic
One niggling doubt remained however. In the course of preparing exhibit labels, our conversation turned to the media Mary uses: oil and acrylic. These are of course ubiquitous materials used by most artists. However, I have long been concerned by acrylic in particular and try to avoid showing works painted in the medium. A few years ago for our project Waste Transformed, GroundWork was involved with Andrew Mayes, a well-known chemist, and expert in micro plastics, from the University of East Anglia. I remember distinctly him saying that billions of micro particles of plastics are washed down the sink from every brush-full of paint.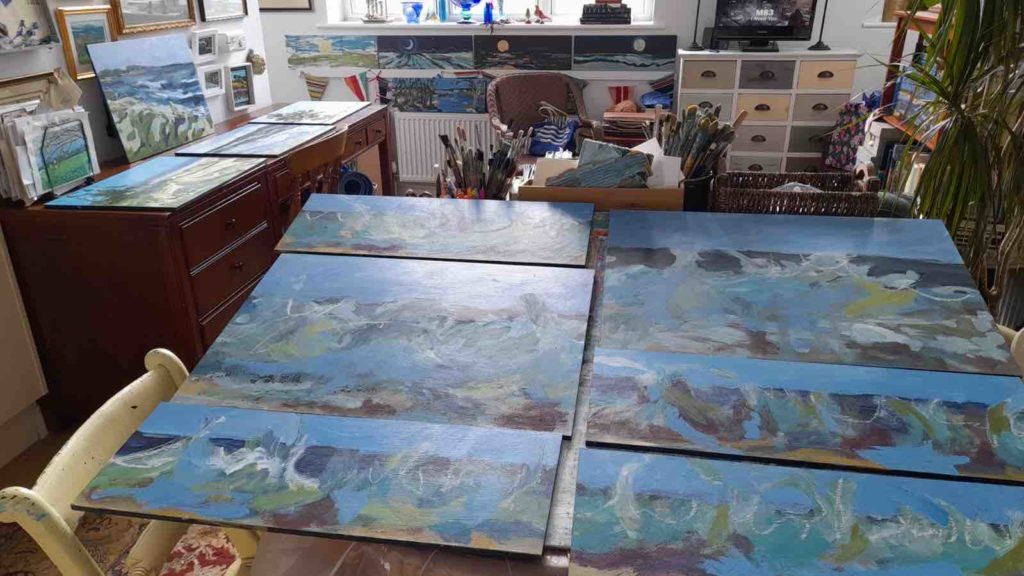 So I challenged Mary about her acrylics in particular. Her response was chastening:
'I primarily paint with acrylic because I live and work in basically one room. Working with oils, acrylics, resin, or other art related chemicals like fixatives can really do serious damage to our environment, not to mention my health. So acrylic was a choice I made for my health as I don't yet have a separate studio. Not painting is not an option! I paint anyway, even if my situation is not ideal.

Oil paint has its own set of toxic issues and resulting health concerns. I do have water soluble oil paint that a widow recently gifted me from her deceased husband so I can totally do a water painting in oil for you.

However, we also need to consider that oil paints, mineral spirits, and turpentine all have chemical components that get into the air and water supply and are highly toxic in large quantities or over a sustained basis. Many pigments still contain small amounts of lead. Cadmium, manganese and titanium aren't so great for your health long-term. '
artist hana, inventor of Placrylic paint
Non-toxic paints do exist, like the water based oils Mary mentioned. But before we began lengthy research to find more, by an extraordinary coincidence, the gallery was contacted by artist hana about her new development of plastic-free paint: Placrylic. She spoke at length in the first instance to Catherine Regina, an artist who works here on Saturdays, relating her experience at many levels. She has been a designer-entrepreneur in the fashion industry, and highly pertinent for our purposes, both a chemist and an artist.
Inventing Placrylic starting from kitchen waste
During the depths of Covid times, largely marooned at home, she spent long periods painting. She was increasingly irritated at the awful smell of existing paints – whether oils or acrylics. Being also totally committed to a healthy lifestyle, she began to use her chemistry expertise to develop a range of non-toxic, plastic free paints. Starting with vegetable wastes from her own kitchen, she went on to experiment with thousands of plants to produce a range of colours. Placrylic was born from this sheer persistence and not only is the pigment plant based, but so is the patented gel formulation which binds it.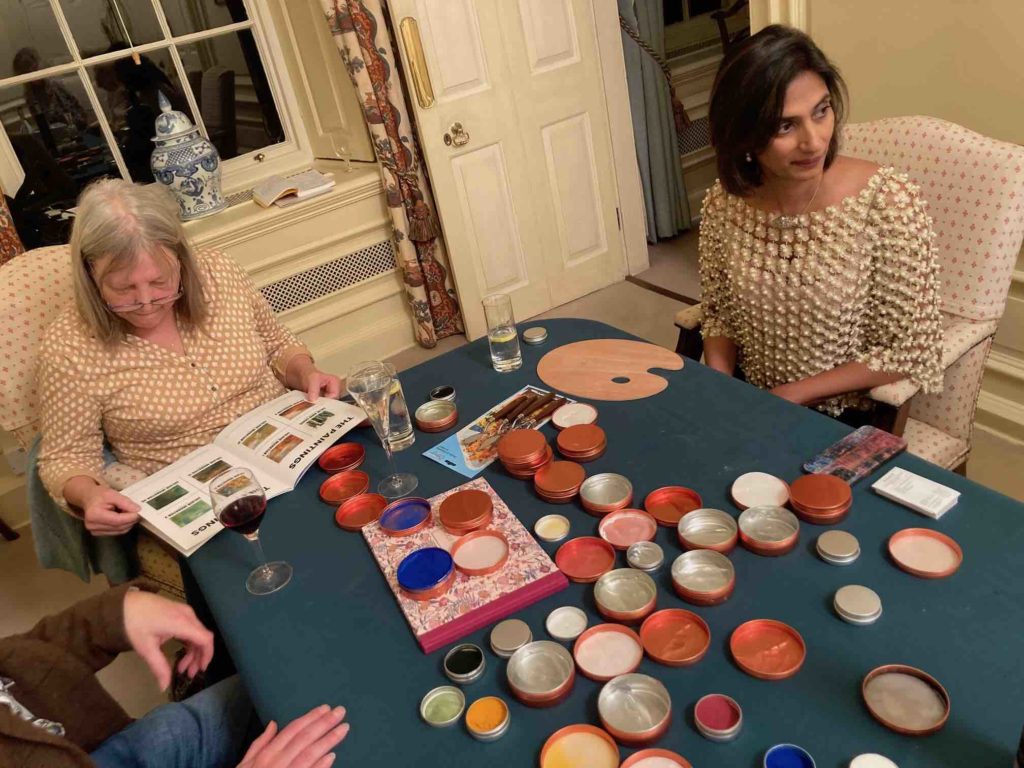 Placrylic paint and the colour migration exhibition
Artist hana launched eight plant-based pigments at an art-fair at a National Trust venue in York in the north of England in November. These included yellow, green, black, red, blue and white. The theme of the exhibition at the core of the art fair was migration and for the sake of experiment, the 29 participating artists were banned from using red. This meant that they had to migrate literally to other colours, but also testing the range of a more limited palette would be better proof of the flexibility of Placrylic itself.
For her own Colour Migration paintings series artist hana said:
'The first Placrylic colour I invented during the pandemic in 2020 was green. I have definitely spent more time researching plants that yield green pigments and have created over 100 green paintings to test the efficacy of plant pigments, Introducing the eight placrylic colours to artists and creating this exhibition forced me out of my green comfort zone and towards a migration of colour. The colour migration series is a celebration of my migration as an artist from monochrome world to more colourful representations of Sgraffito'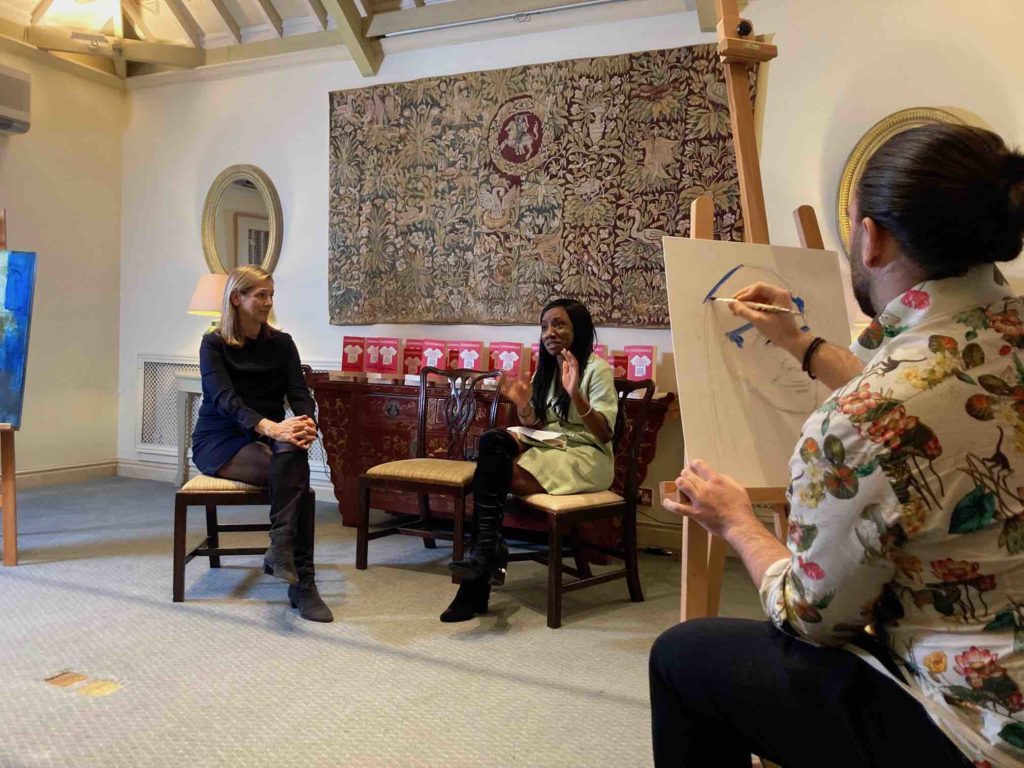 Placrylic painting live
Proving the versatility of the paint, artist and portraitist Brad Kenny painted a portrait of Dana Thomas, sustainability editor of Vogue magazine, while she was being interviewed by artist hana at the Placrylic Art Fair. He declared himself to be 'pleasantly surprised about how vibrant these natural colours are. Even with this limited colour palette as dictated by the Placrylic Art Fair exhibition rules, I was able to work in my expressive style with bold brushstrokes and strong movement'.
Placrylic is a non-toxic plant-based paint
Other artists were resourceful in making the most of the limited colours they were offered, proving that they could still achieve the varied effects they wanted. Juliet Petrarulo used the range of paints from green to yellow for her Eel Migration painting to signal the differences in toxicity of the waters through which the eels have to pass. Vinatha Reddy chose 'Changing Climate' as her theme, as her blue-yellow colour range migrated across her canvas.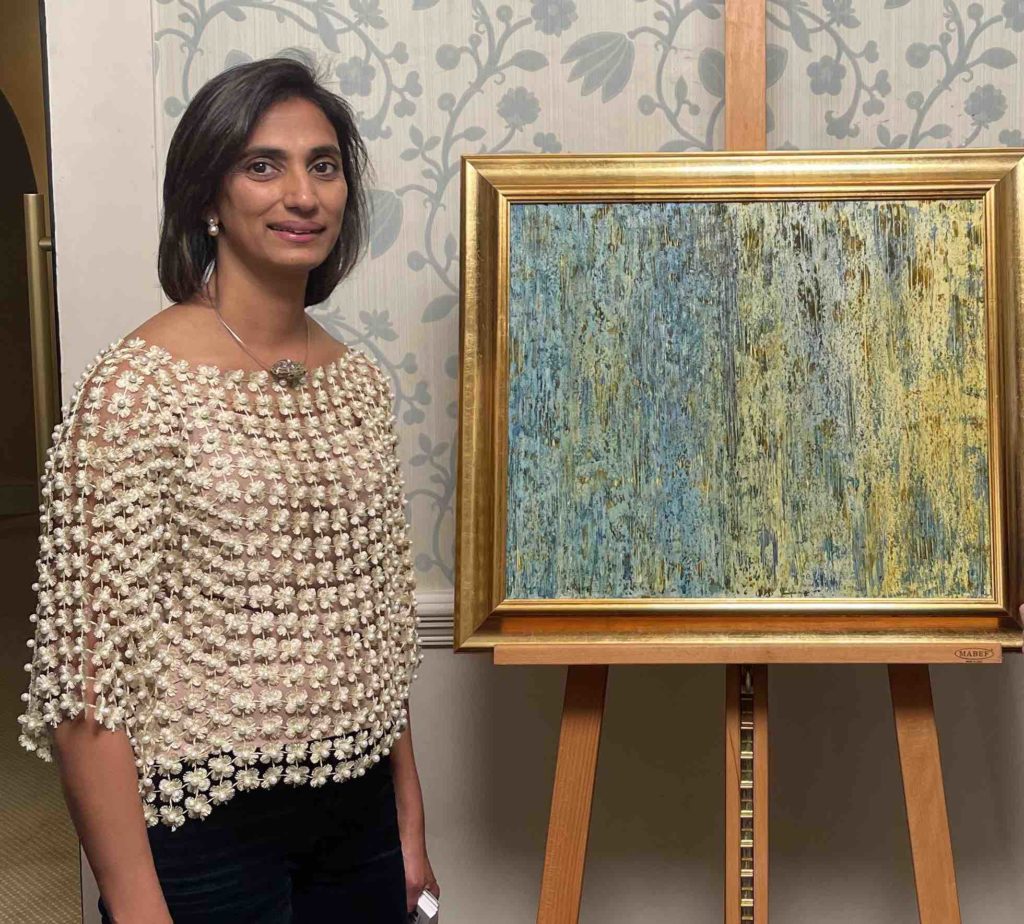 The fact of creating the paint and trying it out afresh has enabled all the artists to develop artistically. However, that is not the main feature of Placrylic by any means. Artists like Mary Blue, are depending on finding a supply of affordable non-toxic paint. And it looks as though artist hana has come up with a very attractive and viable solution.
You can buy sample kits of Placrylic via the website here.